"Up and coming" is a cliché term, but it feels incredibly appropriate describing Thomasin McKenzie. The 19-year-old New Zealand actress received tremendous acclaim for her work opposite Ben Foster in 2018's excellent Debra Granik film, Leave No Trace, is now starring in Taika Waititi's Jojo Rabbit, and has Edgar Wright's next film, Last Night in Soho, in the pipeline, among several other projects.
Expanding into more theaters this weekend, Jojo Rabbit is not your typical movie, to be sure. The story of a young boy living in Nazi Germany who has none other than Adolf Hitler (played by Waititi himself) as an imaginary friend, it blends one of history's darkest times with satirical comedy in a notably impressive manner. I saw the film when it kicked off the annual Beyond Fest film festival in Los Angeles, where it was incredibly well-received by the audience, who loved its blend of biting humor and heart.
Fandom spoke to McKenzie about her role in Jojo Rabbit, it's tricky subject matter, its use of humor in the face of real-life horror, and more.
TRICKY TO DESCRIBE
Jojo Rabbit is anything but easy to describe and on the surface could be perceived as being in bad taste by those simply hearing its basic set up, which was a challenge in getting it produced. As McKenzie put it, "it's a comedy but it's also about a really sensitive subject matter. So I think when Taika was trying to get it made, he couldn't pitch it. He just had to get people to read it. So the same went for me. I can't remember being pitched it. I remember just reading it and being so taken aback and also drawn in because it was a story that's been told so many times, in lots of different ways, but this was such a unique take on it from a unique perspective. It's through the eyes of a young Nazi; a young Hitler youth boy who is aspiring to be a Nazi. I think I felt excitement at how unique and potentially affective this film could be."
"The script from the get-go was so beautiful and perfectly written," said McKenzie. "This is a script that really means a lot to Taika. He's Jewish himself and he's been working on it for a long time. So I think going into it we all knew exactly what film we were making."
PREPPING FOR ELSA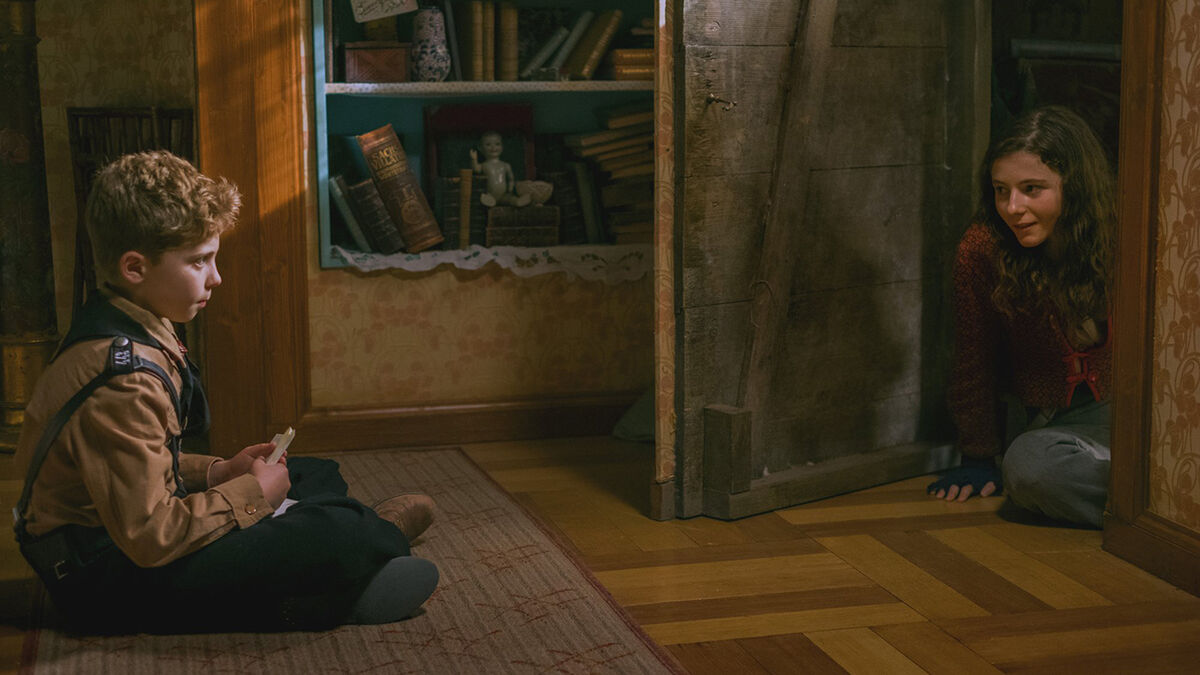 McKenzie plays Elsa, a teenage Jewish girl who is kept hidden from the Nazis within the walls of a house by Rosie (Scarlett Johansson), only to be discovered by Rosie's 10-year-old son, Jojo (Roman Griffin Davis), who has been trying as hard as he can to be a good Nazi. Jojo then has to try and reconcile the hate he is has been taught to have towards Elsa with the caring he begins to feel for her.
Recalled McKenzie, "In terms of character, I started off with my preparation by doing as much research as I possibly could and trying hard to understand Elsa's situation and the everyday life of what it was like to live during World War II. I spent a lot of time with the story and walking around Prague, which was occupied by the Nazis, and going to different synagogues, spending a lot of time in the Jewish quarter, going to the Jewish cemetery. I visited Terezin, a concentration camp just outside of Prague. It's weird because I remember the day I was there, I'd gone inside and sat inside rooms where unthinkable things happened to innocent people. I absorbed that and felt all the hatred and fear soaked into those walls and then I walked outside into this big field where people had once been executed and the sun was shining and the grass was really green. And I can't remember what animal it was but there was some kind of otter or something like that swimming in a stream and kids were running around laughing and it all felt really alive. My little sister was in Prague with me at the time and the historian I was with refused to take my little sister with us on the tour because she didn't feel comfortable telling these things to someone so young."
However, McKenzie was then thrown for a loop by the preparation Waititi had in mind, explaining, "Telling Taika about all of these things I'd done and research I'd done, he said, 'Okay, cool. Now watch Mean Girls and Heathers." Which at first I was like 'Huh….' I was a little bit taken aback. Like, 'Okay, those are interesting film recommendations that have nothing to do with this part of history.' But then I started to realize, actually, Taika's point here is to help me understand and to look at Elsa from a different point of view. Yes, obviously she's a victim and experiencing things that no being should ever have to experience. But she's lived a life before the Holocaust. She's a teenager, maybe a popular girl at school, she's going through puberty like I was at the time, and still am. She's got a crush on a guy and she learns painting and she's passionate and funny and witty and courageous and sometimes a little bit mean. Sometimes she bullies Jojo a little bit but she's full of compassion and love. She's a victim but she's not defined by this moment in her life."
THE POWER OF HUMOR
Jojo Rabbit is reflecting a very ugly part of history through a comedic lens, something McKenzie felt there was a lot of power to.
Said the actress, "Through humor and comedy, Taika has made this part of our history a lot more accessible to the younger generation. He used modern language. He made the film incredibly colorful. There are parts in it full of fear and devastation but it's also incredibly hopeful. By doing that, like I said, he's made it accessible to the younger generation. At the end of World War II, people said we would never forget. But last year the Guardian came out with an article saying that 41% of Americans and 66% of American millennials don't know what the word Auschwitz means, don't know what that entails, and don't understand the history that that word carries. This film is important because we shouldn't stop telling the story. Because people are forgetting."
THE FUTURE
McKenzie is keeping plenty busy these days and can also currently be seen in The King (now in limited release and on Netflix November 1st), while next year she has Liz Garbus' Lost Girls and Edgar Wright's Last Night in Soho set for release.
The Wright film is currently shrouded in mystery, beyond Wright describing it as a London-set, psychological horror-thriller. The cast also includes Anya Taylor-Joy, Matt Smith, Diana Rigg, and Terence Stamp, and when filming wrapped, Wright tweeted out a photo of McKenzie (seen above), giving us our first glimpse at Last Night in Soho.
Asked about the film, McKenzie didn't want to give away anything, remarking, "I don't know how much I'm allowed to say, to be honest. But it was an incredible experience and the whole team worked really, really hard so I can't wait for us to be able to share it."
Despite her young age, McKenzie has already worked with an impressive array of directors (one of her first roles was in Peter Jackson's The Hobbit: The Battle of the Five Armies), but has other future collaborators in mind. "I'd really like to work with Ken Loach. He's done some pretty amazing films. Also Jane Campion. Just working with directors who have unique, bold, courageous visions."
Jojo Rabbit is now playing in select theaters.