Happy Death Day filmmaker Christopher Landon has reunited with Universal and Blumhouse for another high concept horror-comedy with his new film Freaky, starring Vince Vaughn and Kathryn Newton. Landon directed the film and wrote it with Michael Kennedy after Kennedy described the set-up to him — a demented serial killer called the Butcher and a normal high school girl named Millie swap bodies.
Speaking to Fandom, Landon recalled, "I knew right away that I had to do it with him. He came to me because he was just sort of rehearsing a pitch that he was going to go out with and I think he was two sentences in and I was like, 'We're doing this together!'"
Landon said he loved that the concept was "both familiar and completely unfamiliar at the same time, which is sort of that secret sauce that I'm always kind of looking for. Also, it was a concept that I knew would lend itself to to things that I'm really interested in exploring, and it's always it always kind of starts from a very character place. I loved that it was a story about a girl who is incredibly shy and incredibly co-dependent and  discovers who she is and her inner strength by inhabiting the body of someone else, especially a serial killer. So it just kind of fired on all the cylinders that that I try to hit."
Read on for what Landon and his stars had to say about the film, its body switch concept and how notably gory it gets. Plus, Landon discusses opening Freaky in the middle of a pandemic and what we might expect from Happy Death Day 3, which isn't officially greenlit, but which hopes remains high for.
EMBRACING THE BODY SWAP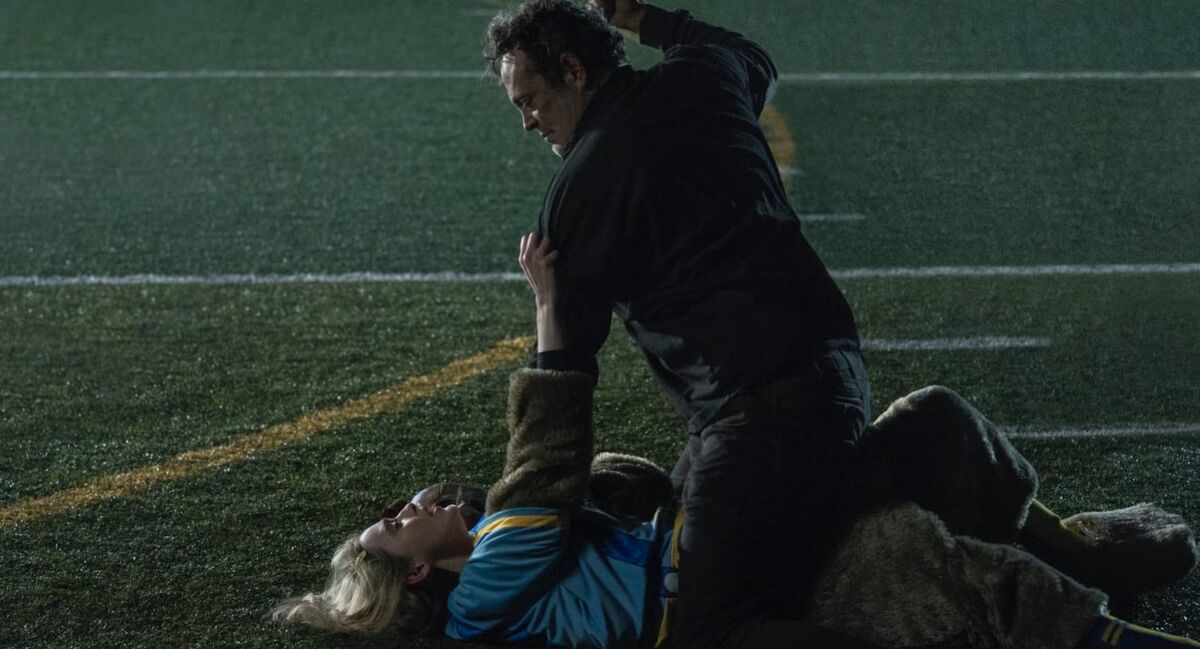 Newton, who had previously worked with Landon on Paranormal Activity 4, which he wrote, said the moment she heard about Freaky, "I definitely wanted to do [it]. I wanted to be a serial killer! I know I'm a nerd. I'm really like Millie in real life. I was like, 'Let me just try let me just see if I can do it.' And I had no idea what I was doing, but I had to go for it."
Vaughn said he loved the concept, but that another draw was, "knowing that Chris Landon was directing it because he mixes the genres of horror and comedy really well, which is not an easy thing to do. And I thought the kills were so cool and it had a lot of good jumps and scares. And then the comedy was really fun. And I think the thing that carried the day the most for me was the emotionality. There's some really nice, connective, emotional stuff in the movie that you can relate to, especially as a young person going through that painful time of high school and those experiences. So I just thought it was very fun and very unique and I was excited to do it with Kathryn."
Landon said that preparing with his stars, "We talked a lot about the characters. Kathryn and I made video diaries for Vince so he could really kind of study Millie. And then all three of us got together and worked really hard to understand who everybody was, because I knew that in order for us to pull off this this very heightened hat trick of a concept, the audience really needed to believe that they were who they were and they had to root for Millie. And what's kind of fun about the movie especially is that I think the audience really relates to Millie when it's Kathryn in the beginning of the film, and you really do empathize and feel for this girl who's struggling to figure out who she is and how she fits into the world and dealing with bullies at school and all the things that I think a lot of people go through in high school. But then when I think she becomes Vince, when Millie's in Vince's body, I think that's when the audience starts to really fall in love with her because they see this girl who's starting to become liberated by being in this body. There's a lot of weird wish fulfillment going on here."
Millie's two best friends, Nyla (Celeste O'Connor) and Josh (Misha Osherovich), have to deal with her situation too, but as far as having Vince Vaughn playing your female high school buddy, Osherovich said it was, "Surprisingly easy, only because Vince and Kathryn put so much work into embodying each other. Even in rehearsal, they were constantly figuring out mannerisms and how Millie would run and all that kind of stuff."
KILLER GORE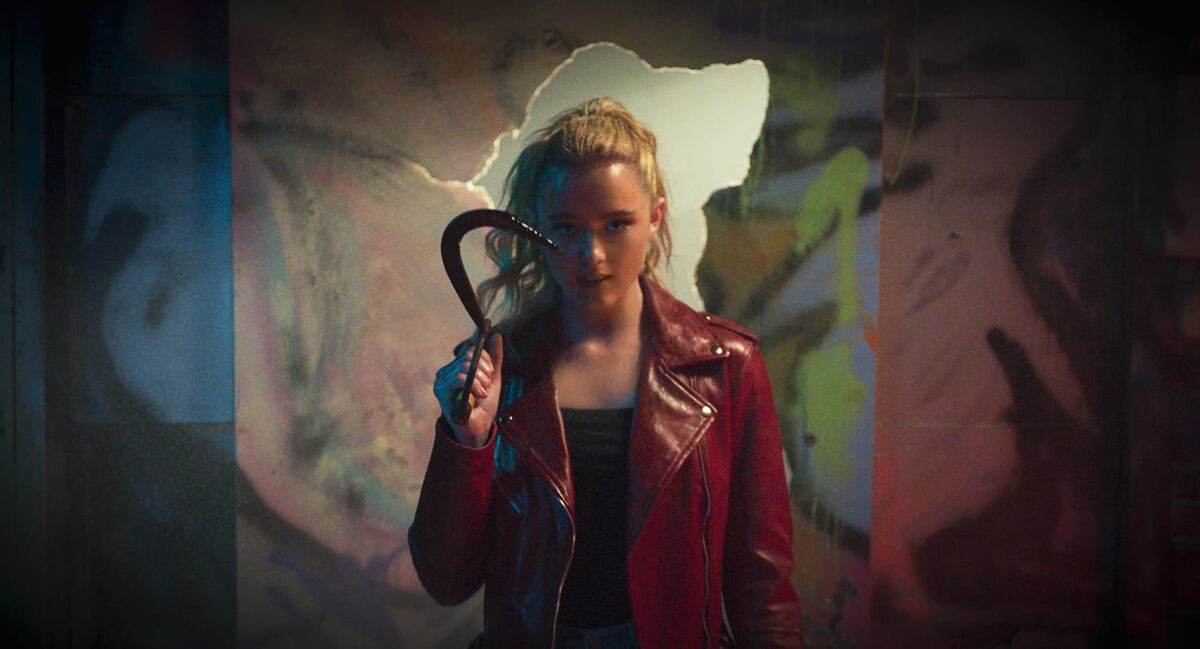 While the Happy Death Day movies are PG-13, Freaky is Rated R and very much gets some major use out of that rating, with some notably gory deaths along the way, as Vaughn's character, "the Blissfield Butcher" — no matter what body he's using — takes out his victims in graphic and grisly ways.
Said Newton, with a grin, "I knew that doing this movie, I was going to have to get really bloody. So I was prepared for all of that. My favorite was the chainsaw [kill] because it just splattered me with blood. It was like this machine shot blood out. It was disgusting. I was very red for the next couple of days."
For his part, Vaughn remarked, "I think my favorite stuff was seeing Kathryn as the Butcher going back to high school and kind of these oddly revenge [type] sequences. The one with the teacher, without giving too much away… There's a saw involved, but not a chainsaw!"
While O'Connor noted Nyla and Josh aren't present for a lot of the gory scenes, she said, "I got to see some of the prosthetics and makeup that were used. And it was really cool to see how all of these different departments came together to create these effects. And then just seeing the final product with with all of the special effects added too, I was like, 'Oh, my God!'
Added Osherovich, "Most of the time, I'm running around with Celeste, but I have this one scene where somebody gets one of Chris Landon's classic deaths. And half the time I'm acting with the person and the other half I am acting and screaming with that person's full casted — down to the eyelashes — body dummy. And that dummy gets torn to shreds and blood comes out of it… So much of it is practical. The prosthetics and the practical effects in this film are amazing."
Landon said for his part, "I always have had a great time — and I have a weird knack for — coming up with bizarre deaths. I think the challenge is always [asking] can we afford to do this stuff at our budget level? That for me is always the big challenge, because some of the kills in the movie were pretty complicated. And I was just fortunate that I had a great team and that we were able to figure it out because Michael and I both decided early on that we wanted this movie to be gory and over-the-top gory because we felt that in order for the concept to really sing, we needed that kind of violence contrast because these [body swap] movies by tradition are very cute. And so it was sort of like, how can I make the goriest Disney movie ever? That's kind of what it is, you know? So I think that that was it was definitely essential that we pull that stuff off."
PREMIERING A MOVIE, 2020 Style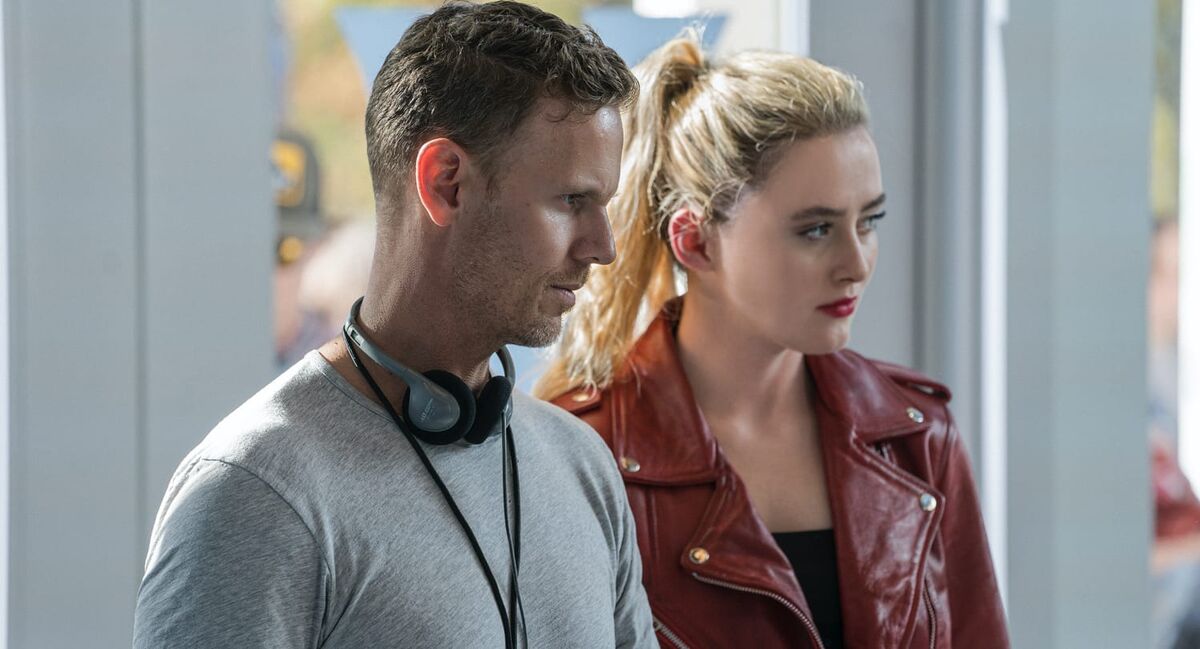 Freaky is notably opening in the midst of the Covid-19 pandemic — one of the only big studio films to do so, amongst speculation (but no confirmation as yet) it might be the first movie to make use of Universal's new deal with AMC Theaters that allows them to put their films on VOD after 17 days of release, if they wish to do so.
Meanwhile, Freaky had an unusual, but very 2020 world premiere last month, as it played at the annual Beyond Fest. Usually held in Hollywood at the Egyptian Theater, Beyond Fest this year was at the Mission Tiki Drive In Theater in Montclair, CA, a decision made so that the festival could happen at all in the midst of Los Angeles indoor theaters still being closed.
Landon, Newton, and several other Freaky cast members were at the Beyond Fest screening, which I attended as well, and a lot of fun was had there, with an enthusiastic audience of carbound horror fans honking their horns in appreciation for Freaky at its conclusion.
Said Landon, of Freaky's premiere, "It was crazy. First and foremost, it was the first time I've ever been to a drive in my whole life. So that was unique! It was bittersweet, because on one hand, I loved that there was a communal experience to be had at all. And also, if people know Beyond Fest, they know that everybody there is a lover of films. It's kind of the best crowd you could possibly have, and so I loved it. But it's been tough for me as a filmmaker because we all long for this sort of communal experience in a theater. I always say that movie theaters are like church for me. So it's been really tough having to kind of make peace with the fact that I'm really not going to get to see this movie that way. But I'm hopeful that this is an opportunity for people to escape this really tough situation for a couple hours. I think that we are offering a movie that's a lot of fun and is good escapist entertainment. And I think that maybe it couldn't be coming at a better time."
HAPPY THIRD DEATH DAY
As for Landon's future, it will hopefully include a third Happy Death Day film. The second movie's lower box office at first seemed to indicate there would be no payoff for a big set up presented at the end of Happy Death Day 2U, but in the time since it came out, and with enthusiastic fans constantly asking about the potential for a third movie, Blumhouse founder Jason Blum and Landon have both sounded more optimistic that a conclusion to the trilogy will eventually happen.
The second film changed things up on a big way from the first, adding more of a sci-fi element to what was already a comedy/horror hybrid. Asked if the third Happy Death Day would change things once again, Landon replied, "100%. My idea for the third movie is another slight pivot into a different genre while still retaining, I think, all the elements of the previous two films. And ironically, I think it couldn't be more timely as an idea. But this is something that's up to Universal, and Jason, if we're ever going to get the third movie. I think it's a no-brainer. I think there are enough fans out there and people who really appreciate both films, who kind of want to see where where it was all leading to. But I don't I don't get to make those calls. I wish I did. Otherwise I'd be on my own set!"
Freaky opens Friday, November 13.