It's been one hell of a year for Nintendo's new hybrid console – but once upon a time, things weren't always looking so promising for the new gaming machine. A few months before it landed on store shelves, a patchy launch lineup and a steep price point led many industry experts to speculate that the Switch would be another commercial failure for the big N. Oh how wrong they were.
Shifting a jaw-dropping 14.86m units in less than a year, Nintendo is enjoying a period of relevance it hasn't had since the heady days of the Wii and DS. While its unique hybrid design undoubtedly plays a huge role in its success, many gamers have also been swayed by the Switch's surprisingly varied library of games.
Where the Wii U largely just played host to Nintendo's first-party output and a solid selection of cutesy indie games, the Switch has managed to accrue a more tonally diverse software offering.
Now, the horror genre has finally crawled its way onto Nintendo's new console. While for many, the headline addition for scares on Nintendo Switch may well be the recently released Outlast: Bundle Of Terror, it's the arrival of the criminally overlooked Layers Of Fear on the hybrid system that's had us hiding under the covers.
Instead of going for cheap jump scares and soaking the screen in blood and gore, Layers Of Fear lives up to its name by instead building up a brilliantly orchestrated and creepingly slow sense of tension.
Its also a game that runs flawlessly on Switch, looking crisp and feeling smooth whether you're playing it docked or undocked. In order to find out more about how this horror gem slithered its way onto Switch, we spoke to Rafal Basaj, the producer of Layers of Fear: Legacy.
Layers Of Fear takes a very unique and thoughtful approach to horror. Did this slow build concept come first, or did the gameplay come as a result of the game's intriguing narrative?
Gameplay came first. We knew we wanted to mess with the player's perception and expectations, which lead us to the idea of changing the environment in real time behind the player's back. The plot came later. Once the setting was established; a Victorian Mansion, the inspiration — classic paintings and Oscar Wilde's novel "The Picture of Dorian Gray" — we then devised an unnamed, once-renowned painter and the tragic story of his family and his obsession.
The game feels very Dorian Gray-esque in places. What were your main inspirations for Layers Of Fear?
The main inspiration was the classic paintings; the works of Van Eyck, Goya, and the art of ugliness movement. These and many other pieces of art lead us to the creation of the game's aesthetic and atmosphere. Obviously, we used Oscar Wilde's "The Picture of Dorian Gray" as a base for the issues presented in Layers of Fear: Legacy; the drive for perfection, the choice between a successful career vs. raising a happy family – these tropes originated from the book.
How have you found working with Nintendo?
It was a great experience. Nintendo were always an email away and they were very helpful, supportive and most of all, patient.
 Gory horror games aren't usually the type of experiences you associate with Nintendo. Were you surprised by their support?
I definitely wouldn't describe Layers of Fear: Legacy as a gory horror game. It's a psychological horror game, in which you won't find even an ounce of blood (although your senses might tell you differently at times). The scares, or to be exact, the terror, comes from the unknown. From the broken expectations of the reality that you find yourself in and additional scare tactics that we use.
Nintendo may not have had a great deal of horror games on their platforms, but they definitely had quality ones, including but not limited to: Eternal Darkness, Resident Evil 4 (as a timed exclusive) and Resident Evil: Zero. My belief is that Nintendo just wants to support quality games, regardless of their genre.
Layers of Fear looks great both docked and undocked, how did you find porting the game to Switch?
It had its fair share of problems, but it mostly came from the lack of knowledge of the platform. Layers of Fear: Legacy was our first title released for Nintendo Switch and the first for a Nintendo system in a long time. We had to learn a lot during the development process, but we took our time to bring the best possible experience for the players. Once we figured out the intricacies of the system, we could focus on implementing the unique features of the console to our game.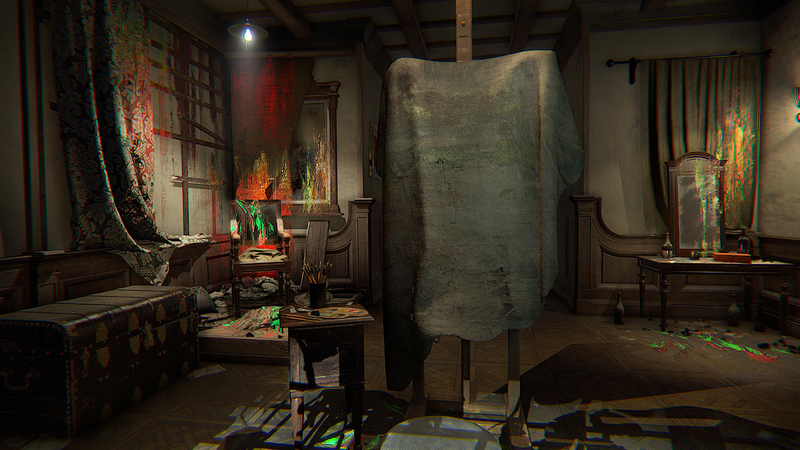 Were there any technical challenges you had to overcome?
The biggest challenge for us was the lack of memory on Nintendo Switch in comparison to other current-gen platforms on the market. We had to do a decent amount of coding acrobatics to avoid prolonged loading screens and frame tearing caused because of it. We were, however, extremely dedicated to making the game run smoothly both in docked and undocked modes.
Can we expect to see Observer heading to Switch?
We would like to do that at some point, but we have nothing to announce at the moment. We will see how Layers of Fear: Legacy does on Nintendo Switch and take this into account when planning future projects.
How have initial sales gone on Switch?
It looks good for now, but it's still very early to have a constructive conversation about it.
For those who might be new to the genre, why should they check out Layers Of Fear?
Layers of Fear: Legacy is a unique offering on the market, bringing classic painting aesthetics combined with a dark and dreary atmosphere. It's not focused on action but storytelling, you won't have to deal with supernatural monsters, but with a plausible tragedy that could happen to any of us. It's not a long game, but has various endings depending on how you play, so it might be an interesting experience for short, frightening sessions right before bed.