The way your gaming rig is set up can have a HUGE impact on the way you play. From the right balance of keyboard and mouse vs the top wireless controller to the best headphones and chair, every little detail has the potential to affect your game.
That's why it's worth getting it right. You can level up your reaction times, your awareness, and your focus simply by tweaking a few bits of kit. Here we run you through exactly how and why these upgrades are must-haves in the ongoing battle to be the best.
Mouse
Upgrading your mouse is hands-down the best way to level-up your playing experience overall. The changes from an average computer mouse to a gaming-specific one are significant. Not only will you improve your reflexes and sensitivity within the game itself, you're able to train your muscle memory with greater accuracy and skill. Repetition is the key in this but having a weight in your hand that you are comfortable with, that you can move reliably and consistently, is going to help you adapt to new games with ease.
The Logitech G502 is pretty hard to walk past and consistently tops the charts when it comes to a gaming mouse. With adjustable weights, spring action buttons, and a dual-action scroll wheel, it's pretty much the go-to for serious gamers and one to very much consider if you're looking to level up.
Equally, the Razer Deathadder V2 is pretty much best in the market if you want something a little simpler. Incredibly smooth action and very little delay in gameplay, it's another serious contender for hardcore gamers.
Mousemat
In addition to this, there is little point in getting a top-level gaming mouse if you haven't got the surface to play on. Mousemats might seem a little late 90s but trust us, getting that friction and response is essential if you want to improve your accuracy and performance.
We like a wider mouse mat personally as there is much less chance of slipping off it at crucial moments. The HP Omen 300 covers a huge amount of desk space that it's almost like a rug for your desk. If you're after something a little more high end, the Logitech G PowerPlay doubles as both mousemat and wireless mouse charging system.
Mouse bungee
Another point of consideration when looking at a good gaming mouse is how it's going to work with the rest of the space you have. A mouse bungee might seem like overkill but it can have a huge difference for a small cost.
Effective at keeping your mouse cable up high and out of the way, the mouse bungee is good for making sure you don't get tangled or experience drag for gamers who need that precision. Razer does a good second-gen mouse bungee but pretty much anything will do in this category as long as it keeps your cable away from the action.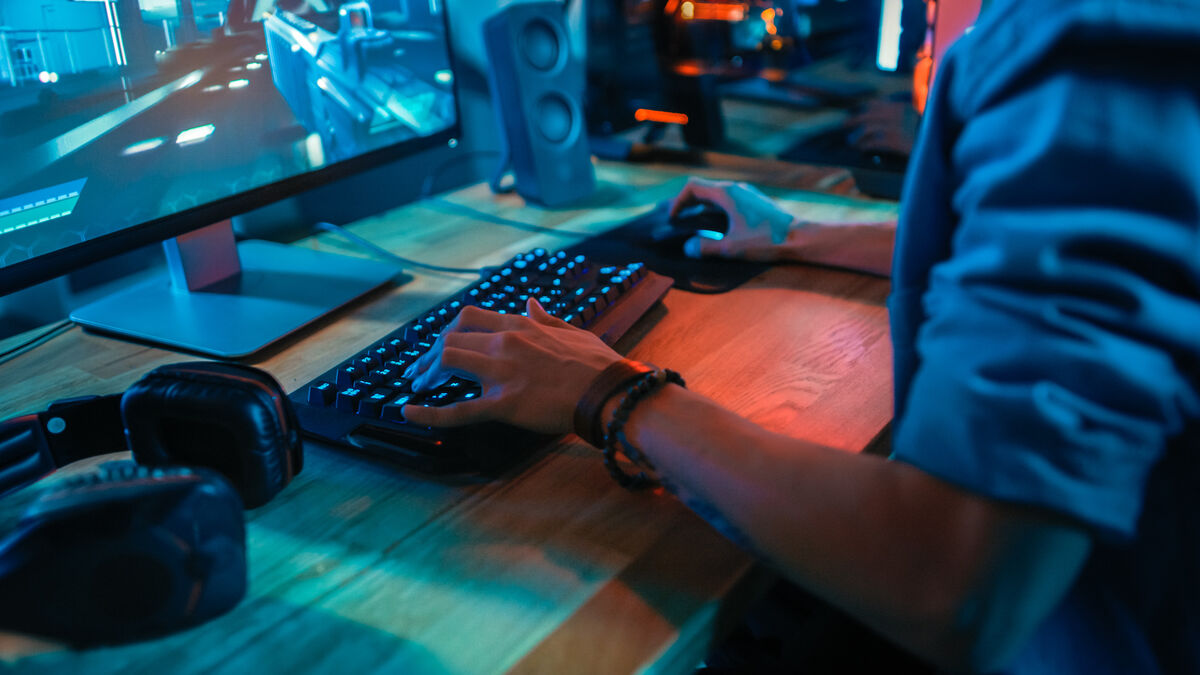 Keyboard
Arguably the second most important bit of kit after the mouse is the keyboard. With this, it's pretty much a given that you're going to be going for a mechanical keyboard here as the tactile reaction, speed, and response you get from a mechanical keyboard is much, much greater than you would from a dome or scissor-switch. Granted, the prices are higher, but sometimes it's worth it if you really want to up your game.
The Razer BlackWidow Elite is kind of the kingpin in this territory and you'd be hard-pressed to find a more ergonomic, responsive, or just very cool looking keyboard. For something a little less pricey though, the Razer Cynosa V2 is very much up to the challenge.
Headset
If you play a lot of shooters, a good headset is another crucial element of your set up. Headphones with a dynamic audio range and surround sound capabilities are super important for audio cues and enhancing situational awareness while a good mic is going to allow you to be understood with ease. Unfortunately, a lot of gaming headphones can be pretty clunky and you can be better off using a good pair of non-gaming headphones which will be able to keep up with you while also providing great sound.
The HyperX Cloud II are lightweight and come with 7.1 surround sound. The digitally silenced mic is good for eliminating background noise and the memory foam earcups make these a dream to wear.
If you want top quality and dont need a precision mic, anything from Senhieser is going to be a great choice but their latest HD 458BT wireless headphones are top of the range. AudioTechnica ATH-M40X would also be a great choice in this regard (if you can get your hands on them).
Monitor
Being able to see what you're actually doing on the screen is, of course, crucial to the whole thing. While most gaming monitors on the market will be able to handle the demands of higher-level PC gaming, it's important you get something that has a 5 millisecond response rate. Competitive gamers use monitors in the 1ms response range but the trade off in terms of cost here and the actual noticeable quality you will get is negligible.
That being said, the jump from a 60hz monitor to a 144hz monitor is noticeable and so getting something in this range is definitely preferable. The ASUS ROG Swift PG279Q is pretty much ideal in that respect as it operates in 144hz as standard and can be overclocked up to 165hz. The 27inch screen is a great size and it runs at 1440p which won't overheat your machine.
Mounting arms
Going for a dual-screen setup (or more) is pretty standard nowadays with most gamers preferring the twin-screen system over a bigger or a curved screen. With this though, the ability to move them around and order them in the way you want for different games can provide a big boost.
For that purpose, mounting arms make the switch simpler, easier, and cleaner in terms of cable management. We recommend something like the Ergovida double monitor arms which are a durable build and won't let you down.
Chair
Sitting for hours on end plugging away at a screen can do a number on your back which is why it's super important to get yourself an ergonomic chair that is going to support you and not have you crawling off to the physio after an all-night session.
In this regard, The SecretLab Omega gaming chair is a super sophisticated update on their 2018 model that will give you hours of support and even comes with two memory foam neck and lumbar pillows.
Similarly, Noblechairs Icon gaming chair has a detachable pillow and comes in a sleek black design that wouldn't stand out in the typical home office. Excellent gaming chair that won't take you out of the zone.
If you're looking for something that is a standout not only in the gaming chair world but the chair market at large, Herman Miller's Aeron chair is a stone-cold classic. It's essentially the comfiest thing you've ever sat in, with adjustable parts that support your every move in ways you didn't think possible. Pricey, sure, but worth it if you've got the cash.