What is 'Love, Simon'?
Based on the Young Adult novel, Simon vs. the Homo Sapiens Agenda by Becky Albertalli, Love, Simon tells the story of 17-year-old Simon Spier (Nick Robinson). He's a perfectly normal, middle-class, American boy. He's got a loving family and – he points out – actually likes his little sister. He lives in an affluent suburb, and drives his friends every day to a school where guns aren't a problem. Stopping to pick up coffee-based drinks on the way.
But he lives with a secret – the fact that he's gay. After he starts emailing back and forth with a mystery boy at his school, his secret is uncovered by a fellow student – who promptly threatens to reveal all to the entire school if he doesn't do what he asks; to help him get with his friend, Abby (Alexandra Shipp), the new girl. Simon isn't ready to come out just yet — which is where things get very complicated indeed.
Just Another Teen Rom-Com?
The teen rom-com is a popular genre for good reason. It provides an arena for teenagers to work through and wallow in issues that matter to them. And it's not just teenagers – nostalgia also plays a part in the appeal.
A good teen rom-com delivers characters to identify with. It will often be set in a school environment, and offers up recognisable types for the audience to measure their own experiences against. It usually deals with young love and the insecurities that torture many of us in young adulthood. A decent teen comedy also provides a dash of good old escapism, of course. Humour is key, as well as quirky protagonists who don't quite fit the mould. Think 10 Things I Hate About You and Mean Girls. The good ones also manage satire well, with sharply observed commentaries on life and its issues.
The other thing that characterizes teen comedies is a focus on heterosexual love stories. And that's where Love, Simon brings its crucial point of difference. Its main protagonist is gay.
A Formula That Works
Love, Simon deliberately sticks closely to the teen rom-com formula in an effort to convey its messages in the most powerful way. By following a blueprint that is so familiar, and that comes packed with expectations, director Greg Berlanti is able to tell the coming-out story of a gay teenager using the tools normally applied to tell heterosexual coming-of-age tales. In short, it aligns the two experiences in order to erase preconceptions and notions of difference.
Love, Simon needs to come across as a standard teen romantic comedy in order to effectively make its points. It sets itself in a bland US everytown, with a school set-up that's familiar to us from other films in the genre. It doesn't stray too far from the formula because it would dilute its message to do so.
Catch-22
However, this does mean that the film at times feels like it's skimped on characterisation, and it's less entertaining than you might want it to be. The humour doesn't always land, and there isn't a huge amount of original set pieces to set it apart. It lacks flourish – and that's because it wants to blend in, in order to stand out. Something of a Catch-22 situation.
And because the supporting characters aren't as fleshed out as you want them to be, 13 Reasons Why star Katherine Langford doesn't really get the chance to shine as Simon's best friend. Plus, with the film's villain Martin (Logan Miller) also meant to be the funny sidekick, it's a little difficult to buy into his character. But, thankfully, drama teacher Ms Albright (Natasha Rothwell) is on hand to steal every scene she's in with a neat line in smart responses to the students. You'll cheer when she takes down a couple of bullies late on in the film.
It Gets So Much Right
The film definitely succeeds in its main aims, however. It wants to show that coming out shouldn't be a big deal, and being gay shouldn't and doesn't define a person. Check. It wants to position all young people, regardless of sexuality, as having issues of the heart to fret over – whether it's an unrequited crush or an inability to connect with the object of their affections. Check. And it wants to show that being gay doesn't mean you fall into a stereotype. Check. Simon even googles how to dress like a gay guy, showing how confused he is by the boxes society puts gay people into. In turn, the film is asking the audience to question this too.
Love, Simon also deserves a pat on the back for its representation of boys and girls generally. Boys are depicted as having feelings, too. They're never shown to objectify girls, and are as keen on relationships over hook-ups as girls. In Love, Simon's world, boys and girls are largely the same, and Berlanti resists relying on traditional gender roles to draw his characters.
Simon's parents, too, are a healthy example of a happily married couple – of the type we don't often see on screen. Sure, his dad exists to be the one making thoughtless gay jokes and making his son feel uncomfortable before he comes out (he's devastated about his behaviour after the fact) but he's also there to be in love with his wife. 20 years after first getting hitched. Aspirational, definitely, but so often marriage is presented as a drudge that honestly, it's refreshing. Plus, Josh Duhamel and Jennifer Garner are very likeable in the roles, which helps.
An offbeat and sporadically funny Vice-Principal (Tony Hale), who spouts lines like: "Stop with the selfies – you're not all that" adds eccentricity to the film, while a great soundtrack and a heap of eclectic pop culture references bring further familiar yet idiosyncratic touches. And if that adorable first kiss at the end doesn't give you goosebumps, you're dead inside.
Is Love, Simon Good?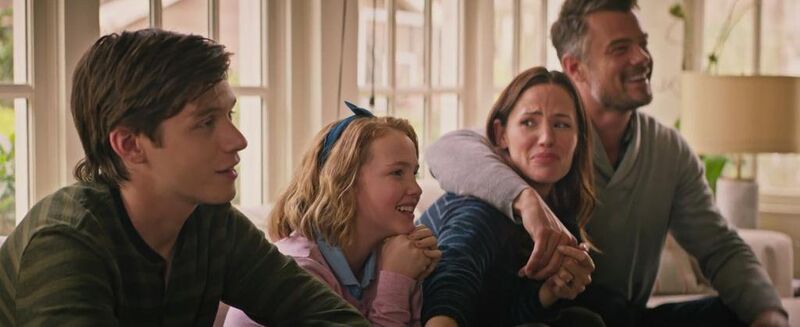 Smartly using the rigid structure and tropes of the teen rom-com to tell a coming out story, Love, Simon is a first. And it's necessary viewing. Presenting a young gay love story the way young hetero love stories are presented is a simple yet genius idea. The message is clear: gay isn't different – we're all different, and yet we're all the same. It's a gentle reminder to its audience to be mindful of others and that acceptance is key.
However, in its close adherence to the teen rom-com format, it suffers a little in other areas – namely, characterization of its peripheral characters and a lack of big, bold strokes to make it stand out. Overall, it's a deceptively simple piece of cinema that deserves to be seen.
Love, Simon hits screens in the US on March 16 and UK on April 6.