Note: Some of the links below are affiliate links, meaning, at no additional cost to you, Fandom will earn a commission if you click through and make a purchase.
---
It's an incredibly busy time for Star Wars fans, between the debut of The Mandalorian, (Watch Now on Disney+) the release of Star Wars: Fallen Jedi, and the impending release of Star Wars: The Rise of Skywalker next month.
Lucasfilm President Kathleen Kennedy spoke at Porsche Experience Center this week – Porsche are among the promotional partners for The Rise of Skywalker — joined by several other key female contributors as Lucasfilm, including The Rise of Skywalker Second Unit Director Victoria Mahoney, EVP and General Manager Lynwen Brennan, SVP of Live Action and Development and Production Michelle Rejwan, The Rise of Skywalker Editor Maryann Brandon, Lucasfilm Director of Development Rayne Roberts, Skywalker Sound Effects Editor Bonnie Wild and Deborah Chow, one of the directors on The Mandalorian's first season who will next be directing the Obi-Wan Kenobi series for Disney+.
The group discussed wrapping up work on The Rise of Skywalker, the huge technological innovations in The Mandalorian, and more. 
RACING TO RISE'S FINISH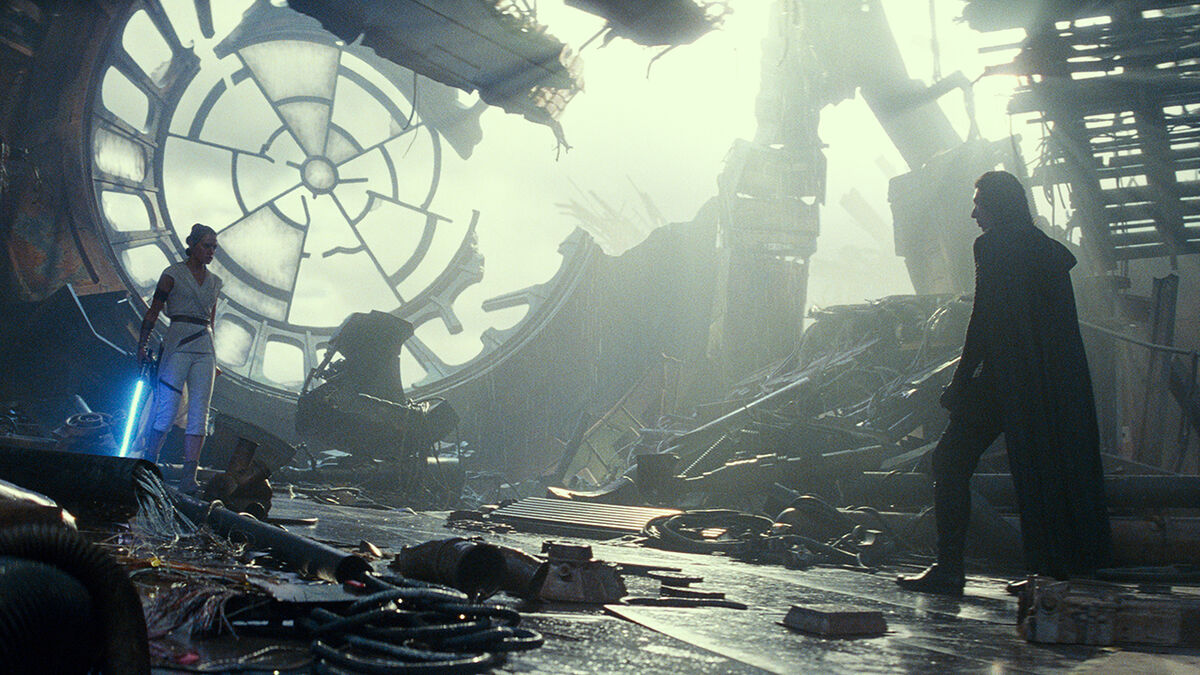 With The Rise of Skywalker so close to opening, Brandon noted "We've been working to get Episode IX out for over a year, but in the last two months we haven't had a day off or a night off or any time off." She said that it was always exciting tackling challenges in editing, noting, "Just when you think I don't have the answer to that, [you realize] yes, I do! And there it is! You move something around and the film starts to sing and you get there when you never thought you would. That's one of the elements that is movie magic."
Regarding working on Star Wars, Rejwan said, "It's quite inspiring because it means so much to so many people. There's not one detail we don't talk about tirelessly and weight. That drives us to tell the best story we can, make the best story we can make. Even in these last hours we have, when we're days away from locking this movie together, that drives us. The audience, the fans, and how much we want this to be an emotionally satisfying ending to the story."
MENTORS
Several of the panelists said they'd looked to Kennedy for inspiration thanks to all of her accomplishments, including years of producing films with Steven Spielberg, with Roberts noting, "It's a funny thing when you're growing up and growing up loving movies and there's a film school answer for what your favorite movies are and there's a real answer. For me, the films were E.T. and Jurassic Park, Empire of the Sun, Indiana Jones. So when I found myself in Kathy's office, I was really surprised and going 'What am I doing here? How did I get here?' And so working for her for seven years now and to actually learn the kind of level of love and care and production value they bring to the movies that she makes, coming out of that now is pretty remarkable to me. I feel like I'm always getting my PHD in blockbuster movie making. There's so much to learn and it's endless. There's an amazing cross section of generations here and you're always learning."
For Wild, working in sound, she named Ben Burtt, who famously did the sound design for the original Star Wars films, and Gary Rydstrom (Terminator 2, Jurassic Park) as major influences. She noted the power iconic sounds have on our collective consciousness, saying, "Now a T-Rex makes a sound and Gary made that sound and now we all know that's what a T-Rex sounds like. Say what you want to say but thatis absolutely what a lightsaber sounds like. That's exactly what it is."
Kennedy stressed, "Bonnie has also been instrumental in the Mandalorian. We just brought her in to frankly save our ass. She is a rock star."
MANDO INNOVATION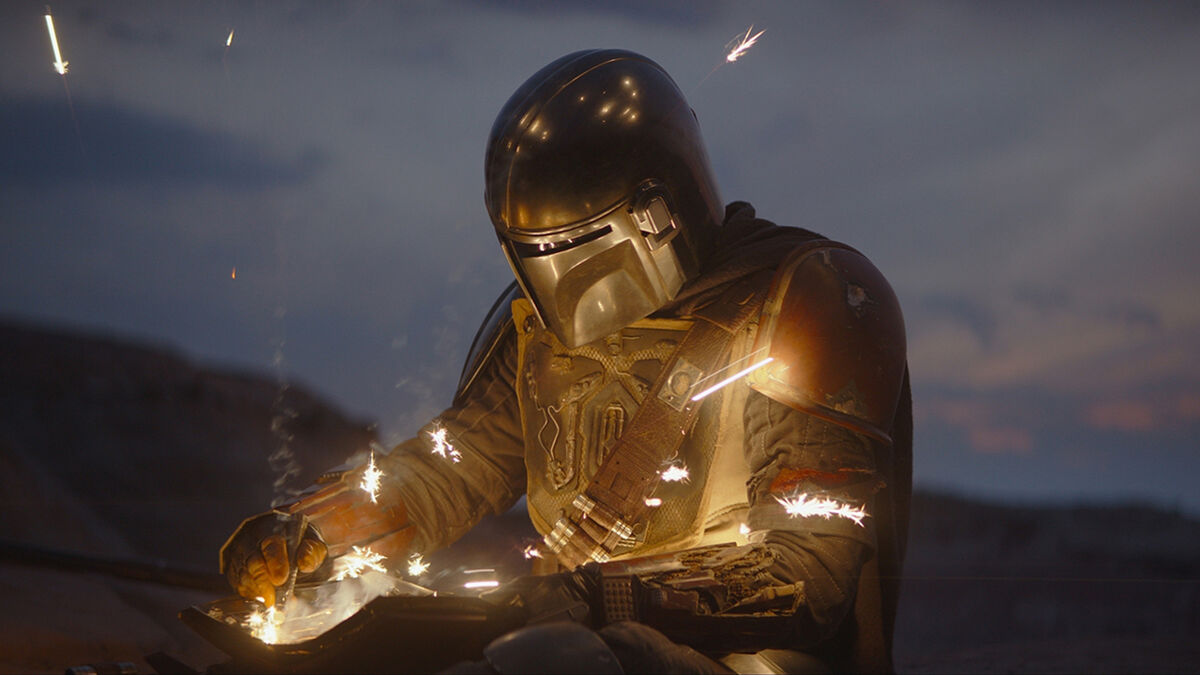 Lucasfilm productions have long been known for leading the way when it comes to new technology and filmmaking method and that continues today, with Kennedy saying, "I think Mandalorian speaks to that."
With The Mandalorian, Kennedy said she and series creator Jon Favreau discussed how they could have a Star Wars TV series, with multiple planets and locations, that could be done within a reasonable budget. If a certain location is needed for just one scene, what can you do to include it without needing to move hundreds of people across the globe to film it?
The answer was a process called "Stagecraft" within ILM. As Kennedy described it, "It's basically a projecting system on screens. The real innovation is that when you move the camera inside this space, the parallax changes, so suddenly you're in an environment that actually begins to behave in the same way it would in an actual 3D environment. As you can imagine, that changes the way we approach how we film things. It means, if we want a big establishing shot in Iceland and don't want to take 700 people and four months prepping a set — because you only want to do the establishing shot — and you can bring everything back to shoot interiors on a stage, that becomes very meaningful on big huge projects and small projects."
Added Kennedy, "The interesting thing with Mandalorian is the fact that we tested this technology on television and not on the big screen was the way that we felt we could take a big risk but not a giant risk. The amazing thing is a week ago we put the Mandalorian up on the screen at the El Capitan [movie theater] and it absolutely looked phenomenal. So we now know this technology works for the big screen as well. When we refer to a game changer, that's how it happens. You have a story that offers you the opportunity to do it differently and to push the technology you know is right on the edge, and we're incredibly fortunate with Lucasfilm because we have ILM inside our company. And this defined the company from the time that George created Star Wars. Star Wars created ILM and ILM continues to be at the forefront of this kind of innovation because we're constantly telling stories. It's content in search of technology. That's what it ends up."
The panelists said they knew the technology had been successful because they've been asked where certain scenes were shot – and as Kennedy could say, going back to her earlier example, "Iceland, but it's just one person!"
Said Brennan, "Stagecraft came into being from a need, from an idea of how to approach this differently with the scope and scale of Star Wars film on a TV schedule. It was built upon some innovations that ILM had done previously. We were taking building blocks of it, using screens or lighting or reflections on previous films. With Kathy and Jon's encouragement, we really pushed it to how far we could take it."
Because the locations are projected on set, Brennan said she felt it was much better for actors than performing in front of green screens, explaining, "I think it also helps performance because the actors are not in a sea of green. They're seeing the environments that they're in and you have the puppetry and the characters in the environments they're in."
Recalled Kennedy, "We had an executive from the Walt Disney Company come down early in the process. And he stepped in and he looked around and he said 'Jon, I thought you weren't going to build anything.' He had no idea he was standing in a virtual set. That's how believable it is."
READY FOR KENOBI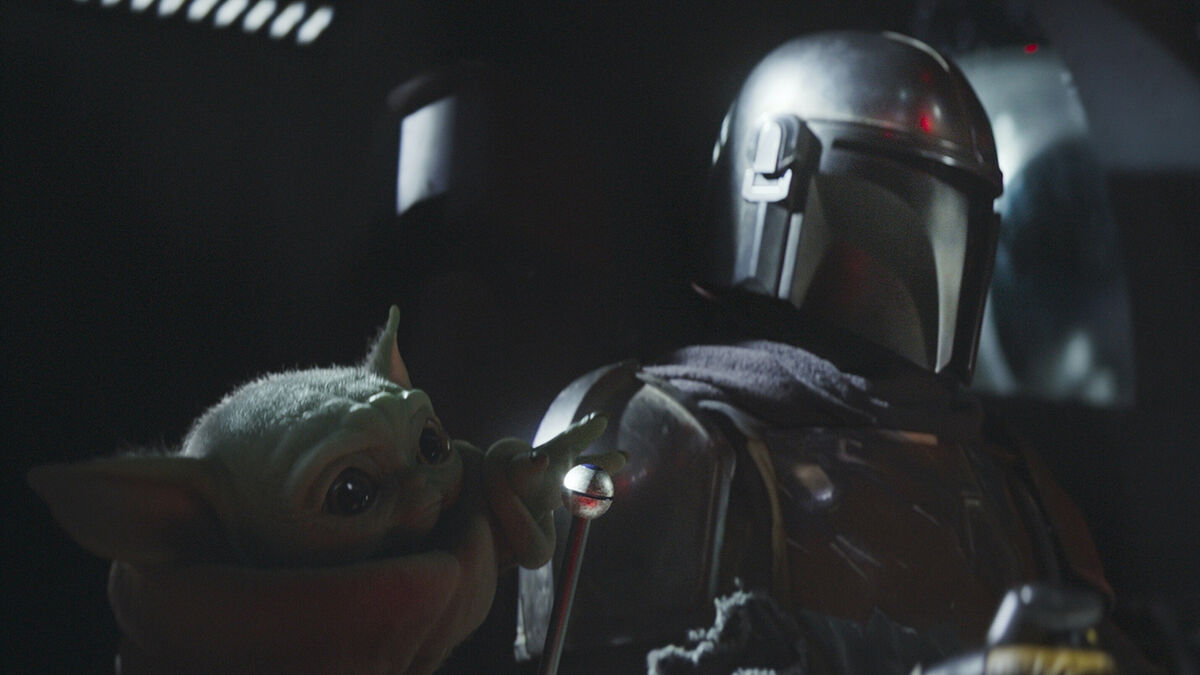 Chow made her Star Wars debut with this week's third episode of The Mandalorian, and Kennedy said she was incredibly impressed by how well the director is at planning ahead, which is a must working in this scenario.
Recalled Chow, "When I first started, they were still testing a lot. We didn't even know how much we were going to use or how successful it was going to be. But it was a completely different process. So I was in there for months beforehand prepping everything and we cut it together like it was an actual edit. We did it for technical reasons but it helped get the story told because we could look at it and go "that's working" or "this isn't working." Then from there, they would take what we had designed in the pre-vis and then they could tweak the lighting, tweak the environment and on the day of the shoot, it would show up on screen."
Chow said with Stagegcraft, "You can do things you just can't [normally] do. There was a point where the danger is it was becoming too perfect and we were controlling it too much. But with Mandalorian, I think that story sort of drove what we needed to tell the story. The technology was serving the storytelling. But we created something new. The audience can't figure out where it is because there's nothing. And for the actors, they're in magic hour, they have it around them so it's different for their performance."
Chow will next be serving as the director on the Obi-Wan Kenobi series for Disney+, starring Ewan McGregor, and explained how Stagecraft has been a huge help in prepping it.
Said Chow, "There are things we have for Obi-Wan where we have scenes where you need a humongous scope and you need the quality, but it's only one page. You're not going back to that location for two months. So it's perfect. I would use it all the time. It's adjusted my thinking to go things you wouldn't normally think are possible, you can do it and you can get the scope and grandeur of it. It changes the way you're thinking, visually and practically."
NEW OPPORTUNITIES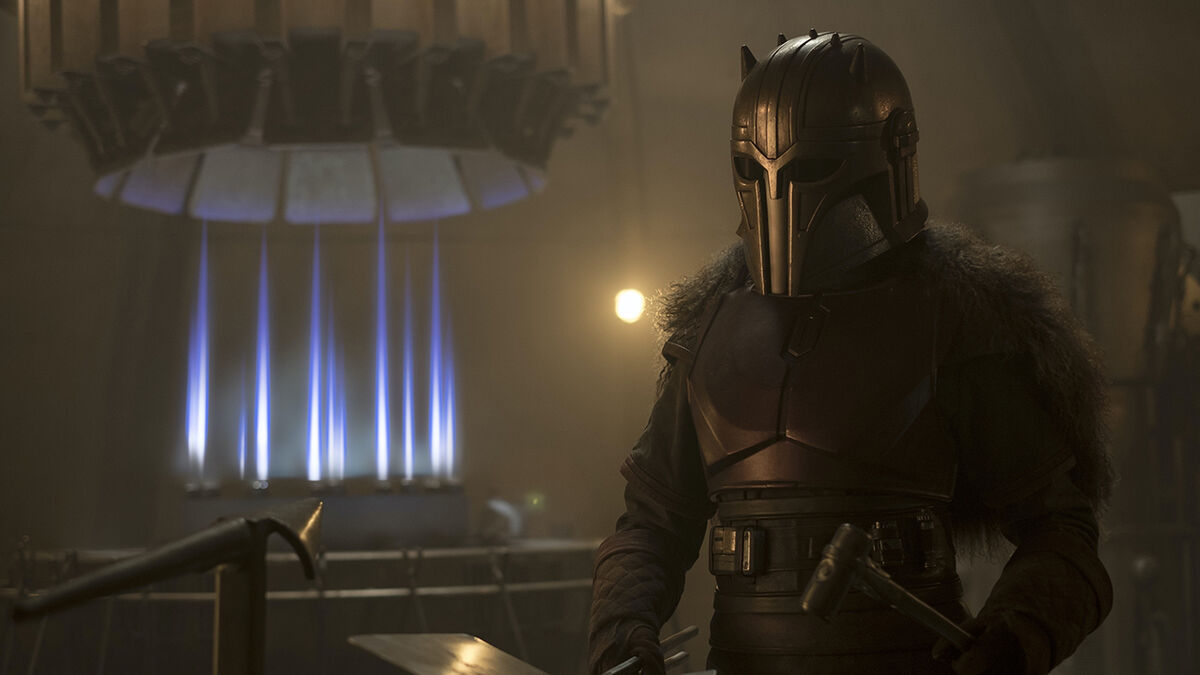 Lucasfilm has received some criticism for only hiring male directors up until now, with Chow standing out as the first woman to direct a Star Wars project, while Mahoney's work as Second Unit Director on The Rise of Skywalker is the first time a woman has held that role on one of the films.
Said Kennedy, "One of the greatest things was the decision to move forward with television. It's giving us a huge opportunity to bring women into the process and we're doing it voraciously. We don't make many movies; we're not cranking out three or four a year. So the opportunity to be able to develop these stories in the TV space gives us an opportunity to hire people like that."
Kennedy also had high praise for Mahoney and her work, saying, "Looking at dailies [from Rise of Skywalker] where you don't know who you're looking at, there is nothing more thrilling than to be looking at footage and saying. 'Wow, who is that?' Which is exactly what I did with Vic's dailies, having no idea it was her. We had five or six directors and it was the action footage being shot. It could have easily been a guy. I had no idea. It is thrilling and I think we're going to see more of that."
Said Mahoney, "What's interesting about the world is somehow, somewhere along the line, women directors were part of the fabric of how stories were told. Then money came in and women were pushed out and pushed into admin jobs. What's interesting to me is that I walk through the door and someone looks at me and considers what I can and can't do with budget and time and with crew. I always had this thing where I can tell when people are judging me by my gender or my skin tone or whatever it was. I was up against these guys and I was like 'If you want, we can go outside and throw a football, but what are you doing? Got a baseball bat? Because I know I'll hit it further than that f***ing clown. Do you want to play volleyball? What do you want to do? You want to fly a plane? Whatever you want, I'll do it and I'll run circles around them.' It doesn't mean I'm the best person for the job but it means I should be taken as seriously when I walk through the door to pitch."
Since it was announced she was working on The Rise of Skywalker, Mahoney said she'd had some touching fan encounters with young women. "They come to me and they say they're Star Wars fans and they're in film school and their teachers would never talk to them or regard them when they say they want to do sci-fi. And they look at me and say 'She does sci-fi and so can I. Now can you help me figure out what I need to do?' That's why I enjoy sitting here with this group of us. It's cute that I got whatever fun I got, whatever experience I had, but it's way bigger and it's so special when that film hits on December 20th and what that means in the bigger scheme of generations of filmmakers who are 12 and 22 and 32 and 42."
---
Disney+ is the only place to stream favorites from Star Wars and more. Watch now!