When Disney+ debuts on November 12th, it will do so with a big splash courtesy of The Mandalorian. The first-ever live-action Star Wars TV series stars Pedro Pascal (Game of Thrones) as the title character – a mysterious bounty hunter we meet in the aftermath of the Empire's fall at the end of Return of the Jedi.
The Mandalorian may be the most top secret Star Wars project ever, and that's saying something. Full episodes will not be given to press before they air, though about 27 minutes of footage, culled from several episodes, was recently screened at an event attended by Fandom.
While there were scenes with Greef Carga (played by Carl Weathers) and Werner Herzog's unnamed Imperial, the focus was on the Mandalorian himself, as we saw some intense and exciting action scenes where he shows off just how skilled he is. With a notably gritty vibe — the "lived in" feeling George Lucas went for when creating Star Wars is very much central here — the series evokes Rogue One a bit in its approach, while also expanding on the western vibe Star Wars has always included, with its gunslinger/man with no name protagonist.
After the footage was screened, the show's creators and Executive Producers, Jon Favreau and Dave Filoni, took part in a press conference, discussing their approach to this highly anticipated series.
BRINGING STAR WARS TO TV
When it came to the influence of Star Wars, Favreau remarked, "My whole taste in movies was probably formed in a big way from seeing George Lucas's original film. I learned about cinema through the lens of that film."
Now, working on The Mandalorian, "The idea of telling the story over more than just a couple of hours, told every few years, opens us up to this novelization of story and a return back to the roots, in many ways, of the Saturday afternoon serial films that my parent's generation grew up with. Drawing from that type of style of storytelling lends itself really well to what we're tackling here. It's funny not to have a preciousness in the way that we're telling the stories because we're coming back to you next week with another one. We can engage the audience in the way that I enjoy being engaged, with a bigger budget and a lot of the qualities and aesthetics of a film. But the novelization of serialized storytelling is where it really opens up a lot of freedom and opportunity, where we don't feel like we're repeating or copying anything else that people have experienced with Star Wars."
Filoni of course has vast experience working on Star Wars in television via his acclaimed animated series Star Wars: The Clone Wars and Star Wars Rebels, but said that when it came to making the jump to live-action with The Mandalorian, "It's exciting for me because I get to be a part of it! As a kid, growing up, I would have watched Star Wars every week. And as television got more and more genre over the years, I remember when Star Trek: The Next Generation came out with the promise of better visual effects on television and it took big leaps. As somebody that's always been into fantasy and science fiction, you were always waiting for a moment where you thought that the images on television were as good as what you were seeing in the theater but there was a big separation when I was a kid. Now, it's gotten so close. We can make something like Star Wars because the technology has advanced. That's one of the dreams that the George [Lucas] had. Even when I worked with him on Clone Wars, he would talk about the future being streaming, and the future being episodic, serialized Star Wars. So, it's cool to get to help make it."
Regarding The Mandalorian being released as weekly episodes, rather than all at once in binge-form, Favreau remarked, "It's nice to have people be able to experience something at the same time, which is what I really loved about watching Game of Thrones. There's that sense of, 'What's gonna happen this week?!' The service isn't available everywhere yet, but as it rolls out, hopefully everybody around the world will be able to have that same experience. For us, there's a really fun dialogue that we're looking forward to that we usually normally only get at the conventions, where you get to show it, people get to react, and then you get to talk about it. That gets us excited as filmmakers, and that dialogue unfolds. I'm happy it's being released at a rhythm."
LESSONS LEARNED
With production on Season 2 of The Mandalorian already underway, Filoni said that completing the first season, "I learned a tremendous amount, every day. I was on set every day, the whole season, so I learned from watching every single one of our directors and from watching our great cast, and from everyone, behind the scenes. I treated it as boot camp for me to learn this type of filmmaking, but then I also tried to offer the knowledge that had been passed onto me by George, for [both] Star Wars and just the way that he liked to shoot things. It definitely affected the way I look at a day and what I can accomplish in a day. That's a big difference for me, filmmaking-wise."
Filoni explained he had to readjust coming from animation, recalling, "We arrived on a backlot and the DP, Greig [Fraser] said, 'Well, the sun is up, we've gotta get going.' And I was like, 'Oh, right… because it's gonna go down.' We don't really have that problem in animation! It would get to be 6:00 pm and everyone would get squirrely and go, 'The sun is going down!' And you're like, 'Right, and then we're screwed because the whole set is going down.' There are very tangible things that happen. I love having this experience. There are advantages and disadvantages to each, live-action and animation. At this point, I don't prefer one or the other. I like both experiences, and they're both unique."
George Lucas visited the set of The Mandalorian, and Favreau noted, "George had worked with Dave for 10 years, so a lot of what's wonderful about working with Dave is that continuity of vision. George came by with Kathy [Kennedy], because they have a long-standing relationship. The thing that really stood out — and he didn't say it in front of Dave because he didn't want to embarrass him — was that I could see he was very proud that Dave was taking the next step. When George discovered Dave, Dave was just an animator that he brought in and he thought it was a joke and that his friends were pulling a prank on him. And then, after he met with George, George said, 'Do you wanna run this show [The Clone Wars]?' And so it's been a long relationship in understanding filmmaking, understanding Star Wars, and now, as we get into live-action, taking the next step. A big reason that he was there was because he wanted to make sure that I was continuing Dave's journey with him. I thought it felt very special. It was a very special day."
THE HOLIDAY SPECIAL FOREVER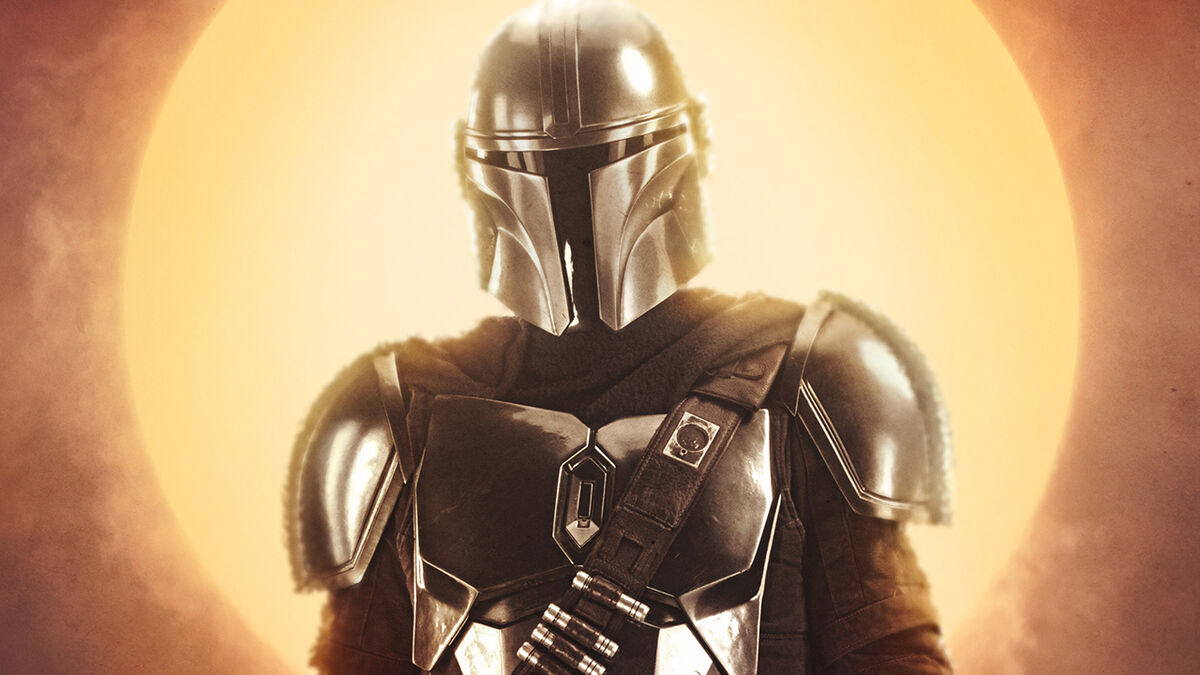 In the footage we were shown that day, there were a couple of notable references that clearly came straight from a rather infamous part of Star Wars history, The Star Wars Holiday Special, including The Mandalorian's weapon, a pulse blaster, and a mention of Life Day.
Asked about this humorous source of inspiration, Favreau replied, "I didn't realize there were a lot of references, but I guess there is! There's definitely the gun, the pulse rifle. Here's the thing, we're starting with new characters. There's all sorts of conjecture about whether we're gonna reveal that it was really Boba Fett all along. 'Is it a character that we already know!?' We wanted to start fresh with a whole new set of characters that you've never met before. What's nice about that is that it reminds me of when we were starting [the MCU] with Iron Man. For new fans, these are new characters with new actors and a new world."
That being said, when it came to rewarding longtime fans, "If you were watching and you knew about it — and this is where Dave has really been a treasure trove — we try to work stuff in. Whether it's humorously, like making a reference to Life Day, or making a reference to a prop that has been appreciated by a core group over time. So we'll put those little Easter eggs in, or have big movements in the story that reflect storylines in either the Legends [stories] or in canon that people have known. And by the way, there's all of the animated content that Dave's been working on! How do you weave all of it together, so that you don't have these divided, segmented parts of the audience, but you can start to bring it all together and coalesce it in a way that creates an over-arching narrative and rewards the people who've been putting the time in over the years since they were kids, growing up with it? So, that's a long-winded answer for why I snuck a Life Day joke in there. Some of it was when I was writing it, I wanted to see if Dave caught it and what his reaction would be. He had veto power over everything. He's talked about learning from me but I'm learning just as much from him and just tuning in on what is too far and where we can push it."
Added Filoni, "With the scripts, because I was in San Francisco, we'd talk on the phone and come up with something for an episode and Jon was like, 'Okay, it's in my head, I gotta go.' And then, a day later he'd be like, 'Here, read this.' And I was like, 'Oh, wow, there's a script now!' It was cool. It's fun reading Jon's take on Star Wars. I'd read something and be like, "Oh, I see the Holiday Special is back" and I'd give him a hard time about it."
Favreau jumped in, exclaiming, "Well, it happened! It's there!" and Filoni replied, with a grin, "It's his way of saying that he really liked the Holiday Special. It's fun. There's nothing wrong with that. He has the gun in the show because he liked it and wanted to have it in there and now it's in his office. I get that. I've just never experienced that before. You can say, 'I wanna design this so I can have this.' And then somebody literally makes it and walks up and hands it to you. That's amazing!"
The Mandalorian premieres Tuesday, November 12th on Disney+.