Mario Kart 8 Deluxe is out now on Nintendo Switch! 
Mario Kart 8 has been heralded as one of the best in the long-standing racing series, perhaps even the most innovative since Mario Kart Double Dash. But unfortunately, due to the Wii U's lacklustre sales, not enough people actually got to experience its mad fun.
However, with the launch of Mario Kart 8 Deluxe that might all change. What we thought was one of the definitive entries in the Mario Kart series, with its anti-gravity circuits and glorious graphics, just got outdone by its own remaster. This is the same great Mario Kart 8, but just so much better.
Same zany fun, but much more portable
Nintendo originally made Mario Kart 8 great by making everything much faster and brighter than it ever had been before. Pre-race setup steps were cut down, Lakitu made sure you were back on the track faster after spinning out of control and you got new karts and other upgrades at the end of every race.
New items like the foe chomping Piranha Plant, the Boomerang Flower and the Blue Shell combatting Super Horn helped to mix up the gameplay too. But it was the track tweaks that really changed up the formula.
Mario Kart 8 introduced subtle but ridiculously effective mid-race antigravity transformations, meaning that parts of the track would have you driving up walls and on ceilings. The transitions are well thought through and are regularly incredibly visually effective, catching new racers off-guard for a second as they try to work out what just happened.
Thankfully, it's not an overused feature, as was the initial fear. Mario Kart 8's tracks are a perfect blend of gravity-twisting experiences, more traditional single-plain affairs or the downright retro such as the the Hyrule Circuit of the Triforce Cup. With Mario Kart 8 Deluxe, you get the added benefit of having all the DLC tracks – and characters – included, so you're getting 16 additional tracks on top of the original game's base 32.
It doesn't matter whether you're racing around Donut Plains 3 or the new Wario Stadium, every track feels well-designed with the right mix of boost pads and item boxes to make you feel like you earned every win and always had a good opportunity to make a potential comeback.
It helps that the tracks are all an absolute joy to look at – and even more so on the Switch. When docked, the Switch boosts the Mario Kart 8 Deluxe graphics to a glorious 1080p full HD resolution and framerates sit at 60fps. In tablet mode, they're not quite hitting those marks, but colours pop from the screen and it's a glorious assault on the eyes however you play. It's easily one of the best-looking Nintendo games ever and being able to experience that on the go is a joy.
Fun with friends is always better
But what makes Mario Kart 8 Deluxe so much better than the original is the fact that it's on the Switch. Nintendo's latest console is designed to offer instant local multiplayer and that's always been Mario Kart's forte. Combining the two really brings the joy of the Nintendo Switch design to life.
Being able to hand one Joy-Con to a friend and instantly challenge them to a race or a romp in Battle Mode is exactly how Mario Kart should always be enjoyed. If you're feeling particularly fun, you can treat yourself to a set of Joy-Con Wheels, which retail at just £12.99/$14.99 for a pair and might just be the most adorable Nintendo Switch accessories we've ever seen.
But they're more than just cute. These dinky wheels are like micro versions of the Wiimote Wheels, with L/R buttons on the rear for drifting and using items. They immediately put you in the Mario Kart headspace and send waves of glee through anyone who uses them – including our very own mums.
Mario Kart 8 Deluxe supports two-player split-screen, as well as three- and four-player competitive races, although we'd recommend sticking to two players unless you're playing in TV mode. Tabletop Mode works incredibly well on the Switch for Mario Kart action though, with plenty of lunchbreaks spent huddled around the kitchen table in the Fandom office jostling for the next race.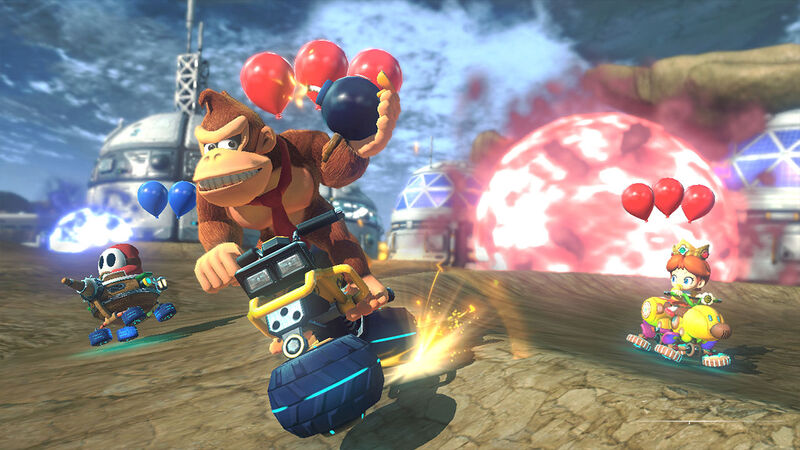 Online modes support up to 12-players and it's quick and easy to join races, set up tournaments and head into the various Battle Mode options. However, you can only chat in the lobby currently using preset text options. It's not clear whether chat will be supported in the lobbies using the upcoming Nintendo Switch companion app, but we'd guess that if it does it'll also be limited to the pre-race lobbies. We'd love to actually chat with our friends over a race (read berate) in the future, but if Nintendo's track record is anything to go by, we can't see that happening.
It's old-fashioned and frankly a little annoying, but thankfully it doesn't get in the way of an otherwise incredibly strong Mario Kart offering.
The Battle Mode has been ridiculously revamped too, with new special customised arenas giving you a much tighter, frenetic multiplayer mode. The original Mario Kart 8 used the normal tracks for playing Battle Mode, which meant the action was spaced out across the long, winding roads. The five modes all work incredibly well, with options as follows: the returning Bob-omb Blast, Balloon Battle, Coin Runners, Shine Thief and our favourite Renegade Roundup, which is basically Mario Kart cops and robbers.
Is Mario Kart 8 Deluxe any good?
Putting Mario Kart 8 on the Switch is a genius move. The design of Nintendo's latest console takes everything that was great about the Wii U edition and makes it even more portable, but more importantly, friendly. Being able to instantly jump into multiplayer sessions without having to buy additional kit is so refreshing and this is exactly the game that the Nintendo Switch needed.
Mario Kart 8 Deluxe is available exclusively on the Nintendo Switch from April 28.