When Justin Briner was a kid, he never would've imagined he'd become the voice of one of anime's most iconic characters, Izuku Midoriya (affectionately known as "Deku"). Like Deku, Briner came from humble beginnings. "Before I could really even remember, my parents were doing local dinner theater and community theater," says Briner. "So I was always sort of keyed into that, that world, that community."
Now, Briner is one of the most recognized voice actors in the West, and it's all thanks to the phenomenon known as My Hero Academia. FANDOM got a chance to sit down with Briner at Crunchyroll Expo to discuss why he thinks the show resonates with so many people, how he prepped for some of its big moments, and why fans should check out the movie, My Hero Academia: Two Heroes, and the game, My Hero's One Justice.
Deku's Struggles Make Him Relatable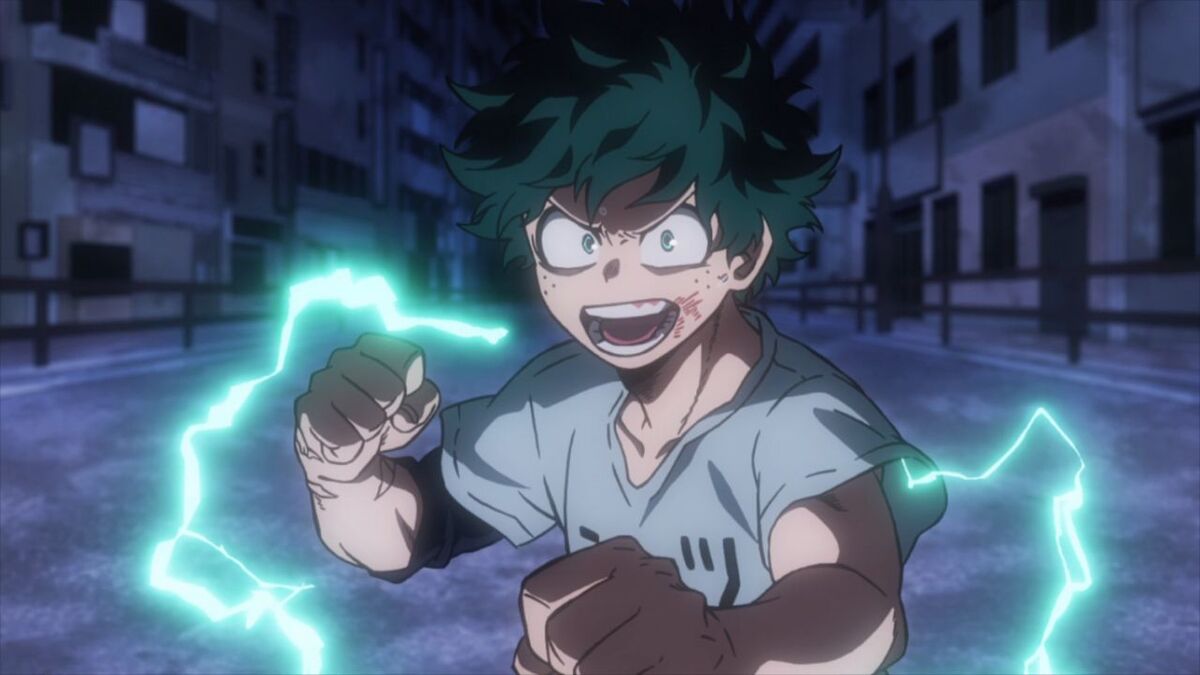 Briner's decision to pursue voice acting was driven by his love of anime and games. "It sort of clicked that all the cartoons and video games I loved so much growing up really influenced me, and my love for the narrative and storytelling, so I tried to dive into that," says Briner. So, it's no surprise that the young voice actor was drawn to a character as complex and emotionally raw as Deku.
"What always struck me as riveting about Deku is that he sort of portrays this portrait of mental health growing up," explains Briner. "He's struggling with his self-worth. He's struggling with feelings of inadequacy. People are telling him he's less than what he dreams he can be.
"And I think, you know, one way or another, we all struggle with those feelings growing up and trying to find our own identity and where we fit into society. And it's even a little harder for him because everyone around him is what he wants to be. So, I just think that's a very real sensation, and I try to play that as honestly as I can."
My Hero Academia's realistic portrayal of student life and issues might be the reason why the anime has become such a huge hit with fans. Even those who aren't fans of Deku are sure to find a character with beliefs or struggles similar to their own, such as Todoroki's need to break free of his father's influence or Uraraka's desire to help her family. "I do believe [that's why it resonates with people]," says Briner. "It makes the whole cast very easy to root for, and you can sort of tap into whoever you relate to the most and it's still going to feel very rewarding."
Navigating the Show's Difficult Moments
My Hero Academia has some pretty big moments — and we're not just talking about epic battles. So, when it comes time to portray these iconic moments, Briner makes sure he's prepared for these pivotal "stressful" scenes.
"I read ahead," says Briner. "I read the manga, so I keep up to date. Actors say they don't like to keep up with the source material sometimes to be surprised, but I don't have the willpower. So, I keep up with it.
"And pretty consistently, every time there's been a scene that I've read, and I'm like, 'Oh my gosh, that's amazing,' once it becomes animated, it's just above and beyond. So, when we reach those moments in the show, I get a little nervous.
"But I have a lot of trust and faith in my director Colleen [Clinkenbeard], who is really great at building up the fight scenes, making them go from point A to point B, and feeling like you have overcome something at the end. So, to just make that feel as real as possible is definitely a challenge."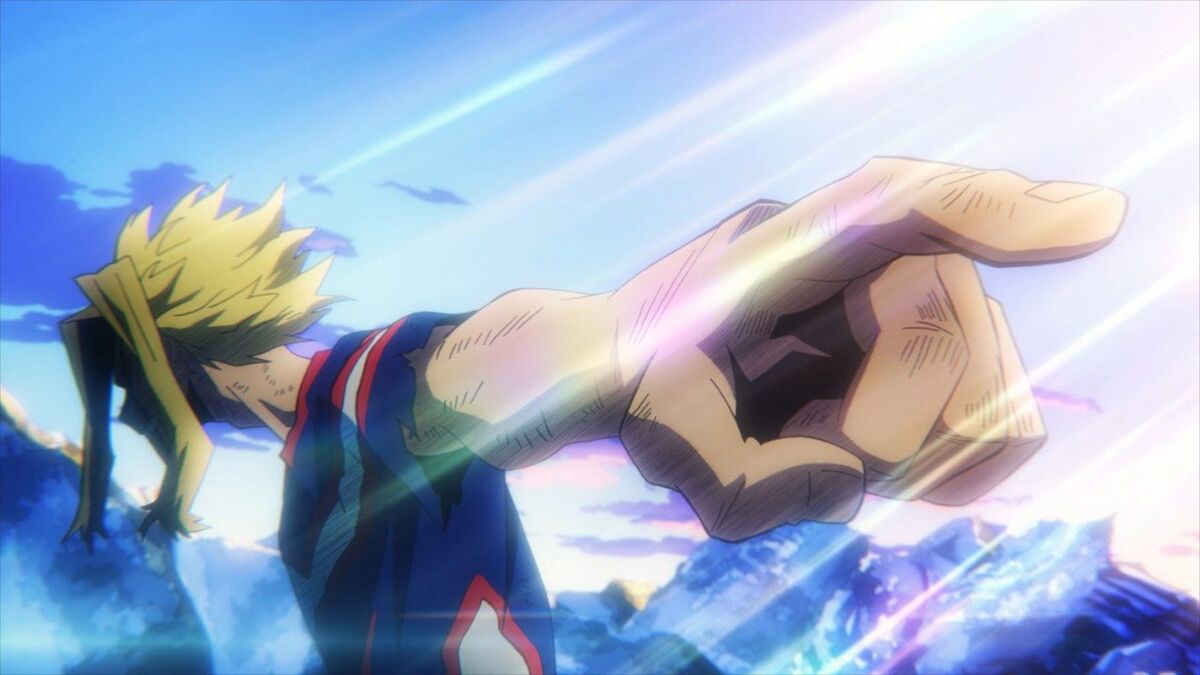 Speaking of challenges, Season 3 gave us one of the anime's most shocking moments: All Might losing his powers after defeating All for One. The emotional scene which saw the world's number one hero and Symbol of Peace enter retirement marked the end of an era, and Briner did his best tap into the emotion behind that scene.
"There's a lot of difficult emotions that go into that," says Briner. "When I saw that scene… you know, I get the luxury of recording to the animation and getting to hear the sound effects and the music swell as I say the line. So that definitely helps a lot with getting into the scene.
"But you know, it's thoughts of having to step up in that moment and realizing that [the one] you once could depend on so readily, now you have to probably help him and shoulder the burden more on your own, which I think is really touching. So, when that moment happened, I just tried to portray it as honestly as I could. It wasn't much, not a lot of dialogue. It was more just a couple lines and then crying really. And I really felt that."
Let's See More of That Female Cast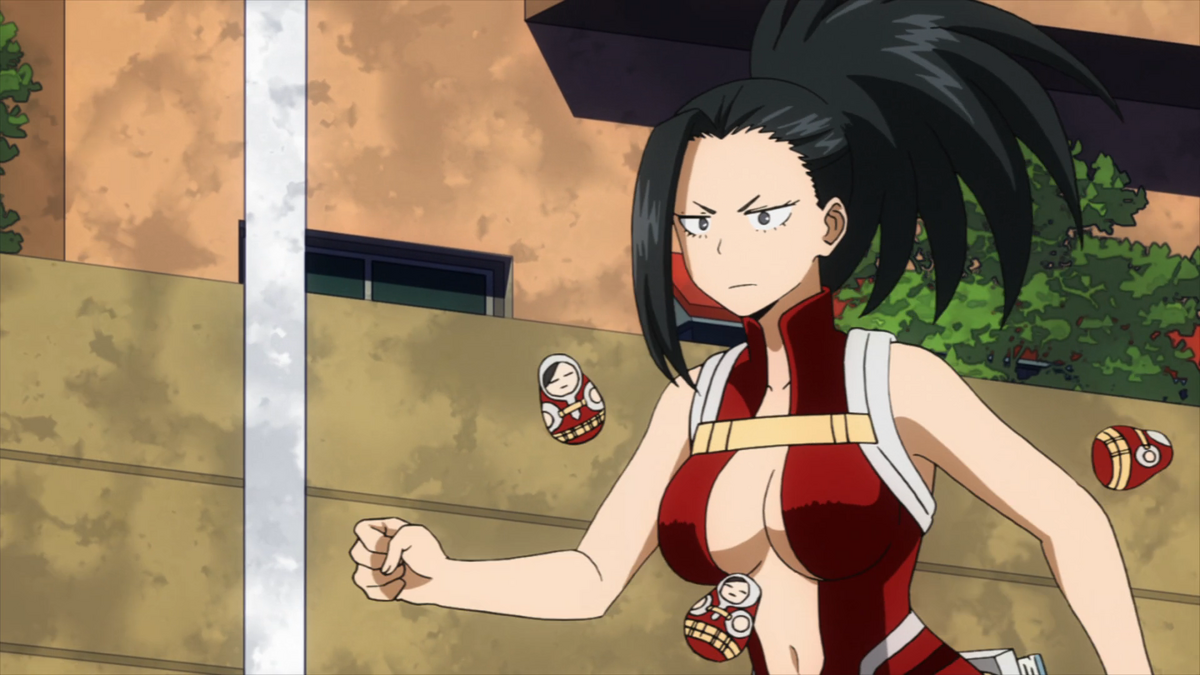 Of course, My Hero Academia isn't the first shōnen anime to give us the feels, big moments, and an ensemble cast with varying personalities and abilities. Shows like Naruto also gave us multiple characters to root for, identify with, mourn, and ship. However, as Naruto continued, the development of its intriguing side characters suffered.
My Hero Academia has, so far, managed to avoid this pitfall, which has led to memorable interactions and battles and unsinkable ships — like KiriBaku (Kirishima and Bakugo), the bromance we all can't help but love, Briner included. "Yeah, I love their relationship. I think they have such a cool buddy dynamic. I love that they have found each other so instantly — even though Bakugo is sort of begrudging about it. He's like, 'Alright, well, he's fine.' Yeah, I really love how they interact."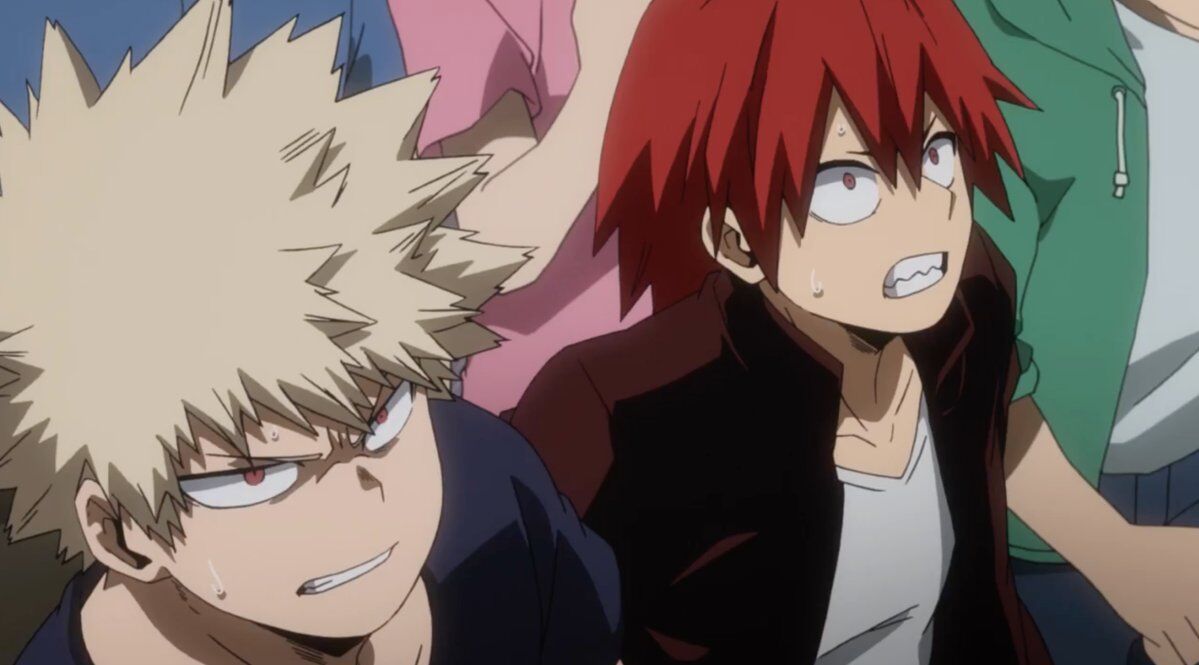 "I like seeing Todoroki's growth and how he's opening up more to the people around him," Briner continues. "I love seeing Momo Yaoyorozu sort of find her confidence over the last couple of arcs. Oh gosh, I feel like it's a cop-out. I want to see everyone. I find everyone very compelling."
However, even with such great character development, there are still characters that Briner feels deserve more screen time. "I think, just as a baseline, there are several people in Deku's class that I would like to see more of," explains Briner. "Sort of the folks you see less of, like Mina, the pink girl, and, honestly, let's say the female cast of the class. I really want to see them get to do a little more.
"I'd like to see more of the other classes. I really like that the author takes the time to explore how the school works and the society works because that makes me more curious about what they get to do every day. So yeah, I just want to see more of everyone interacting really."
Why Fans Should See My Hero Academia: Two Heroes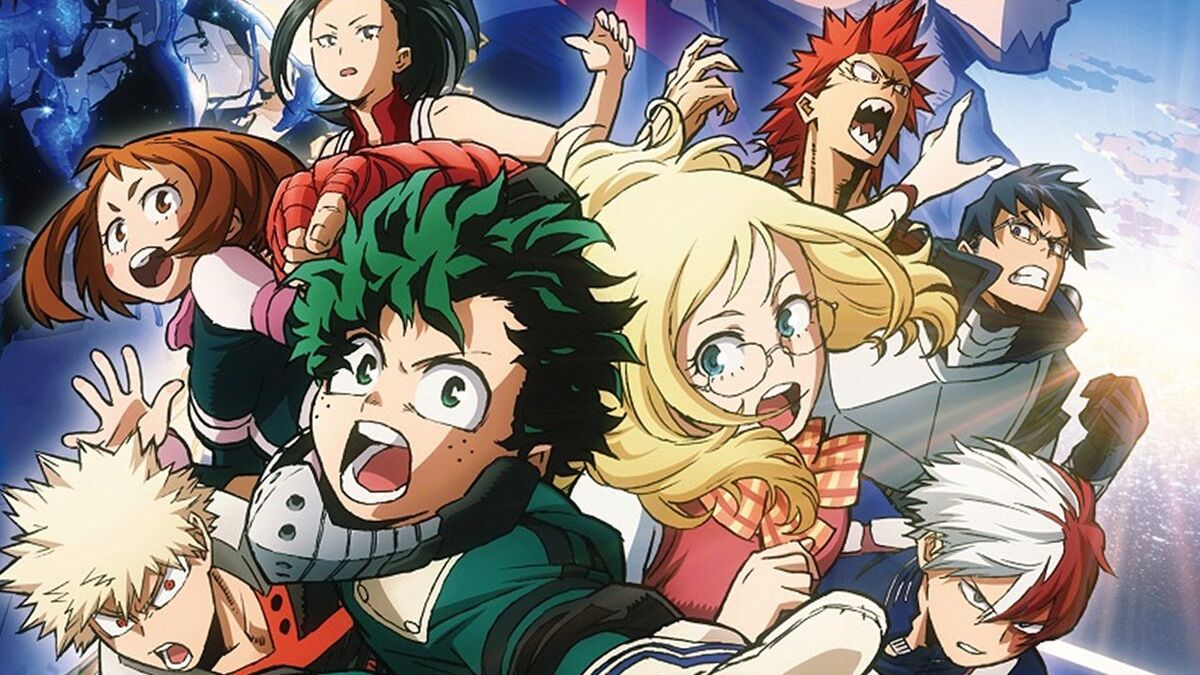 The need to see these characters interact is a testament to My Hero Academia author Kohei Horikoshi's storytelling ability, where even the minor characters, like Neito Monoma, leave a lasting impression. So, it came as no surprise when a movie starring all of our favorite rookie heroes was announced.
My Hero Academia: Two Heroes released in theaters on September 25 and will run through October 2, and Briner insists that fans of the show will enjoy the film. "I think it's just got something for any sort of fan of the show. If you like the show, what you like about it is represented in the movie in some capacity.
"There's team-ups. All your favorite characters are there. There's new adventures, new explorations, in this new area. There's fights, big crazy fights. So, I just think it's cool to see the world expanded in this way in this movie, and it's just a lot of fun to watch."
Serving Up Wins in My Hero One's Justice
The movie isn't the only adaptation the popular anime will receive. There's also a game, My Hero One's Justice, set to release in North America and Europe on October 26. The fighting game will include our favorite characters and give players the power to create their own.
Briner, a fighting game fan himself, can't wait to get his hands on the game to play with his friends. "I've been seeing screenshots pop up out of Japan now that the game's released there, and it looks like it's just going to be a lot of fun," says Briner. "Like, it doesn't take itself seriously enough that, you know, it's completely serious, and I think that fits the tone of the show.
"You should be able to suit up your hero with ridiculous outfits and everything because that's sort of the fun and charm of them being rookie heroes." But Briner makes it clear that, when it comes to fighting games — especially My Hero One's Justice, he's no rookie. "I got to play a little of it at San Diego Comic-Con, and I played a round as Deku, and I won. So, I'm 1-0, 100% win rate. I'm trying to keep that streak going."
Bakugo vs. Deku IRL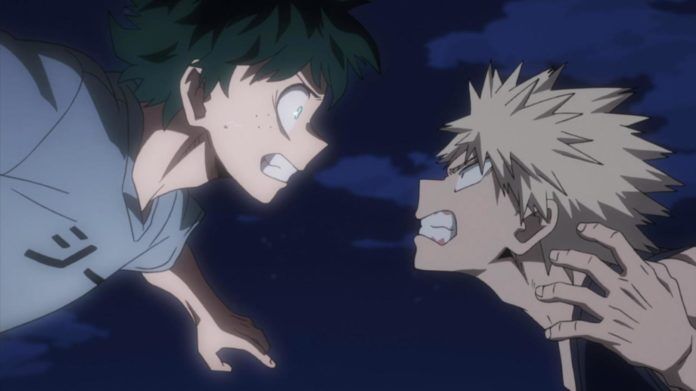 Unfortunately, Briner and the rest of the cast didn't get a chance to do an English track for the game. So, fans won't get to hear any heated dialogue between Briner and Clifford Chapin (the English voice actor behind Bakugo). However, if you happen to be at a con where the two voice actors appear together, you might catch them acting out their rivalry in real life.
"I think we like to play up our rivalry when we do events like these, which is a lot of fun," says Briner, "especially if we're sitting next to each other doing autographs or something. He like vandalizes prints of Deku and stuff like that."
In true Deku fashion, Briner maintains that he and Chapin are actually friends. "But I don't think that we're ever butting heads about anything," Briner explains. "If anything, I'm just a very big supporter of his work." Perhaps Deku and Bakugo can become real-life friends after all.
My Hero Academia just wrapped up its third season and was officially renewed for a fourth. It's currently streaming on Crunchyroll and Hulu.