As the Doctor Who Christmas special episode draws ever closer, a new trailer has dropped to get us all in a tizzy. As if we weren't already somewhere close to fever pitch. And it brings us some hitherto undiscovered revelations — most prominently that there's some friction between the First and Twelfth Doctors, who both feature in the episode.
We see Peter Capaldi's Twelfth Doctor introduce himself as the Doctor. As he does so, David Bradley's First Doctor responds: "You may be a Doctor but I am the Doctor."
Capaldi's Doctor then goes on to explain to Bradley's that he is his future self. Bradley's Doctor looks at him quizzically, and asks, "Sunglasses?"
"They're sonic," explains Capaldi.
"Indoors?" comes Bradley's cutting follow-up.
We also witness Capaldi saying, "I will stop you. I will stop all of you," before our first look at an enchanted glass figure teased in the recently released synopsis.
There's also a better look at the much-anticipated regeneration sequence.
Called "Twice Upon A Time", the episode is one-hour long — 15 minutes longer than a standard episode. In the episode, we will see Peter Capaldi's Twelfth Doctor bow out as he regenerates into Jodie Whittaker's Thirteenth Doctor — the first female Doctor in the show's history. The episode also marks the departure of outgoing showrunner Steven Moffat. Chris Chibnall steps into the role for the next season, due to premiere in Autumn of 2018.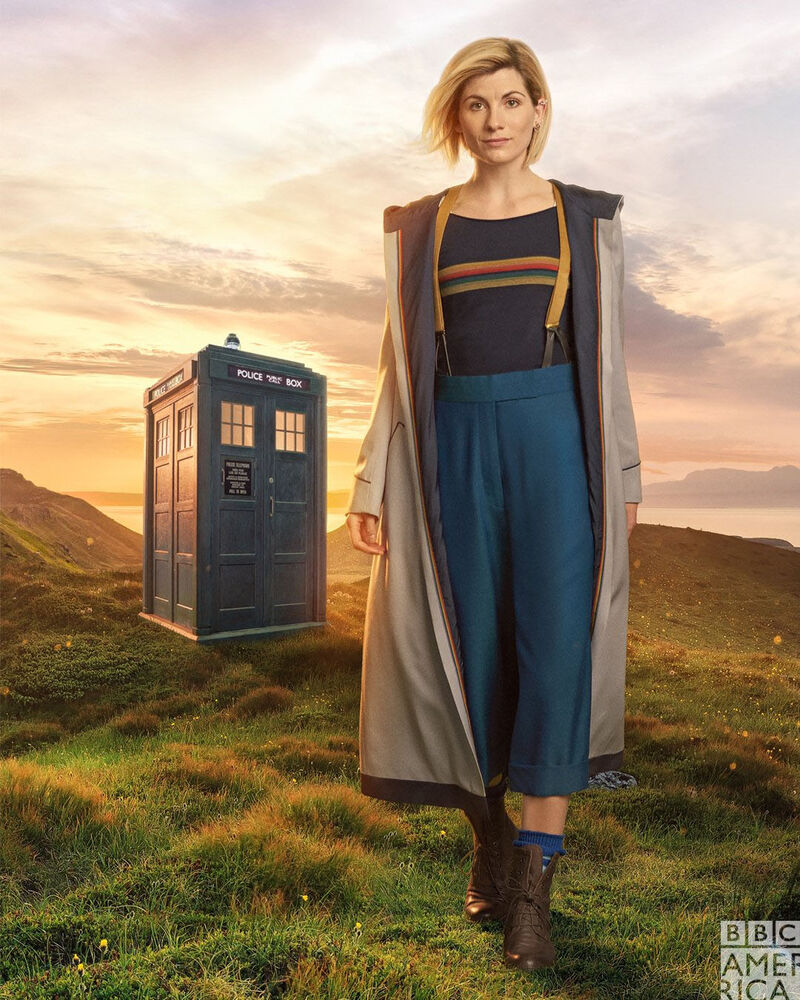 What's It About?
Here's the official synopsis for the episode:
The magical final chapter of the Twelfth Doctor's (Peter Capaldi) journey sees the Time Lord team up with his former self, the first ever Doctor (David Bradley — Harry Potter, Game of Thrones) and a returning Bill Potts (Pearl Mackie), for one last adventure.

Two Doctors stranded in an Arctic snowscape, refusing to face regeneration. Enchanted    glass people, stealing their victims from frozen time. And a World War One captain destined to die on the battlefield, but taken from the trenches to play his part in the Doctor's story.

An uplifting new tale about the power of hope in humanity's darkest hours, "Twice Upon A Time" marks the end of an era. But as the Doctor must face his past to decide his future, his journey is only just beginning…

"Twice Upon A Time" is written by Steven Moffat, directed by Rachel Talalay, and executive produced by Brian Minchin. The 60-minute special guest stars Mark Gatiss as The Captain and Nikki Amuka-Bird as the voice of the glass woman, and will see Peter Capaldi's Doctor regenerate into the Thirteenth Doctor (Jodie Whittaker).
"Twice Upon A Time" premieres on BBC1 at 5.30pm on December 25 and will air on BBC America a few hours later.