Not a hoax! Not a dream! Not an imaginary story! Just a couple months shy of the third anniversary of the release of its first teaser trailer, The New Mutants is really and truly opening this week.
The journey The New Mutants has taken these past few years has been an unusual one, to say the least, with unprecedented causes that included a massive corporate merger and a global pandemic playing a part in why it kept being delayed. And now it's finally being released at a time when COVID-19 is responsible for many theaters still being closed in parts of the United States, while even those that are open are operating at limited capacity – all amidst a debate about if they should be open at all. But wherever you sit on the side of that argument, in the wake of so many joking that the film would never open, the fact is, The New Mutants will finally be available to be seen… in some areas.
Fandom spoke to The New Mutants' co-writer (with Knate Lee) and director, Josh Boone, and one of the film's stars, Blu Hunt (The Originals), who plays Dani Moonstar, AKA Mirage, about the film's mixture of horror and superheroics, its trippy villain, its influences, and, of course, those maddening delays.
Note: for pre-release junket interviews, members of the press are almost always shown the film beforehand to prepare, but Disney didn't make The New Mutants available.
SUPERHEROES V DEMON BEAR
Using Dani as its focal point, The New Mutants finds her inside a hospital with four other superpowered teens – Rahne Sinclair / Wolfsbane (Maisie Williams), Illyana Rasputin / Magik (Anya Taylor-Joy), Sam Guthrie / Cannonball (Charlie Heaton), and Roberto da Costa / Sunspot (Henry Zaga). And while the specifics of the hospital setting are Boone's invention, influenced by films like One Flew Over the Cuckoo's Nest and A Nightmare on Elm Street 3: Dream Warriors, the main threat in The New Mutants is drawn from Chris Claremont and Bill Sienkiewicz's classic Demon Bear storyline from the original comics.
Boone said even when he first began work on the film, "The idea was always to do the Demon Bear story. That was sort of the idea of the movie from the very beginning. I never had a light bulb go over my head where I was like, 'I need to make a horror comic book movie.' The comics were already that. So it sort of organically just was a horror movie, but it also has some kind a John Hughes element in it and it also has all the superheroics that a Marvel movie demands and should have. "
For her part, Hunt loved the superhero meets horror movie combo, remarking, "I think the best movies are genre blends. I think it's so much fun. And this movie really reminds me of a lot of the most fun, creepiest movies from the 80s and the 90s that are honestly the most rewatchable movies – they're fun and they're scary and there are characters that you just love. I think these are really all likable characters. And it's fun to act in scary bits and then also get to act in more emotional John Hughes bits, and then the romance. It's a little bit of everything."
When it came to the Demon Bear itself, Boone noted, "In the comic, they battle this giant bear in a metaphysical plane. In reality, Dani's in another metaphysical plane that's sort of like her own limbo; that sort of Philip K. Dick-ian, non-linear editing I was really excited about. And I just knew it was a great story. And I knew it was weird and I knew it was occulty and sort of not your typical superpowers and kind of leaned a little bit more towards the way Stephen King used mutant powers in Carrie or Firestarter, where these things sort of lead to death and destruction and serious personal tolls."
Regarding the film's big bad, Hunt remarked, "It sounds a little cheesy, but we all have our own Demon Bear. And when you play any character, one of the first things you really learn when you're learning how to act is what's their main objective, what's the thing that's standing in their way from becoming who they need to become or who they want to become. And I think that's what the Demon Bear is for Dani and that's what it represents for people."
She added, "It was crazy, because when I was filming those scenes about the Demon Bear, as an actor, showing up to make my very first movie, I really did feel like the scenes were almost a meta thing because I was dealing with my own [Demon Bear], facing being the lead actress in the movie this big. I had to face things about myself every day."
FINDING MIRAGE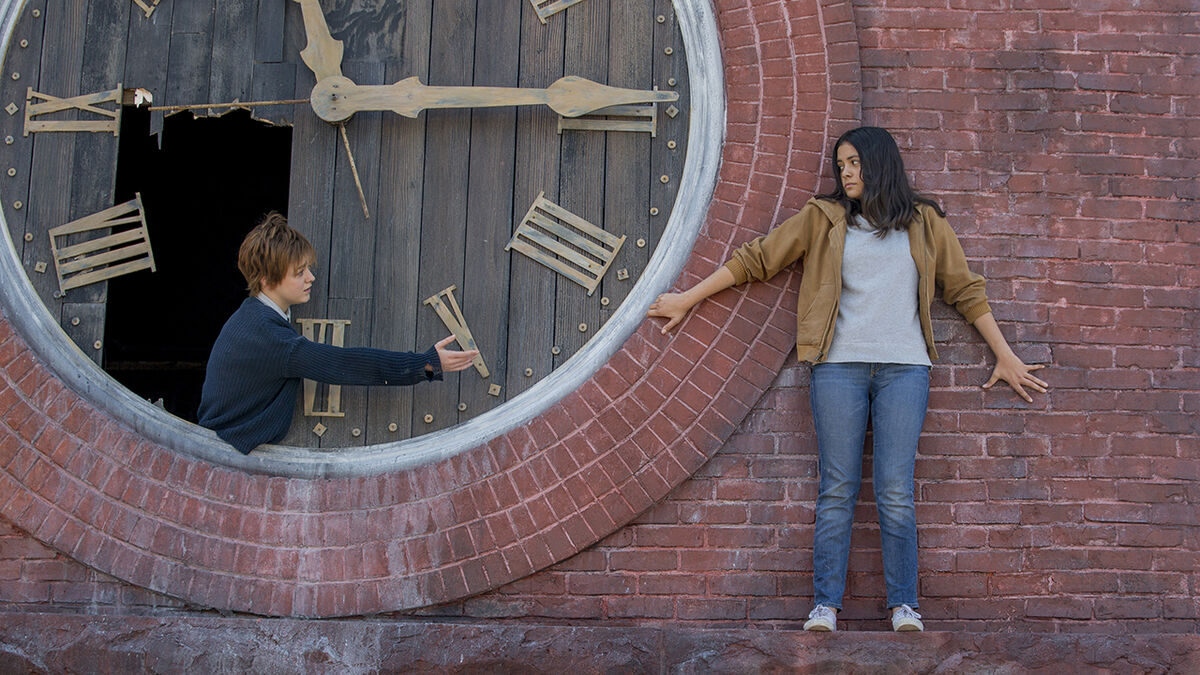 The film's opening scene, revealed during The New Mutants Comic-Con@Home panel, depicts the chaotic events that lead to Dani ending up in the hospital, and Hunt remarked, "She kind of watches as her entire life is destroyed in front of her eyes. She wakes up in this hospital and I think Dani is stunned and confused and just shocked; she just doesn't know how to react. And then suddenly people are telling her that she has superpowers and she's like, 'Absolutely not.' She rejects everything because she's so traumatized by what has just happened to her."
When it comes to the other New Mutants, Hunt said, initially, "Dani's so emotionally turned off and she's been there, done this before. She's already done group therapy. She has a lot of issues. And she's sitting with this weird group of kids and she doesn't know how to make it out, but her and Illyana immediately dislike each other. Illyana is so mean to her right off the bat. But, in turn, she's drawn to Rahne immediately. I think that's what's cool about the relationship is if you took out the superpowers and it was a movie just about kids in a mental hospital, they would still fall in love with each other."
Dani Moonstar is notable as one of a handful of prominent Native American superheroes in comics, and Hunt described playing her as "Such an honor. When I knew I was getting the role, there was a lot of pressure. And I kept thinking, 'How can I do this right?' and wanting to do Dani justice and just wanting to create a character that all indigenous people would love and hopefully see themselves in her."
THIS TEAM IS MAGIK
From the trailers, there's also been a lot of fan excitement around Illyana Rasputin, AKA Magik, and her combination of teleportation powers and sorcery skills. The New Mutants movie notably uses nearly the exact five original teammates from the comics but with Magik swapped in for the character Karma. Said Boone, regarding his original intent for a New Mutants trilogy, "The plan was always Karma was going to be in the second one with Warlock, and then Cypher was going to be in that as well. A character that I never considered was Magma. Her power, visually, is too similar to Sunspot and he's just more fun for me."
However, for the first film, Boone remarked, "I knew we had to have Illyana, even though it took longer to get her in the series than it actually did in the movie. I knew that she was our Jack Nicholson [in One Flew Over the Cuckoo's Nest]. I knew that Alice Braga [as Dr. Cecilia Reyes] was Nurse Ratched – she's both protagonist and antagonist. She's really trying to help them but she has her own purposes as well. It had all those elements that you needed to really have a great ensemble and the cast was already perfect from the original graphic novel, but I needed that other element, which was Magik."
He added, "We've been very true to the mythology in the origin story as well, while at the same time, we're trying to make them as grounded and psychologically compounded as we could, if that makes any sense. One example I would give is that Lockheed's in the movie, but I can't explain Lockheed coming from another planet or his connection to Kitty Pryde. So I found as organic of a way that I could to tie him deeply to Illyana, and Limbo, and her past, just to try to make it digestible for the 98%  percent of people who were going to see it who have never read a New Mutants comic. It couldn't feel like it was from a different movie."
DELAYS OF FUTURE PAST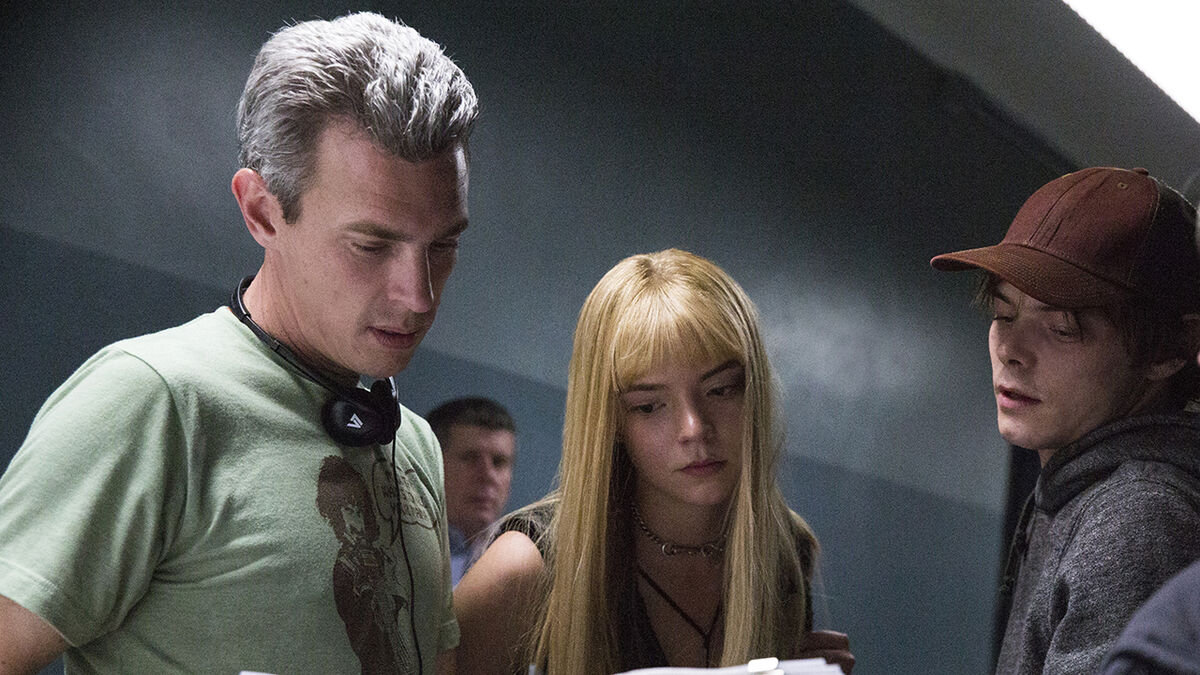 While Boone was keeping busy, including developing his upcoming CBS All Access miniseries of Stephen King's The Stand, he said that, regarding the situation with New Mutants, "We were in quite a predicament. Me and Simon [Kinberg] both, with Dark Phoenix, as well. We were supposed to come out before Dark Phoenix and Dark Phoenix was supposed to be two movies. When I'm in the editing room for New Mutants, they tell us 'Disney is going to merge and buy [20th Century Fox]. They're going to absorb all of the Marvel properties. We have no idea what's going to happen.'"
One of the first delays New Mutants received included swapping it so that Dark Phoenix would be released first, and Boone explained, "They really had to rush and do everything they could to fix Dark Phoenix so it could end as one movie and we were sort of left on the wayside. We cost way less. We had a less demanding cast in terms of who they are in the public sphere now and all that. It's like they kind of put all their stuff into that, even though we always tracked better, had a much more popular trailer, all those things. It's like we didn't get the consideration."
Still, Boone notes, "When Disney came back and was done [with the merger and work on Dark Phoenix], they invited me back. So I ended up kind of having a happy ending. But the time during the merger, that year and however many months, I didn't have any idea what was going on, I don't even think that Fox knew what was going on, or Disney. I don't think anybody really knew what was going to happen. And we were sort of in Limbo, like Magik. You just do the best you can."
There were a ton of rumors flying around during this period, including several reports about reshoots having been done on the film, even though they never occurred. As Boone noted, "95% of movies do reshoots, do pickups. We never even got to go do that because of the merger. Anya would text me and be like, 'Did we do reshoots!? Why wasn't I there?'  You just sort of have to measure all that stuff and meditate and listen to music and try to stay sane. But I just work on different things and keep other things moving forward."
For her part, when it came to coping with the delays, Hunt said, "I had already been a little bit masochistic looking at tweets even before I got cast. People knew the movie was being made, and I was watching people tweet about who they wanted Dani Moonstar to be. And then when the movie got pushed, reading people's tweets and what everyone was talking about on the Internet about why it was pushed and all the things, I remember being almost obsessed with it as a way to cope. None of us knew, Josh didn't know what was happening. I didn't know was happening. The cast didn't know. So there's almost some kind of escape in reading false wonderings on the Internet."
Hunt laughed, recalling thinking, about some of the reports, "'These guys, they probably know…' even though none of us do! So that was my approach, but eventually I just kind of found my way off the Internet and at first it was a little heart-crushing. But I feel like I've gone through something that nobody else has gone through. First, I'm an unknown actress who's never been in a movie and I'm cast as the lead of an X-Men movie, playing a superhero. And then that movie gets pushed for three years. No one else in the world has that life experience and that's super cool because that's kind of why I moved to L.A. to be an actor is to have experiences that nobody I knew growing up had."
Despite all of the delays,  Boone remarked, "The movie was never compromised. Nobody tried to compromise the cut of the movie or anything like that. It was always just delays related to things that didn't really have much to do with the movie. And maybe personal leanings towards the bigger X-Men franchise because so much money was invested. And I understand. We made this for about the price of the first Deadpool. [Dark Phoenix] was $200 million-plus. I can't even imagine. There was an obligation."
SIGN OF THE TIMES
Now that The New Mutants will finally be released, Hunt said, "I am just so excited for people to finally see it. And I think it's just such a fun movie and it's got suspense and it's silly, but it's really touching. It's a movie I would have loved to have seen when I was a teenager, and as a young mixed-race girl in a very, very white city. And, you know, I liked girls when I was in high school, too. I had a girlfriend. I think it would have been a movie that would have made me feel more confident about myself."
Hunt said that along with her excitement, "I'm definitely a little sad because with coronavirus, it's hit reservations the hardest in America. And I think that is where I'm most disappointed, is that a lot of young people I know that live in South Dakota on Pine Ridge, and a lot of my friends probably, won't get to see the movie in theaters, or at least they shouldn't, because things are still really dangerous. And I was most excited for Native people to be able to see this in theaters. So I'm hoping eventually, maybe after it comes out, maybe in the future when this all dies down, there will be like another screening or something."
Said Boone, "It's weird that this movie is going to be one of the first to come out. It's about kids quarantined in a place they can't get out of. I think things happen when they're supposed to happen, you know? So I just kind of go with the flow and roll with the punches and all that."
Like Boone, Hunt saw some analogies between the characters in the film and all of us stuck at home. "I'd say it's definitely extremely relevant. I think people will really enjoy watching these characters having to find things to do to occupy their time because they're so bored and aggravated at being trapped in this hospital."
FOX'S X-MEN: 2000-2020
This summer marks the 20th anniversary of the release of the first X-Men movie. And while it was certainly not what he could have envisioned would happen going into making The New Mutants, Boone's film now marks the end of a 20-year era, as it is the final 20th Century Fox-produced X-Men film to be released.
Regarding his film serving as an unintended bookend, Boone said New Mutants is, "More like that first X-Men movie a little bit where it's a lot more about performance and character. Like I said, it's got everything you want, but it's got a lot of other things that it's interested in as well. I still think they'll never be a better sequence in an X-Men movie than when young Magneto pulled the gates of Auschwitz back. Anybody can say what they want about Bryan Singer. I still say that's one of the greatest superhero scenes ever made in a movie, up to par with the first Superman movie and everything else. It's powerful, emotional, and tied into historical things that are important to everybody, which is sort of what X-Men has always done. We just tried to do a new spin on that and try to appeal, really, to kids who don't have much of a voice in movies nowadays in theaters."
The New Mutants opens August 28th.