We've already had Mario Kart 8 Deluxe and now we know that the highly-anticipated Super Mario Odyssey is arriving in October, a touch earlier than the original 'holiday 2017' release.
Whenever Nintendo releases a brand new console, the first words on people's lips are usually related to Mario. It's pretty much a foregone conclusion that with a new console, Nintendo's red-hatted plumber mascot isn't far behind. But never fear, as in terms of Nintendo Switch Mario games there are already a few in the pipeline.
Whether you're a traditional Super Mario fan or looking for something more on four wheels, the Nintendo Switch already has something for everyone. Plus, although we're starting here, there will no doubt be plenty more Nintendo Switch Mario games arriving in the not too distant future.
Here's everything we know about all the Nintendo Switch Mario games so far:
Mario Kart 8 Deluxe
Mario Kart 8 Deluxe release date: April 28, 2017
The first Super Mario Switch game comes in the form of Mario Kart 8 Deluxe. It's a special re-release of the Wii U version of Mario Kart 8 first launched back in May, 2014. When it arrives on Switch in April, it'll feature every track and kart from the original Wii U edition, including all the previously released DLC.
But that's not all. It also comes with five additional characters bringing the total to a rather impressive 42. Those new characters are: King Boo, Dry Bones, Bowser Jr., Inkling Girl and Inkling Boy from Splatoon.
Mario Kart 8 Deluxe also features the return of two popular items from previous Mario Kart titles, which is exciting as you can now hold two items at once. The returning items are Boo, who makes you invisible while stealing items from other racers and the Feather that allows racers to jump over obstacles in the new and improved Battle Mode.
Speaking of the new Battle Mode, you can check out some of the features in the overview trailer above, but there's plenty to look forward to. There are two entirely new modes called Bob-omb Blast and Renegade Roundup, which will join the other modes including Coin Runners, Balloon Battle and Shine Thief.
Many of you will know Bob-omb Blast from Mario Kart: Double Dash, but Renegade Roundup is all new. It'll see half the team armed with Piranha Plants trying to capture the "spies" in their jaws as they race around the tracks.
In terms of gameplay, you're looking at the same manic Mario Kart action, although this time you can brake as you drift, giving you a little more control. You'll also be able to experience the game with updated 1080p full HD graphics and at 60fps – both for TV mode only, sadly.
Super Mario Odyssey
Super Mario Odyssey release date: October 27, 2017
For most Nintendo Switch owners – or more importantly, prospective owners – Super Mario Odyssey is the game you're waiting for. It's the one that will hopefully help sell millions of Nintendo Switch consoles this side of Christmas because it's a brand new 3D Super Mario game that could rival the likes of Super Mario Sunshine, Super Mario Galaxy and Super Mario 64. It's got success written all over it.
Super Mario Odyssey was first announced back in January during a livestream dedicated to the Nintendo Switch and its roster of upcoming games. Aside from Legend of Zelda: Breath of the Wild, gamers were going wild for Super Mario Odyssey. And even from the above gameplay trailer, there's plenty to be excited about.
The brain behind the fantastic Super Mario Sunshine and Super Mario Galaxy, Yosiaki Koizumi, is also making Super Mario Odyssey. Like those other titles, Odyssey is a 3D adventure, but it's bigger and features more varied landscapes than any Super Mario game before. And for the first time, our favourite plumber pal is leaping out of the Mushroom Kingdom.
New Donk City is the cityscape that you'll be exploring in part of the game and it's the area that's been given the most attention so far. Elsewhere in the Super Mario Odyssey trailer, Mario is seen wandering around a lush forest with a running stream, a Day of the Dead-themed town, soaring over the desert plains in his new top hat-shaped airship and even in a colourful land full of crystal fruits, vegetables and other edibles.
In fact, it seems that hats are quite the theme for Super Mario Odyssey. Not only is Mario's plane in the shape of a top hat, as we've mentioned, but Mario's trademark baker's cap is coming to life in Odyssey. In the trailer, it actually gains eyes and some semblance of a personality. Mario even goes as far as to use it as a weapon and to create temporary platforms.
There even seems to be a special hat shop where you can buy new hats, which is called "Crazy Caps".
The hat, known in the game as Cappy, will actually give Mario several different powers, including the ability to transform into critters within the world of Odyssey and classic Super Mario enemies, including Goombas.
What's interesting is that all of Mario's new adventures seem to be on a quest to rescue Princess Peach… AGAIN. Someone seriously needs to tell that girl to lock her doors at night. Bowser's pinched her again and it actually seems like he's trying to marry poor Peach.
Along the way, it seems you'll be facing plenty of new foes including mechanical teapots, incredibly aggressive plant pots and bunny rabbits. It even seems that these white fluffy critters may be in cahoots with Bowser himself. They're seen riding on Bowser's ship wearing hats of their own but ringed with Bowser's trademark spiked bands.
Gameplay wise, it looks like Mario has quite the array of abilities, including some that aren't hat related. We love the fact that Mario is seen riding a lion, or a sphinx during the reveal trailer, while elsewhere he's swinging from lampposts and even having a little dance.
Most of all Super Mario Odyssey is looking like a hell of a lot of fun.
Super Smash Bros. for Nintendo Switch
Although we're plenty excited for Super Mario Odyssey and the revamped Mario Kart 8 Deluxe, there's another Mario game franchise that gamers are anxiously awaiting for on the Switch: Super Smash Bros.
But fear not! There is a Super Smash Bros. game in the works for the Nintendo Switch.
"Smash is obviously one of our best-selling franchises," explained Nintendo America's Reggie Fils-Aime. "What we say is that the philosophy that Nintendo has from a development standpoint is that for every platform, we want to have at least one of our classic franchises."
"There's gonna be one great Super Mario experience, there's gonna be a great Zelda experience, so you can expect, you can anticipate at some point in the future – who knows when – that all of our franchises will be addressed. We know that the fans love these games, love this content, so stay tuned."
Nintendo is planning a big E3 2017 for Switch games, so perhaps a new Super Smash Bros will be stepping into the ring very shortly.
What other Super Mario games can we expect on the Nintendo Switch?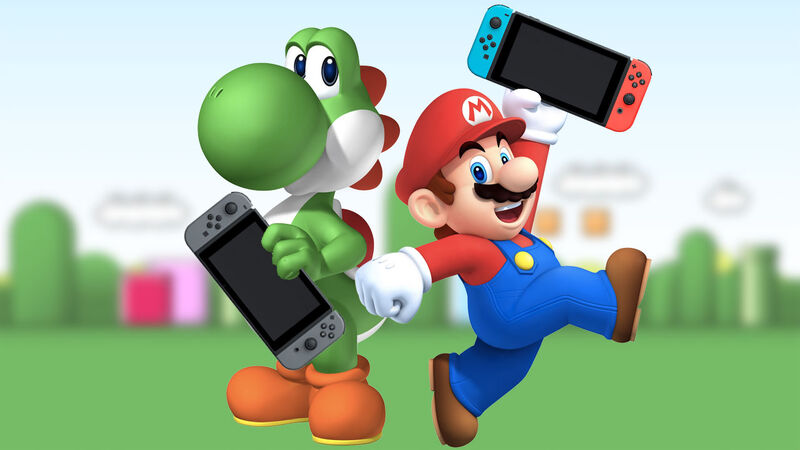 At the moment there are no other confirmed Nintendo Switch Mario games. However, no doubt there will be more inbound for Nintendo's latest console.
We're guessing that the next Nintendo Switch Mario games will come in the form of Virtual Console titles. The Switch is rumoured to be getting GameCube Virtual Console support, meaning we could get to play excellent Super Mario titles like:
Super Mario Sunshine
Paper Mario: The Thousand Year Door
Mario Kart: Double Dash
Luigi's Mansion
Super Smash Bros Melee
The Nintendo Switch is available worldwide now priced at $299.99/£279.99.