Earlier this year I got to interview the cast and crew of Steven Universe about the series. At New York Comic Con 2016 I got to chat once again with Steven Universe creator Rebecca Sugar about the show, and she brought along some friends. The performers behind Stevonnie, Lapis, Peridot, Ruby, and Greg Universe all attended the NYCC Steven Universe press roundtable. They offered up some fascinating insight into creating the series.
What's It Like To Become a Gem?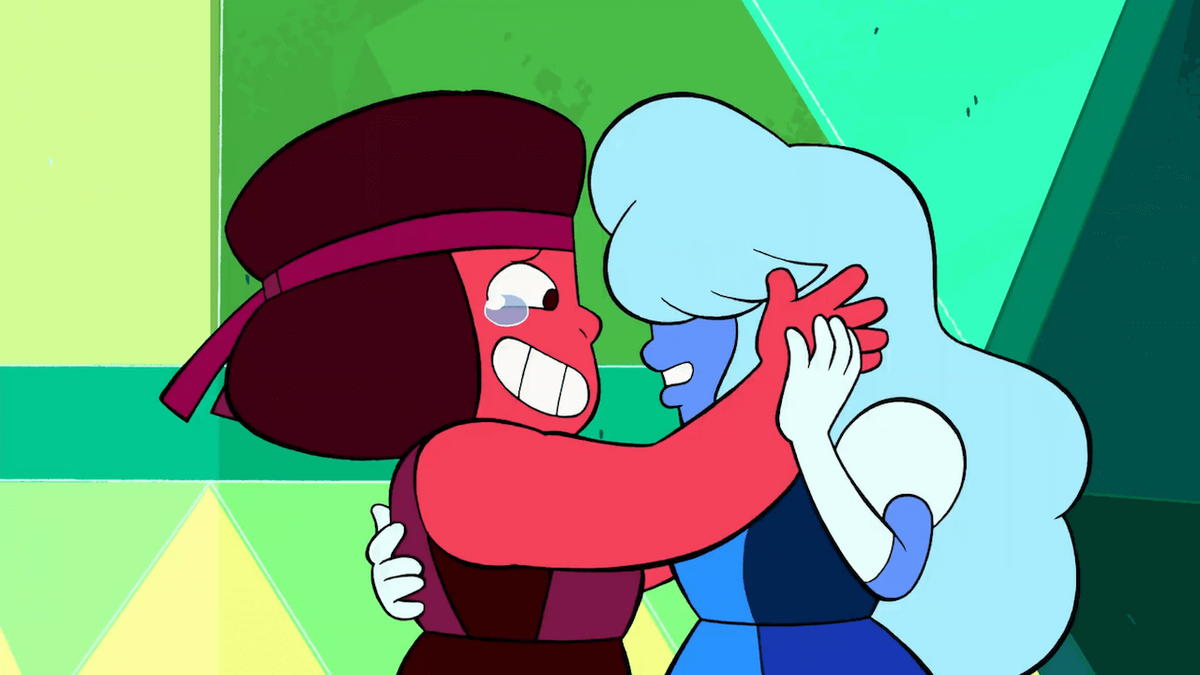 Charlyne Yi is known for her live action roles, while Steven Universe tasks her to play at least eight different versions of the somewhat similar Rubies. How does she make each Ruby unique? "Sometimes I'll just be talking to myself and making noises, and Rebecca will be like 'Slow it down, slow it down.' I don't know how I'd keep it all straight without her."
Charlyne also mentioned that when she was left in tears when she saw "The Answer," the Emmy-nominated episode that told how Ruby and Sapphire fell in love. Charlyne got the role from Rebecca Sugar because Sugar enjoyed singing talents. "She wrote a song [Something Entirely New], but she has a much lower voice, and I have like a high voice when I sing. So when I came into the recording booth, I couldn't hit any of the notes. So I had to more talk-sing."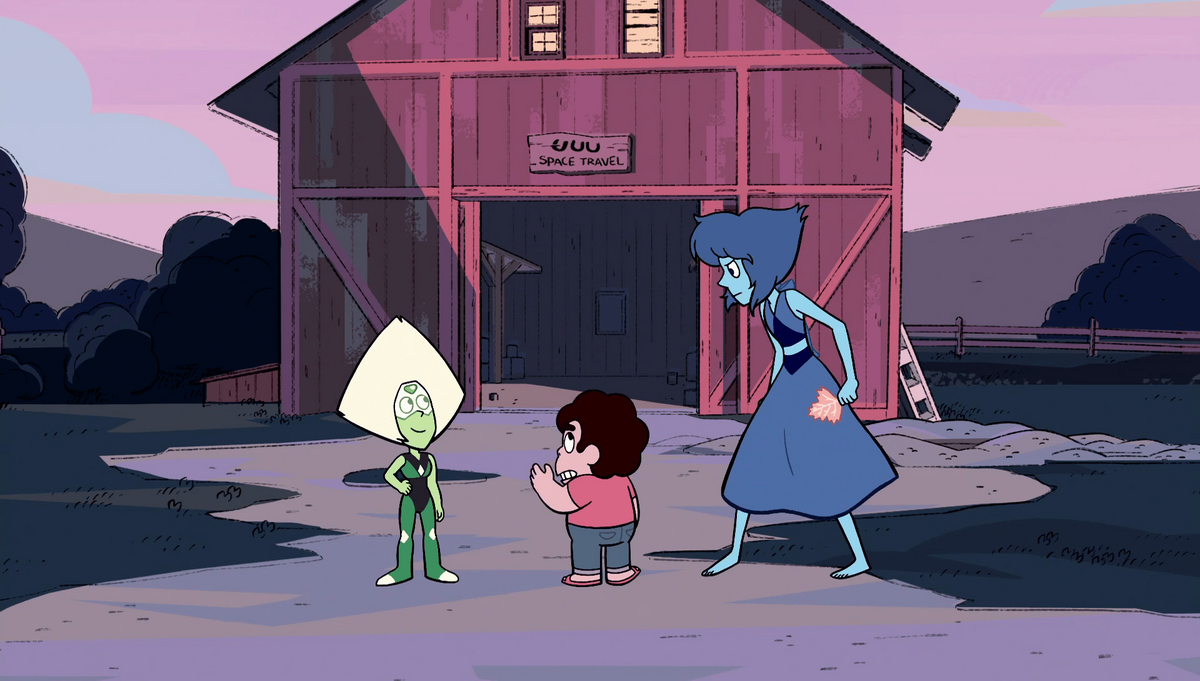 Jennifer Paz is enjoying the newly expanded role of her character, Lapis. "I'm really enjoying being more lighthearted with her. She was so heavy when she started. I'm still finding her, really. I love the irony of her because she's so dry, but she controls water." She also thinks it's a real treat to see the friendship between Lapis and Peridot grow as the show continues.
For Shelby Rabara, she'd known about Steven Universe long before being cast as Peridot. "When I auditioned for the pilot, I auditioned for Pearl, Amethyst, Garnett, and Steven. And I sang the opening song then. So I sang, but not when I auditioned for Peridot." Rabara has become pretty attached to her character, often having to stop herself from calling people "clods" in real life. Rabara and Yi both agreed that they found Rebecca Sugar to be an incredibly supportive when working with the series creator. "She's very motherly and giving with direction," concluded Rabara.
Fathers and Fusions
Tom Scharpling was very early casting choice for Greg Universe. "I do my radio show [The Best Show] every week and Rebecca Sugar listened to the show. When she was formulating Steven Universe, she wrote me and said 'Hey, I'm coming up with a part that I think you'd be good to do the voice for. Would that be something you're interested in?'"
A year later she contacted him that the show was s go. "I didn't come in knowing what the show was, but once I saw what it was, I was all 'This is the greatest thing to be a part of!'" He also agreed that his Best Show comedy partner Jon Wurster did a great job playing mega-creep Marty in a recent episode.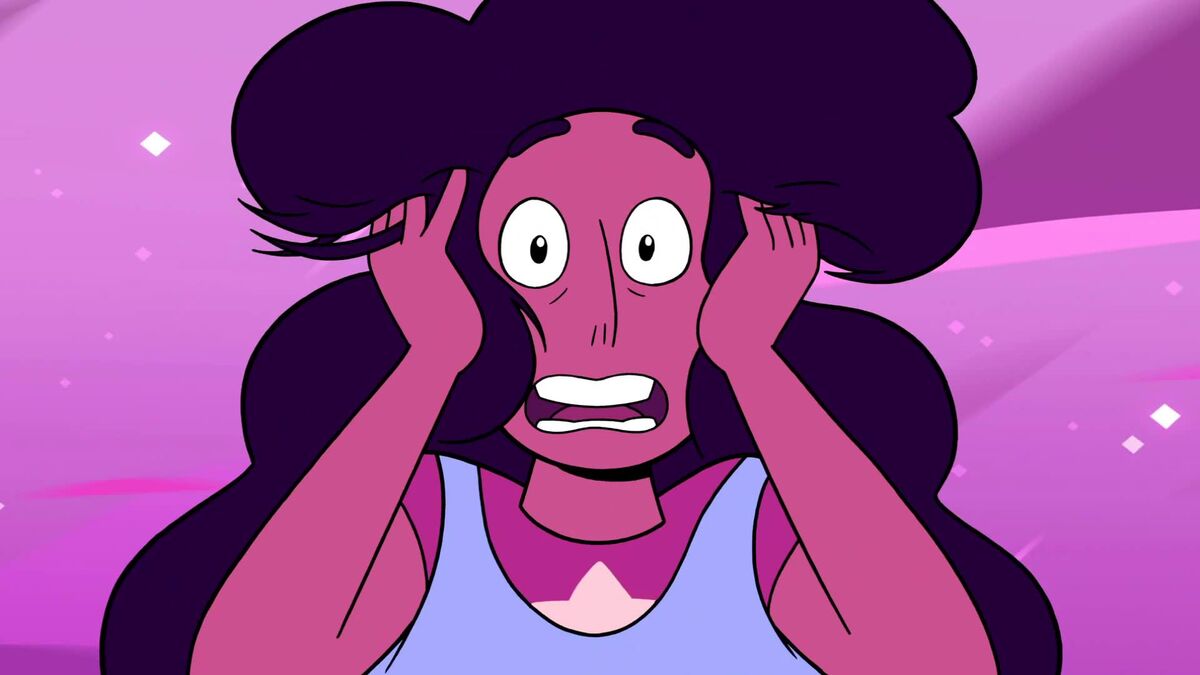 The last voice actor to join the roundtable was A.J. Michalka. The accomplished singer/songwriter and the voice of the fusion, Stevonnie. When playing a melding of two personalities — Steven and Connie — A.J. took a lot of care in crafting their sound. "I remember when I first got asked to audition I thought 'This is fascinating.' It was something that I feel I very naturally fell into. When Rebecca and I were working on "Alone Together" at first, the storyboard helped the most for me… Seeing that awakening of Stevonnie on the beach in their new body was inspiring… I was able to work with the kids and take the energy from both, whether it was laughter or certain little mannerisms. And I used that to get in a mind frame where spiritually they are one right now."
How a Classic Steven Universe Song Happened
For Rebecca Sugar's part, she's always heavily invested in every part of the series, from the casting to the animation to writing much of the music. That includes the beautiful "Here Comes a Thought" from earlier in the year. "That was a really personal one. I was going through a real difficult time. And I really needed that song… it was something I needed to hear at that time. I didn't want the pace to be slow but still be calm. Then when we get to 'It's okay, it's okay, it's okay,' I wanted to speed it up.
"When you're in that state of mind and people say, 'Hey, it's fine, chill out,' you don't appreciate that at all. You need someone who'll be like 'Everything'sFineEverything'sFineEverything'sFine,' at that level with you. And when they get there, they can take it down. I'd also been studying mindful meditation which is really helpful to me. I wished I'd known about it sooner, and I felt the song could help introduce some of those ideas to kids."
It's that kind of care and attention that makes Steven Universe the special show that it is. The animated series has emotions that can be understood no matter your age. With a new episode announced for November — the seasonal, double-length "Gem Harvest" — kids and adults alike can look forward to more empathy very soon.