Quentin Tarantino's known for his very detailed and specific scripts, but as it turns out, one of the more memorable scenes in Once Upon a Time in Hollywood wasn't scripted at all.
Tarantino and the film's central cast members, Leonardo DiCaprio, Brad Pitt, and Margot Robbie, took part in a Q&A this past weekend at the New Beverly, the popular revival theater Tarantino owns, following a screening of the film, which is coming to Digital November 26th before its Blu-ray release December 10th.
During the discussion, Tarantino and DiCaprio discussed their close collaboration and how it was represented by a big addition to the story.
RICK'S FLUB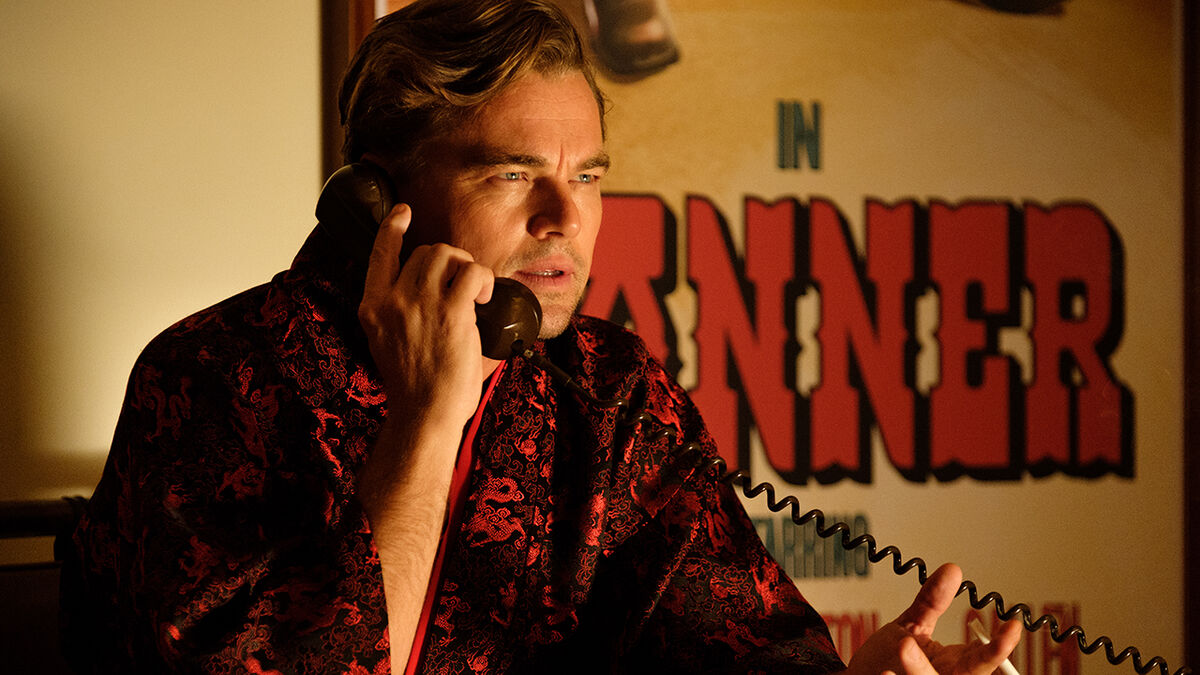 In the film, after DiCaprio's character, fading 1960s star Rick Dalton, forgets his lines while filming the pilot for the western series Lancer, he retreats back to his trailer and has a notable breakdown. But as Tarantino revealed, none of that was in the script – including Rick initially flubbing his lines – and "That whole section kind of evolved as we were shooting the movie."
Tarantino recalled that it was DiCaprio who suggested to him, "I need to f**k up during the Lancer sequence and I need to have a real crisis of consciousness." Added Tarantino, "My response was 'You're gonna f**k up my Lancer sequence? Thar's my western! I get two for one!'"
However, DiCaprio convinced Tarantino to at least try filming it with the flub and the scene was shot both with and without it. Once Tarantino saw them both he knew DiCaprio was right about Rick needing to screw up – "Of course we were gonna use it."
That being the case, the filmmaker felt they now needed to also show the aftermath, what he conceived of as something akin to "Travis Bickle when he's in his apartment by himself," and envisioned doing in jump cuts.
Nothing specific was written though, with DiCaprio improvising Rick's outburst based off of different specifics Tarantino would throw at him, including aiming his anger at Lancer star James Stacy (played by Timothy Olyphant) or the wise beyond her years child actor Trudi (Julia Butters).
When Tarantino said he'd never seen DiCaprio so nervous as he was going into improvising that sequence, Robbie joked, "He's gonna get in his car now and go, 'F**k it! So stupid!'"
DiCaprio said that in his long career as an actor, "I've definitely had days like that. I remember a day in particular where I just couldn't get the line out. I knew the line but I had done a very difficult scene the day before. We spent the whole day trying to get this one line out. I don't think I've ever flipped out quite like that, but it got you right in the psyche of what Rick was going throug.h You get a real insight into his psyche because it really bound those two moments together. It became our own little mini-film within this great Hollywood epic."
THE LIGHT
Robbie's role as Sharon Tate is notable because Sharon represents a lot of positivity in the film, with Robbie remarking that when it came to the real Tate and her tragic and horrific murder, "She was by all accounts an angel on this earth. Part of the shock was that something so innocent could be taken. Her presence [in Once Upon a Time in Hollywood] was to personify the wonderful things about Hollywood in the 60s… I wanted to personify her as best as I could and represent that light."
As far as playing someone who represents the good side of humanity, Robbie said it was actually quite a challenge, noting, "I find it a lot easier to go dark; to yell and scream and cry onscreen. But to be truly light all the time was hard – weirdly hard. But a joy as well."
NO PHONES MEANS NO PHONES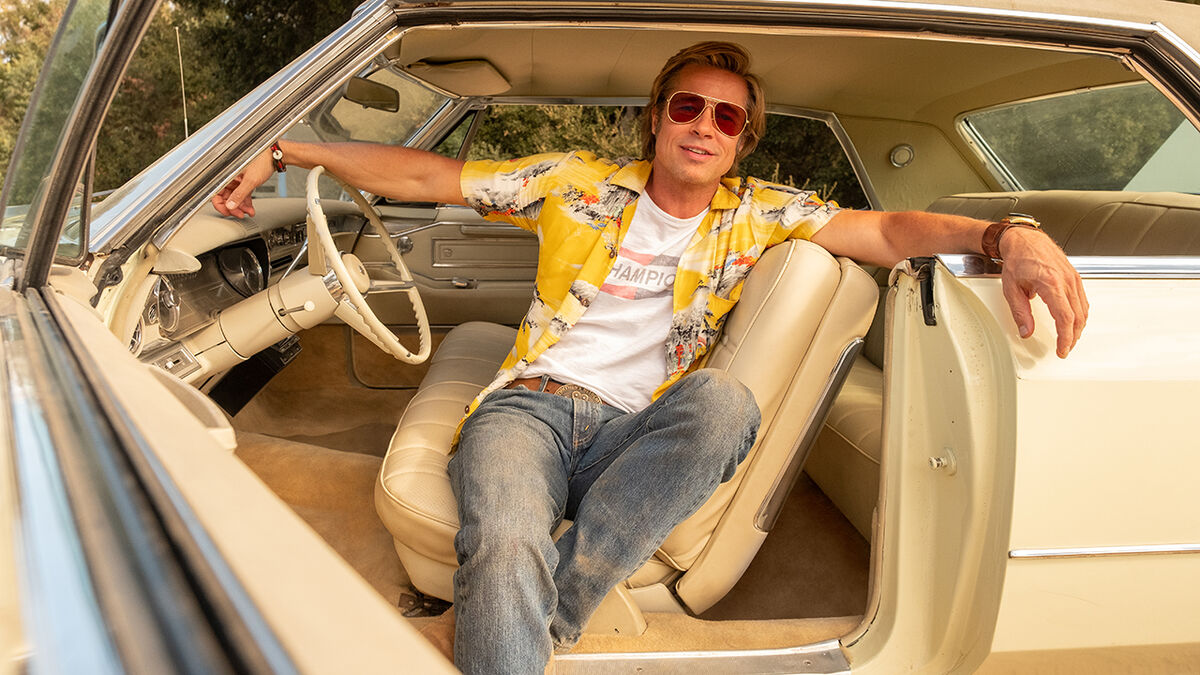 Pitt's character, Cliff Booth, in the meantime is an interesting presence in the film because he's surrounded by dark rumors about his past and clearly able to go to a place of violence when needed (and maybe when not?), yet he mainly has a very easygoing attitude.
As Pitt put it, regarding his approach to Cliff, "We're all searching to find that peace in our lives. Quentin had written this guy who had fully accepted and was capable of handling whatever life brought. He was gonna be all right. He was looking for the best in people, expecting the worst, but not surprised by either."
Tarantino banned cell phone use on the set of Once, as he has with previous films. Pitt explained that he learned firsthand just how important that rule is while filming Inglourious Basterds, recalling the day someone's phone rang on set.
As Pitt put it, "You would have thought someone walked into the Sistine chapel and took a s**t. Production came to a grinding halt." And while they "knew the general direction" the ring had come from, "No one would cop to it."
Ultimately, "Quentin sent us home for the rest of the day. We had the afternoon off to think about what we did."
1969 AS FAR AS YOU COULD SEE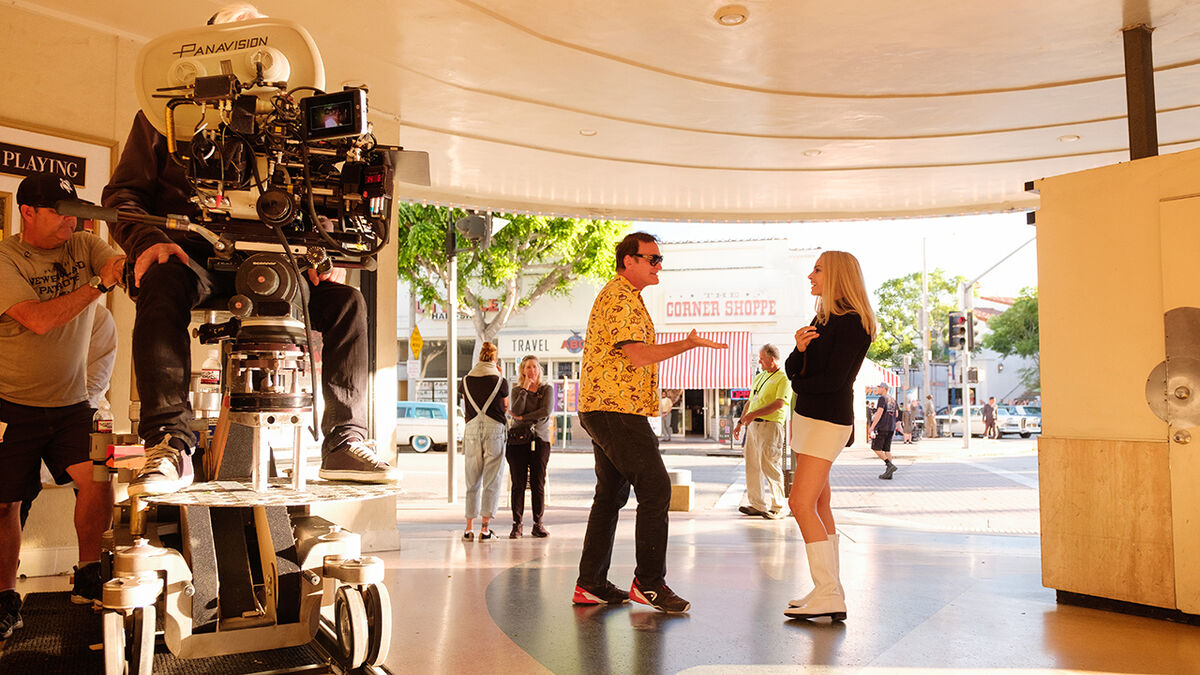 Much has been said about how impressive Once Upon a Time in Hollywood is as far as recreating Los Angeles in 1969 and the cast explained that went for them as well. Said Robbie, "I don't think I've ever felt transported as I did on Quentin's set," noting everything was practical and really built or changed to look like the correct time period, rather than being added digitally later.
"It was all 1969 all around you," Robbie added. "Honestly, I felt like I was there. It was incredible."
Said DiCaprio, about Tarantino's approach to how the film was made, "In a lot of ways, it's nostalgia within nostalgia. We're doing a film about 1969 and also doing a movie in the way they did it in 1969. If you went down Hollywood Blvd, the amount of effort they put in… the billboards, the extras, [everything] in the windows, it was like doing a film in the way we used to do a film in 1969."
Once Upon a Time in Hollywood will be released on Digital on November 26th and 4K, Blu-ray and DVD on December 10th.