The 2017 box office has been all about sequels, but many offerings haven't been aimed at children. With the release of Paddington 2 just months away, FANDOM went to see some brand new footage in order to gauge how this star-studded sequel is shaping up.
After watching three different scenes from the upcoming movie, however, those expecting Paddington 2 to simply be throwaway family fun might be in for a bit of a surprise. Like its disarmingly hard-hitting predecessor, this cutesy-looking sequel is shaping up to be a movie that doesn't just have a heart, but a serious message, too.
For a film about a marmalade-loving bear, the first Paddington film left audiences digesting some pretty heavy themes. The 2015  movie set a surprisingly bleak tone from the offset, with our Peruvian-dwelling protagonist suddenly finding his home destroyed by a deadly earthquake. With most of his friends and family killed in the incident, Paddington's aging aunt quickly sent our hero to London in search of a new home.
Arriving in Paddington station completely naked — save for a tag around his neck — the glaring parallels to refugees after World War 2 were about as subtle as a musical fidget spinner. With no money to his name and no idea where to go, this naïve young bear soon found himself overwhelmed by his strange new surroundings.
Being a kids movie though, everything worked out, as Paddington was quickly taken in by the sympathetic Brown family. Yet, despite our hero being harmless and disarmingly polite, not everyone welcomed the furry foreigner with open arms.
The First Movie Wasn't Shy About Tackling Difficult Themes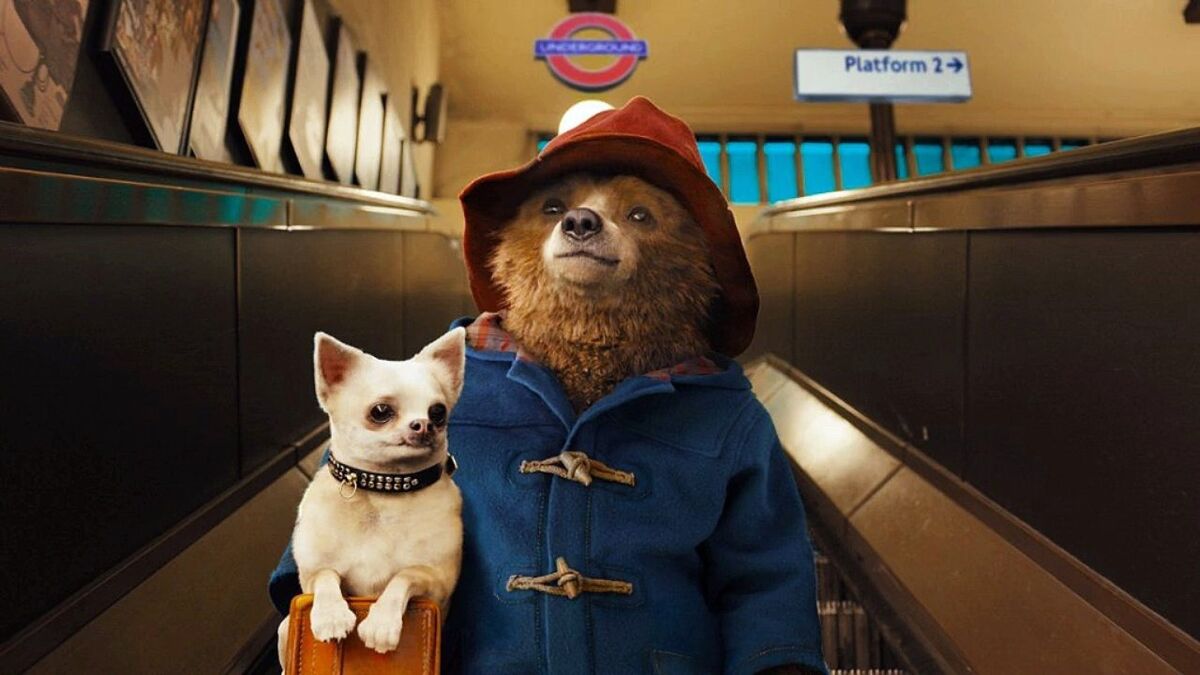 In fact, as the original film drew to a close, Nicole Kidman's jealous villain Millicent eventually called for our hero to be deported. One scene showed Millicent warning a neighbour about Paddington's arrival to London with this surprisingly chilling line: "Oh, but it always starts with just one, Mr. Curry. Soon the streets will be crawling with them".
For a film about a cuddly bear, it was a pretty poignant parallel to certain real world reactions to the ongoing Syrian refugee crisis. Thankfully though, by the time the credits roll, Paddington got his happily ever after.
With the iconic character seemingly having found a loving family, we assumed that the sequel would mark the start of a fresh and fun new chapter for the brave bear.
After getting a sneak peak at Paddington's latest adventure, however, it looks like underneath the family-friendly fun, writer/director Paul King still has more to say about how the treatment of immigrants. Warning, mild plot spoilers ahead.
'Paddington 2' Looks To Be A Kid's Movie With A Heart And A Brain
Paddington's second outing begins with our hero happily living with the Browns. Yet, despite having a loving foster family, our protagonist can't stop thinking about home. With his aunt too old to leave Peru, Paddington decides that he wants to share his London experience with her, finding an old fashioned pop-up book that captures London's key landmarks.
Unfortunately for our cuddly hero, before he can save up for it, the book is stolen. Unfortunately for poor old Paddington, he is quickly framed as the thief. Chucked in prison with hardened criminals, he doesn't exactly make a great first impression, leaving a rogue red sock in the wash and accidentally dying all the inmates' uniforms pink.
As anyone who saw the first film will probably expect, Paddington 2 combines well-timed visual gags and jokes highlighting Paddington's heart-warming naivety.However, this seemingly silly kids movie takes a mature turn: Paddington ends up in the big house after getting framed because he's a poor foreigner who can't defend himself. It's a direct allegory of the criminalization of immigrants.
While we thought the humour was a bit hit and miss personally, as writers in our late twenties, we're clearly not the intended audience. In a year that's seen humanity become more divided than ever, it's brilliant to watch a children's film that dares to tackle some of these glaring issues head on.
As Paddington puts it perfectly in the first movie, "In London nobody's alike — which means that everyone fits in."
If that's not a heartwarming message to teach the worlds kids, we're not sure what is.
Paddington 2 — starring Hugh Grant, Hugh Bonneville, Ben Whishaw — opens on November 10 in the U.K. and January 12, 2018.