Pitch Perfect 3 is being touted as the Bellas' farewell tour, and the musical film franchise ends on a few nostalgic high notes.
However, a ridiculous plot and underdeveloped characters keep it from being a hit.
After winning the world championships in Pitch Perfect 2, the spotlight on the collegiate a cappella group has faded. The Bellas have gone their separate ways and struggling to make it in the real world: Beca (Anna Kendrick) is a music producer, Chloe (Brittany Snow) is pursuing a veterinary career, and Fat Amy (Rebel Wilson) is still, well, a rebel.
The Bellas are invited to a reunion event, where they reconnect with Emily (Hailee Steinfeld), who is still a student at Barden. After reminiscing over their past glories, the Bellas agree to perform in an overseas USO tour, thanks to Aubrey's (Anna Camp) military connections (her father is a general).
This is where the plot goes from the unbelievable to the ridiculous.
A-ca Awful Plot
For some inexplicable reason, DJ Khaled (playing himself in a role that he could've shot in one day) pits the four tour acts against each other. There's the Ruby Rose-fronted girl rockband, unfortunately named Evermoist. There are also country and hip-hop acts, and each demonstrates their ability in an Autotune-heavy "riff off," a staple of the film franchise.
It's one of more memorable musical moments in the film, as each group tries to top each other.
A secondary plotline involves Fat Amy and her gangster father Fergus (John Lithgow with an Australian accent). Fergus tries to win back his daughter (and her $180 million inheritance) through love, and later, more aggressive means. James Bond-esque antics ensue (choreographed perfectly to Britney Spears' "Toxic") as the plot goes off worse than a bad American Idol audition.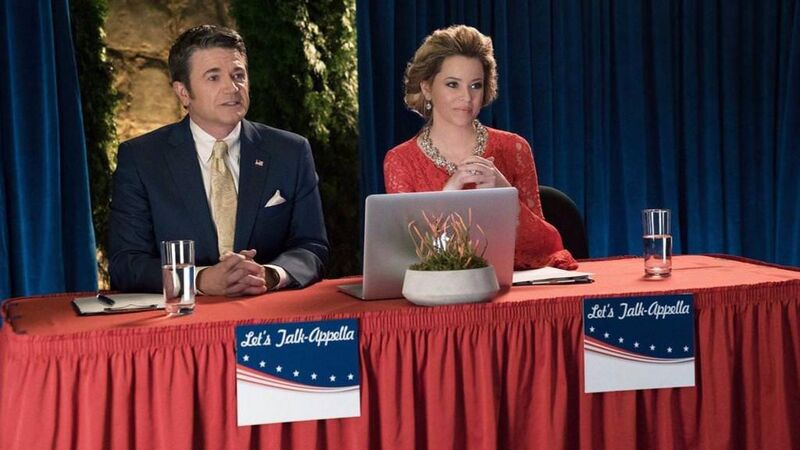 It's entertaining but silly. Sadly, there's little character development, and we don't learn more about the Bellas than we did in the beginning of the film (except for the fact that Amy is apparently a black belt). And the Khaled name-drops get tiresome.
There are still some nostalgic touches that fans will appreciate. The Bellas perform Sia, the artist that originally led Beca to the group in the first film. Fans finally learn why Lilly (Hana Mae Lee) speaks so softly. And there's a running joke about ancillary Bellas Jessica (Kelley Jakle) and Ashley (Shelley Regner) that delivers lots of laughs.
Mercifully, foreign exchange student Flo's (Chrissie Fit) stereotypical statements are kept to a minimum, but Cynthia-Rose (the supremely talented Ester Dean) and Stacie (Ashley Knapp) are underused, the latter written out of the group to allow Steinfeld to have a spot. As with previous films, Wilson steals the spotlight with her one-liners and physical humor.
Is Pitch Perfect 3 Good?
Stick around for the laughs, a nice nod to George Michael (who died one year ago), and a montage during the credits, but don't expect this farewell tour to get extended.
Pitch Perfect 3 opens in theaters on December 22 in the U.S.