The new Pixar film, Soul, tells the story of Joe Gardner (voiced by Jamie Foxx), a middle school music teacher who seems to be on the cusp of finally achieving his dreams when he gets a gig to perform with an acclaimed Jazz performer – only to promptly fall into a manhole. This sends Joe — who refuses to take the path into the true afterlife — on a metaphysical journey to "The Great Before," the place where human souls are honed and find their path before going to Earth. As Joe desperately tries to return to his body, he meets the cynical 22 (voiced by Tina Fey), who isn't impressed by anything she's heard about life as a human and has done all she can to avoid ever leaving the Great Before.
Soul will be debuting Christmas Day on Disney+, one of the many films produced with a theaters in mind that had its release plans dramatically change thanks to Covid-19 (it will still play in theaters in countries without Disney+). Fandom spoke to the filmmakers about their emotional and notably trippy film and what makes Pixar so capable when it comes to incorporating themes and material you might not always expect in an animated family film.
DON'T FEAR THE REAPER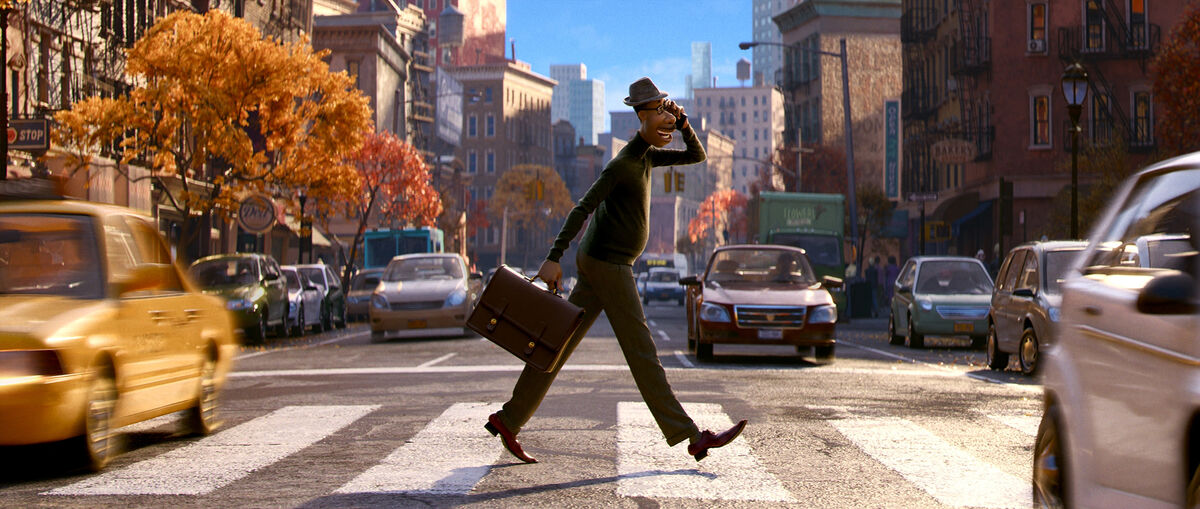 Soul is the latest Pixar film to deal with death in some form, on the heels of projects like Coco and Onward. Joked the film's co-writer and director, Pete Docter (Monsters, Inc., Inside Out), "It's because we're all getting old." He said that even while dealing with a dark or complicated subject matter, "There's a lot of good opportunity for humor. It might be dark humor. but there's a lot of funny stuff that can be grappled, and I think meaningful [stuff] too."
 He added, "Death is what makes life worthwhile and precious right? So, I think it's something that we tend to think about. I felt like with this one, I don't know how it comes off, but for us, our hope was that its fairly comedic even though it's kind of off-putting and then he falls in a manhole and then he's in this weird space and you're like, 'What's going on?" in an unsettling, fun way."
Writer and Co-director Kemp Powers (One Night in Miami) said he also felt it was important to note Soul is not actually about death though, explaining, "The movie was always about life. Yes, the man is faced with his death but you could argue that for Coco, we literally spend a lot of the movie in the afterlife. In Soul, the closest we get to the afterlife is that glowing ball we see in the distance and then he goes in the other direction."
Producer Dana Murray added, "I have younger children and early on was like, 'Oh my god, what's this scene gonna do, when he is heading to the light? Are they gonna freak out?' Not at all. They just kind of asked big questions about it but it wasn't fear-based."
Phylicia Rashad, who voices Joe's mother, Libba Gardner, in Soul, said of the filmmakers' upfront approach to tackling these subjects, "I think it's just great, because children don't really like being condescended to. They don't like that, they don't appreciate that, they understand it when it's happening. They might not say anything to you, but trust and believe they are very keen, and it makes them feel like the person who is approaching them in that manner is both disrespectful and uninformed."
TWO WORLDS
Soul takes place in two distinct environments: The Great Before and New York City. But while the filmmakers were determined to make New York feel vibrant and genuine, when it came to figuring out how to depict the two locations, Kemp said the Great Before was by far the more challenging, noting, "We didn't even know how we were gonna do a lot of it as we were writing it."
Kemp brought up the decision on how to portray the Great Before's authority figures, the "Jerrys," noting, "While it was fun writing all these scenes for them and seeing reels with them in storyboards, we were pretty deep into the storyboards before we saw them in motion for the first time in their first animation test, so as the new guy I definitely felt like the soul world was just being invented as it was being animated."
Said Murray, "New York had its own challenges just because, yes, you want it to feel like New York and we were trying to put it into a cartoon stylized-our version of New York. It was put through the cultural process of working with consultants, so that brought different processing challenges. But yeah, technically, the soul world was way harder."
Added Docter, "I will say that for the human world we wanted to challenge ourselves. We've done a lot of films with humans in them, but we wanted these guys to look different, unique, and specific to this film. The goal was I don't want to be able to take Joe and put him into the background of Finding Nemo or something. It needed to have its own personal stamp."
SO VERY WEIRD
One thing that's notable about Soul is how delightfully weird it is, with the film's quirky, offbeat depiction of the Great Before, and then a big turn of events in the second act of the film that the filmmakers would prefer we not talk about just yet.
Docter said they delighted in getting a bit wacky from the start with the project, saying, "That was one of the big appeals of it from the beginning, right, Dana? Just the 'how the heck are we going to do this?!'
Replied Murray, "Yeah, totally. I think one thing about Pixar is when you're in the story room, or the writer's room, or editing or whatever, everyone is just throwing out such wild ideas. You can easily go down the logic path of like 'Well, you know ––' but it's amazing what audiences will buy when you feed it to them. They just go with you if its visual and they can buy it."
Added Docter, of not restricting themselves by the "but how?!" of it all, remarked, "Our editor, Kevin Nolting, had a big sign in his office that said 'Logic' with a big red slash through it. Like don't think logic –– because it's all about emotion, you know? It's the whole reason you make these movies."
Regarding that second act turn of events, which does bring the action back to Earth, Docter noted, "The first version of the story took place entirely in the Great Before and this was before Kemp came on but the other writer, Mike Jones, and I kind of figured out, you know, if you're going to try to prove to somebody how great Earth is and just show them pictures it's not very dramatic. It's not very interesting. And so we thought okay, we have to have some device to get him back to Earth and since that particular device is not going to be talked about before the film's release, we'll withhold details but I think it was essential."
As Docter noted, of Joe's struggle to convince 22 that life is worth truly living, "One of the cool things and interesting things about thinking about a soul is that they don't have a body so they don't eat, they don't sleep, they don't poop, they don't feel or taste or anything. So how do you really convince someone of something? It's a very intellectual exercise, which was kind of the appeal of it. There's a bit of philosophy and nihilism and essentialism and all that kind of stuff, so it was a fun project."
STREAM A LITTLE STREAM
The decision to move Soul to Disney+ was a relatively recent one and Fandom spoke to the Soul filmmakers on November 18, the week the film would have opened in theaters if it had stuck to its second intended theatrical release. Said Docter, "I mean, knowing that it would've come out in two days, can you imagine? Like everything is closed, everything is shuttered."
When it came to the move to Disney+, Docter said, "I think at the time we were like, 'Oh, it kind of sucks because we made this for the big screen, but I think it's probably the wisest choice Bob Iger made for us."
Added Murray, "Yeah, we're really grateful that now families can watch it safely at home. We thought a lot about, like, should we push to next year? But the film feels so timely and it feels like a little bit like a gift, if people can take it that way around the holidays, so we feel good about it now. We did have to go on that journey though, emotionally."
Soul will be available Friday, December 25 on Disney+.