Not many people will get too excited about Puyo Puyo Tetris. For many, it's a fantastic blast from the past, from the days of gaming when Tetris was at the height of graphical prowess. For others, paying AAA prices for a puzzle game that you could feasibly play on your phone will be off-putting.
But Puyo Puyo Tetris has been one of our most highly-anticipated Nintendo Switch games (it's also available on PS4) because it takes two of the oldest puzzlers out there and smashes them together in a mash-up that works spectacularly well. It's perfect for the portable Switch, but the vibrant colours and excellent mode variety also translate to the big screen – especially when it comes to local multiplayer.
If you're looking for a game that brings the Switch to life both personally and in multiplayer, you need Puyo Puyo Tetris in your life.
A delightfully brilliant Adventure Mode
Pretty much everyone knows what Tetris is, even if they haven't played it themselves. The block-based game where speed and precision is key has been around so long that you pretty much have to have lived in a cave to not at least recognise it. Puyo Puyo, on the other hand, has been a massive hit in its native Japan, but its popularity hasn't quite translated across the world.
The gameplay is simple enough to get to grips with. It's all about matching four little blobs, or puyos, together in order to score points and keep your board clear. But the real mastery comes from positioning them in such a way that you create chains of matches, which is the only way to win big and beat the AI or real-world opponents you'll be coming up against in Puyo Puyo Tetris.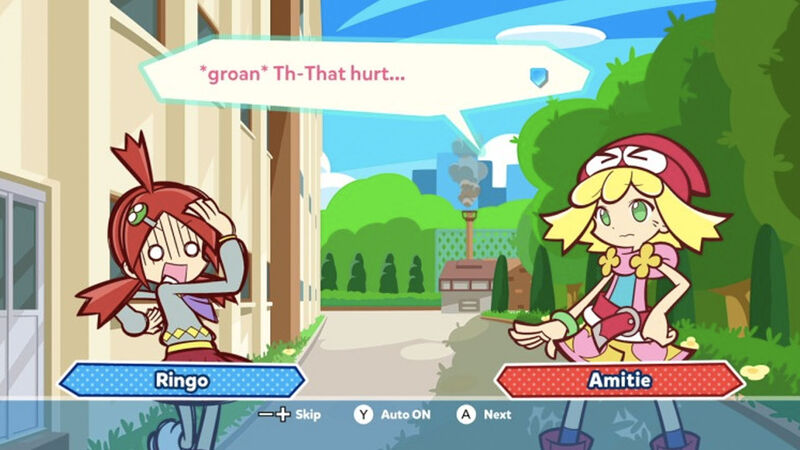 The brilliance of this game though is its flexibility. You can play however you want to play. You can dabble in either game individually or practice melding them both together in the quick-play Fusion mode, or go online to really test your mettle. But for the uninitiated, it's the new Adventure Mode that really wins here.
On the surface, it looks like a very basic anime series where the worlds of Tetris and Puyo Puyo players are being thrown together in some hilariously over the top plot. But it's actually brilliant. Not only does it teach you the basics of both Tetris and Puyo Puyo, it's also filled with hyper-enthusiastic characters from dog scientists and bear physicists to robots, aliens and personality-fuelled kids. It had us chuckling out loud at some of the dialogue and japes, but kept us hooked with its challenging gameplay.
It's great that this is a game that offers so much solo-player content and the Adventure Mode offers around 100 challenges, ranging from classic versus modes against unforgiving AI to time attacks. But it's multiplayer where Puyo Puyo Tetris' real genius comes to light.
Great for showing off the Switch's multiplayer brilliance
Puyo Puyo Tetris' attention to detail when it comes to the modes on offer just adds to its brilliance and showcases just how well these puzzle titles blend. Alongside the Adventure Mode, there are Versus, Fusion, Swap, Party, 'Big Bang' and challenge modes to get stuck into. Versus is fairly straight forward while Swap mode constantly switches between Puyo Puyo and Tetris, so you better be good at both before you get started.
Getting stuck into the Party Mode can be absolute chaos in the best of ways, as it throws in power-ups that can throw off the other player or drastically increase the drop speed leading to you constantly having to think on your feet. Big Bang is a series of elimination levels where you need to score the most points by clearing the boards as quickly and as simply as you can. It's fantastically tense and when you've got four players all on one screen, it can be hilarious fun.
And, what's more, all of these can be played locally or online with up to four players.
We're sure Puyo Puyo Tetris is great fun on PS4 too, but Switch's social capabilities mean this is a platform where the game really shines. The game's competitive focus blends with the Switch nearly as well as Puyo Puyo and Tetris do, meaning this is quite the match made in heaven.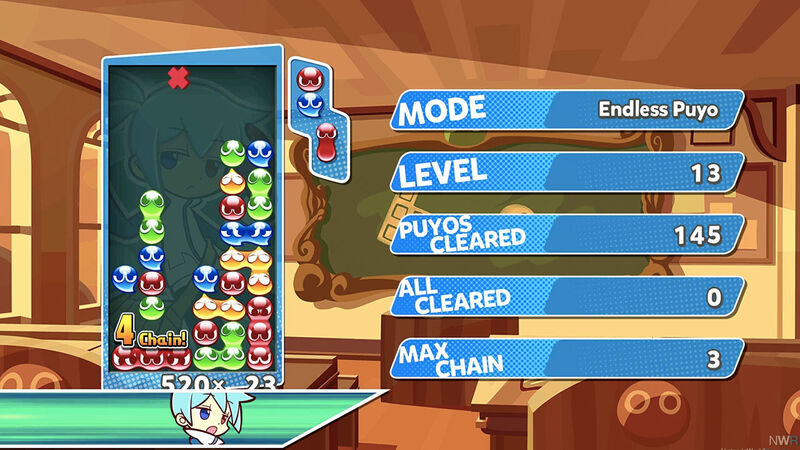 Is Puyo Puyo Tetris good?
Puyo Puyo Tetris offers so many game modes that at first, the choice can feel perplexing. But once you get to grips with the sheer amount of content on offer, you'll soon realise that it's really just making sure that's there enough there to justify the pricing. Well, at least on PS4 anyway. The game is a whopping £34.99/$29.99 via the eShop, but if you want a physical version you're looking at paying £39.99/$39.99. That's the only reason we've knocked a point off the score in our review, it's an eye-watering price for a puzzling game on the Switch.
However, if you're willing to shell out a few bucks more than you probably should, Puyo Puyo Tetris will reward you tenfold. This is a superb puzzler that expertly combines two classic titles into one seamless whole that has enough content to keep you continuously coming back for more.
But don't let the colours and bright characters fool you, this is a game with so many tactical complexities that only masters will prevail. Just make sure you're one of them, because this is pure brilliance.
Puyo Puyo Tetris is available now on PS4 and Nintendo Switch.