Cult science-fiction sitcom Red Dwarf, one of the first of its kind, has just arrived on streaming service BritBox in all its shiny, newly remastered glory. One of the UK's most beloved exports, the long-running series began in 1988 on the BBC and, itself influenced by The Hitchhiker's Guide to the Galaxy before it, went on to become a hugely influential property, with sci-fi comedy today more popular than ever. Series like 3rd Rock from the Sun, The Orville, and even Futurama and Rick and Morty were undeniably built on the groundwork laid by Red Dwarf. The Emmy-winning show continues to generate new adventures for its original cast today, some 30-plus years after it first premiered, and the series is celebrated annually at its very own convention.
But back when creators Doug Naylor and Rob Grant were fishing for interest trying to get the series off the ground, they struggled to get a bite amid fears that a sci-fi sitcom wouldn't be popular. How wrong those that rejected the concept were. Circumstances conspired to finally get the project made (some spare budget was released and cheerleader producer Paul Jackson of Monty Python and The Young Ones fame hopped on board), and so, a nascent subgenre began to germinate.
"Futurama," says creator Doug Naylor in answer to Fandom's question about his favourite sci-fi comedy to come in Red Dwarf's wake. Matt Groening's animated intergalactic situation comedy is undoubtedly another brilliant Emmy-bothering modern classic. "To be fair," Naylor continues, "I don't go hunting for them because you bump into ideas that you've done yourself before."
Christopher Nolan and Galaxy Quest
Fandom is chatting to Naylor, and star Robert Llewellyn who plays service mechanoid Kryten, on the eve of Red Dwarf's landing on BritBox. We're talking about the show's influence on pop culture and the conversation turns to Christopher Nolan's Tenet. I tell Naylor that while watching it, I was struck by the similarity of the inverted time concept Nolan explores in the film to a Red Dwarf episode. Way back in 1989, the Series 3 premiere, "Backwards", aired, in which the crew travel to an alternate Earth where time runs in reverse.
"Yes! We all thought, 'Oh' [when we saw it]. Absolutely, I completely agree," says Naylor. Nolan has been playing with the temporal ideas explored in Tenet since the beginning of his career and 2000's Memento, and while there's no evidence that Nolan was directly influenced by the Red Dwarf episode, the similarities are marked.
"You could argue that "Backwards" is part of a genre now … [the novel] Time's Arrow by Martin Amis is another [story] dealing with backwards [time]," adds Naylor.
Time's Arrow was published in 1991, two years after "Backwards" was first broadcast but was itself influenced by a paragraph in Kurt Vonnegut's 1969 sci-fi anti-war novel Slaughterhouse Five, in which the protagonist Billy Pilgrim watches a war movie backwards and sees bullets sucked out of planes flying in reverse, bombs taken back to the US and reverting to ore, and airmen becoming high schoolers, with Hitler, presumes Billy, a baby again.
Whether Christopher Nolan was consciously influenced by Red Dwarf or not, one cult Hollywood hit very definitely had the show in its DNA: science-fiction comedy Galaxy Quest. Says Naylor, "Alan Rickman apparently insisted on sending the Galaxy Quest director [Dean Parisot] a load of Red Dwarf [episodes] on VHS tape to watch while they were making Galaxy Quest."
The parallels are clear. Both Red Dwarf and Galaxy Quest are filled with warm-hearted humour at the same time as holding the science fiction genre sacred. Neither mocks the genre, instead paying it reverence while crafting an engaging, entertaining, and, at times, heartfelt story in which the sci-fi elements stand up to scrutiny by genre purists.
Alan Rickman Was Almost Lister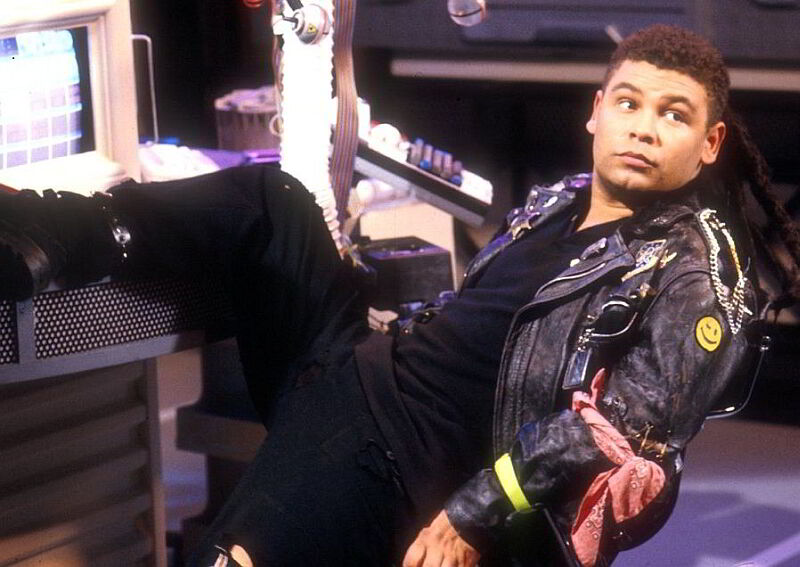 Alan Rickman, of course, played the role of Alexander Dane in Galaxy Quest, a classically trained actor playing the role of an alien crew member in the show-within-a-show – but he wouldn't realise his sci-fi comedy ambitions until 1999 when the film came out. Naylor notes that Rickman had desperately wanted the role of Dave Lister in Red Dwarf and auditioned but was rejected.
"We felt [the role] was a bit too straightforward for him and he was quite obsessed at the time not being typecast as a baddie – he was soon to become the most famous baddie [Hans Gruber in Die Hard] – and so he wanted to play this role. We didn't think that he was quite what we were looking for," explains Naylor. "I went for a meal with Alan and Ed Bye, who was the director of the first two series, and Alan was joshing, saying how we didn't choose him. I said, well, it was a brilliant idea not choosing him because if we had, he would have done two series and left – and he agreed that's probably all he would have done. So, brilliant casting not to choose Alan, and choose Craig [Charles instead]!"
It's also well known that Spider-Man 2's Doc Ock, Alfred Molina – set to reprise the role for the upcoming third Spider-Man film – was actually cast to play Arnold Rimmer in the series, a role that would eventually go to Chris Barrie.
"We couldn't find a Lister to play opposite him," explains Naylor. "And because it was so much about that chemistry we sort of started again. Once we had got Craig we felt he was Lister, and we wanted to get somebody who was closer to Craig and close to his age and experience."
Indeed, in 1988, Molina already had some high profile roles under his belt, including memorable parts in Spielberg's box office smash Raiders of the Lost Ark, Richard Donner's medieval fantasy Ladyhawke, and the critically well-received Brit flick, Letter to Brezhnev. Fans of Red Dwarf can't envision the characters played by anybody other than Craig Charles and Chris Barrie, but it's interesting to think of an alternate universe in which the roles are inhabited by Rickman and Molina.
A New American Remake?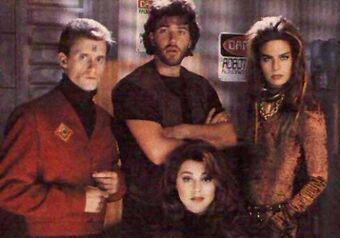 Speaking of an alternative cast, there was an American version – called Red Dwarf USA — in development at Universal Studios that produced two pilot episodes using different actors (except for Robert Llewellyn, who reprised his role as Kryten) but which never saw the light of day. Two of those actors included Craig Bierko and Frasier's Jane Leeves. For various reasons, the adaptation wasn't picked up, and while you can find the episodes on the internet if you look, they have never been officially released. Naylor explains why: "They were made by Universal – and they've lost the paperwork and they don't know who owns it. So as a consequence of that they can never be officially released."
Naylor wouldn't be surprised, however, if one day somebody attempted a new remake – particularly now there are so many streaming platforms: "At some point, I'm sure there will be an attempt at an American version, especially with more and more science-fiction comedy shows now being more easily made because of new technology. But when and how and who I've no idea."
Would Robert want to be a part of it, given that he was part of the original US-made effort?
"I think the prospect of doing a long run of sitcoms in America – and they produce a lot of them – at my age is less appealing. To spend my final years covered in rubber in Los Angeles has less glamour for me," he laughs. "One of the things we learned with doing the most recent episodes that really suits us all now in our stage of life is to have that intensive [but short filming] period. Because we love working together, it's brilliant fun – I'll put anything aside in order to have [that].  If we could go to Los Angeles now and shoot a two-hour special or a 90-minute special, I would love that. But the prospect of signing up to do five years of 35 episodes a year is less appealing now."
More Red Dwarf Maybe; Aliens Never
Naylor suggests that even the traditional six-episode series is a bit too much these days, putting the dampers once again on any hopes there might be of a thirteenth series of the show proper. Since Series 12 came to an end in 2017, a feature-length special called The Promised Land has aired which essentially became the 13th installment of the series.
"I think we like the idea of specials for a number of reasons," says Naylor. "One is you can get greater guests in for the stories; [another is] they're shorter runs so we are only shooting an hour and a half as opposed to three hours for a series of six. And although there was a certain trepidation while we did The Promised Land because we had never done it before, that kind of format … I think everyone enjoyed it and thought, actually, this is a great way to go. And UKTV [who now finances the show] were very, very happy with The Promised Land and are very keen to do more."
Naylor says there is still plenty to explore in the Red Dwarf universe and while he won't divulge what, he says aliens are still very much out of the question.
"We deliberately decided right at the very beginning we wouldn't do aliens," he says. "The thinking behind that was that all science-fiction shows — Star Trek, Star Wars — all have aliens, and we felt that the advantage of avoiding aliens was to [highlight] characters. So we wouldn't have the alien of the week, or land on the alien planet of the week, and there would be benefits to that. We've come quite close, with genetically engineered lifeforms — but they've all been created by humans either on Earth or in space. The hardcore fans would feel very cheated. There would be accusations that we are running out of ideas: 'So, you're doing aliens…'"
Baby Kryten
There must be avenues that Robert Llewellyn would like to explore that he can discuss, right?
"We've done so many things that I've absolutely loved," Llewellyn says. "The spare heads… [there are] a few things I'd like to revisit. The spare heads, even though it was very uncomfortable to shoot, I just love the idea."
The second episode of Series IV, called "D.N.A.", showcased Kryten's trio of additional heads each of which considered itself a separate entity. In the episode, Kryten is transformed into a human, shown in the clip above. But Llewellyn would also like to bring life to an old idea that we've yet to see on screen.
"There was some brief discussion of a kind of Kryten baby that would be like a little glove puppet that Kryten would look after. I like that idea. There was quite a long period of the production of Red Dwarf where when I was on set and it was a huge relief because I wasn't looking after very young children at home, who have now grown up. So I think it was something around that idea of parenting."
What Naylor has in mind we've yet to see, but something tells us it's going to be good.
Catch Red Dwarf now on BritBox.