Runaways is a big deal for a lot of reasons. Fan love Brian K. Vaughn and Adrian Alphona's original comic and the characters have maintained a strong following even after Marvel canceled it.
It's also important because this is the first Marvel show on Hulu's streaming service. With flagship shows like The Handmaid's Tale and the upcoming Castle Rock, it's clear that Hulu is breaking into the big leagues of original content, and Runaways is part of that strategy.
Is it a risk that paid off?
An MCU Entry That Feels Unique
The story centers around a group of teenagers who begin to realize they have special talents or abilities. They've been friends since they were kids thanks to their parents all being part of a charity organization called Pride. Turns out that's just a smokescreen for something much more nefarious. And when the kids find out, they run away together and form their own close-knit family.
Runaways takes place within the Marvel Cinematic Universe but that's not the handicap it should be. Unlike Agents of S.H.I.E.L.D. or Marvel's series of shows on Netflix, Runaways stands on its own two feet. Not just in terms of the story — there is no allusion to bigger parts of the Marvel Cinematic Universe in the first episode — but in style. There is an indie freshness to Runaways that gives it a unique flavor all its own.
That's undoubtedly thanks to showrunners Josh Schwartz and Stephanie Savage. Schwartz and Savage have worked together on The O.C. and Gossip Girl, and fans of those shows will find lots to love about Runaways; pretty young people with over-the-top problems and lots of choice needle drops are all over the first episode.
And you know what? It works pretty well. And that has a lot to do with the cast.
An Effective Ensemble
It's rare to see a cast of young actors that work right out the gate, but Runaways mostly succeeds on that front. Standouts include Rhenzy Feliz as the smart and sympathetic Alex and Ariela Barer as the precocious social justice warrior Gert. The cast doesn't get a bunch to do together in the first episode, but it looks like that's all going to happen sooner rather than later.
There are also some excellent actors on the adult side. Buffy and Smallville alum James Marsters plays the rich inventor Victor Stein with foreboding gravitas. You've also got comedic actor Kevin Weisman as the dorky and culturally inept father Dale Yorkes. The interplay between both the kids and the adults is really strong. It will be interesting to see the second episode of the series in which the events of the pilot episode are told from the adults' perspectives instead of the kids.
A Good Start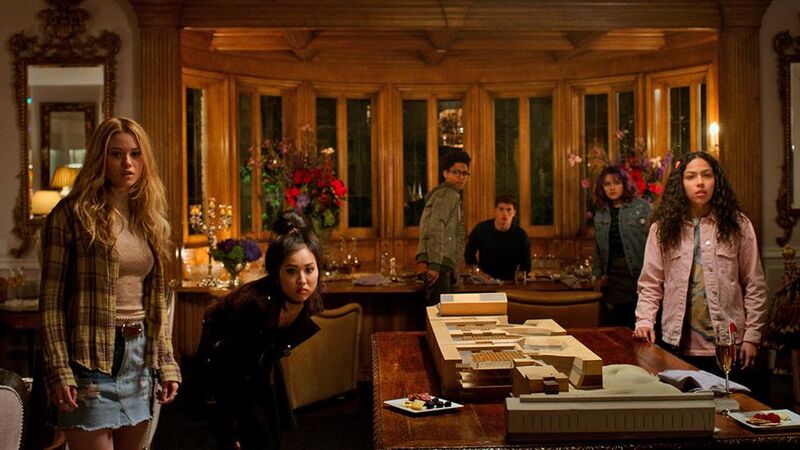 Runaways is pretty successful in its first episode. All of the comic book-y elements are firmly established — yes, you'll see colorful alien powers, super strength, and even a fan-favorite dinosaur — and the dynamic between the characters is fun, heartfelt, and compelling. There are some soap opera elements but it all works thanks to the strong style and likable ensemble cast.
I didn't think I was going to like Runaways and I'm pleased to be wrong. We'll see how the rest of the show shakes out when it premieres on Hulu on November 21.
Stay up-to-date with New York Comic Con news and all your favorite fandoms with our new FANDOM app. Download now on the Apple iTunes store or Google Play.