Following the full stop in the Marvel Cinematic Universe that was Avengers: Endgame, some of us have been asking exactly where the MCU goes from this point. Spider-Man: Far From Home arrives mere weeks after we were all stunned by the events of Endgame. While you might have expected it to be a largely standalone Spidey adventure given the circumstances, Peter Parker's second solo MCU outing actually represents something of a surprise semi-colon in the MCU. It's the bridging point between phases that we never knew we needed.
And while the film doesn't necessarily answer all of our pressing questions (don't worry, you'll find no spoilers here), it gives us a better idea of where things are heading through the franchise's upcoming Phase 4. And Samuel L. Jackson – who plays SHIELD boss Nick Fury – says Spider-Man is at the centre of what Fury is now orchestrating.
The MCU star tells Fandom: "Tony Stark says, 'You are the guy' [to Peter]. Spider-Man is the person that can be the next future of whatever it is [Fury is] trying to put together from that point on. And right now, [Fury] is busy being the cranky relative that wants you to grow up and get a job and put down these childish things because you have a great responsibility — and the kid's busy trying to be a kid. So we'll see where we go from there with that."
This raises the question of just what Fury is orchestrating. The architect behind the Avengers, presumably he's working on putting together a new assembly of superheroes — among other things, no doubt.
Ironheart and Nick Fury Jr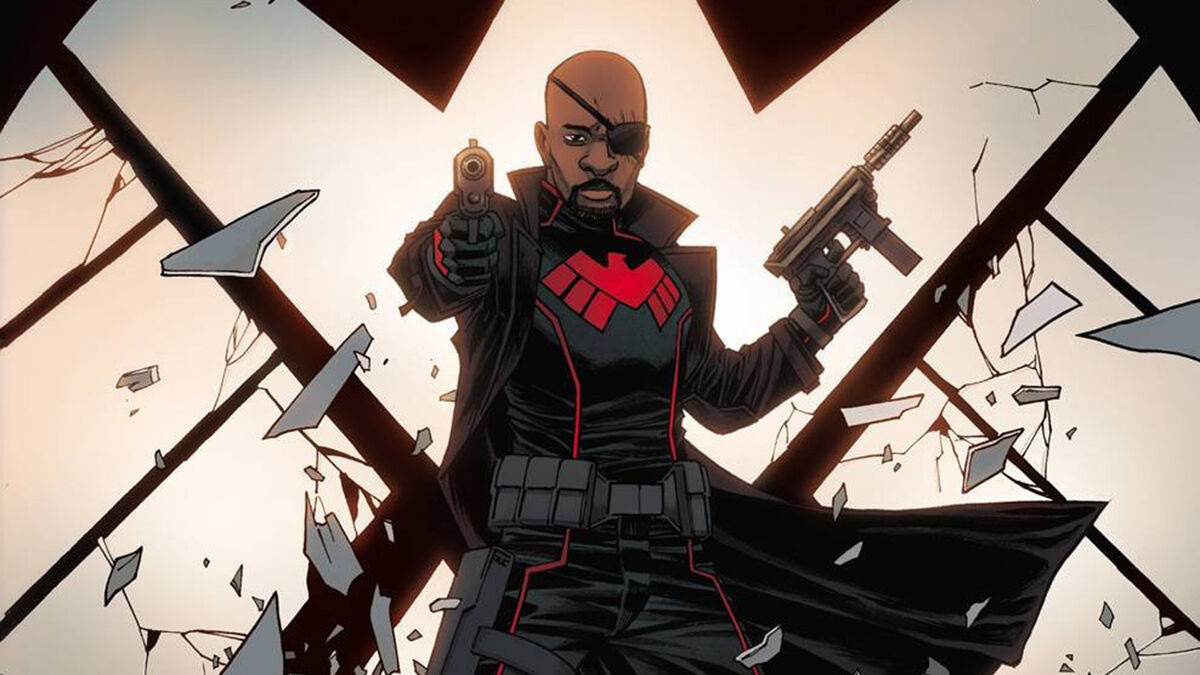 Far From Home, then, is a kind of coming-of-age journey for Peter Parker and, by extension, a transition of one phase of the MCU into the next. Just as Iron Man was positioned at the centre of the saga from Day 1 of the MCU in his 2008 kick-off movie, so Spidey here is responsible for birthing Phase 4. With Spider-Man unequivocally the most important character in Marvel's entire back catalogue, and Tony Stark leaving the way clear for a new hero to take over the reins in the MCU, it makes sense that the franchise's head honchos would want to go forward with the wallcrawler leading the charge, having secured the rights to use the character from Sony.
Indeed, Tony was always grooming Peter for leadership. And, for a long time, it has been apparent that Marvel chief Kevin Feige would want to shift the focus to create a younger dynamic. As MCU director Joe Russo told us when promoting Endgame: "Take Spider-Man as an example, but whenever you put responsibility on a teen or a child it adds a much more dramatic component to the notion of being a superhero. So, I think there's a lot of interesting choices that can be made with younger heroes."
As Chris Evans's Captain America also makes way for the new guard, Spidey himself, Tom Holland, echoes the thoughts of Robert Downey Jr, who recently revealed a young character he'd like to see enter the MCU to fight alongside Spider-Man.
"Her name's Ironheart; Riri," says Holland. "She'd be a cool person to bring to the big screen … the multiverse opens up so many doors where we can introduce so many cool new characters like Ironheart."
In the comics, Ironheart is a 15-year-old engineering student who is able to reverse-engineer a Stark-created Iron Man suit to build her own.
Sam Jackson also suggests he's ready for an injection of youth when he talks about the future for Nick Fury.
"Now that I know he's got a family, maybe we could see what that plays out as, and we'll figure out where they go from me to whoever Nick Fury Jr is," he says.
Something Kinda Off
There's a place for the Young Avengers too, presumably, whom the Russos admit they're keen to explore. With the multiverse set to play a big role in the future of the MCU, it makes perfect sense for Spider-Man to sit front and centre going forward, the concept having already been introduced with great success in the associated animated adventure Spider-Man: Into the Spider-Verse. Tom Holland certainly hints heavily in our interview, which you can watch in the video above, that we could see his version of Peter Parker pop up in a future Spider-Verse film.
Audiences, then, are now primed for everything the multiverse has to offer. Which Jackson warns could be dark: "I just remember when I was a kid and I was reading other comic books and they had multiverses or cross dimensions, something was kind of off on the other side…". Well, there's no point introducing the multiverse if you can't up the threat levels. Tom Holland, MJ actor Zendaya and Ned actor Jacob Batalon even discuss an evil version of Ned Leeds existing on the 'other side' that Jackson references.
Peter's youth and scientific brain make him the perfect successor to Tony Stark. We see him customizing his own suit in Far From Home, perfectly at ease with Stark's technology. He's obviously responsible for developing his own suit, including web shooters and fluid, in the first place — impressive as a schoolboy with limited budget — and on top of that, we see him demonstrate an understanding of the multiverse in Far From Home. Plus, he could well team up with Hulk and hone his skills further – something that Tom Holland would love to see happen: "[Hulk] is so funny and they're both science geeks," he explains.
So, what if Holland had the power to customize his own super-suit? Would he add some kind of Vibranium element to it, or a weapon of some sort? Nah. He'd add a zipper. "So I could go to the toilet! That would be a big one for me."
Watch Tom Holland, Samuel L. Jackson, Zendaya, and Jacob Batalon answer your fan questions in the video above.
Spider-Man: Far From Home hits screens on July 2.