Star Trek: Discovery, after one season, has earned its rightful place in Trek hearts. You can't argue with New York Comic-Con fans who packed Madison Square Garden to the gills. USS Discovery overseers and crew strutted out to loud applause, and in no-time showrunner Alex Kurtzman asked the audience if they'd like a taste of Season 2. Without hesitation, attendees watched the first trailer (see below).
Young Spock, "Red Angel," new beginnings — the footage was great, but plenty of questions still required answers. That's where the panel stepped in, dancing around spoilers while teasing what's to come.
"Red Angel"
The way cast members talked, Season 2's "Red Angel" will be tied to USS Discovery's investigation of seven interplanetary signals. Sonequa Martin-Green stressed the "Red Angel" has not only been seen previously by Spock — played by Ethan Peck — but also her character Michael Burnham. Both Martin-Green and Hunt highlighted their instant chemistry, and alluded to how their characters would form a kinship most likely tied to early visions of this "Red Angel." Expect theirs to be one of the stronger relationships of Star Trek: Discovery's upcoming season.
Secret Of The Seven Signals
Anson Mount — tapped to play USS Discovery's Captain Pike — hinted that the "Secret Of The Seven Signals" plot would remain the show's primary focus. A chase after red signals with an "energy beyond anything [the USS Discovery] has ever encountered." One such beacon will lead them to an asteroid where the USS Hiawatha has crash-landed, which is where they find a lone engineer, played by comedian Tig Notaro.
Although, Hiawatha is just one of many signals. Mount went on to detail how the "Seven Signals" storyline gives Season 2 of Star Trek: Discovery a more episodic feel. "Each episode has a character and a question, like mini-mysteries that need solving to crack a larger puzzle." Such composition opens the door for more cameos, possibly familiar faces ("Yes, you will see old characters," as per Kurtzman), and while we don't know every cast reveal yet for the entire season, Martin-Green is very excited about the show's newest addition — her husband, Kenric Green.
Saru
Doug Jones had a lot to say about Saru's arc in Season 2, divulging that his Kelpien officer will learn a lot about himself. We'll travel his home planet of Caminar, engage with a long-lost sister he's not seen in some time, and Jones even mentioned a "Kelpien predator."
Could this spell trouble for the USS Discovery? Add another adversary to the mix? In any case, it sounds like Saru will be important to Season 2's plotting, especially when it comes to bonding further with Burnham, who also has a long-lost sibling as per Martin-Green.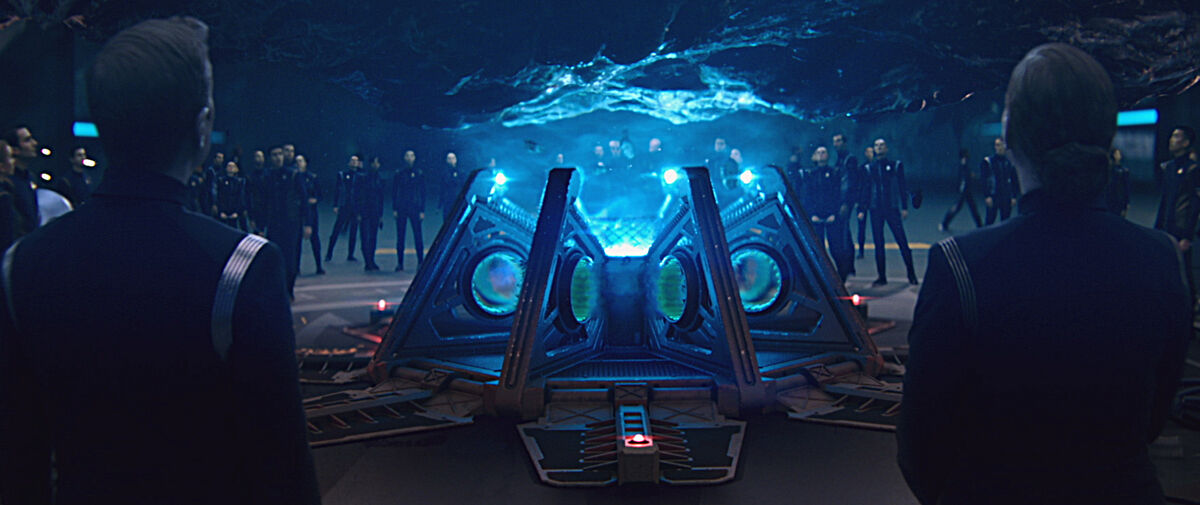 A Reflection Of Our Times
One aspect stressed by every producer, every cast member, was this idea that Star Trek — the franchise — vocalizes inclusion and acceptance. Producer Heather Kadin equated Star Trek: Discovery to a thematic vessel that reflects society without forcing lessons down any viewer's throat. It's about facing fears and fighting through them. Rebelling.
The women on-hand at New York Comic-Con echoed a social responsibility in their entertainment you could sense as they talked. Mary Wiseman (Sylvia Tilly) smiled as she spoke about how Tilly has a lot of quirks but is loved anyway. She'd be "isolated in a different universe, but is loved here. She's embraced."
Mary Chieffo, speaking of her character L'Rell's arc in Season 2, very much enjoyed the metaphor of "letting your hair down" (we'll get there shortly). More importantly, she hopes L'Rell can be seen as a character who subverts Klingon gender normality as a female in a position of power typically held by male Klingons. She'll be met with resistance, and that's fine with her. Chieffo's inspirations include Queen Elizabeth, so take that for the kind of strong independence you can expect from a woman with rising rank, but also a vulnerability that Chieffo understands.
Art imitates life — that's a reality — but across the board, this season of Star Trek: Discovery should be viewed for the USS Discovery family. A captain who calls to his "larger brain" whenever making hard decisions. Crew members who turn to one another. You can watch trailer footage above, so this space is better served recalling how Jones thanked everyone who saw their anxieties reflected in Saru. Or Martin-Green's belief that Star Trek's inclusivity should be a rallying cry for fighting hatred.
But now to more important matters.
Klingon Hair
As just mentioned, Season 2 of Star Trek: Discovery will showcase Klingon hairstyles. Star Trek: The Next Generation episode "Rightful Heir" directly influences this choice, reflecting how Klingons shave their heads during war and let their hair grow when peace exists. Star Trek: Discovery designer Glenn Hetrick previously confirmed the Klingons would have a vastly different look in Season 2, which Chieffo confirmed — happily — by waving her hair back and forth on stage.
Catch Star Trek: Discovery Season 2 when it premieres January 17, 2019 on CBS in the States, and Netflix elsewhere.