It's not every day you walk into a shopping centre and end up taking on the Empire. But if you take a stroll down to London's Westfield, that's exactly what can happen. Hidden in between your usual high street chain stores, a few thin walls in the atrium of Westfield Sheperds' Bush carefully conceal a portal to a galaxy far, far, away.
We are of course, talking about Secrets Of The Empire — a brand new cannon Star Wars virtual reality experience. Made as a collaboration between Lucas Arts, The Void, and IMLxLab, this intriguing video-game-meets-theme-park-ride simply has to be experienced to be believed.
Taking players to Rogue One's lava planet of Mustafar, up to four rebel troops can work together to help infiltrate this heavily-guarded Imperial facility. It's essentially laser tag meets VR. And in short, it's a total freaking blast.
We've done our fair share of VR experiences, but none have left us grinning like this. Thanks to a large scale real-world space that has been mapped to perfectly match your digital surroundings, its quite simply a jaw-droppingly immersive thrill ride. With hefty feeling replica guns in hand, Secrets Of The Empire offers 30 minutes worth of action-packed fun.
So how does an entirely one-on-one VR experience work, you ask? Well, that largely comes down to the powerful laptop that you lug about on your back. Upon entry we were strapped into a cool-looking breast plate with shock sensors, put on our laptop backpacks, and then were given a suitably cool sci-fi-esque visor.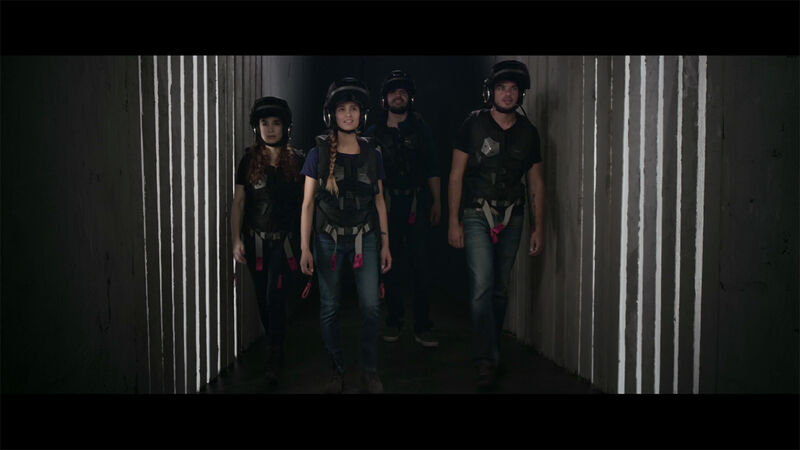 Once we entered the holding room, we were impressed to see that our real-life motions were synced perfect with our digital avatars. Looking down at our virtual bodies, my colleague and I were both suddenly seeing our movements replicated by some seriously high resolution looking Stormtroopers. Impressively though, unlike most virtual reality experiences, its not just your body that is tracked by the sensors.
Thanks to the use of Leap Motion gesture sensors, Secrets Of The Empire also read our hand movements perfectly, allowing my video producer and I to compete in a tense (and very futuristic) game of rock paper scissors.
While we don't want to give too much away, Secrets Of The Empire does some incredibly cool things.  Whether its having you stand on platforms that actually move beneath your feet, tasking you with pulling real world levers mapped to their VR counterpart, or even just being blasted by heat as you get too close to the lava, Secrets Of The Empire makes you briefly feel like you're playing a role in the ultimate Star Wars fantasy.
The good news? This brilliant little outing is still ready to be experienced in both London and a few select locations in the US. Secrets Of The Empire is on now at Westfield Sheperds Bush until March 2018 and at Disney Springs at Walt Disney World in Florida. The west coast gets to join in on the intergalactic fun on January 5, when Secrets of The Empire opens at Downtown Disney near Disneyland