As the first decade of the 21st century neared its end, Warner Bros. had a problem on their hands: Marvel was crushing their DC Comics-based films when it came to both critical and box office success. As the parent company of DC, WB had the blockbuster Dark Knight franchise from Christopher Nolan, but little to boast about apart from Batman, as the likes of Superman Returns, Jonah Hex, and Green Lantern all underperformed or outright bombed. Meanwhile, Marvel Studios — soon to be owned by Disney — launched with beloved hit Iron Man in 2008 and then, after a minor stumble with The Incredible Hulk, followed up with hit after hit with Iron Man 2, Thor, Captain America: The First Avenger, and The Avengers, seeing their box office begin to explode in the process.
Eventually, Warners looked to Zack Snyder — who had previously directed the comic book adaptations 300 and Watchmen for the studio — to bring DC's number one super team to life. Of course, there were a number of hurdles before getting to that point and then a highly unusual road leading up this week's release of a four-hour version of that movie on HBO Max. Let's take a look back at the road to Zack Snyder's Justice League.
A League Of Their Own
A decade before the Justice League film debuted in theaters in 2017, and well before the DC Extended Universe was even a glimmer in WB's eye, George Miller had been hired to put together a film called Justice League: Mortal. This was in the midst of Christopher Nolan's run of Batman films, but Mortal was intended to kick off a new universe and would be unrelated to Nolan's films. However, thanks to a writers strike and a number of other roadblocks, the movie fell apart shortly before production. Miller then decided to focus on Mad Max: Fury Road which debuted in 2015 and became one of the most beloved action films in years.
After Nolan wrapped up his Batman trilogy with 2012's The Dark Knight Rises, Warners was prepared to finally kick off their own, larger DC movie universe and once more wanted to make the Justice League a central part of that. The following year, Man of Steel came out from director Zack Snyder with Henry Cavill wearing the cape. The Superman origin story proved successful enough to lead into the Snyder-helmed Batman v Superman: Dawn of Justice, which brought Ben Affleck's Batman and Gal Gadot's Wonder Woman into the fold and also featured brief cameos by Ray Fisher as Cyborg, Jason Momoa as Aquaman, and Ezra Miller as The Flash.
Justice In The Offing 
Dawn of Justice, which had a reported budget of $250 million budget, debuted to solid numbers, but had one of the steepest declines in box office history after its opening and a notably low critical response — it's at 28% on Rotten Tomatoes as of this writing — though the movie also engendered a fervent fan community that soon became very vocal on social media. However, the film's lopsided performance led to a restructuring at DC Films.
Justice League was already going full steam ahead, though. WB had initially hired Gangster Squad scribe Will Beall to pen the script back in 2012 and Christopher Nolan was offered the opportunity to direct, but declined. Ben Affleck was later in talks to helm as well, which didn't happen, even as he starred as Batman. By 2014, with BvS in the works, Warners made a deal to keep it in the family with Snyder in the director's chair for his third DC film in a row with Justice League. Later that year, Chris Terrio was brought in to work on the script along with Snyder. Initially, the plan was to have the film be Justice League Part One in 2017 and when the entire lineup for what was referred to as the DCEU was announced in September 2014 — including films that would focus on Wonder Woman, Aquaman, The Flash, Cyborg, Shazam, and Green Lantern — it included Justice League Part Two, also directed by Zack Snyder, on the schedule for 2019.
A Troubled Production
Snyder gathered the cast and began filming in April of 2016, right in the wake of Batman v Superman's ill-received release. That summer, in the midst of production, Snyder indicated Justice League would have a different feel and likely be "more fun" than BvS, though he also acknowledged that there was no longer a Part Two firmly set to begin right after. Then, during the post-production process in the spring of 2017, Snyder left the project after his daughter's tragic death.
WB hired Joss Whedon — who ushered the Avengers to the big screen in 2012 to tremendous success and had already been tapped to make a Batgirl film by WB/DC — to complete the project, after first bringing him in to wrote new scenes with Snyder's involvement. Justice League's November 2017 release date remained firm during all of this, despite all of the work being done to overhaul the film, possibly because WB executives would have lost out on lucrative bonuses if the film were pushed to 2018, according to some reports.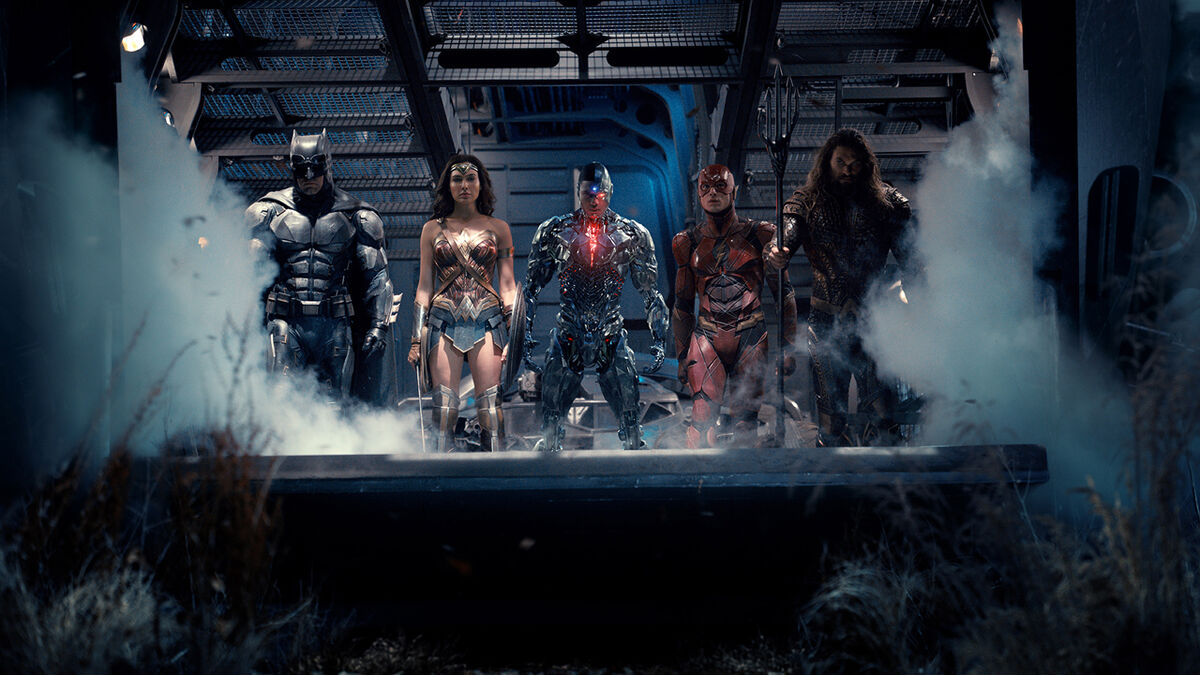 Initially, it was reported that Whedon would oversee reshoots that Snyder had already scheduled. By July, with the November release date looming, word began to get out that the issues were more extensive than that and that WB was reportedly worried about the film's length as well as its tone. The studio funded many new scenes written and directed by Whedon to the tune of roughly $25 million, in the process substantially altering the film and its original tone. They also set themselves up for an oft-mocked aspect of the film when Henry Cavill, in the midst of filming Mission: Impossible – Fallout, had to have his prominent mustache digitally removed for all of his new material added to the theatrical cut, with dubious results.
On top of all of that, the studio also demanded that the film not surpass a two-hour runtime, despite its many characters and plotlines. Later, in 2020, Ray Fisher would accuse Whedon of creating a toxic and abusive work environment during these reshoots, leading to an investigation by Warners that resulted in what the studio referred to as "remedial action."
The Big Release 
In the midst of these trials and tribulations behind the scenes, Justice League debuted in theaters on November 17, 2017. On its opening weekend, the roughly $300 million-budgeted picture pulled in a less-than-projected $94 million domestically, eventually earning a total of $657 million worldwide, making it the tenth highest grossing film of the year. By comparison, most of 2017's other major comic book films like Spider-Man: Homecoming, Guardians of the Galaxy Vol. 2, Thor: Ragnarok, and WB/DC's own Wonder Woman film — itself featuring one of the Justice League — all outperformed the film about DC's greatest heroes teaming up.
Though Justice League clearly made money, it didn't make enough as far as Warners was concerned and they began restructuring DC Films yet again. By 2018, most of the executives who had a hand in making Justice League were no longer in their previous positions, including Geoff Johns (though he continued to be involved in producing various DC projects), Jon Berg and Diane Nelson. However, while it seemed like the studio had moved on, many fans still hadn't given up on seeing Snyder's original vision for the film and would continually bring up their wish to see "The Snyder Cut," as it was frequently referred to, on social media.
In the meantime, Justice League Part Two had died away completely, with WB's DC strategy swerving more into standalone films than team-ups, even while the likes of Aquaman and Wonder Woman 1984 continued to feature actors Snyder had cast. However, Affleck left the solo Batman film he was set to star in and, at one point, direct — instead, that project was reconceived by new director Matt Reeves to introduce a new, younger Batman played by Robert Pattinson — while Whedon left the potential Batgirl film.
A Hashtag For Change
While still continuing with DCEU films, including Shazam and Birds of Prey, Warner Bros. also produced Todd Phillips' hit Joker film, announcing very clearly to the world that they were no longer focusing only on one particular film universe for their DC characters, as Joaquin Phoenix's version of Joker had nothing to do with the version played by Jared Leto in 2016's Suicide Squad. Still, fans of Snyder's take on the DC heroes continued to want to see what his original version of Justice League could have been. Though some began to think of it more as an urban legend, a new ray of hope came from one of the film's stars almost two years after the film debuted.
In August of 2019, Jason Momoa said that he had seen the Snyder Cut of Justice League thanks to Snyder showing it to him and loved it – or as he put it, it was "ssssiiicccckkkkkk." Though it had never gone away, before long, the #ReleaseTheSnyderCut hashtag became inescapable, with the likes of Ben Affleck, Gal Gadot and even Snyder himself joining in. Still, it seemed highly unlikely anything would come of this push… until WarnerMedia had a huge new service to launch.
In May 2020, with HBO Max about to debut, it was announced that the new streaming service would officially release the Snyder Cut of Justice League, now titled Zack Snyder's Justice League, the following year. The Snyder Cut was going to actually become a reality – something Snyder admits wouldn't have happened, at least anytime soon, without HBO Max and the quest for subscribers providing a big incentive to Warners to finally listen to the fanbase who kept asking for the project to be completed. However, the version that Snyder had on his computer was unfinished and lacked both a score and special effects. According to the director, WB initially wanted to release his cut in that unfinished form, but he declined.
With the HBO Max plan in place, WarnerMedia put yet another $70 million into the project to bring the total estimated budget, for all the incarnations of the film, up to nearly $400 million. Not nearly as simple as adding Snyder's original cut to the streaming service, this new version of the film would require some major special effects sequences to be completed, and Snyder even brought some of the cast and crew back together in the fall of 2020 to film one big new scene, which adds Jared Leto's Joker to Justice League. Meanwhile, this restored version will include the DC villain Darkseid, as originally intended, and not just Steppenwolf, as well as more time to explore the characters and their relationships to one another in the film's now four-hour run time.
Truly reflecting Snyder's vision, the film is presented in a 1.33:1, more "square"-shaped aspect ratio (with black bars on the left and the right of the screen) rather than in widescreen, because Snyder made the film with IMAX-shaped screens in mind. There's also a black and white version on the way, though its release plan is not yet revealed.
Regardless, on March 18, HBO Max subscribers will get their chance to see a version of this movie that's been in the works, in some form, for over half a decade via the debut of Zack Snyder's Justice League.
Where Do We Go From Here?
Even after pouring all that extra money into Zack Snyder's Justice League, the studio seems intent on leaving that arm of their cinematic universe behind. While discussing plans for the future of DC Films, president Walter Hamada referred to the project as "a creative cul-de-sac" rather than launching (or re-launching) into follow-ups, despite the Snyder Cut including set-up for potential sequels. Instead, Hamada and his crew are confident that audiences will be able to comprehend multiple realities on the big and small screens as they continue to venture into different directions.
With that in mind, The Suicide Squad, from writer/director James Gunn, will be released August 6, 2021, which will feature a new interpretation of that DC team of anti-heroes (albeit with some returning actors), following David Ayers' also-troubled previous Suicide Squad film. This spring also sees production finally begin on The Flash — another film first announced way back in 2014 alongside Justice League — which is currently set to open November 2022, with Ezra Miller reprising his role as the title character. Also appearing in The Flash is Ben Affleck, who made a somewhat surprise return to the DCEU after departing his own Batman solo film. The Flash adapts the popular comic book story Flashpoint, which features alternate realities, allowing both Affleck and Michael Keaton to appear as Batman in the film.
Of course, you also have the various DC "Arroweverse" series' over on The CW and a variety of new DC shows also coming to HBO Max, including Green Lantern Corps, all of which should properly test just how many DC realities viewers can or will parse.
But in the midst of all of that, after all this time, Zack Snyder's Justice League will be available to view on HBO Max, proving you can never say never to anything when it comes to what the future holds for comic book adaptations…