SPOILER ALERT: Warning, this article contains spoilers from Solo: A Star Wars Story. Proceed at your own risk.
With Solo: A Star Wars Story now out, this is a brief history of new villain Dryden Vos. Who is played by Paul Bettany. Though that wasn't always the case…
Michael K. Williams Originally Played Dryden Vos
Back when Phil Lord and Chris Miller were directing Solo, Dryden Vos was played by Michael K. Williams, of The Wire and Boardwalk Empire fame. But when those helmers left the project, and Ron Howard took charge, extensive reshoots were required. A problem for Williams, who was shooting The Red Sea Diving Resort.
Williams told Deadline: "When Ron Howard got hired to finish out the film, there were some reshoot issues that needed to be done in regards to my character, in order for it to match the new direction which the producers wanted Ron to carry the film. And would have required me on a plane a month ago to London, to Pinewood, to do reshoots. But I'm here, on location in Africa. It's scheduling."
Williams' loss was Paul Bettany's gain. The British actor landed the role, and what had previously been a CG alien character became a heavily-scarred human.
Dryden Vos is Basically The Godfather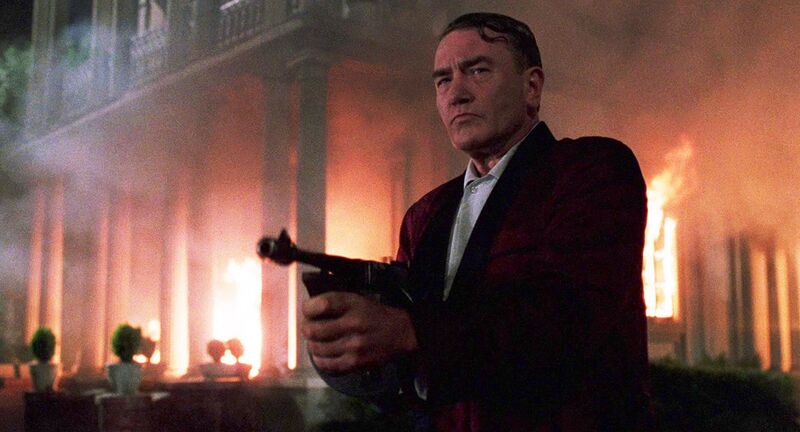 Woody Harrelson's character — Tobias Beckett — calls him "a big shot gangster," while StarWars.com describes the character as follows: "Dryden Vos heads up an emerging criminal syndicate known as Crimson Dawn. This organisation has quickly cemented a reputation for ruthlessness. This is true of its leader as well, though Vos is no crude cutthroat. He surrounds himself with luxury."
When we meet him in the movie, he's clearly a bad dude, having just killed someone. In a brutal scene that's reminiscent of Bettany's work in the movie that put him on the map, Gangster No. 1.
And there are parallels with other movie gangsters. Co-screenwriter Jon Kasdan compares Dryden to Michael Gambon's crime boss in Layer Cake and Albert Finney's character in Miller's Crossing. Entertainment Weekly says he is the Don Corleone of the Star Wars universe. And Bettany himself told Time: "He's a gangster, a godfather figure. He's got a long reach, and he demands his tribute before any sort of business deal goes forward."
As Kasdan put it while speaking to EW: "He's way deeper in the crime world than anyone else that we meet in the movie."
The Guy Behind the Guy
Dryden Vos was kept out of much of the early promotional material for Solo. He was glimpsed in trailers. While in the above TV spot we heard him speak for the first time, stating "We need an incredibly fast ship. And a brilliant pilot."
In the film, Vos is the mastermind behind the mission at the heart of Solo, and ultimately the story's villain. Losing his temper at the drop of a hat, treating Qi'ra like a peace of property, and killing whoever he likes to get what he wants. Vos also believes he's always one step ahead of his opponent, though as proceedings progress, that isn't always the case.
Bettany went on the record with Time about Dryden, stating: "A good villain has to have a clear philosophy about how the universe operates. They can't just be doing bad things because they're evil. They have to be thinking: 'Everyone else is getting theirs, so why can't I get mine?'"
But turns out Vos is just the guy behind the guy. Because early in proceedings we learn that he's working for someone scary. And during Act Three, the audience finds out that bad guy is Darth Maul. Who didn't die at the end of The Phantom Menace (blame the Clone Wars cartoons) and now runs the Shadow Collective, of which Crimson Dawn is presumably is a part.
Meaning that once Qi'ra kills Vos, Maul becomes the real villain of the piece. Though he gets very little screen time. And it remains to be seen if his future with Qi'ra, Han and Lando will ever play out on the big screen.
Solo: A StarWars Story is in cinemas now.