Peter Parker (Tom Holland) has a lot to deal with in his life, which means having a friend he can truly trust in and count on is crucial. That's where Ned (Jacob Batalon) comes in, as Peter's classmate and secret identity-keeper is there for him whenever he needs it, whether he's wearing his Spider-Man mask or not.
The newest Spidey film, Spider-Man: Far From Home finds Peter, Ned, and their classmates going on a European trip – though trouble soon follows, as Nick Fury (Samuel L. Jackson) recruits Peter to fight alongside new hero Mysterio (Jake Gyllenhaal) against a ferocious new threat called the Elementals.
Fandom spoke to Jacob Batalon to find out more about Ned's perspective on life as a superhero BFF.
Ned's Responsibility
Everyone knows Peter Parker believes that with great power comes great responsibility, but what does Ned think are his responsibilities?
Batalon explained that when Far From Home begins, and Peter and Ned embark on an oversees trip with their classmates, "I feel like Ned's priority is to make sure Peter has a good time in Europe. The whole thing is trying to get his mind off MJ and be a bachelor. It's kind of a funny, bro thing to do for him but really he's just being his best sidekick and making sure he has the best things going for him."
On the other hand, Batalon stressed that at the end of the day, when it comes to Peter's potential, "Ned believes in Peter with all his heart. He definitely believes in Peter's abilities. He knows that he's fought all these monsters and knows what to do."
NED IN DANGER (AND LOVE)
Being Spider-Man comes with plenty of danger, but Batalon notes, "In [Spider-Man: Homecoming], it wasn't really affecting anyone besides Peter. Ned was just excited about the idea of helping Peter beat the bad guy."
So how does Ned react as things get much more precarious right in front of him in Far From Home? Said Batalon, "He's genuinely afraid of dying so I think the idea of him actually being in the middle of all the action really does terrify him. He really wants to make sure none of their friends die and Peter doesn't die. It's a really scary thing for Ned in this one."
The actor noted that as things escalate, "It's all literally happening around him and he's like 'This is maybe not what I signed up for.'"
While Ned may worry about those battles, Batalon stressed they are very exciting to shoot, remarking, "It's really fun to be part of those sequences. This is such a level up from Homecoming. Everything is so much bigger and crazier. Just being part of making these special effects happen and on practical sets is really, really fun."
In Far From Home, we also see Ned began a romance with classmate Betty Brant (Angourie Rice), which Batalon described as, "A really sweet, cute relationship. It's a really nice side plot in the movie that people get to enjoy as well as the action. Ned and Betty are so adorable together. They're both really young and being very cutesy and gooey."
DEALING WITH THE AFTERSNAP
Spider-Man: Far From Home very notably picks up after Ned, Peter, and many of their classmates have returned following Thanos' infamous snap in Avengers: Infinity War and the Avengers successfully bringing everyone back five years later in Avengers: Endgame.
Batalon said that for Ned and his friends, "It's something they are sort of in denial about. As teenagers, they don't know how to deal with the idea of them being dead for five years. The beginning of the film is really them getting on with their lives, getting on with their new friends. I think Ned uses the trip as another thing to look forward to after all the bad things that have happened to them."
Far From Home deals with the situation with pointed humor, and Batalon acknowledges that if you dig deep, "It's really, really devastating. I think it's such a deep, crazy thing about life that kids that age shouldn't be dealing with and the fact that they've gone through it and realized five years have passed and they didn't feel it pass, that's just mind-blowingly crazy. That's a really intense way to introduce death to young kids. It's a really heavy subject, I think, and I think we deal with it in a good, mature way."
PART OF THE MCU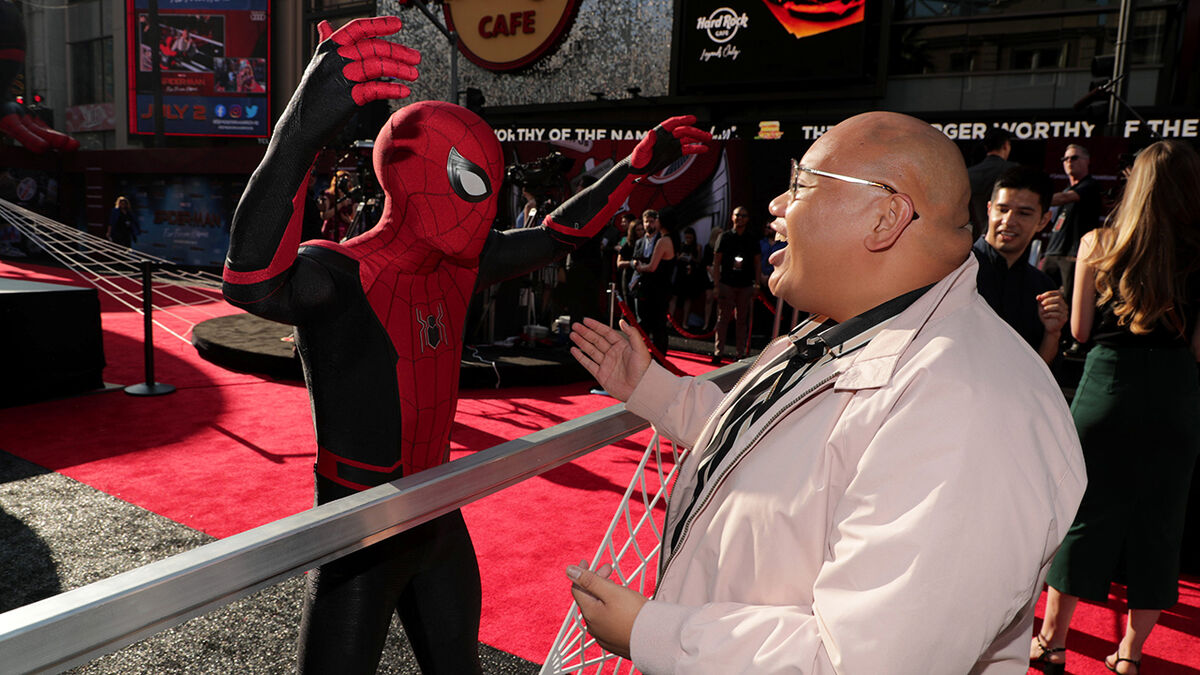 The Marvel Cinematic Universe has become, in just over a decade, one of the most successful and beloved film franchises ever. When it came to having a role in it, Batalon remarked, "It's honestly crazy to think about. It's unbelievable to know you're part of something so much bigger than yourself. I think most of the time, you don't ever think about the impact you have on other people. You think you're just some other character on some other movie. But it's also part of this bigger universe that everyone loves. Sometimes it's unbelievable to have fans tell you you're great or funny or inspiring or something like that. Because you don't think about other people when you're doing your job. You just do your job. It's truly an honor being a part of this."
As for what character in the MCU Batalon would love to to see Ned encounter, the actor went for a deep cut – and, we're guessing, a personal favorite actress – when he brought up Natalie Dormer's pre-Game of Thrones role as Private Lorraine in the World War II-set Captain America: The First Avenger.
When it was pointed out that there likely would need to be some time travel shenanigans involved for Ned to possibly meet Lorraine, Batalon said, with a laugh, "If I can somehow find Natalie Dormer, that would be amazing!"
Spider-Man: Far From Home opens Tuesday, July 2nd.