WARNING: FULL SPOILERS FOLLOW FOR SPIDER-MAN: FAR FROM HOME
Spider-Man: Far From Home is now playing and if you're reading this we'll assume you saw the movie, given that spoiler warning above! Because Fandom had some big things to discuss with director Jon Watts…
Not only does the second half of the movie reveal the true nature of Mysterio, but the mid-credit scene is arguably one of the most important in the history of the MCU as far as its direct impact on the main character of the film we just saw.
Watts chatted with Fandom about that big reveal, two surprising actor returns, and more.
Here's one last SPOILER WARNING!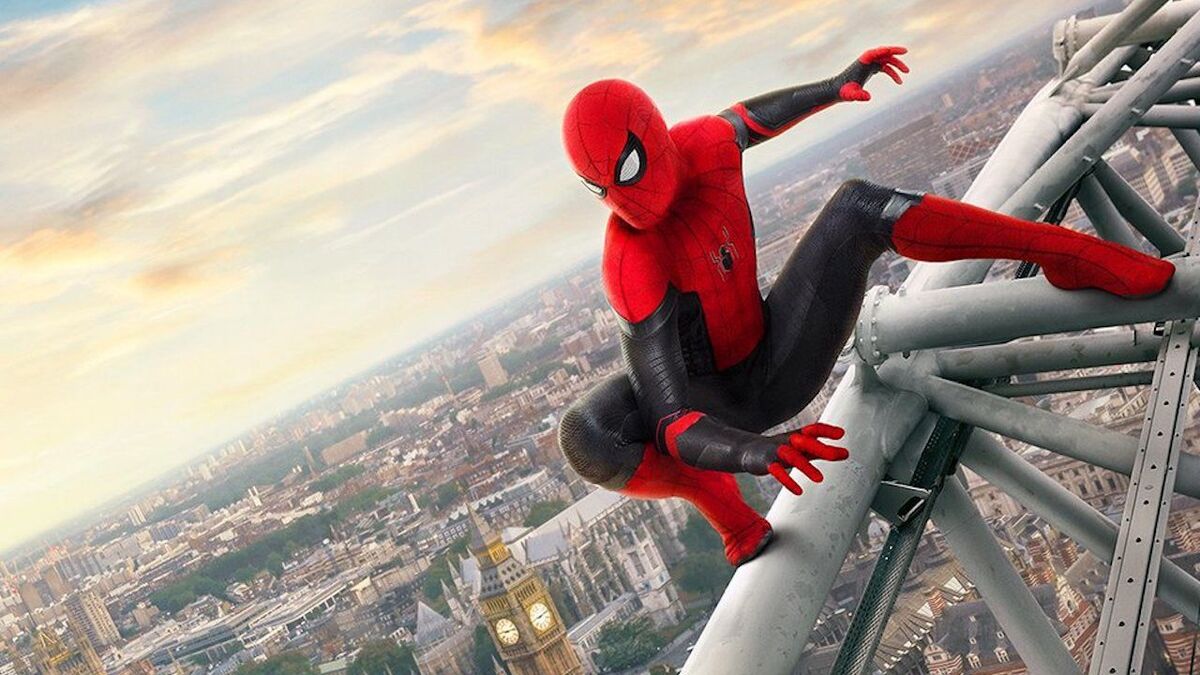 TRIPLE J
There's a ton to talk about by the end of Spider-Man: Far From Home, but probably the thing that has audiences most excited is the surprise appearance of J. Jonah Jameson, as the famous Spider-Man character makes his MCU debut and his first live-action appearance since 2007's Spider-Man 3.
Not only does the character return, but it's also the actor playing him that has everyone thrilled, as J.K. Simmons is once more portraying Jonah, just as he so memorably did in Sam Raimi's Spider-Man trilogy.
Watts told Fandom that when it came time to film the Jonah appearance, "It was a little surreal and I think crazy for him as well to step back into that role after such a long time."
Though Jonah's appearance is brief, it's quickly clear that — similar to the character's inclusion in last year's Marvel's Spider-Man game for the PS4 — he's been refashioned from his classic depiction and is no longer the head of a major newspaper, but rather a conspiracy-minded internet star with a loud voice and a rapt audience.
Said Watts, "What always strikes me is that iconic, over the top performance he gave in the Sam Raimi films now fits right in in this world that we live in and it doesn't seem exaggerated or cartoonish anymore. I think it's a pretty interesting development in our world."
It's unusual to see the same actor play a role in an otherwise completely rebooted franchise, with only rare exceptions like Judi Dench as M in the James Bond films. But many fans had previously said they'd love for Simmons to return as Jonah, which Watts echoed, proclaiming that when it came to casting the role, "It was always him. It was him or no one."
Said Watts, "It's nice when something so big like that feels like the natural evolution of the story you're telling and Jonah Jameson is such an essential part of the comics. To introduce him this way felt really satisfying and opened up so many doors for the story in the future."
Of course, it's not just Jonah appearing that is a big deal, but what he's discussing, as we discover Mysterio has framed Spider-Man for his crimes and revealed his secret identity in one fell swoop.
In the comics, Spider-Man being wanted for crimes he did not commit is a classic scenario, and Watts noted, "That's also the very first Mysterio comic. It's Mysterio and a fake Spider-Man and him stopping Spider-Man who is on a crime spree and everyone looking at Mysterio as the hero. It's a great way to get into that Spider-Man angle from the comic."
YOU'LL SHOOT YOUR EYE OUT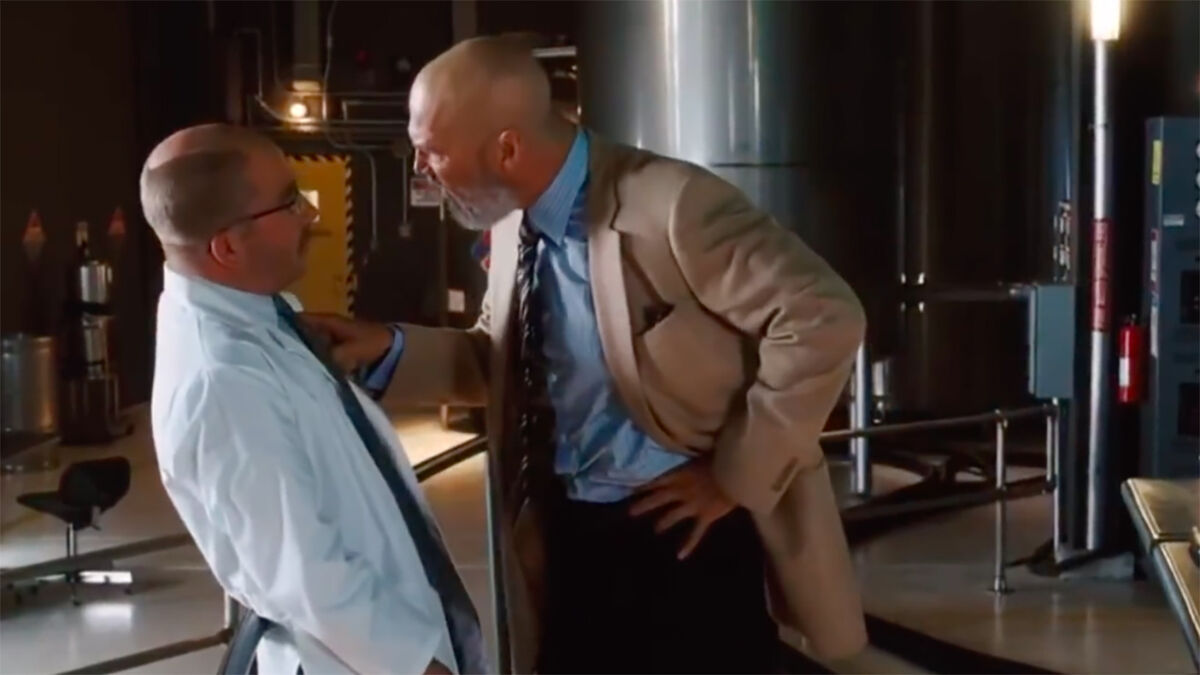 One of the film's funniest and most entertaining moments comes when we discover the truth about who Mysterio is and Quentin Beck's past as a disgruntled Stark employee who has joined forces with several like-minded individuals.
Not only do we learn Beck was present during an early scene in Captain America: Civil War (thanks to some new footage of Jake Gyllenhaal edited into a pre-existing scene), but in an amazing example of a deep cut, it turns out Mysterio's right hand man, William Ginter Riva, is a minor character from the first Iron Man movie in 2008, with Peter Billingsley reprising his role.
As Watts explained, "It was so much fun as we were cracking the story, as soon as we realized that was an element we wanted to take advantage of, to go back and watch the Iron Man films throughout the years and figure out who else might be in the periphery of his life and be a part of this story."
When it came to actually asking Billingsley – who has his own place in cinema history as Ralphie in A Christmas Story – to come back as the character, Watts added, "Bill Riva just jumped right to the front of the pack. Peter was one of the producers on Iron Man as well. For him, it must have been pretty strange, but he was a blast to work with. He's so funny. He was like, 'Hey man, whatever you need!'"
Watts said that as far as bringing in other actual onscreen minor characters from other films, "We could have gone deeper and were prepared to, but at the end of the day, we wanted to keep it focused."
DON'T DISCOUNT THE MULTIVERSE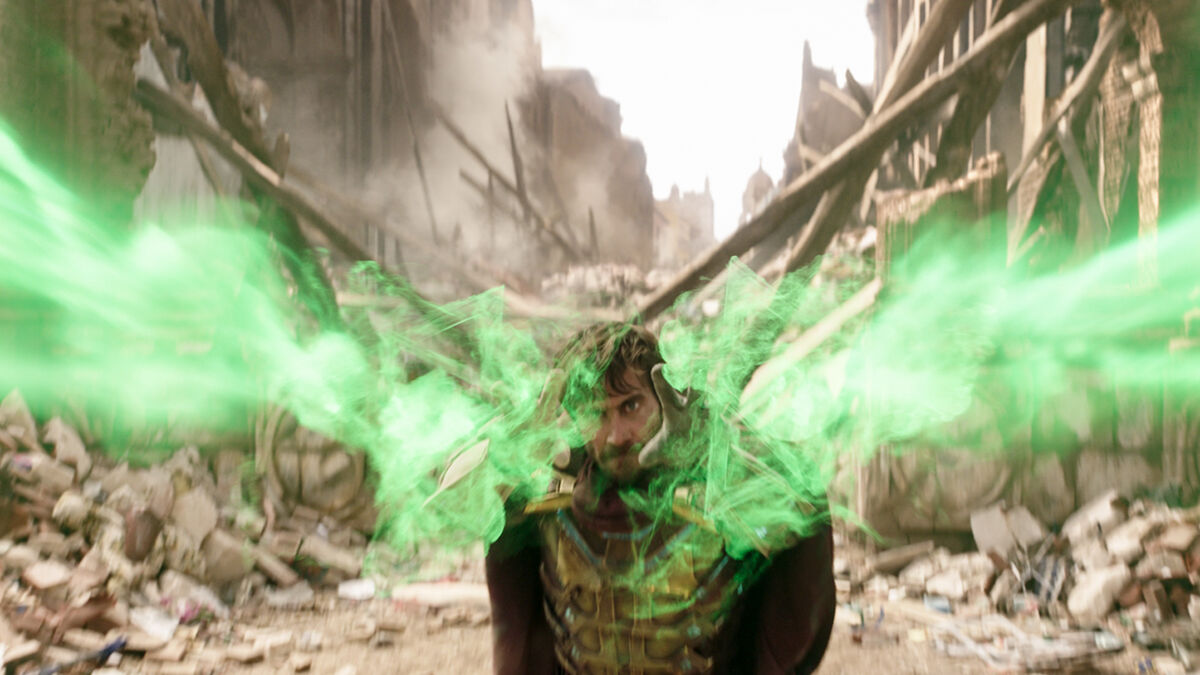 There were a lot of questions raised by the Far From Home trailers, when we saw that Mysterio was apparently from another part of the multiverse. But as it turns out, Mysterio was making the whole thing up, echoing his comic book history as a tech-savvy charleton. But does that mean he can't still be telling the truth as far as the existence of other worlds?
Said Watts, "It's definitely part of Mysterio's scam in this movie, but we never explicitly say it's not true. And I always wonder, maybe the reason why Fury and Maria believe the story is because there are hints somewhere that something like that could be true? I always like to think that every idea is on the table at Marvel."
Far From Home opening just a few months after Spider-Man: Into the Spider-Verse meant audiences had just seen a Spidey-centric movie with a multiverse concept, and Watts remarked, "One of the many things I found cool about Into the Spider-Verse is how readily the audience accepted the idea of the multiverse and were on board. That was a cool thing to see and it was really fun how they explored it in their film."