WARNING: This article contains MAJOR SPOILERS for Spider-Man: Homecoming.
There are plenty of references to the wider Marvel Cinematic Universe – and beyond – in Spider-Man: Homecoming, whether it's Peter Parker's school friends playing a game of F***, Marry, Kill, in which Hulk comes off worst, or Captain America and Pepper Potts popping up in cameos. Not to mention the requisite Stan Lee appearance. Outside of the MCU, there's even a cheeky little nod to iconic 1980s flick Ferris Bueller's Day Off.
But we've rounded up all the really interesting Easter Eggs our eagle eyes and ears were able to pick out and deposited them here in one easy-reference list.
The Title Music
A new version of the classic title song from the 1960s Spider-Man cartoon series takes the place of the standard music over the Marvel title sequence at the start of the film. What a way to welcome Spidey to the MCU in his first starring adventure.
The Word 'Homecoming'
The title of the film is clearly a reference to Peter Parker's status as a high school kid, and in the film there's an actual homecoming dance. It also refers to his inauguration into the Avengers, as well as his 'coming home' to the MCU. Phew. But did you catch that it's also one of the words that activates the Winter Soldiers, as revealed in Captain America: Civil War?
The Tinkerer
Villain Adrian Toomes – aka the Vulture – has a right-hand man known as Phineas Mason. He's the guy tinkering with all of Toomes' weaponry in his warehouse/lair – hence Mason's comic-book name the Tinkerer.
Principal Morita
Midtown School of Science and Technology's Principal Morita is the grandson of Jim Morita, who has previously appeared in the MCU in Captain America: The First Avenger. Jim Morita was a member of the Howling Commandos in World War II and appears in a picture in his grandson's office.
Bruce Banner
If you look in the background in school shots, you might just spot the picture of Bruce Banner being celebrated as a prominent scientist. He's also the Hulk in case you didn't know (winky face).
The Shocker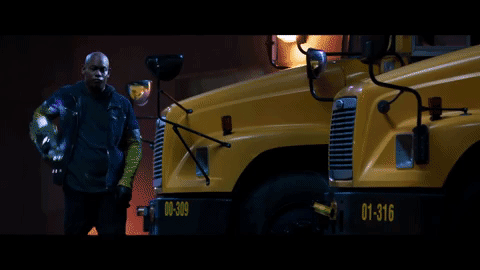 Or, perhaps more accurately, Shockers – plural. First, there's Jackson Brice who gets blasted "accidentally" by Toomes with a Chitauri gun. Then, Herman Schultz assumes the mantle when Toomes hands him the Shocker Gauntlet.
Damage Control
Damage Control is the agency set up by the government in partnership with Tony Stark to take responsibility for clearing up the devastation caused by superhero skirmishes. In the world of the comics, Damage Control had its own title. It's introduced in the MCU for the first time in Spider-Man: Homecoming (aside from a mention in Agents of S.H.I.E.L.D.), and in winning the contract for the clean-ups, puts Adrian Toomes out of business – he was previously doing the job.
It's fair to say, then, that Iron Man plays a part in creating the film's villain, Vulture, since Toomes adopts the guise after the snub, and decides to turn all the salvaged technology into weapons to sell on the black market.
Aaron Davis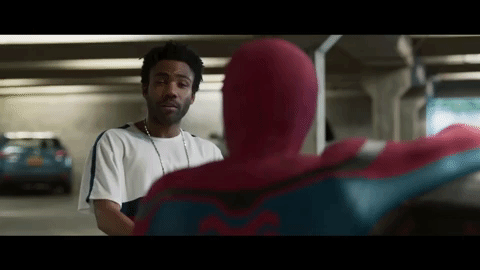 There was a lot of speculation over who Donald Glover would be playing in Spider-Man: Homecoming. The popular consensus was that he'd be Miles Morales, a character who, in the Ultimate Spider-Man comic series, takes on the mantle of Spider-Man after Peter Parker dies.
Turns out he's Aaron Davis. In the comics he's the alter ego of the Prowler – a burglar. In a scene with Spider-Man, Davis says, "I don't want these weapons in this neighborhood," in reference to the superweapons that are being dealt by Toomes's gang. Why? Because, he says, he has a nephew who lives there. A reference to a certain Miles Morales.
Mac Gargan
An associate of Toomes, this Spider-Man villain also goes by the name Scorpion. He's involved in one of the film's most significant scenes – the first post-credits sequence (there are two, in fact). When the pair run into each other in prison, Gargan tells Toomes that he knows people that could deal with Spider-Man, which sets up the sequel with a big nod to a certain band of bad guys. More on them below.
The Sinister Six
A troupe of supervillains that has included Scorpion and Vulture plus – surprise! – four other bad guys at any one time, it looks like we could potentially be seeing Spidey battling not only Scorpion in his next solo outing but also the rest of the Sinister Six – whoever they may be made up of.
This does, of course, beg the question whether any of these guys will crossover into Sony's Spider-Man universe. With Venom currently in the works over at Sony, and both Marvel and Sony teaming up for Homecoming, the door has been left off the latch, at the very least – if not fully open – to the possibility.
The Upside-Down Kiss
In the lift shaft during the Washington Monument incident which results in Peter Parker saving his friends from certain death, Spidey is hanging upside down and goes to kiss Liz who he has just saved. It references the original upside-down kiss between Tobey Maguire's Spider-Man and Kirsten Dunst's Mary Jane from Sam Raimi's 2002 Spider-Man film.
Michelle/MJ
It was widely expected that Peter's bookworm schoolmate Michelle, played by Zendaya, would be revealed to be Spidey sweetheart, Mary Jane, as there was some mystery surrounding her character. And in a cheeky reference to that at the end, Michelle announces that her friends call her "MJ."
Spider-Man's A.I.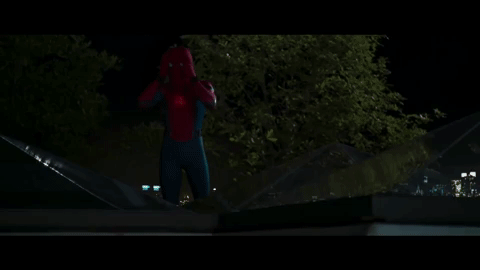 The wallcrawler's Stark-made suit has an A.I. embedded in it akin to Iron Man's JARVIS. And while JARVIS was voiced by Paul Bettany, who also plays Vision in the MCU, Spidey's A.I. – which he names KAREN – is voiced by none other than Mrs. Paul Bettany herself, Jennifer Connelly. Very meta.
Other Exciting Spots
Amongst all the action and laughs, there were a few other Easter Eggs scattered about, some we saw physically, others were just granted a mention. These include Ultron's head, Thor's magic belt, a prototype Captain America shield, Iron Man's Hulkbuster armour, Iron Spider armour, Arc reactors plus a bunch of Chitauri weaponry. In terms of Easter Eggs, Spider-Man: Homecoming is the gift that keeps on giving.
Spider-Man: Homecoming is out now in the UK and is released in the US on July 7.