The TV corner of the DC Universe is about to get a whole lot brighter on May 18 when DC's Stargirl premieres. The new series will debut a new episode each Monday on DC Universe and then also air on The CW the following day.
But who is the title character, Courtney "Stargirl" Whitmore, where did she come from, and what makes her an ideal lead character for a TV series? To answer that question we're going to go back about 80 years to the creation of the original Starman and then travel on into the present and all the way into the far future to get a handle on what makes Stargirl such a megawatt legacy character.
The Golden (Age) Standard
The original Starman debuted way back in 1941's Adventure Comics #61. Ted Knight was a scientist focusing on astronomy who harnessed power from space and wielded it through his Gravity Rod, which was later called the Cosmic Rod or Cosmic Staff. Like many other heroes from his era, Starman joined up with the Justice Society of America to fight evil.
The Starman stories from the 40s and 50s were admittedly average for the time, but the original character got a huge makeover in the 90s thanks to writer James Robinson and his Starman series. In it, we saw Ted feeling immense guilt after helping to create the atom bomb during World War II and spending time in a mental institute. Thanks to the sorts of time-wonkiness that comes from a superhero universe existing for decades, Ted managed to marry a woman named Adele and the two had kids — David and Jack — who hit their 20s in the 1990s. Both tried their hands at being Starman, and while David didn't last long, Jack became the hero of the story and beloved by many readers in the process. More on him below.
Starman will be a part of the new Stargirl series, at least in the show's set-up, so it will be interesting to see how much of this TV version comes from Ted Knight and how much from Sylvester Pemberton.
…Wait, Sylvester who?
Showing Your S.T.R.I.P.E.s
Another character making his debut in 1941, Star-Spangled Kid bowed in Action Comics #40. Sylvester Pemberton was unique in that he was a kid hero with a grown-up sidekick, in the form of Pat "Stripesy" Duggan, rather than the usual opposite dynamic. Initially, the duo used their physical prowess and Pat's mechanical know-how, but after joining the Seven Soldiers of Victory and getting lost in time, they got a boost when Ted Knight gave Sylvester the Cosmic Staff. Pemberton re-designed the technology into a Cosmic Converter Belt which he used to eventually become Skyman alongside Infinity Inc., a team mostly consisting of the children of Justice Society members who had powers of their own.
Pat joined the Star-Spangled Kid as Stripesy in Star Spangled Comics #1, published later in 1941. While also lost in time for a while, Pat came back and tried to live a normal life. He eventually settled down, marrying Barbara Whitmore, and welcomed Barbara's daughter, Courtney, into his life, with the family centered in Blue Valley, Nebraska. Though the new Stargirl TV show seems to swap out Star-Spangled Kid for Starman in the backstory, it appears that this basic dynamic will still come into play in the series.
A Universe Full of Stars
Before Jack Knight and Courtney Whitmore carried on the celestial name, several others took on the Starman moniker. The blue-hued alien Mikaal Tomas debuted in 1976's 1st Issues Special #12. He rebelled against his own kind to stop them from invading Earth. Down the line, he even joined the Justice League. Another alien, Prince Gavyn of Throneworld, also took on the name Starman starting with Adventure Comics #467 in 1980, but mostly worked away from Earth. Neither character left a huge impression until years later when Robinson began making a constellation out of all these Starfolks.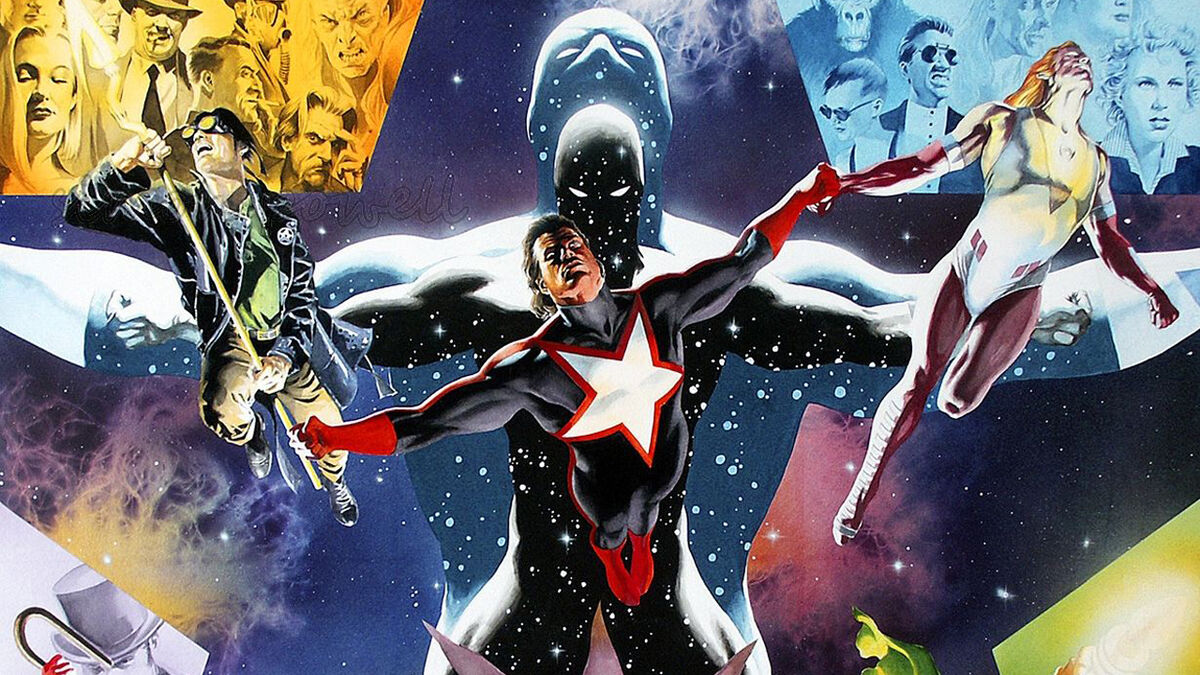 Meanwhile on Earth, Will Payton became yet another Starman after getting hit with a huge dose of space energy that was supposed to be absorbed by a shady organization. He used his powers for good in the DC Comics Starman title of the 80s. Will recently made a comeback in the pages of Justice League, making him one of the more currently known Starmen. The legacy carried on through Jack Knight, Stargirl, and on to the 30th century in the form of Star Boy of the Legion of Super-Heroes and even way into the 853rd Century as part of the DC One Million event series published in 1998.
The Jack Of Stars
As previously mentioned, Ted Knight had a son named Jack who starred in the acclaimed Starman series that ran from 1994-2001. In that book, writer James Robinson not only presented the story of Jack learning to be a true hero, but also made sense of a lot of the previously mentioned Star folks who were, let's be honest, editorial attempts to revive a long-dormant name with varying degrees of success.
Over the course of the 81-issue series, Knight grew and changed in a way that many comic book characters aren't allowed to. He got into the usual superhero shenanigans, but also dealt with wildly complicated romantic relationships, the deaths of friends and family and even grew into his later role as a father. Eventually, he decided to hang up the Cosmic Staff, but instead of letting it collect dust, he passed the weapon, and the Starman legacy, on to Courtney, after being impressed by her. In a notably rare turn, DC has never gone back and brought Jack out of retirement for another adventure, though he has popped up in various quick cameos from time to time.
Stargirl has gone on to utilize the Cosmic Staff throughout her adventures, including with the various versions of the Justice Society she's served alongside.
Back To The Source
Courtney debuted in 2003 thanks to Geoff Johns and Lee Moder. Johns, as you may know, went on to become DC's Chief Creative Officer, but at this point, he was still a newcomer to the world of comics. However, his love of DC's long history clearly came through in Stars and S.T.R.I.P.E., a series that referenced long-forgotten heroes Star-Spangled Kid and Stripesy. He based Stargirl herself on his own sister, Courtney, who sadly passed away in 1996, making this a particularly emotional undertaking for him.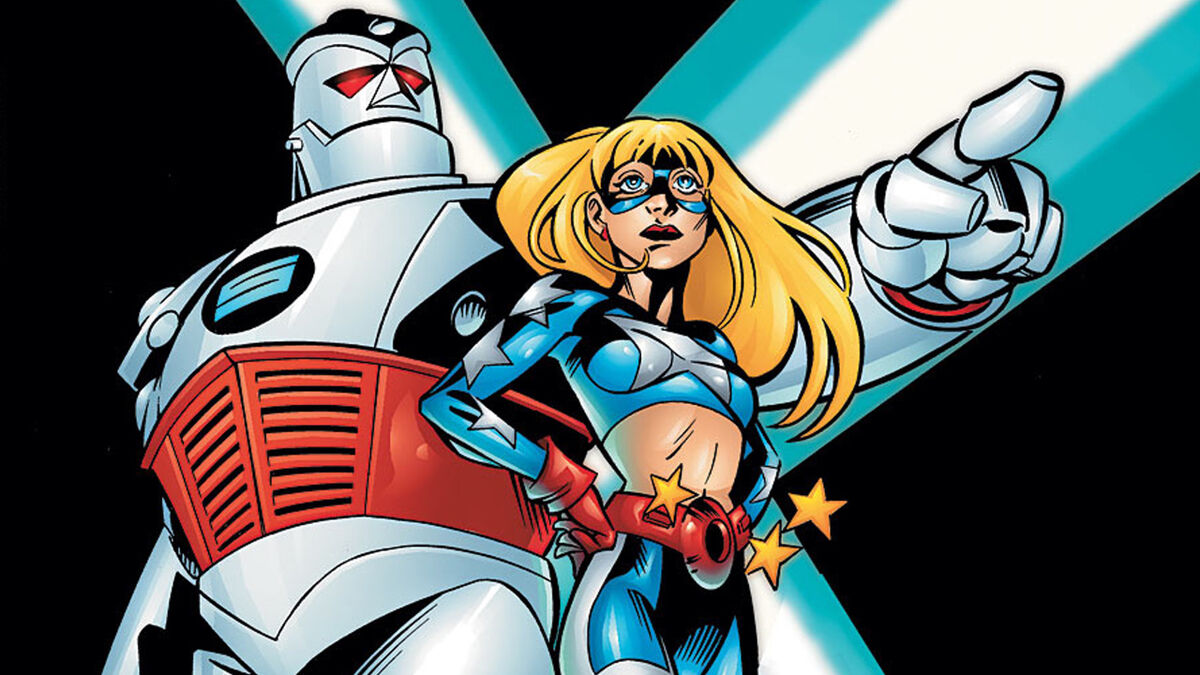 So far, what we know about the show is reflected in Courtney's initial comic book appearances, with just a few exceptions. In the comics, Courtney first got her hands on Golden Age hero Star-Spangled Kid's Cosmic Converter Belt, which Pat was in possession of, instead of the Cosmic Staff – the Staff comes later, along with the Stargirl name, thanks to Jack Knight's blessing. She first calls herself the Star-Spangled Kid, and while adjusting to her new costumed hero identity, she also navigates the difficulties of her new life with Pat as her stepfather and mentor. That seems like the exact right kind of set-up to be explored further in the TV series, along with her relationship with the Justice Society and many of their villains who banded together to form the Injustice Society, a team that sounds like it will play an important part in the show.
Divining The Stars
From what we've seen in the available TV spots, the series finds Starman (Joel McHale) passing away and the Cosmic Staff winding up in the possession of his former sidekick, Pat Dugan (Luke Wilson). As in the comics, this version of Courtney Whitmore (Brec Bassinger) recently moved in with Pat after her mom married him.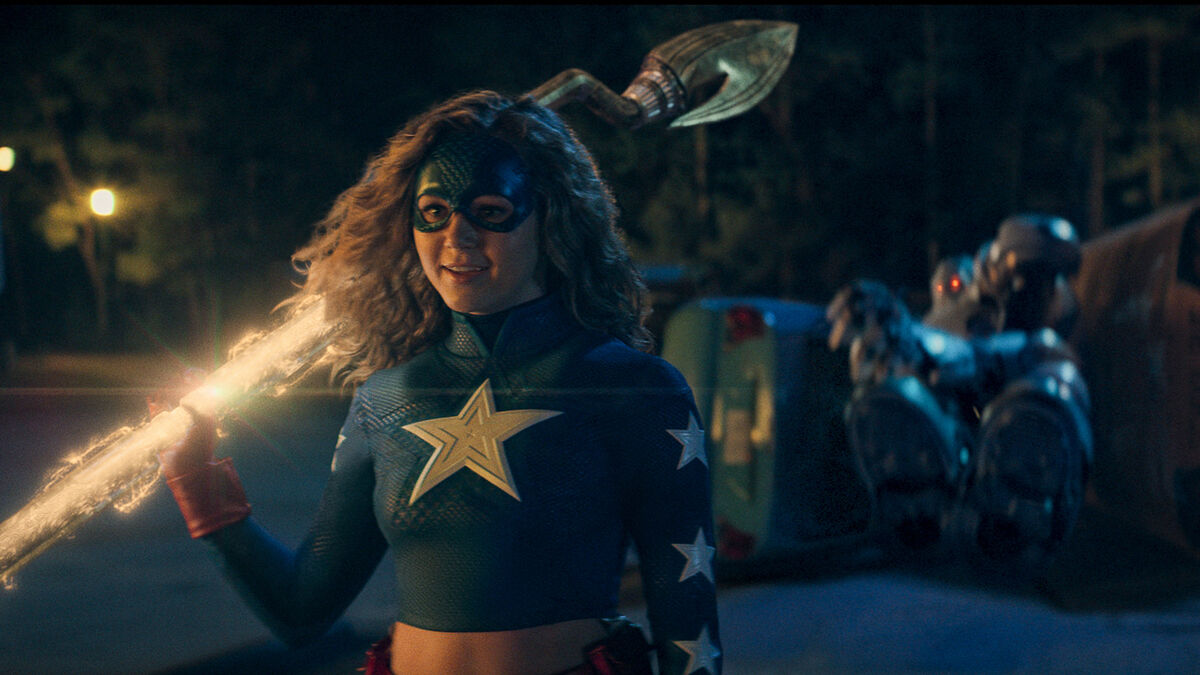 While looking around the house in Blue Valley, she comes across a box with the staff inside. It responds to her, which surprises Pat because he says that it's only supposed to react to Starman. Considering herself chosen, Courtney takes on the mantle of Stargirl under Pat's tutelage, with him functioning both as her human advisor and as the mech-suit-wearing S.T.R.I.P.E.
A TV Titan
Fans of the Arrowverse got a brief first look at this version of Stargirl during the mega-crossover Crisis On Infinite Earths, in a sequence showing the new dynamic of the multiverse. A denizen of Earth-2, Stargirl was shown alongside Justice Society members Doctor Mid-Nite, S.T.R.I.P.E., Hourman, and Wildcat who will pop up in Stargirl, as will some of their own successors and predecessors.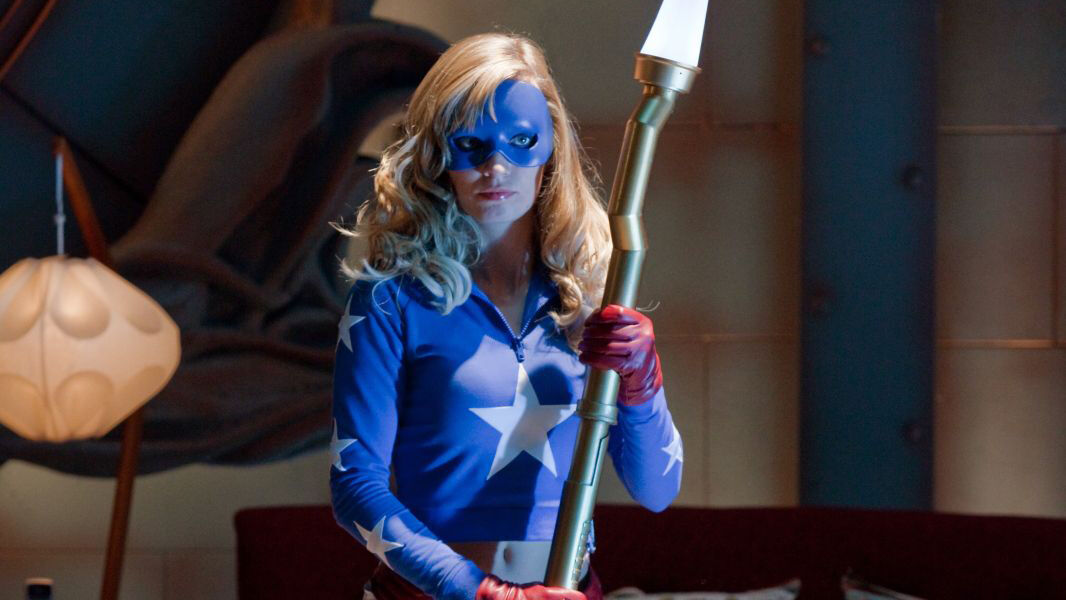 Though not necessarily well known to mainstream audiences yet, Stargirl has made several appearances on television already, both in live-action and animation. Britt Irvin played her in several episodes of Smallville in that show's final two seasons. In the Arrowverse, DC's Legends of Tomorrow featured another version of the character (played by Sarah Gray) from a pre-Crisis Earth-1 past, who fought alongside the Justice Society in the '40s. Justice League Unlimited, Batman: Brave and the Bold, Justice League Action and Young Justice: Outsiders have all also featured Stargirl in animated form.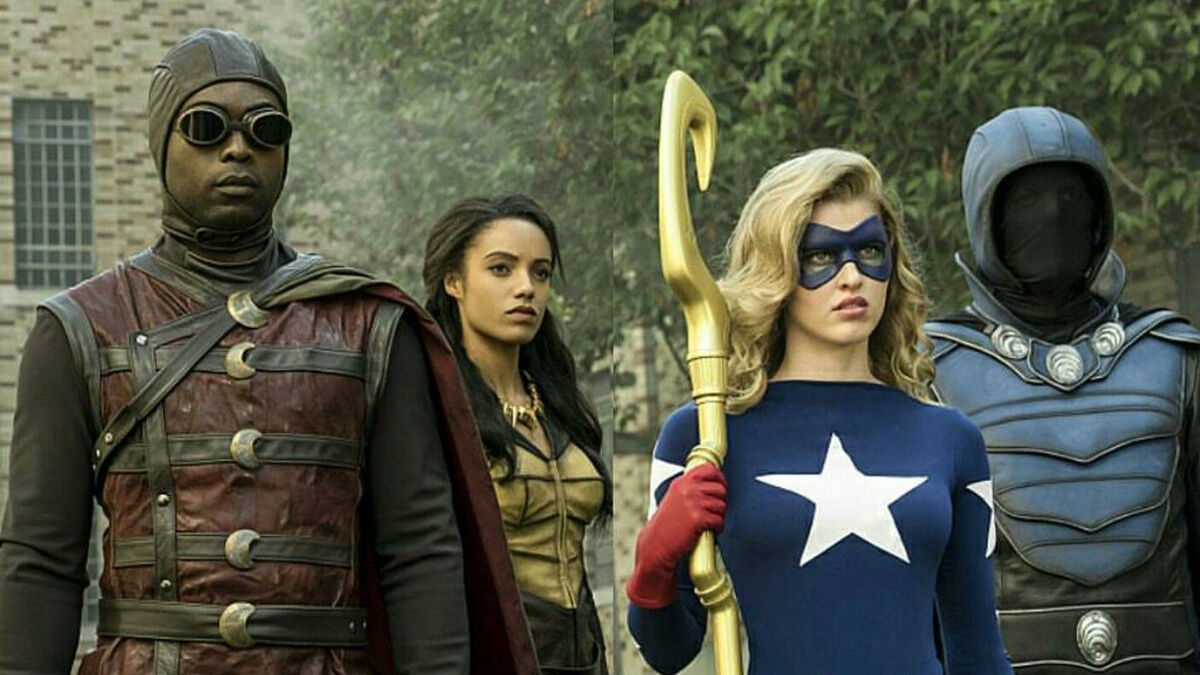 While it's still unclear exactly how many Star-folks will appear in the new Stargirl series, there is certainly enough for the writers to pull from in the comics. From the myriad of family dynamics and heroic connections to the super team involvements and villainous rivalries, the Stargirl writers have plenty of comic book drama to pull from to craft their live-action series. We'll find out soon how closely they compare!
DC's Stargirl premieres Monday, May 18 on DC Universe, before airing on The CW the next day, Tuesday, May 19.