In her new film, Superintelligence, Melissa McCarthy teams up with Ant-Man actor Bobby Cannavale. A Melissa McCarthy comedy might at first seem like it would be a million miles away from the Marvel Cinematic Universe but Superintelligence has futuristic technology at its centre, just like the Ant-Man franchise. A film about an artificial intelligence that takes over the life of her everywoman character as it sets out to study her while the fate of the world hangs in the balance, Superintelligence positions McCarthy's Carol Peters as humanity's saviour. And it's exactly this kind of character she thinks the MCU needs – with herself in the role.
"I would like to play some really unexpected character where it's not the typical kind of superhero that saves the day," McCarthy tells Fandom. "I think in the world we live in now, I'd like to see someone closer to myself actually figure it out. I think that's something that maybe hasn't been fully served. Instead of the cape and all that stuff, which is fun, I'd love somebody who was just like, 'Yeah I've gotta get the kids by five, and get across town…'"
Following a prompt from her director husband Ben Falcone, McCarthy adds, "And I'm gonna use my power to do it. I think I just pitched a movie. Anybody? Any takers?"
Ant-Man 3 "Going Next Year"
McCarthy is speaking to Fandom from Australia, where she is currently shooting TV series Nine Perfect Strangers with Nicole Kidman and her Superintelligence co-star Bobby Cannavale. But she has recently been enjoying a taste of superheroism via her involvement in Netflix's Thunder Force, now in post-production. The film, which, like Superintelligence, is also directed by her husband, Falcone, features another MCU alum in Pom Klementieff (Mantis) and is a superhero comedy about a two-woman team-up to save a world terrorized by supervillains. It also stars Octavia Spencer – who herself once had a role as a check-in girl in Sam Raimi's Spider-Man.
Co-star Cannavale would welcome McCarthy's pitched superhero character in Ant-Man 3, the next instalment in the MCU franchise which stars Paul Rudd in the titular role: "I would love that." For now, Cannavale reveals he doesn't yet know for sure if he's returning to the franchise as cop, and Maggie Lang's second husband, Jim Paxton – but he's hopeful: "I think Ant-Man 3 is going next year, and hopefully I'll be in it. I better be in it. I've gotta get on my phone and call Paul right now actually…"
Why Comedy Is More Important Than Ever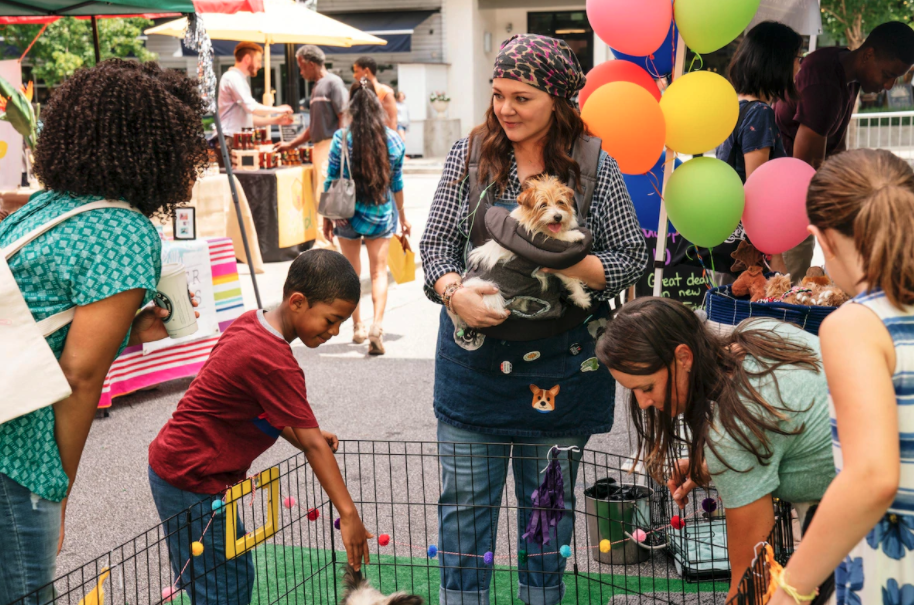 The MCU films have a rich vein of humour running through them, and the Ant-Man films are among the series' most overtly funny. Superintelligence offers a similar blend of high-concept fantasy sci-fi and comedy, and McCarthy thinks the world needs comedy now more than ever.
"We're in very tricky times with the entire world. There's lockdown and things are unsettled and I think to show humans caring about each other is important," she begins. The film has the blossoming relationship between her character, Carol, and Cannavale's George at its heart, driven by a plot that sets about proving why humanity is worth saving from total obliteration.
She continues, "And to be able to sit down and laugh at something and to be able to make your worries go away, I think it's more important maybe than ever. I know I need it."
In the film, the artificial intelligence, or Super Intelligence as it's called, takes on the voice of James Corden when communicating with Carol. Why? Because it has determined through algorithms that Corden's voice is the most likely to keep her calm. Arguably important if your ultimate intention is to destroy the woman, and her kind. But whose voice keeps Melissa McCarthy calm?
"I think of Ruth Bader Ginsberg, listening to her, having her strength and conviction," says McCarthy. "I think there's so many different ways to go. Now more than ever we're listening to people on our devices or watching things. You can really take a lot of solace and heart from when people stay in integrity to who they are. So RBG is a biggie for me right now."
Find out whose dulcet tones Bobby Cannavale and Ben Falcone are decompressing to when you watch the full interview in the video above.
Superintelligence is released on HBO Max in the US on November 26, and hits the UK on December 11.