SPOILER WARNING!
THE EVENTS OF THE 100 SEASON 6 FINALE ARE DISCUSSED IN DETAIL BELOW
The 100 Season 6 wrapped up Tuesday night in an eventful manner, setting the stage for the seventh season – which we now know will be the final one for the series.
Executive Producer/Showrunner Jason Rothenberg spoke to Fandom about what went down in that finale, what it could mean for the future, and why it felt like the right time to aim towards wrapping up The 100.
One last SPOILER WARNING for The 100 Season 6 finale, "The Blood of Sanctum"
THE ANOMALY
Throughout Season 6, we heard about the strange anomaly located on Alpha/Sanctum, with Octavia (Marie Avgeropolous) and Diyoza (Ivana Milicevic) ultimately going inside it – and only Octavia returning. The end of Season 6 made it clear the anomaly will be a big part of Season 7, as Diyoza's daughter, Hope – still unborn when we last saw Diyoza yet now an adult – made an appearance and stabbed Octavia, before the Octavia mysteriously vanished.
Regarding the anomaly, Rothenberg noted, "We can't talk much about it in terms of what it is because that is clearly a big part of Season 7, answering those questions. And we will do that for our characters very early into the season. There is a journey to the other side early in the season and we spend a lot of time on that journey. It's unlike anything we've done before."
Rothenberg acknowledged they'd set up the anomaly all season, noting, "It was percolating out there as a thing. I'm really happy with the way that story was woven in. A lot of times I don't know what the next [season's] story is until too late and have to reverse engineer some scenes earlier. But this one was something we've known for a while because we've been planning this as an ending for a while and we were able to give it a proper introduction. And it does take over everything next season."
The anomaly was only one of several examples of The 100 getting a bit weirder and even, dare we say, trippier, in Season 6, as the show moved to a new planet. Explained Rothenberg, "It was one of the ways we wanted to change the overall tone and tenor of the show and play with memory, play with hallucinations. Obviously, there's a psychedelic component going on with the red sun and something I'm fascinated by exploring and definitely something I felt we could dive into in a big way with the red sun toxins that exist in this world. I think we do, as you know, reexamine and reinvent every season. Next season, I think time is a similarly fungible thing. We really are playing with time in the next season in a way we haven't before."
POSSESSION
As Season 6 progressed, an interesting theme of possession – or a sort of possession, at the least – developed, as we learned more about the Primes and how they kept themselves alive via new host bodies, with Clarke herself battling with the presence of Josephine (Sara Thompson). At the same time, Madi (Lola Flanery) dealt with a different sort of possession, as the corrupt former Commander Sheidheda took control of her and influenced her actions in terrible ways.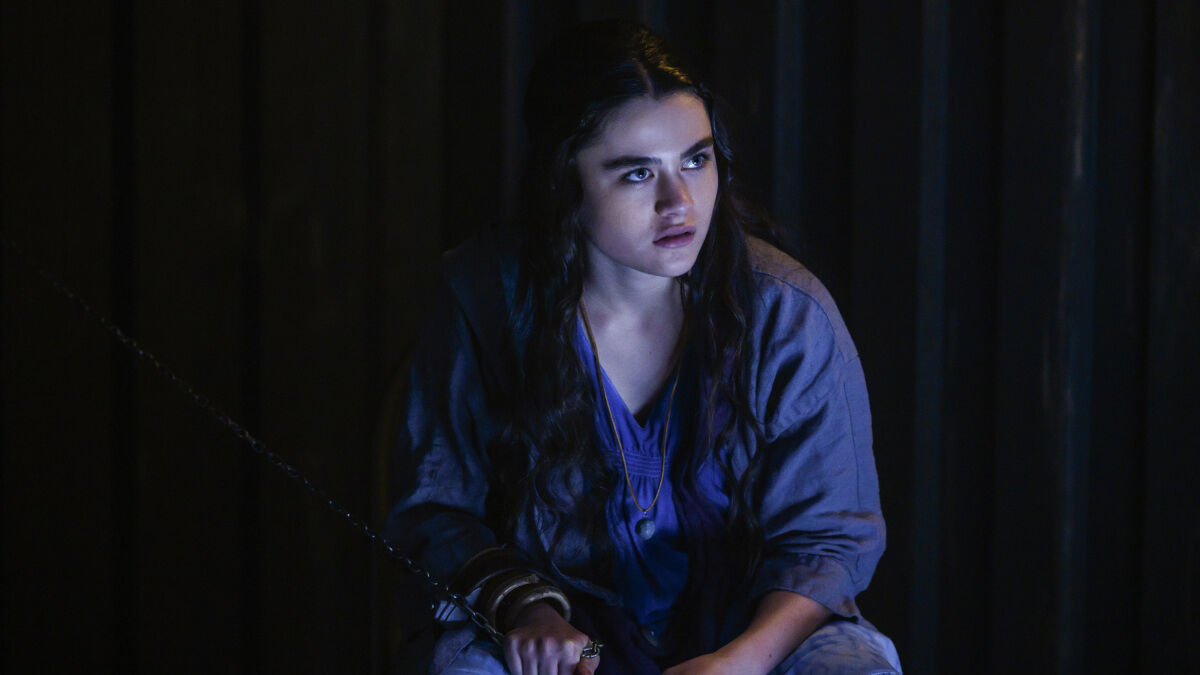 Regarding these dueling storylines, Rothenberg remarked, "It did develop in a serendipitous way. But definitely when we started thinking about it, it rhymed in a way I thought made sense thematically. Octavia had a similar inward journey. It's not possession per se but she definitely examined her own psyche. So there was a whole idea about facing your demons – there was a whole Madi faces the demon of Sheidheda, Clarke faces Josephine, Octavia faces herself. That was something that thematically ties those ideas together. They were there different, unique ways of exploring a similar idea."
PROTECTING MORE THAN "OUR PEOPLE"
The 100 is known for putting its main characters into intense situations where they essentially have to make an awful choice in order to save themselves – or do what they believe will save them, at the least — including massacring others.
Season 6 found several of the characters, most notably Clarke and Octavia, doing all they could to finally break this cycle, going out of their way to try and save all those in Sanctum, even if they were not considered their people.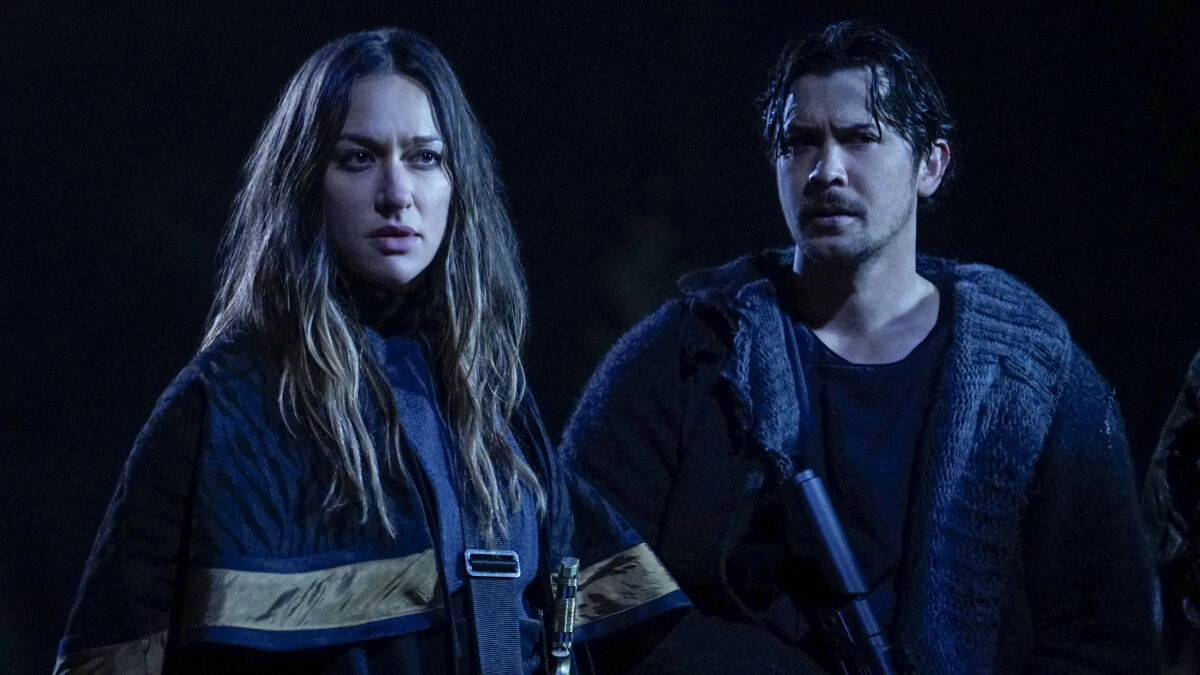 Said Rothenberg, of this plot point, "It was definitely a deliberate change of pace. They were trying to honor Monty's wishes for them to do better. Clarke says at the end, 'Was it worth it?' She lost her mom. The world around them in that moment… Sanctum has been destroyed. Civilization there will never be the same. We see them trying to piece it back together again Humpty-Dumpty style in Season 7. It was hard to do better. It's hard to do better when the person you're up against isn't trying to do better themselves. So ultimately, the question is how do you do better when you're facing an enemy who is trying to kill you? It's a question we continue to ask in Season 7 and I don't want to talk too much about where we're going but it's a question that gets answered in a surprising way."
FAREWELL, ABBY AND KANE
The 100 is no stranger to huge character deaths, and Season 6 ultimately was the end of the road for both Abby (Paige Turco) and Kane (Henry Ian Cusick).
When the series began, Abby, Kane, and Jaha (Isaiah Washington) – the latter of whom was killed off in Season 5 – were considered "the adults" on the series, compared to the other, mostly teenage characters. The 100 has now been on for several years – with a notable six-year time-jump at one point – and when it came to removing those characters, Rothenberg explained, "Some of it is a natural passing of the torch and some of it is the way life works. You do take the torch from the generation before. There have been time jumps and the show's unfolded over a certain amount of time and who we used to call 'the kids' are not kids anymore. It's been clear for a while that Clarke and Bellamy have grown up and are making decisions now and this solidified that. And there were some external decisions that played into the way the story had to get told. I don't want to say anything about that other than sometimes you obviously have to adapt to the world's stuff."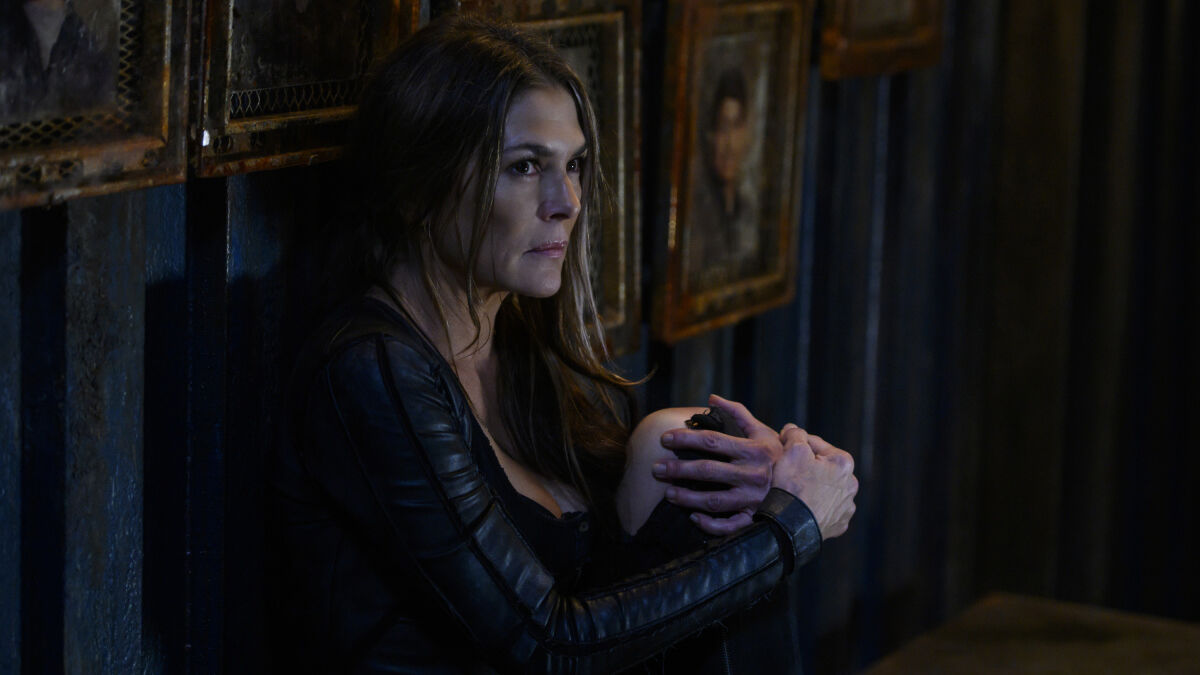 As for Abby – or her body at least – briefly spending time as the new host for Simone, Rothenberg explained, "Emotionally, I think it was important for one of our main characters to become one of the Primes. Kane got a new lease of life but that was Kane moving into another body. We didn't experience [this] — other than through Josephine and Clarke, which isn't nothing, but that didn't quite take. Clarke escaped that fate. This is The 100 and we like to say that we don't do things how other shows do and most of the time, when you're telling a story like that, of course that character would come back. And somebody needed to embody the story in a way where it was permanent and that's heartbreaking and tragic and horrible that it happened to Abby, who I love. I think Paige did a really beautiful job with all of that emotionally and beginning to play Simone into [episode] twelve and thirteen. Clarke floats her mother, or her mother's body anyway, which to me was just such a brutal kind of incredible story that it was undeniable for me. I know that's horrible in a lot of ways and the fans are going to hate me for that. But it wasn't purely for shock value. Abby dies and becomes Simon and Clarke is forced to float Simone. For me… I couldn't avoid that."
The Beginning of The End
At the TCA Press Tour, CW's President, Mark Pedowitz, recently revealed that it was Rothenberg who had asked that the series end with Season 7, and the showrunner explained to Fandom why that was.
First off was the notable fact that The 100 has been doing 13-episode seasons for a few years, but Season 7 will be comprised of 16 episodes  – like Season 2 and 3 were – which will mean the season and now the entire series, will conclude with… episode 100.
Said Rothenberg, of feeling now was the right time to end it, "There were a lot of reasons, one of which was [ending on] 100 episodes. Once they agreed to give us 16, which was the first thing I was kind of begging for, knowing the end would be episode 100 was part of it. But also, it's just going out while we're still telling stories as strongly as I think we are. I think Season 6 was a real… I don't want to say comeback season, because I don't think that was necessary, but it was revitalizing for me as a storyteller and I think the writers really stepped up in a way for Season 6 for me that was exciting and the actors did as well. I want to go out while we're still doing it and not be that show that goes too long. To quote [you], 'How many times have you said Season 8 was the best season of the show?'"
Rothenberg said it felt very different writing towards a definitive ending, revealing, "We had been planning for this regardless of whether we got authorization to do it, but hoping we'd get authorization to do it, and knowing how supportive Mark is of the story that we're telling here. I really did have faith that ultimately, as much as he loves the show and I'm sure would have kept it going, he wants it to be great too and wants it to be something that lives on and not something where people go 'God, they should have ended that three years ago.' We've known for a while. We've been planning it for a while and we are not changing anything now as a result of just finding out the other day. Otherwise, it was going to be some other showrunner's problem in Season 8.'