The first official photo of Jodie Whittaker's 13th Doctor has been released, and there's more than a handful of influences buried within it.
The combo is a sleek amalgamation of elements from classic Doctor Who costumes — although it also references other science fiction and fantasy properties.
Let's break down those references, starting with the Doctor Who homages.
'Doctor Who' Past
The most prominent feature is probably the stripes on the top Whittaker is wearing. These not only pay tribute to Tom Baker's incarnation and the iconic scarf he wore but also to First Doctor William Hartnell, who was similarly seen wearing a striped scarf in the role. The stripes also reflect Peter Davison's Fifth Doctor and his penchant for striped trousers.
There are less overt references to outgoing Doctor Peter Capaldi in the costume. Firstly, in the hood — Capaldi wore a hooded top during his tenure. The second reference is even less easy to spot.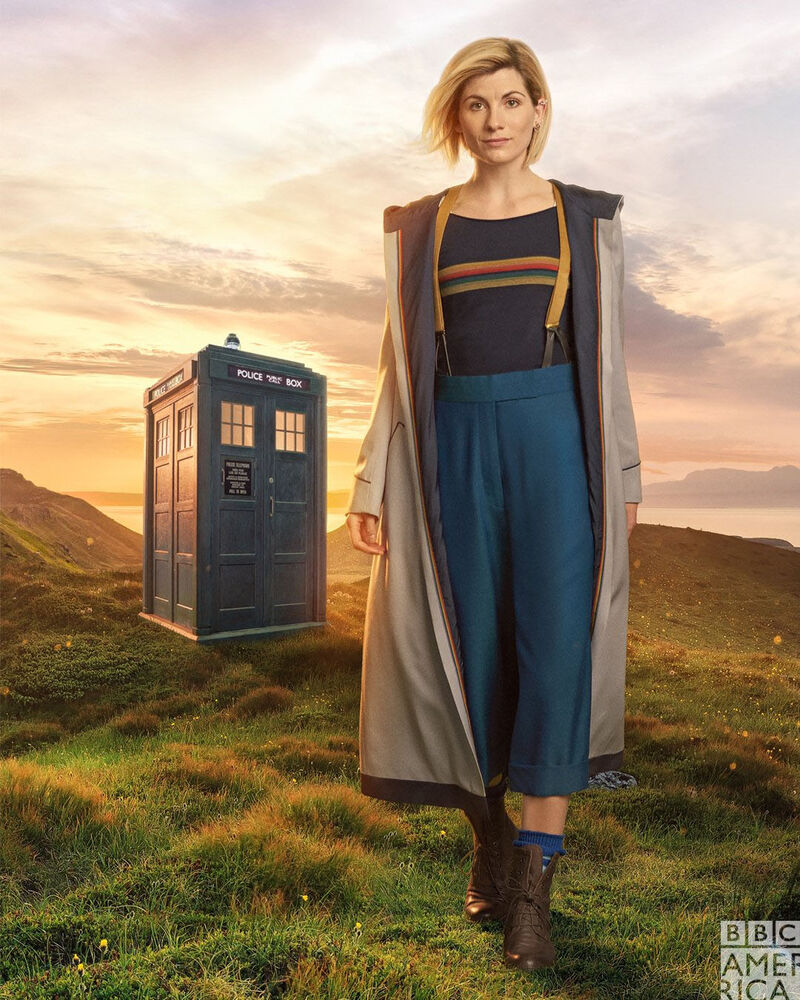 At New York Comic Con in October, Capaldi spoke about the moment he discovered the next Doctor would be a woman. He said that during a visit to the Paul Smith shop in London which supplies his Doctor Who outfits, he learned they'd had a call from the Doctor Who office ordering his trousers in a 30-inch waist — making it apparent to him that the role had gone to a woman. Paul Smith's signature is stripes, and Jodie Whittaker's new jumper, most likely made by Paul Smith is, therefore, an oblique nod to Capaldi's 12th Doctor.
The stripes even nod to the Doctor's most recent companion Bill Potts, played by Pearl Mackie, who memorably wore a brightly coloured striped vest top for the show.
The trousers and braces, meanwhile, are a callback to Second Doctor Patrick Troughton who wore a baggy, high-waisted style sometimes held up by braces. 11th Doctor Matt Smith, of course, also sported braces. The boots are another reference to Smith.
And what about that coat? It's perhaps closest to the coat we know Peter Davison's Doctor for — it has similar piping. But David Tennant's Tenth Doctor was a fan of an oversized trench coat, not dissimilar to Jodie Whittaker's. Tom Baker's Fourth Doctor is also known for his long coats.
What of the Costume's Other Influences?
Fans have pointed out its resemblance to Mork's outfit from the seminal Mork and Mindy TV series which ran from 1978 to 1982. The dark blue trousers, braces and stripes combo are definitely very familiar.
And then there's Star Trek: The Next Generation. Wesley Crusher, played by Wil Wheaton in the show, wore a striped top that is suspiciously similar to Jodie Whittaker's new jumper.
Some fans are even seeing similarities to Fantastic Beasts and Where to Find Them's Newt Scamander — and while there are few blatant parallels to draw, there's certainly a shared vibe to both costumes, not least in the colour palette.
Jodie Whittaker makes her debut as the 13th Doctor in a special episode which will air at Christmas.