One of the biggest talking points around The Walking Dead is who might die next. With Season 7 gearing up for its finale, we spoke to the cast of the show to find out who their characters would most hate to lose.
For Norman Reedus, who plays Daryl Dixon, it was a surprise choice.
"Probably Rick for Daryl," says Reedus. "I think he's probably the closest person in that group to him. I think he would just go apes**t. I think he would just start wrecking stuff, and then he would cry like a baby."
Fans of The Walking Dead might have expected his answer to be Carol. He's certainly shared a lot with Melissa McBride's badass zombie slayer, and there's a segment of fans who'd love to see Daryl and Carol link up romantically. Even show boss Greg Nicotero was surprised at his response.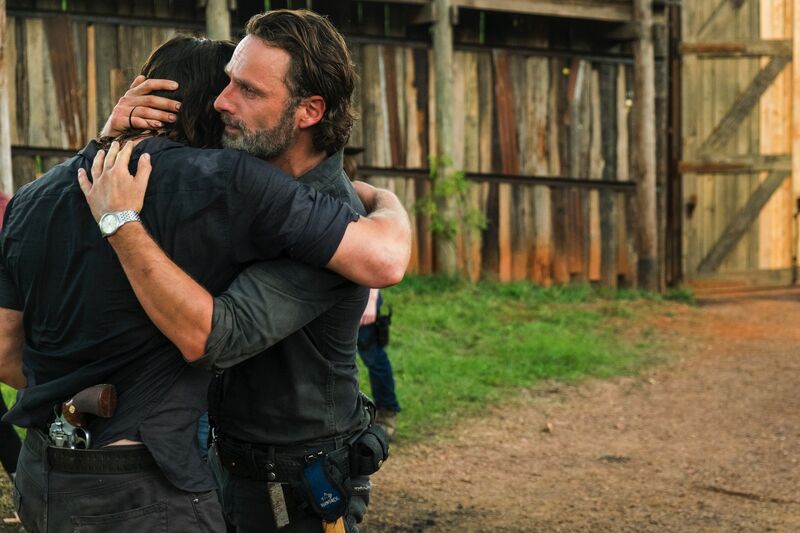 "Rick is like the brother that Merle was never," adds Reedus. Of course, if you remember, Daryl's brother on The Walking Dead, Merle (played by Michael Rooker), entered the show with Dixon Jr. in Season 1. The siblings had a dysfunctional relationship, and Merle ended up dying at the hands of the Governor in Season 3. It was left to Daryl to finish off Merle after he turned into a walker in an emotional scene.
For Josh McDermitt, who plays fan-favourite Eugene, it's Rosita who's currently preparing to embark on a 'suicide mission' to tackle Negan with Sasha.
"She's like a sister to him," says McDermitt. "A sister he would love to sleep with."
Oh yeah? "There's just a way he's attracted to her," Josh explains. "It's this weird situation: someone he's been travelling with forever and he loves her tremendously. That's why he didn't want to make that bullet for her … because he knew that she could get hurt and he didn't want that to happen."
For Tom Payne, who plays Jesus, it's Maggie: "He's seeing her as a potential leader to take over from Gregory. As well, I think he sees hope in her, and if he lost her he'd have to start again."
Austin Amelio, Ross Marquand and Seth Gilliam who play Dwight, Aaron and Father Gabriel respectively, also pick the characters they'd least like to see meet their grisly fates in the video above.
Who would you least like to see die? Let us know via social media – @getfandom!
Watch more The Walking Dead interviews: