(Updated April 4: Singapore readers, scroll down to the bottom of this article for a chance to win awesome Thor: Ragnarok prizes!)
Warning: This article contains spoilers for Thor: Ragnarok.
Like any Marvel movie, Thor: Ragnarok (now available on HOOQ.TV in Singapore, Thailand, Indonesia, and the Philippines) is stuffed with tantalising hidden references. Here's everything we caught:
Planet Hulk
This storyline from the comics features heavily in the film, from Hulk's presence on the planet of Sakaar and him competing in the Contest of Champions – the fighting competition run by Jeff Goldblum's Grandmaster – to some of the characters that appeared in the storyline. Korg and Miek are pulled directly from the comic's pages – although both characters are very definitely touched by the hand of eccentric New Zealand-born director Taika Waititi. Not least because he also appears in the film as Korg.
Skurge's Guns
Skurge's last stand on the bridge armed with his beloved M-16 rifles — those that he tells us at the start he got from Texas – is lifted directly from the comics. Hela also refers to him at one point as her "executioner" which is a reference to his comic nickname.
Thor's Look
On the subject of the comics, Thor's appearance, with his short hair and lack of hammer, is also pulled straight from the pages of the comics. The Unworthy Thor storyline to be precise.
Stan Lee Cameo
It wouldn't be a Marvel movie if it didn't feature a Stan Lee cameo. In Ragnarok, he works for Grandmaster – and he's the person responsible for Thor's shorn locks. Wielding a whirly whirring tool, he approaches Thor hellbent on trimming those blond tresses. Thor is strapped to a chair. "Please, kind sir, do not cut my hair," says Thor, terrified. We all know who wins this one.
Thor later says to a freshly un-Hulked Banner: "Some creepy old man cut it off."
Other Cameos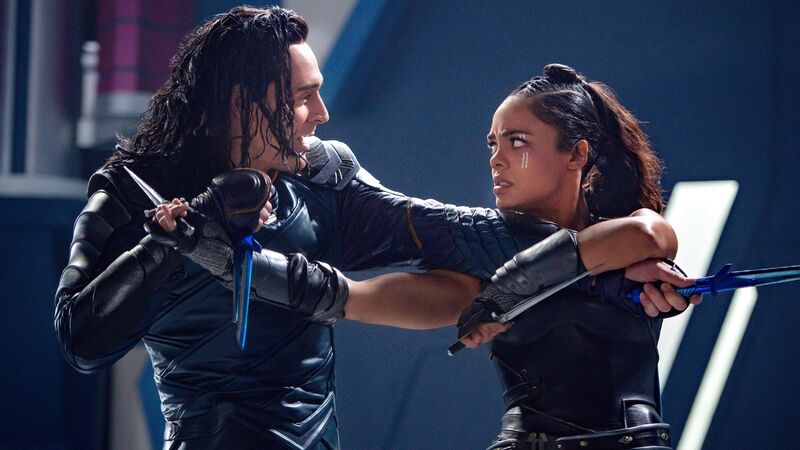 One of the biggest delights in Thor: Ragnarok is the play Loki puts on, disguised as his father Odin. Called "A Tragedy of Loki of Asgard", the actors aren't just standard actors. Who's playing Loki? Matt Damon. As for Odin, Sam Neill steps in, while Thor himself is played by Chris Hemsworth's own brother, Luke Hemsworth. Very meta. But also, Loki would absolutely want some of the best and biggest profile actors in the universe in a play about him, wouldn't he?
Doctor Strange
It may not be a surprise to see Doctor Strange pop up, since a post-credits sequence in the Doctor Strange film had Thor and the Master of the Mystic Arts meeting up on Earth and discussing Odin's whereabouts. It was a direct link to Thor: Ragnarok. But, just like in that scene, when Strange pops up in Ragnarok he's wearing the same yellow gloves — in a nod to the classic Doctor Strange costume.
Sanctum Sanctorum
Doctor Strange has been residing at the New York-based Sanctum Sanctorum at 177a Bleecker Street, and it's here that the post-credits sequence from Doctor Strange is set. In Ragnarok, Strange 'welcomes' Thor and Loki through his door when they come to earth looking for their father, Odin. He fairly promptly delivers Thor to him on the proviso that he and his family return to Asgard tout-de-suite.
Surtur
A fire demon, Surtur is hellbent on setting Ragnarok in motion, bringing about the end of days for Asgard. We first meet him in conversation with Thor, whom he has chained up and suspended from a great height in his fiery home, an extra-dimensional plane known as Muspelheim.
The Eternal Flame
Wanted by both Surtur and the film's big bad, Hela, Goddess of Death, the Eternal Flame is key to Surtur's plan. It's also able to bring the dead back to life. Hela uses it to resurrect an army of the dead to help her vanquish the Asgardians and attempt to take over all the known realms. Odin has been keeping it in his trophy room.
The Tesseract
Glimpsed in Odin's trophy room, it's especially significant that we see Loki walking through and eyeing the Tesseract, which holds the Space Stone. In the footage from Infinity War shown at D23 earlier this year, Loki is seen handing the Tesseract over to a very tall, shadowy figure. Thor: Ragnarok builds "directly into Infinity War", according to Marvel boss Kevin Feige.
The Infinity Gauntlet
Also seen in Odin's vault, Hela walks past what appears to be the Infinity Gauntlet when she storms in to use the Eternal Flame. However, she tips it over, labelling it fake.
Fenris Wolf
Among Hela's army of the dead is the massive Fenris Wolf, her one-time mount and beloved 'pet'. In the comics, the wolf is said to be Loki's son.
Jane Foster
Not seen, Thor's ex-girlfriend, Jane — played by Natalie Portman in the first two Thor films — is mentioned by a fan of Thor's on earth. "Sorry to hear that Jane dumped you," she says to the God of Thunder.
"She didn't dump me, you know," says Thor after posing for a photo. "I dumped her. It was a mutual dumping".
Sakaar and the Contest of Champions
Sakaar is the planet Thor ends up on where he's forced to fight in the Contest of Champions. It first appeared in comic form in The Incredible Hulk Vol. 2 #92 in 2006. On Sakaar, Jeff Goldblum's Grandmaster presides over the Contest of Champions, a gladiatorial competition where the universe's biggest and most powerful superheroes and villains are pitted against one another.
As Thor is transported to the Grandmaster's palace, he's told: "Surrounded by cosmic gateways, Sakaar lives on the edge of the known and unknown. It is the collection point for all lost and unloved things."
He's also told that the Grandmaster "is the original, the first lost and the first found, the creator of Sakaar and father of the Contest of Champions".
The Palace Sculptures
The faces of a handful of historic champs from the Contest of Champions are carved into the exterior of the Grandmaster's palace. Alongside the latest of Hulk, we see swamp creature Man-Thing, two-headed android Bi-Beast, Olympian God of War Ares and cybernetic Korbinite champion Beta Ray Bill, all of whom fought in the Sakaarian competition. Director Taika Waititi confirmed the identities of the sculptures exclusively to FANDOM.
Valkyrie's Number
Valkyrie has fled to Sakaar to keep a low profile as Scrapper #142. The number is significant. In The Incredible Hulk #142 from 1971, the character's persona is placed into a mortal called Samantha Parrington as an adversary for the Hulk.
Miek
On Sakaar, Thor meets a character called Miek, Korg's buddy. Korg, a Kronan made of perishable rocks, and Miek, are gladiators fighting in the Contest of Champions. In the comics, Miek has quite a backstory but here he plays the straight man to Korg's comedian. In the comics, we learn Miek is a member of an insectoid race native to Sakaar. Via Korg, we learn that the film version of Miek has knives for hands and that he secretes a substance that is either "protoplasm" or "eggs."
Carlo
Also on Sakaar, we meet the Grandmaster's cousin, Carlo, who meets a swift demise at the business end of a "melt stick". Carlo could be a reference to artist Carlo Pagulayan who created the character of Korg and played a key role in shaping the Incredible Hulk comics of 2006-7.
Quinjet
The Quinjet that brought Hulk to Sakaar is still on the planet – and it's the same one that he left in at the end of Age of Ultron. Unsurprisingly, Thor makes a beeline for the ship when he discovers it. On board, they find Tony Stark's clothes which Banner wears after he transforms from the Hulk back to human form. One of those items is a Duran Duran 'Rio' T-shirt.
Point Break
The password to get into the Quinjet's controls is 'Point Break'. It's a reference to Tony Stark's nickname for Thor from The Avengers.
Black Widow
She appears onscreen once Thor unlocks the Quinjet controls, speaking her message from the end of Age of Ultron.
"Nice work, big guy," she says "We don't know where Ultron's headed but you're going very high very fast so I need you to turn this bird around, ok? We can't track you in stealth mode, so… I need you to help me out, ok?"
Then, as Hulk is changing into Banner, Thor repeats the words: "Sun's going down, Sun's going down", referencing the poem that is used to calm the Hulk.
Xandar
The location of the headquarters of the Nova Corps, Valkyrie mentions Xandar as a possible route back to Asgard. It's also where the Power Stone is located.
The Commodore
The ship Thor and co. use to escape Sakaar is called The Commodore — named after the car made by Holden, an Australian car manufacturer. But it has another nod to Australia, as Taika Waititi explained in an interview with FANDOM.
"The spaceship that they escaped from Sakaar on had the Aboriginal flag rearranged into a pattern on the spaceship," he said. "We shot in Australia and I thought it would just be a nice thing for the heroes of the film for their hero ship to be an indigenous symbol."
---
Stream Marvel Studios' Thor: Ragnarok now on HOOQ.TV in Singapore, Thailand, Indonesia and the Philippines.
Singapore readers: As promised, here are the details of the contest available just for you. FANDOM has partnered with Marvel to give away 10 Thor: Ragnarok prize packages that include: 1 Thor: Ragnarok hoodie (size L), 1 Thor: Ragnarok snap-back baseball cap, and 1 set of Thor: Ragnarok character emblem wristbands. To enter, simply fill out the form below. See the bottom of this article for all terms and conditions.
Thor: Ragnarok is available for download now on HOOQ in Indonesia and Singapore.
FANDOM Thor: Ragnarok Sweepstakes
1. NO PURCHASE NECESSARY. VOID WHERE PROHIBITED.
2. Promotion Description.
FANDOM Thor: Ragnarok Sweepstakes (the "Promotion") is a sweepstakes promotion where individuals on Instagram are asked to complete the following task: 1) Fill out the embedded Google Form.
All entries completed from 9AM SGT April 4, 2018, to 11PM SGT May 21, 2018, will be eligible to win the prize (the "Promotion Period"). Entries received after 11pm SGT on May 21, 2018, will not be eligible for the prize.
The Prize: (a) Thor: Ragnarok Hoodie (Size L), (b) Thor: Ragnarok Snapback Baseball Cap, (c) Thor: Ragnarok Character Emblem Wristbands. Prize value: Up to $200.
3. How To Enter. You will automatically be entered into the Promotion by following the steps in paragraph 2 above. Only entries received within the Promotion Period will be accepted.
4. Eligibility. In order to be eligible, entrants must be 21 years of age or older and be a resident of Singapore. Entries are limited to individual consumers only; commercial enterprises and business entities are not eligible. Directors, officers, employees, contractors and agents of Wikia and its affiliates, and Marvel and its affiliates, or advertising or promotional agencies and members of their immediate families (defined as children, parents, siblings or spouses) are not eligible to participate in the Promotion.
5. Identity of Entrants; Limitations on Entries. The authorized account holder of the email account used on the entry will be deemed to be the entrant. Potential winners may be required to show proof that they are the authorized account holder or the entrant. The use of any automated launching or entry software or any other mechanical or electronic means that permits the entrant to automatically enter repeatedly or in excess of one entry per person is prohibited. Mechanically generated entries will be discarded and may result in total and permanent disqualification from the Promotion.
6. How You Win. Ten (10) potential winners will be randomly selected from all eligible entries in a random drawing held on or about May 21, 2018. Each entrant's chances of winning are dependent upon the number of entries received. Fandom's decisions are final in all matters related to the Promotion.
7. Notification. Wikia or its promotion partner Marvel will attempt to notify the winner via email within 1 day following selection of the winner. Wikia is not responsible for any delay or failure to receive notification for any reason, including inactive account(s), technical difficulties associated therewith, or winner's failure to adequately monitor any account address. The winner must then respond within 24 hours. Should the winner fail to respond to Wikia or be disqualified, Wikia reserves the right to select a new, replacement winner from the ten (10) potential winners selected under paragraph 6. Unclaimed prizes will not be awarded. Individuals may request the name of the winner by submitting a self-addressed, stamped envelope before June 25, 2018 to: 360 3rd Street, Suite 750, San Francisco, CA 94107, United States. By participating, you agree to Wikia's inclusion of your name, and the city or town and country of your residence on such list if you are a winner.
8. Affidavit; Publicity Release. By entering the Promotion or accepting any prize, the winner consents to use of his or her name, likeness and any statements, quotes or testimonials for publicity, advertising and other promotional purposes without further compensation, except where prohibited by law.
9. Taxes. All taxes associated with the receipt or use of the prizes is the sole responsibility of the winner. Wikia reserves the right to withhold any taxes as required by applicable law. Prizes are not transferable. No substitutions (including for cash) are permitted, but Wikia reserves the right to substitute a prize of equal or greater monetary value to the prizes if for any reason any prize cannot be awarded as contemplated in these rules.
10. Conditions of Participation. By submitting an entry for this Promotion, you agree to abide by these rules and any decision Wikia makes regarding this Promotion. Wikia reserves the right to disqualify from the Promotion, and any future contest or other promotion conducted by Wikia, and to take such other action as may be appropriate, any entrant or winner who, in Wikia's reasonable suspicion, tampers with Wikia's website, the entry process, intentionally submits mechanical entries, violates these rules, or acts in an unsportsmanlike or disruptive manner.
11. Disclaimer and Limitation of Liability. NEITHER WIKIA NOR MARVEL MAKE OR GIVE ANY REPRESENTATIONS, CONDITIONS OR WARRANTIES OF ANY KIND, EXPRESS OR IMPLIED, REGARDING THE PROMOTION OR ANY PRIZE OR ANY ENTRANT'S PARTICIPATION IN THE PROMOTION. NEITHER WIKIA NOR MARVEL SHALL BE RESPONSIBLE OR LIABLE FOR ANY LOSS, DAMAGE, COST, OR INJURY THAT ARISES FROM, ANY OCCURRENCE, EVENT OR CONDITION OUTSIDE WIKIA'S OR MARVEL'S REASONABLE CONTROL THAT MAY RESULT FROM OR AFFECT THE PROMOTION OR CAUSE THE PROMOTION TO BE DISRUPTED, SUSPENDED OR CORRUPTED, INCLUDING: (I) LATE, LOST, DELAYED, DAMAGED, MISDIRECTED, INCOMPLETE, OR UNINTELLIGIBLE ENTRIES; (II) TELEPHONE, ELECTRONIC, HARDWARE OR SOFTWARE PROGRAM, NETWORK, INTERNET, OR COMPUTER MALFUNCTIONS, FAILURES, VIRUSES OR DIFFICULTIES OF ANY KIND; (III) FAILED, INCOMPLETE, GARBLED, OR DELAYED COMPUTER TRANSMISSIONS; AND (IV) THE DOWNLOADING OF ANY MATERIAL IN CONNECTION WITH THIS PROMOTION. EACH OF WIKIA AND NETFLIX RESERVES THE RIGHT, IN ITS SOLE DISCRETION AND WITHOUT PRIOR NOTICE, TO SUSPEND OR CANCEL THE PROMOTION OR ALTER THE RULES IF AT ANY TIME A COMPUTER VIRUS, TECHNICAL PROBLEM, OR OTHER UNFORESEEABLE OCCURRENCE, EVENT OR CONDITION ALTERS OR CORRUPTS THE ADMINISTRATION OF THE PROMOTION.
12. Release. BY ENTERING THE PROMOTION, EACH ENTRANT INDEMNIFIES, RELEASES AND AGREES TO HOLD HARMLESS WIKIA, MARVEL AND THEIR RESPECTIVE PARENT COMPANIES, SUBSIDIARIES, AFFILIATES, DIRECTORS, OFFICERS, EMPLOYEES AND AGENTS FROM ANY LIABILITY WHATSOEVER FOR ANY CLAIMS, COSTS, LOSSES OR DAMAGES OF ANY KIND (INCLUDING, WITHOUT LIMITATION, THOSE RELATED TO PERSONAL INJURY, DEATH, DAMAGE TO PROPERTY, INFRINGEMENT OF PROPRIETARY RIGHTS, RIGHTS OF PUBLICITY OR PRIVACY OR DEFAMATION), ARISING OUT OF OR IN CONNECTION WITH: (I) ENTERING THE PROMOTION; (II) ACCEPTANCE OR USE OF ANY PRIZE; OR (III) OTHERWISE ARISING OUT OF OR RELATING TO THE PROMOTION.
13. Governing Law. These Rules and this Promotion are governed by and controlled by the laws of Thailand, applicable to contracts made and performed therein. This Promotion is subject to all applicable laws. Void where prohibited.
14. Sponsor. The Sponsor of this Promotion is Wikia Inc., 360 3rd Street, Suite 750, San Francisco, CA 94107, U.S.A. ("Wikia" or "Fandom"). All questions regarding this Promotion should be directed by email to promotions@wikia-inc.com.