The 2019 Beyond Fest found the annual LA-based film festival once more offering an excellent and eclectic collection of movies, new and old, for fans to gather together to see over the course of two weeks. But only one day was devoted to a triple feature for a single actor – and that man was the legendary Tom Atkins.
A great character actor who rose to prominence with numerous notable roles in the 1980s, in everything from Escape From New York to Lethal Weapon, Atkins lovably gruff, everyman persona would find him playing both supporting parts and leading men, which was demonstrated in the trio of films shown at Beyond Fest – 1980's The Fog, 1982's Halloween III: Season of the Witch, and 1986's Night of the Creeps, which was followed by a Q&A with Atkins, where he was greeted with a hero's welcome by the adoring crowd.
These days, the 83-year-old Atkins is still going strong, consistently working in films and appearing at conventions, with a role in the new horror film Trick, which premieres this Friday.
Fandom spoke to Atkins about Trick, his Beyond Fest appearance, the cult following his films received over time, and more.
A Return to Halloween Horror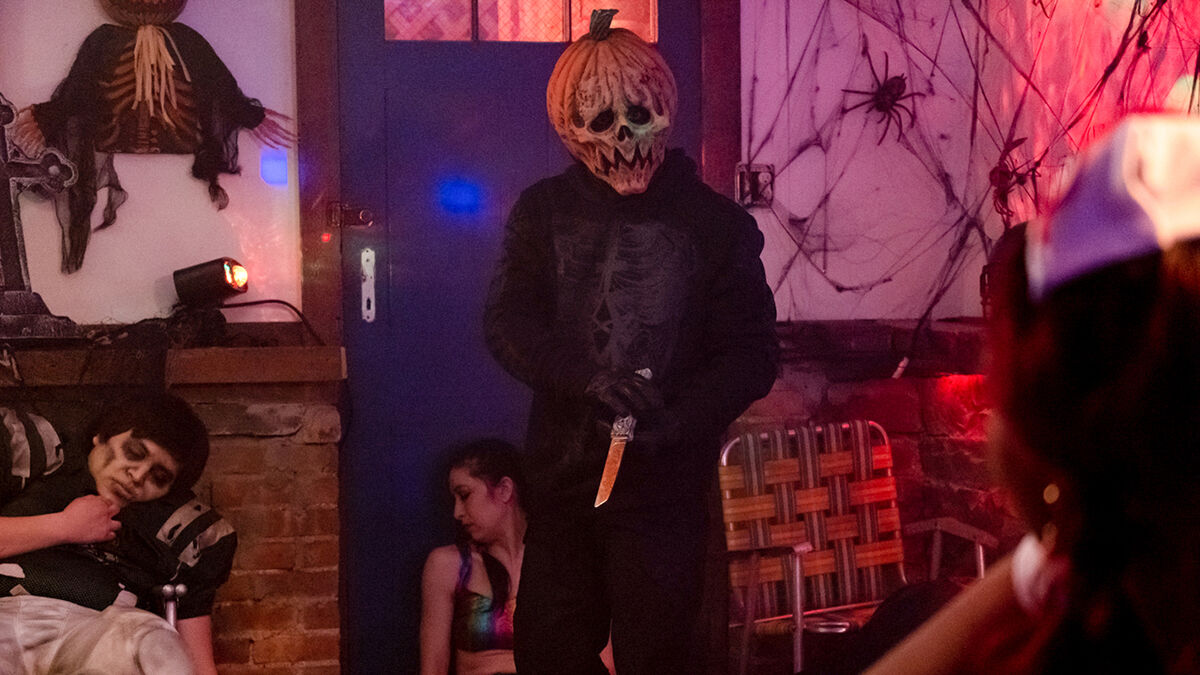 Trick involves a pumpkin-masked teenager snapping at a Halloween party and killing several of his fellow partygoers – and then returning year after year on Halloween to kill again, despite the grievous injuries he sustained after his first massacre.
It's somewhat familiar territory for Atkins, given his starring role in Halloween III, which also involved Halloween masks, including a pumpkin mask, as part of a macabre and murderous scenario.
Atkins said he was happy to revisit this type of film, noting, "Trick was directed by Patrick Lussier and written by him and his writing partner, Todd Farmer. This is the third [film] that I've done with them; My Bloody Valentine 3D, Drive Angry, and now Trick. I loved working on it. We shot it up in Newburgh, New York. I was stunned with the beauty of the setting, how it looked on film, the whole town. It was great. I had a wonderful time."
The late, great George Romero was a friend of Atkins, with the two working together on Creepshow,  Two Evil Eyes, and Bruiser. In Trick, Atkins' character, Talbott, hosts a Halloween night screening of Night of the Living Dead, with glimpses of the classic horror film seen several times. Exclaimed Atkins, "How about that with George Romero's Night of the Living Dead playing in the background? That was a wonderful treat. I loved that! That was just delightful."
As the danger escalates in Trick, Talbott steps up to the challenge, doing what he can to protect his town. Said Atkins, of the scenes where we see Talbott attempting to hunt down the killer with a shotgun, "I love doing that kind of stuff! I'm tickled to be my age and still be able to do it and that my knees still work and I can still run down the aisle of a church."
A Fitting Tribute
When it came to the recent Atkins triple feature, Atkins remarked, "I was stunned to find they had invited me to a tribute day just for me at Beyond Fest."
Atkins especially loved a group photo he took at the event, seen above, noting, "I had the photo of me with my back to the audience but all of the audience members have a little paper cutout, like on a church fan, only it was my face from Night of the Creeps. And it's the most terrific shot I think I've ever seen, with me in the foreground and five hundred people behind me with those masks up on their face. It was a real treat."
Getting that kind of tribute at Beyond Fest meant a lot to Atkins, who remarked, "I couldn't get over it. I was honored, because John Carpenter and some really wonderful directors and actors have been part of that. It was just great."
Finding Their Audience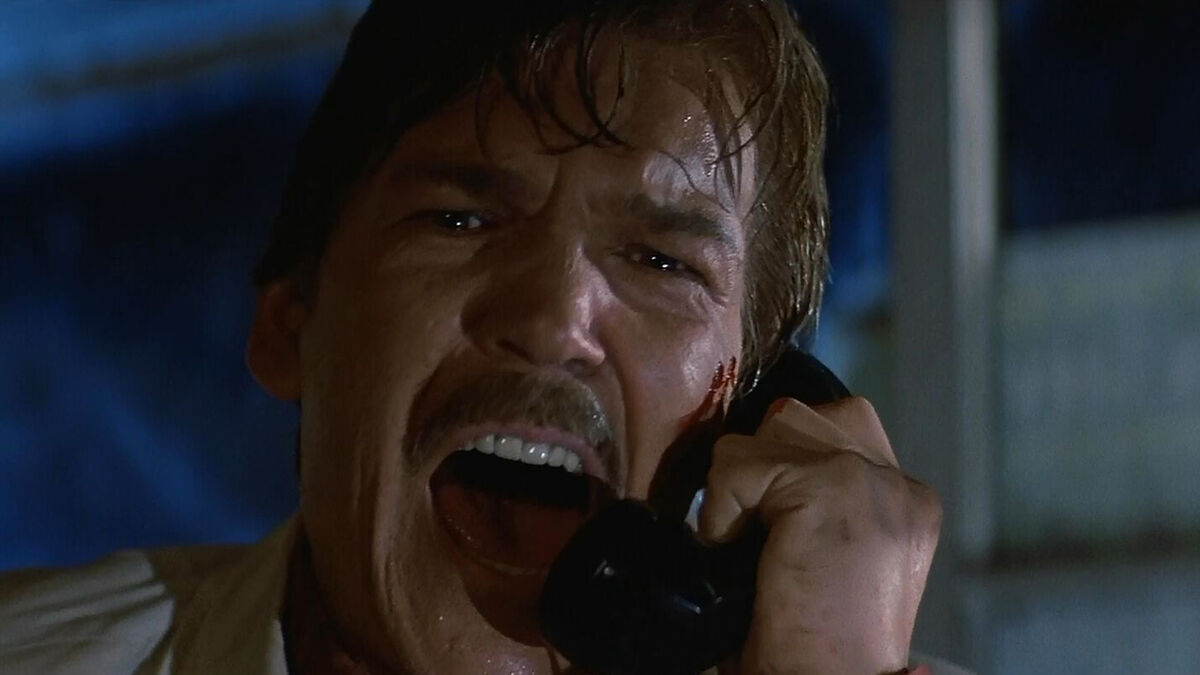 Two of the Atkins films that played at Beyond Fest were notable because they were underappreciated when they first opened, only to find adoring cult audiences as the years went by.
In the case of Halloween III, the reason for audiences being dissatisfied when it first opened was clear: They wanted Michael Myers and he wasn't in the movie, which instead found Atkins' Dr. Daniel Challis investigating an insidious plan to kill children using rigged Halloween masks.
Recalled Atkins, "I know when it first came out there were a lot of people who came up to me at conventions and were really angry because Michael Myers wasn't in it. I would be just as angry back at them at their reaction to it. It didn't need Michael Myers. It wasn't a movie about Michael Myers. It's Halloween III: Season of the Witch."
Atkins added, with a laugh, "I didn't care if Michael Myers was in it or not. It was John [Carpenter]'s intention to do an anthology of Halloween films. He wanted to do a different movie every year with a totally different story. But it was the money people that said 'Oh no, no, you have this one ready to go. Make it. Go ahead. But don't ever make another one that ISN'T about Michael Myers.'"
Atkins noted that while he can't say exactly when people began to re-evaluate Season of the Witch and judge it on its own merits, today he's happy to say, "Halloween III has really gotten so popular. It's a good, standalone movie."
As for Night of the Creeps, it seemed a bit ahead of its time when it debuted in 1986, with its very meta approach and winking, self-aware story that involved alien slugs, zombies, cryogenics, and Atkins at his best as the kickass Detective Ray Cameron. When it first opened, it was met with indifference, but over the years has also found an adoring audience who have come to love the witty, clever approach writer/director Fred Dekker (The Monster Squad) brought to the film. 
Said Atkins, of Night of the Creeps, "It is my favorite. I had the best time making that in '85 out in LA on the campus of USC. We had a wonderful time… It was a nice, familial bonding we went through making that. Fred Dekker directed a lovely film and wrote a lovely film and we were all privileged and tickled to put it together. I always felt bad that Fred didn't get a better reaction from it as a director and that the film didn't get a better reaction. It played for about a week or two on both coasts and that was it. But it too, like Halloween III, is growing and growing in popularity."
Man of Action (Figure)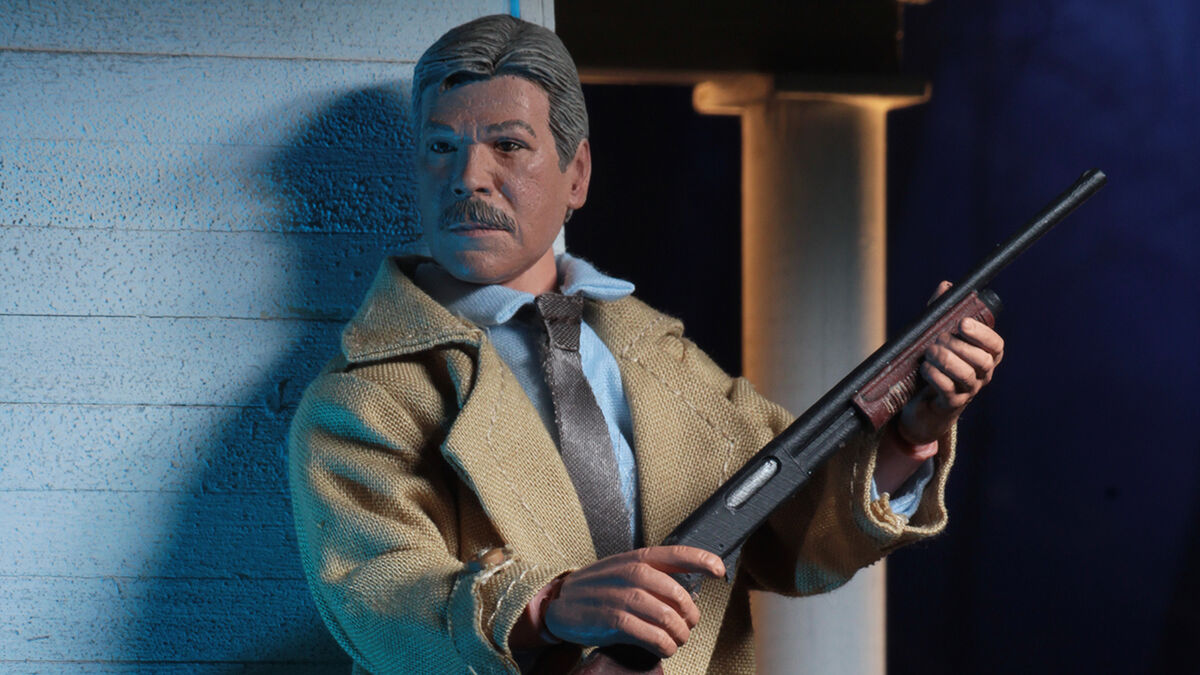 If there was a way to truly cement Atkins' beloved part of genre history, it was when Scream Factory put out a new Blu-ray of Night of the Creeps last year, in a limited edition set that included – a Tom Atkins action figure!
Asked if it was surreal to see the figure of himself as Detective Cameron, he chuckled, "Thirty-five years after we made the movie! Isn't that astounding? I thought, 'What the hell are you guys doing?' I think they made 3000 and sold them out in two months. I was thrilled. I have a few in my closet."
Tom Atkins can be seen in Trick in theaters and on Digital and On Demand on Friday, October 18th.