Photos by Trish Troesh
For horror fans, it's the most wonderful time of the year. The leadup to Halloween is filled with all sorts of macabre delights, and for many of us who live for Halloween, a big "must" destination every year is Universal Studios' Halloween Horror Nights.
With HHN now underway at both Universal Studios Hollywood and Universal Orlando, fans have two potential locations to visit to see some of their favorite horror properties via the mazes and scare zones at the parks – along with original concepts where the Universal team can use their own imagination to bring new ghouls to life or afterlife. Suffice to say, if you've ever wanted to know what it was like to walk through the Starcourt Mall from Stranger Things and confront the Mind Flayer, Halloween Horror Nights is the place for you!
Fandom recently took a trip to both of Halloween Horror Nights' United States locations (Universal also has Horror Nights at their Singapore and Japan parks) to see them in person and learn more about their creation.
HONORING THE FILMMAKERS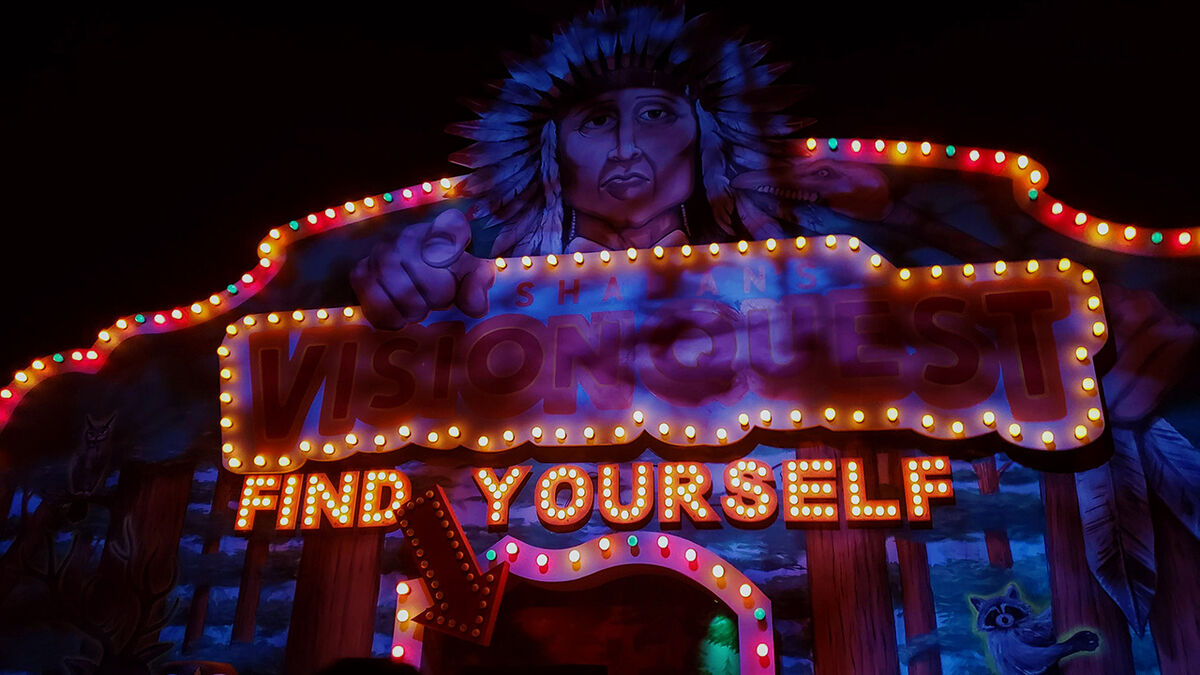 Jordan Peele's evocative film Us is one of the mazes you'll find at both Hollywood and Orlando this year – though one thing that's always interesting visiting both locations is that the layout and maze specifics are different at the two parks, as each is designed separately and for the very different spaces they will be occupying.
While Us has plenty of visceral horror, it also reflects Peele's thoughtful nature, with some heady ideas and imagery. Universal Hollywood's Creative Director, John Murdy, revealed that when speaking to Peele about how to approach the Us maze, "He had a lot of things that were really specific. The use of blood is very specific in his films and that was something that was important. It has to be artistically applied. The good thing is we have all these pictures [from the set]. So I can get my prop guys or my makeup artists and say 'That's exactly the amount of blood.' Like for Kitty, the blood spattered on her face when she's the doppelganger, Dhalia, it's all very specific. Certain things in the audio were real specific. Even though we don't go to the lake we wanted to hear the motorboat in the background so you get the feeling it's out there. The reference to The Shining, the way the girls are posed, has to be exactly like the film."
"Every maze has its niche you want to make sure you're emulating," noted Universal Orlando's Mike Aiello. Aiello, who began taking on a major creative role in Halloween Horror Nights in 2003 (having already been involved in HHN for several years prior), spoke to Fandom on a notable day – as Orlando kicked off their 29th Halloween Horror Nights, it was simultaneously Aiello's last day in his previous role at Universal Entertainment, including overseeing HHN, as he moves to a new position as Senior Director of Creative, Live Entertainment, for the upcoming Epic Universe park coming to Universal Orlando.
Aiello explained that for him and his team, "Any film, the first thing we're looking at when we watch it is 'Is it going to work?' Are the environments iconic to the film? Are the characters memorable? With Us, I think what the team and I really gravitated toward was the thought of the doppelganger aspect and how do we accomplish that knowing we're not casting twins and the technical aspect of how do we cast people who could look alike? Or how do we create a maze where we create the illusion of that? This has been accomplished in how we place certain characters."
For Us, Aiello noted, "You encounter Red in the beginning and you may not see her again until the end. So the memory of what you saw in the first half of the maze will connect to the end. The other thing in that film that we were drawn to is the music and her vocals. And how do you piece a story together through audio that is able to give a CliffsNotes version of Red's narrative? And then the other thing too about it is it's really creepy people in red jumpsuits holding golden scissors. There's a fallback there that we know is going to work. And a lot of the things in that film that are great are recreating the environments. We could create the mirror maze facade and put in both versions [from the beginning and end of the film]. And we create that full size, so you go through both."
COMEDY + HORROR
Two of the properties being turned into mazes this year, Ghostbusters and Killer Klowns From Outer Space, notably mix comedy and horror. Regarding the approach to comedy in an event known for scares, Aiello remarked, "One thing I can say about Ghostbusters is that maze is the most Dark Ride maze we've ever done. If I could put everybody on an Omnimover, I would love to do that. We kind of attacked it that way. We knew we needed to have scares but we knew there were set pieces that were fairly extensive that we want people to be able to take in and spend a little time with. The way these mazes are built have to have flow and throughput, but how do we have a path for things to open up and reveal – almost tableau moments. In the Sedgewick Hotel, there's an awesome tableau where you're seeing Venkman and Egon capturing Slimer. It's all practical. We create the proton chargers using just lighting. And it looks really good. We're really proud of it. It's real. That's the other thing. All of the Pepper's Ghost effects we do, none of it is CG. It's all costumed characters just like in the film. We did everything practically because we wanted to make sure we fulfilled how the film was done in the first place."
Murdy and Aiello both noted how much they enjoyed getting to take people inside the Ghostbusters containment unit – a concept in early drafts of the scripts but never filmed – where the captured ghosts are kept. And while the maze is taking you through the story of the original 1984 film, both Hollywood and Orlando include a couple of appearances from ghosts introduced in Ghostbusters II and 2016's Ghostbusters film, giving nice nods to the entire franchise.
Aiello noted that despite the comedy elements, "From a scare standpoint, I think we've got a lot in there. Also, when a proton charge powers up, that's loud! How do we build that into a regular startle scare? We see Ray Stantz come around the corner, he charges the Proton up and that's the audio that allows him to enter the scene. So little things like that, as a fan of the film and a fan of the Horror Nights mazes, you're going to get the best of both worlds in there."
Said Murdy, "You don't want to ignore what the property is. Ghostbusters is a comedy with a lot of horror elements. That's why we have characters like Janine Melnitz, Louis Tully. They're dedicated to paying off the comedic elements of those scenes. Then the trick is how do you scare them on top of it? That's why we embraced the idea of the spirit realm and going in and out of these portals. Because it allows us to take you into a pitch dark environment where we can use black light to pay off the ghost-like elements you'd like to see in this particular property."
Added Murdy, "It is very different and different for us. We've only done one comedy horror before and that was This is the End years ago. At the same time, the fanbase for this movie is so rabid. When we announced this, there were people who were like 'Outside of the birth of my children, this is the greatest day of my life.' They just want to relive all those moments from the film. So it's a bit of a balance trying to balance the scare effect with all of the things you want. You're checking boxes like the Stay Puft Marshmallow Man. Gotta have him! Library Ghost. So it's just trying to hit everything the fans would want to experience in Ghostbusters."
WHAT THE FANS WANT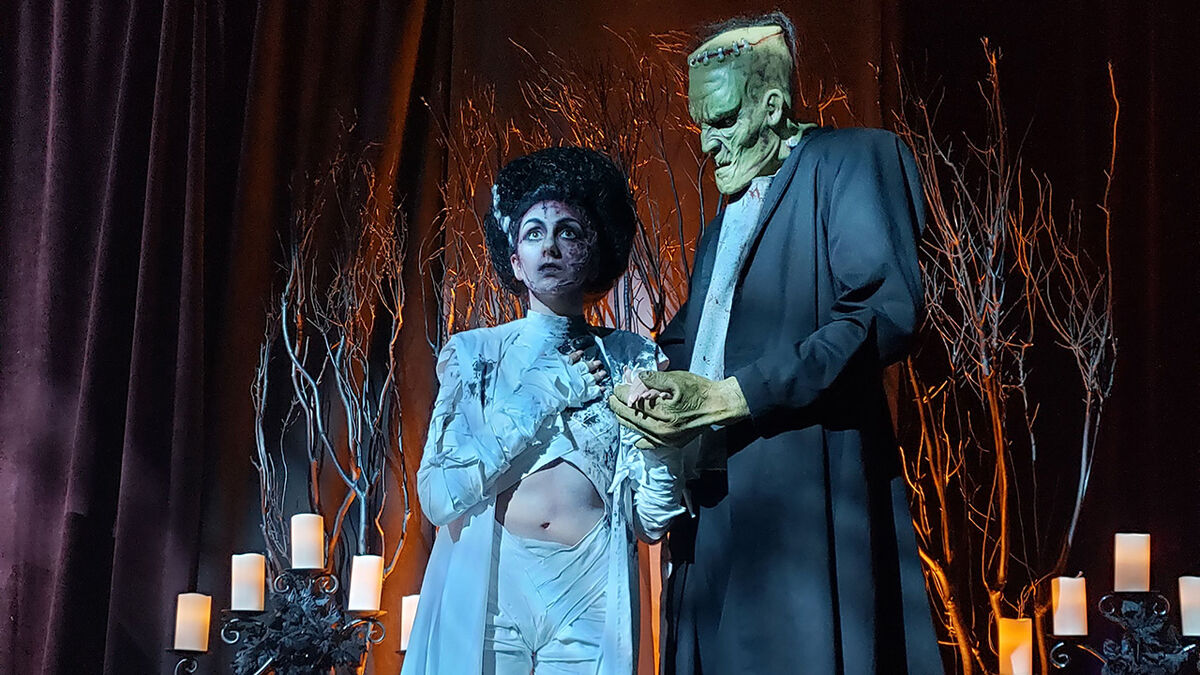 Fans of Halloween Horror Nights always have a list of properties they like to see adapted by the event, and Aiello noted they do their best to listen, laughing as he stressed, "The bottom line is, I want them too. Someone says 'Hey, have you thought about doing…' Yes, I have!"
For 2019, the Orlando location has brought back the classic Universal Monsters for the first time in several years, following a successful maze in Hollywood in 2018 (meanwhile, Universal Hollywood is doing a highly creative Frankenstein Meets the Wolf Man maze inspired by the 1943 film of the same name).
The setpieces and scenery in Universal Monsters are a big standout, including the Hunchback's bell tower and the iconic fallen chandelier from The Phantom of the Opera. As Aiello explained, "For Universal Monsters, we had this idea. We'd never done a great Hunchback. So we really put some time into how to create the bell tower and the tricks we normally use to create scale and depth. And then we said, can we get the Hunchback onto a descender to come into the space on a massive bell? And he's in there. He drops into the space and then rises out of it. So we have some stunt stuff being incorporated we haven't really done before."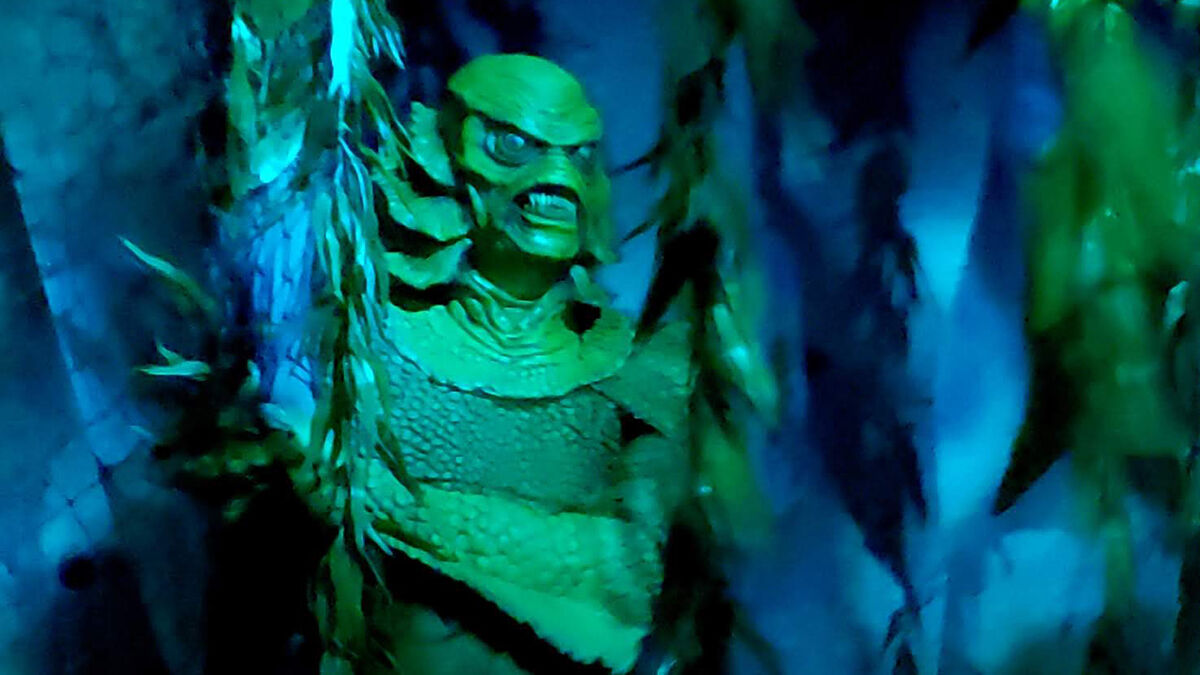 "Same with Creature from the Black Lagoon," Aiello added. "I'm a massive Creature fan. I love those movies… We've never done that character before. He's in there. We have a full Black Lagoon sequence, full costume creature. We altered him a bit. All the creatures have an edge to them, a contemporary look. But it's subtle. We didn't want to go way left field. We wanted to keep them grounded in the visages that people know and admire and we admire too. So I'm really happy with what the team did with that. I think it's the best Universal Monsters maze we've done yet."
CREEPY, CULTY AND KLOWNY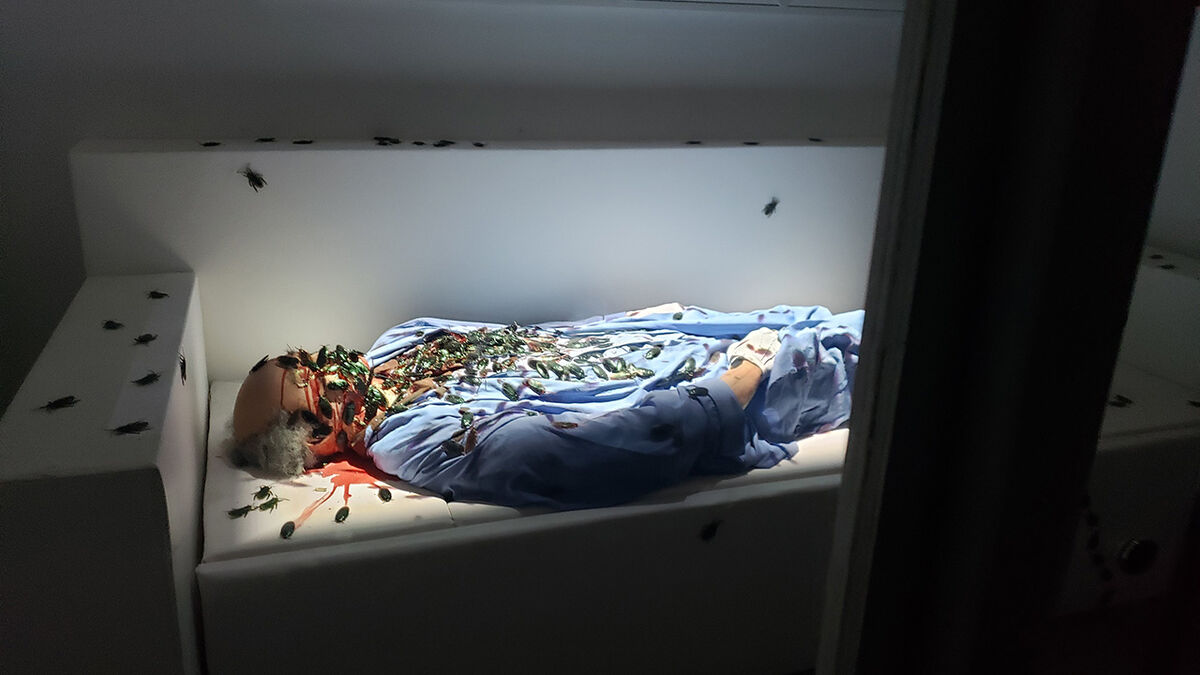 Halloween Horror Nights notably mixes properties that pretty much everyone knows, regardless of age (like Ghostbusters) to recent and current films and series like Us and Stranger Things – the latter of which is back for the second year in a row, with a maze encompossing Season 2 and 3. However, they also mix in more cult-oriented title like Killer Klowns From Outer Space, or Creepshow, which is a maze exclusive to the Hollywood location this year, primarily based on the original film (a new Shudder TV series debuts this week).
Murdy knows that for many young guests coming through these maze, this may be their introduction to a horror classic, "And that can be cool. When we did An American Werewolf in London years ago, even though people who love horror know American Werewolf, ten percent of our audience know it. It's fun to turn people on to stuff like that. Like when we did the music mazes like Black Sabbath or Alice Cooper, I would get all these fans coming up to me like 'I never knew this music and now I'm a big fan.' So it's fun to turn people on to movies they've never seen before or cult classics. House of 1000 Corpses is kind of the same thing. You'd call it a cult classic. But some of those films, over time, they just stick. Killer Klowns did too. One theater, one night – that was its theatrical run. But it has a fanbase. We try to mix it up. Stranger Things is a huge, pop culture phenomenon, but in addition to that we do things like Creepshow and Killer Klowns which is way more nichey, genre horror. But hopefully it just creates a variety you get to experience."
For Killer Klowns' specific humorous approach, the Orlando team chose to make things interactive, including buttons begging to be pushed that may cause something to happen inside the maze. As Aiello put it, "It's a Funhouse. We have more guest activated triggers in there than in any other maze. Tons of triggers where you may think you're going to affect someone else and it may or may not. It may happen to you. Killer Klowns is something I wanted to do forever. We did a test last year with the [Killer Klowns] Scare Zone and my higher ups said 'If you want to do this as a maze, let's figure it out.' And I said, 'Under one condition. We have to spend the money on Klownzilla.' And we built it! We shoved him into that building. He's in there. Ghostbusters and Killer Klowns, if nothing else, they're the best homages we could possibly do because we love these films so much. Again all the factors that we know we need to make a maze work are in there. It's just about figuring out how to attach our technique into these brands."
ORIGINAL CONTENT
In the midst of this are the original concept ideas explored via mazes and scare zones. Hollywood this year has two notable original concept mazes, the wonderfully twisted Holidayz in Hell and the fun, old school vibe of The Curse of Pandora's Box, while Orlando has several memorable original concept mazes, including the gloriously bloody Nightingales: Blood Pit (you can smell the gore!), the underwater-based Depths of Fear, the snow-set Yeti: Terror of the Yukon, and the ghostly Graveyard Games. On top of this are the scare zones, which have some great highlights, such as Orlando's plastic surgery gone very wrong Vanity Ball and the 80s-inspired Anarch-Cade.
Explained Aiello, "One thing that we always try to maintain is our balance between the IPs and the originals and the business is along with us as well. Everyone feels strongly that the IPs are great and are going to bring about an audience that might not be horror fans or might not have come here. The original mazes allow us to fill in the blanks. We can create characters and create content that is completely separate from all of these other brands. It also allows us creative freedom. I'm also proud certain years when the originals rate higher than certain brands. That's a testimony to the creativity of this team. And the fans of this event that long for these original creations that we're able to do and look to those, for some people even more than the brands sometimes. The originals allow us to stretch our legs and do things we wouldn't normally do and stretch boundaries on how we want to do a visually narrative story."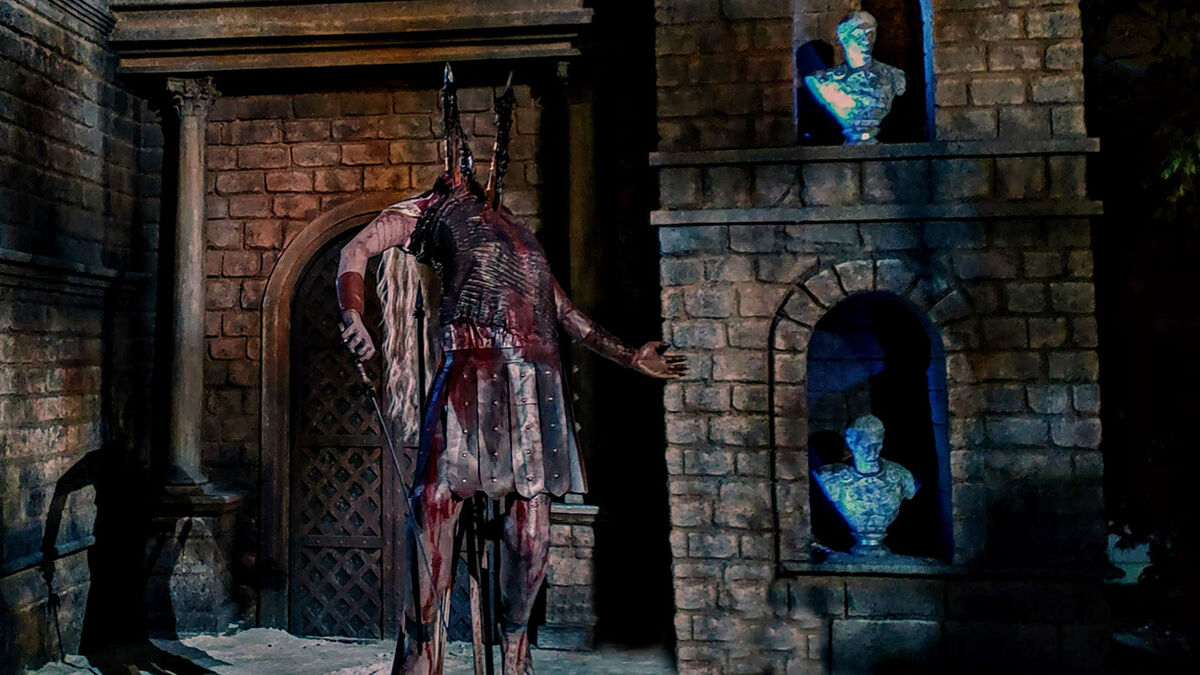 At this point, Horror Nights has gone on long enough that Orlando has done sequels and follow-ups to their own creations, which is the case with the returning Nightingales, who previously were featured in the Nightingales: Blood Prey maze at HHN 21 in 2011.
"I'm always happy when the fans are excited by the new stories or we bring a story back like Nightingales," said Aiello. "We mess with our own history. And that's just too cool. If I could draw, I'd be drawing comic books. But we have this medium to create this world physically and tell these stories. It's the coolest thing in the world. I'm so lucky to have an avenue to express these things. And the team just loves it. We love doing it and in my brain, it's just as important as any Stranger Things or Ghostbusters. It's fun. It's creating these awesome palettes that people can attach to and long for to come back. And we can dive back into those waters whenever we want and do whatever we want, and that's a cool thing too."
Halloween Horror Nights runs on select nights through Saturday, November 2ndat Universal Orlando and Sunday, November 3rd at Universal Hollywood. You can find tickets and information at HalloweenHorrorNights.com.