Veep has kicked off its fifth season with fresh political antics and biting insults. Although Selina Meyer and her staff of White House misfits are amateurs at running the country, they are experts at throwing shade. Check back each Monday for the best one-liners of each episode.
Season 5, Episode 10 "Inauguration"
After the House tie, the Senate prepares to vote on their choice for president. Selina asks Tom James to be a part of his future administration and he offers her, what else, the vice presidency. Selina desperately tries to find something to be her White House legacy. Catherine gets a makeover. Jonah turns his office into a fraternity. Mike gets his Chinese "baby." Gary has a breakdown. Dan fields TV offers. After a Senate vote that is closer than anyone expected, a new president is sworn into office.
Being Patriotic.
When the Tables Have Turned.
Season 5, Episode 9 "Kissing Your Sister"
The House of Representatives convenes to choose who will be the President. The historic day and the events leading up to it are told through the lens of Catherine's movie, which reveals little-known secrets about the entire staff. Richard and Jonah race around town to get Jonah to the chamber floor before his state is called to vote.
Using Powers of Persuasion.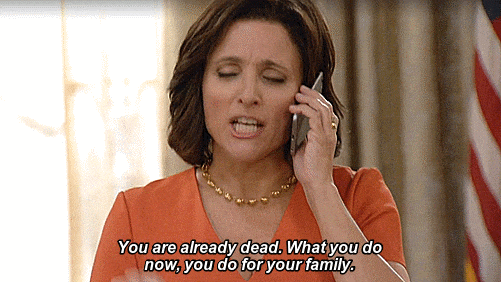 Evaluating The Merits of Your Staff.
Season 5, Episode 8 "Camp David"
Selina and her family — Gary, Catherine, Marjorie, Andrew, and Monica — head to Camp David for a pre-Christmas Christmas celebration and awkwardly exchange gifts. The family getaway is actually a cover story for Selina to conduct private negotiations with the Chinese President, and Finnish Prime Minister Minna Häkkinen shows up to help mediate the talks. Mike and Wendy get some unexpected news from their surrogate. Amy and Dan try to make Jonah more likable after he botches a debate stunt and then literally shoots himself in the foot.
Tracking Down Who's to Blame for a Mistake.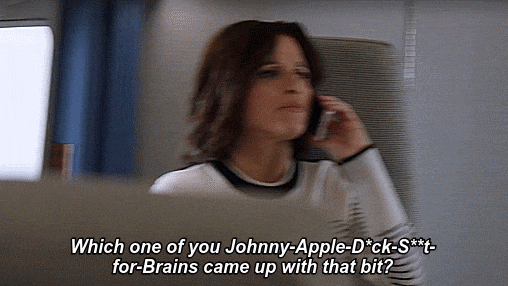 Another Jonah Insult Dogpile.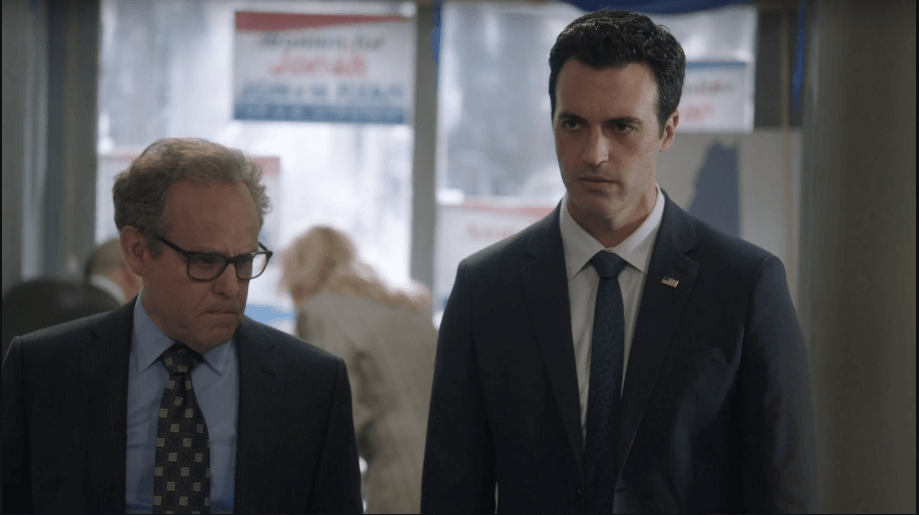 Amy: "We have to keep you away from people."
Dan: "Yeah, surround you with trees. Make you look human-sized."
Uncle Jeff: "Yeah, back to the natural habitat your nitwit mother found you in, you f**kig shaved sasquatch."
When Someone Is Dressed Casually at a Formal Affair.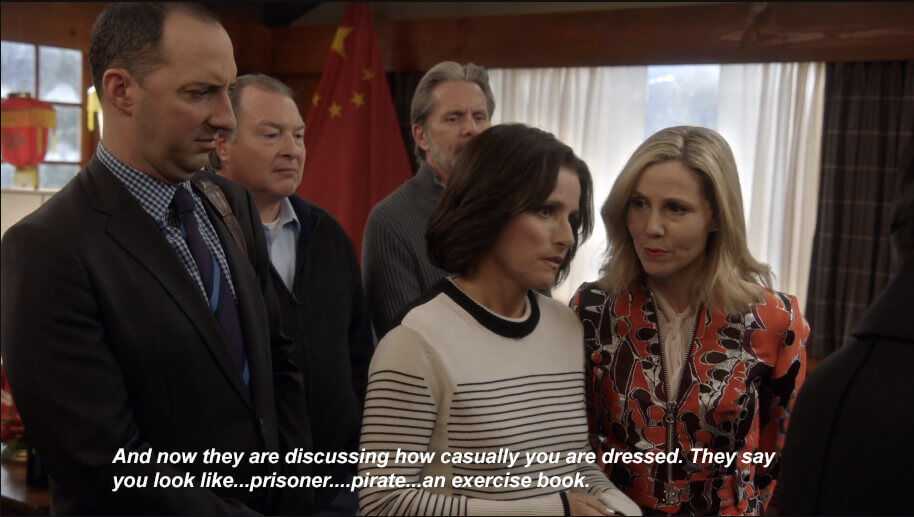 Season 5, Episode 7 "Congressional Ball"
It's the president's annual holiday party for Congressional members and their families, and Selina meets with several Congressman to negotiate political favors for their support. Meanwhile, Tom James is trying to convince everyone to abstain from the vote so he can get the presidency himself, and he and Selina have a heated confrontation. The Hill's "50 Hottest Staffers" list is published, and to everyone's surprise, Gary makes the list at #21. Mike gets press questions about Catherine's private life and looks for job opportunities outside the White House.
Giving a Dose of Reality.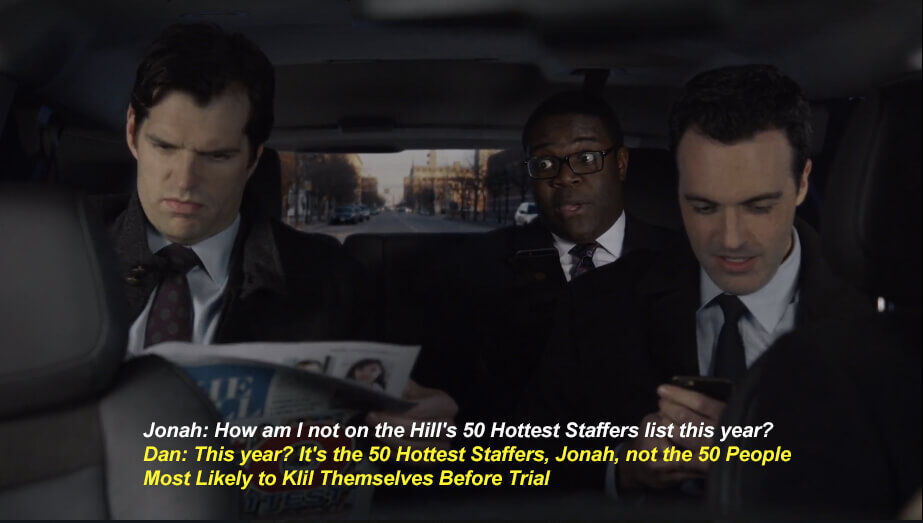 Unwarranted Advice.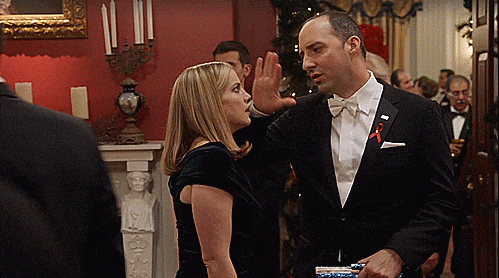 "Listen, don't worry so much about what's up here, ok? Worry about what's in here. And if you work on that, I'm telling you you're going to be back on the Hot List, Amy. I'm not saying you'll be in the top 20, but you would be a lock for like, mid-40s."
When Someone Can't Hold Their Liquor.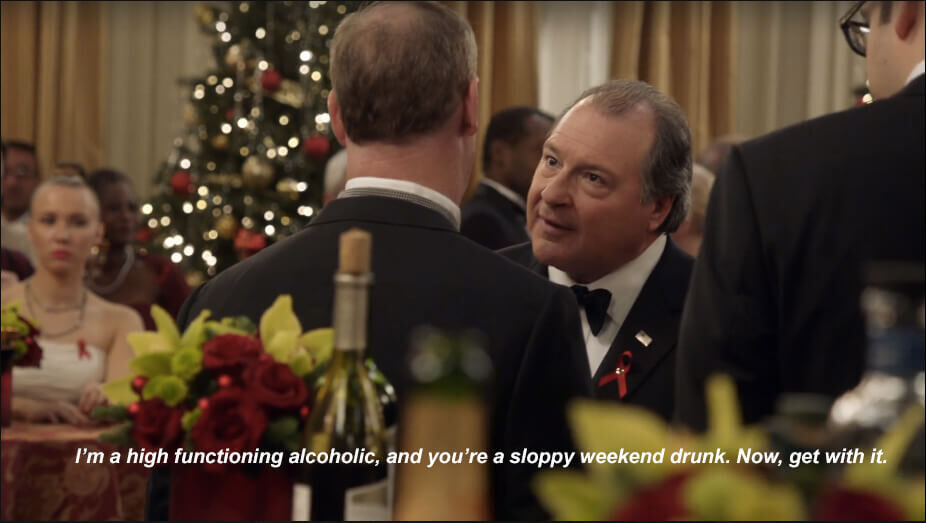 Season 5, Episode 6 "C**gate"
Faced with a financial meltdown, Selina must decide on which banks to bail out, one of which is boyfriend's Charlie's bank, which complicates matters. Jonah launches his run for Congress with Richard as head of communications and Dan as campaign manager; meanwhile, Bill is out of jail and running Jonah's opponent's campaign. Selina asks Amy to investigate who called her a c*** after the story is picked up by Politico, and it turns out everyone other than Gary has. Catherine tries to get a moment of Selina's time to tell her some important news.
Motivational Speeches.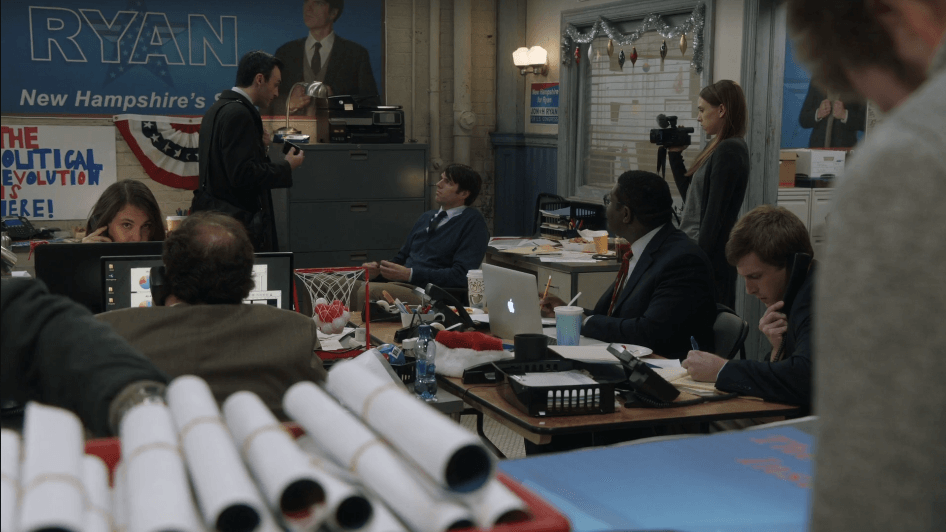 "From now on Jonah, you will shut the f*** up and listen to exactly what I say. And if you listen to me instead of your only two brain cells busy butt f***ing each other somewhere in the vast expanses of your misshapen skull, then maybe, Jonah, you might have a chance of becoming the first mentally impaired Frankenstein's monster to ever win an American election."
Bringing Insults into the 21st Century.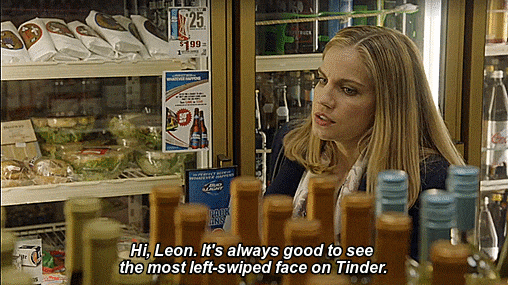 Season 5, Episode 5 "Thanksgiving"
It's Thanksgiving at the White House and Selina pardons a couple of turkeys and then finds excuses to avoid having dinner with Catherine. Selina gets an eye lift and then is not fit for public statements after a turkey salmonella outbreak and a death of a Congressman, leaving VP Doyle and Tom James to fill her shoes. Mike and Wendy find a surrogate. Jonah decides to run for the empty Congress seat.
Supporting Your Friends.
 
Some People Are Like Bacteria.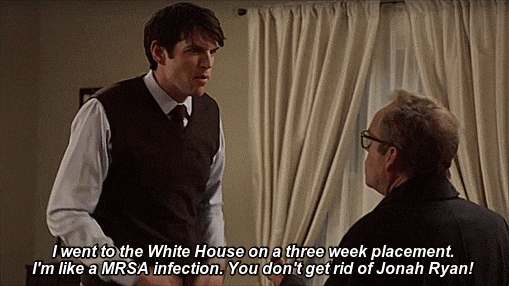 Shut It Down.
Season 5, Episode 4 "Mother"
Selin's mother has a stroke and Selina must decide whether or not to take her off life support. Mike and Wendy meet with potential surrogates. Amy and Dan stage a fake pro-recount protest to counter O'Brien's fake electoral protest. When Selina finds out the missing votes are actually favoring O'Brien, the team desperately tries to stop the recount.
Creating the Ultimate Place to Think.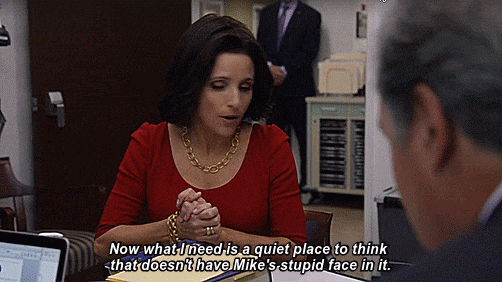 When Your Colleague Thinks His Face is Camera Friendly.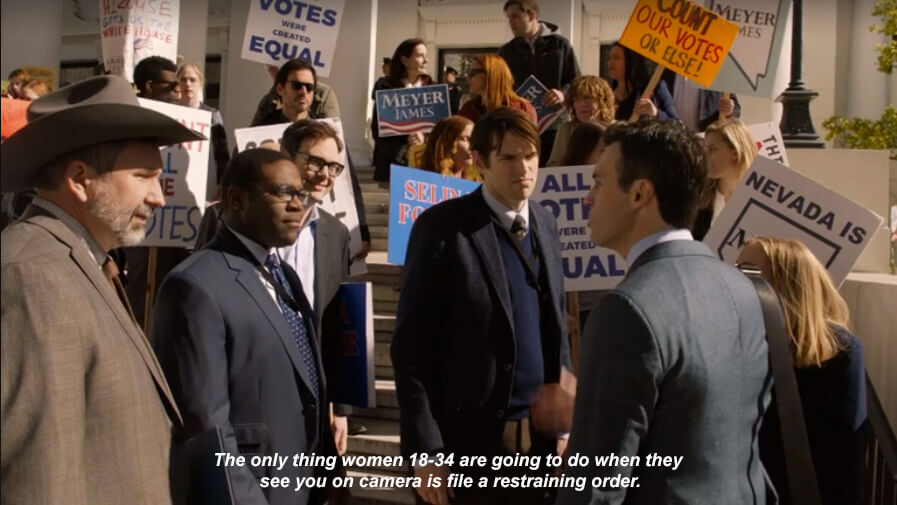 Season 5, Episode 3 "The Eagle"
Selina accidentally tweets a joke about O'Brien instead of DMing it to Charlie, and then they blame it on Chinese hackers. Advisor Bob "The Eagle" Bradley heads to Nevada to help delay the vote certification, only to have his extreme senility kick in and flee an important meeting. Kent looks for missing ballots, and Karen is sent into court to delay the deadline by doing what she does best, speak lengthily in non-declarative sentences. Gary temporarily stands in for Selina as Charlie's date at the American Museum of Natural History's black tie dinner.
Say What?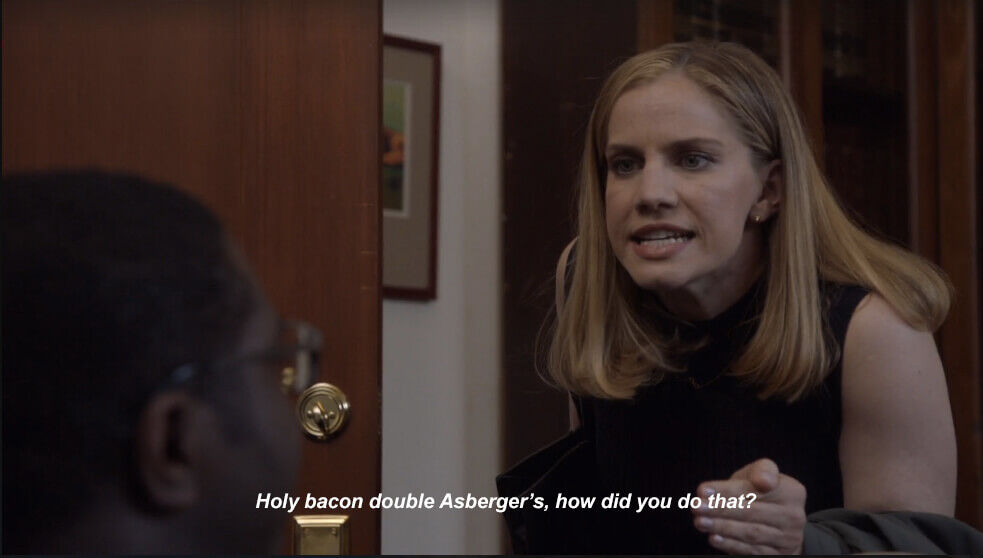 Not-So-Subtly Pointing Out Someone Else's Mistake.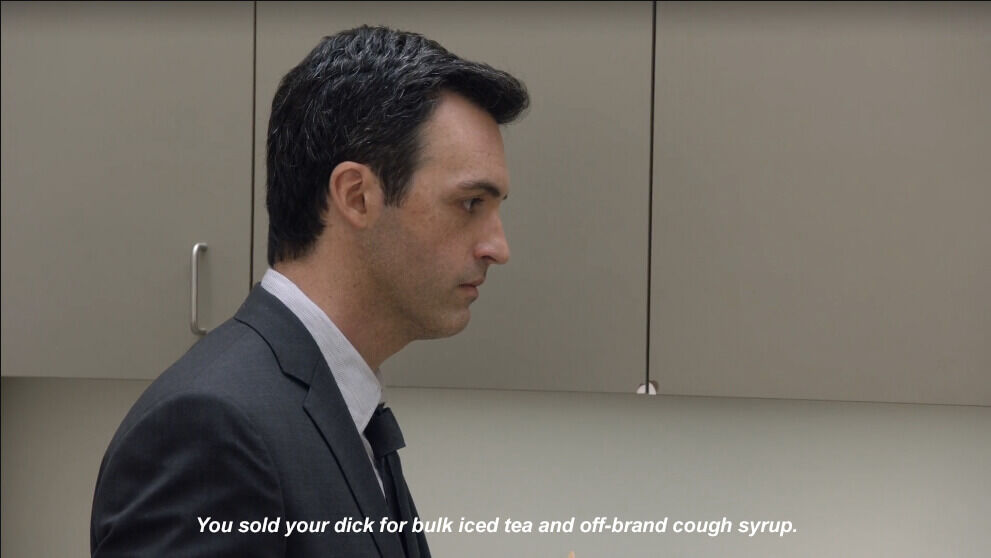 Season 5, Episode 2 "Nev-ah-da"
Amy, Dan, Richard, Jonah, and Cliff (Richard 2.0) head to Nevada to get a recount. Mike goes on the master cleanse and continuously battles low blood sugar. Kent tries to find out how old Sue is. Selina brings on banker Charlie Baird to her banking task force and the two have some behind-closed-doors "negotiations."
The Truth Can Hurt.
To Your Least Valuable Player.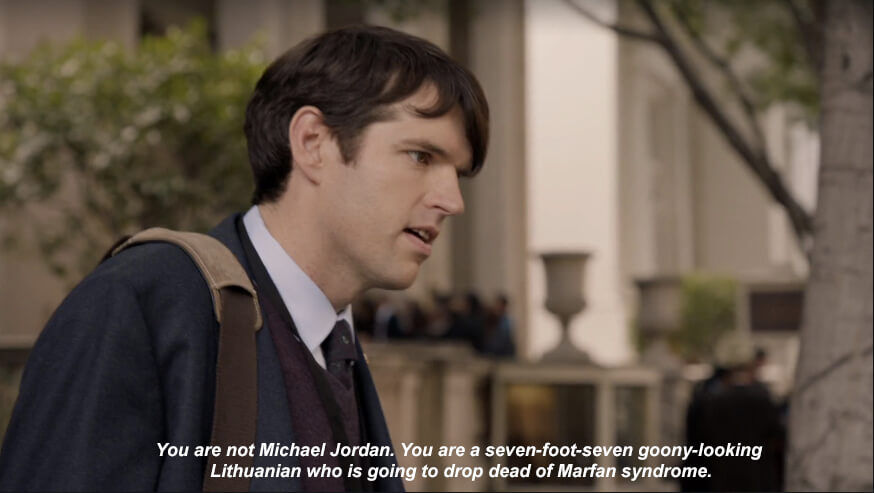 When an Unexpected Guest Arrives.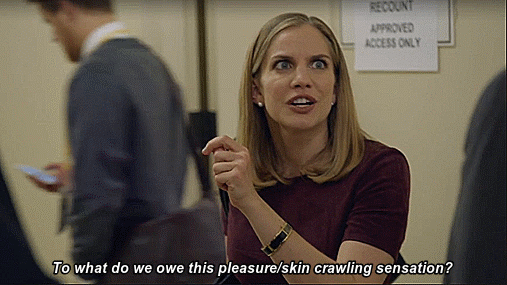 Season 5, Episode 1 "Morning After"
Selina deals with a giant blemish on her face and an economic meltdown while preparing for a recount. It turns out Richard has not only one, but two doctorate degrees, and Jonah gets demoted to being his underling. Mike announces he and his wife are going to adopt a baby from China. Amy rejoins the team and convinces Dan, who has just quit the lobbying firm by text and has no other options, to come back as well.
Because Mondays.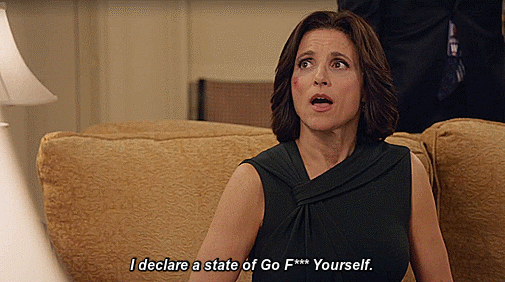 When you don't have the time for whine.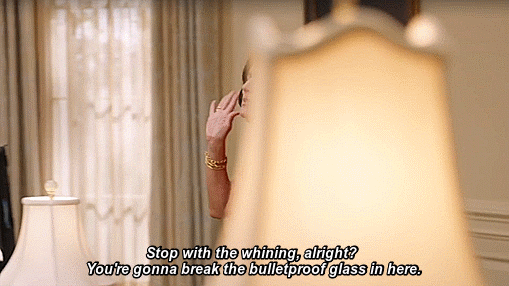 Sometimes, simplicity is key.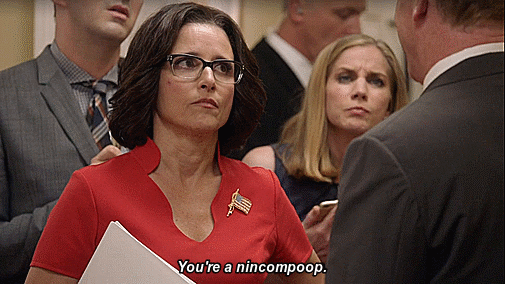 Check out the biggest political fails so far and catch Veep on Sundays at 10:30 p.m. on HBO.