Part of the joy of being a fan is finding odd and obscure gems that you end up falling in love with. For every Star Wars, there is a Starcrash. For every Batman, there is a Condorman. Here at Fandom, we like to go hunting for some offbeat and off-the-wall films and television shows that might just become your own secret treasures. Strap yourself in and expect the unexpected, because this week's Weird Watch is the 2013 psychological thriller A Field in England. (Last week: White God)
Weird Watch movies come in all shapes, sizes, and variations in quality. Goofy, boring, awful, uneven, impressive, colorful, gory, frightening, mind-bending… the list goes on. But once in a long while, a Weird Watch is really good. I should qualify, though, that any Weird Watch is likely an acquired taste. These films won't suit just anyone. You have to be open to an experience you might not fully understand. That's especially true of A Field in England.
Directed by Ben Wheatley (High-Rise) and written by his wife Amy Jump, this low-budget period film takes place during the English civil war (1642-1651). It tells the tale of Whitehead (Reece Shearsmith), a cowardly alchemist's assistant in search of O'Neill (Michael Smiley), a wicked Irishman who's stolen valuable texts from Whitehead's master. In the film's opening, Whitehead barely escapes a vicious battle and stumbles upon two deserters: Jacob and Friend (Peter Ferdinando and Richard Glover). The three bedraggled men are soon joined by Cutler, who tells them of a nearby alehouse where they might recover their strength.
Instead, Cutler leads them to the titular field, where he forces the three men to pull a thick rope attached to a strange wooden stake, firmly anchored in the ground. They pull with all their might and — pop! At the end of the rope, where the stake once was, is O'Neill. As it turns out, Cutler has been working for the devilish O'Neill and has brought him three unwitting assistants to help him uncover a buried treasure in the field. Can Whitehead find his courage, escape O'Neill's clutches and retrieve the stolen texts for his master?
A Field in England, though I really do love it, is a tough film to recommend. That's partially due to its defiance of genre. It takes place in 17th century England and is written with period dialogue, but it's not a costume drama. It's black and white, but also psychedelic, funny, but not a comedy, and full of strange and sometimes horrifying genre elements like hallucinations, fairy rings, and witchcraft, but it's not horror. Maybe you could call it a folk horror because it's so steeped in English folklore, but it's also kind of an acid western. See what I mean?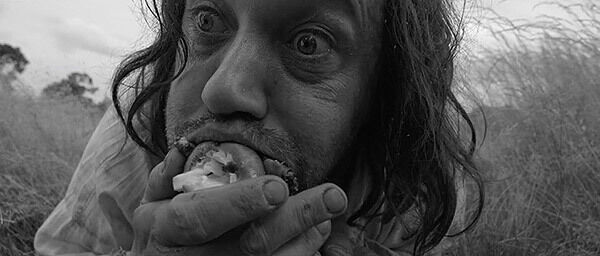 The film's period dialogue, though not as accurate as what we heard in The Witch, could also be a stumbling block for some. Avid readers of Shakespeare shouldn't have much of an issue, but even they might find that it helps to watch the film with subtitles, especially the first time. If you can get past the veil of period dialogue with thick accents, you'll discover that the writing is damn clever, and there are jokes everywhere.
Another prominent weirdness in the movie is its eventual progression into full psychedelic madness. The film features several scenes where characters eat hallucinogenic mushrooms. Whitehead initially avoids them, only to scarf them down like french fries later, desperate to find his courage. His trip is, undoubtedly, the film's most memorable sequence. There's something very real and visceral about it, using dreamlike imagery intercut with repeating, strobing, mirrored images. It's scary, it's beautiful, and it elevates the end of the film into something transcendent. In fact, the whole sequence is so overwhelming that the film comes with a warning to people with epilepsy or sensitivity to flashing images.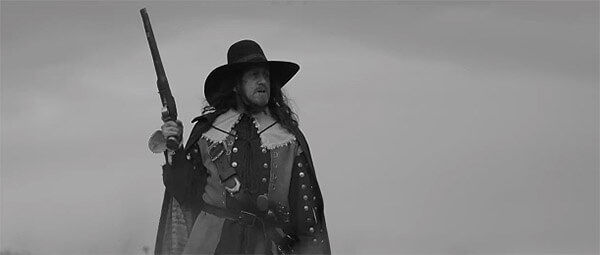 This is a hypnotic film, one that can draw you in, but only if you give it the time to do so. If there's anything that haunts you after seeing A Field in England, you might be falling under its spell, just like I did. Give it a chance.
A Field in England is currently available on Blu-Ray, DVD, and most VOD outlets.
---
Would you like to be part of the Fandom team? Join our Fan Contributor Program and share your voice on Fandom.com!