If rumours doing the rounds are to be believed, Dwayne Johnson won't debut the Black Adam character in a standalone movie, but rather in superhero sequel Suicide Squad 2.
According to The Wrap, the current plan is for "members of Suicide Squad to be tasked with tracking down a weapon of mass destruction. That weapon? Black Adam himself."
But who is Black Adam? And how could this move be mutually beneficial for both parties? FANDOM looks at the facts.
Who is Black Adam?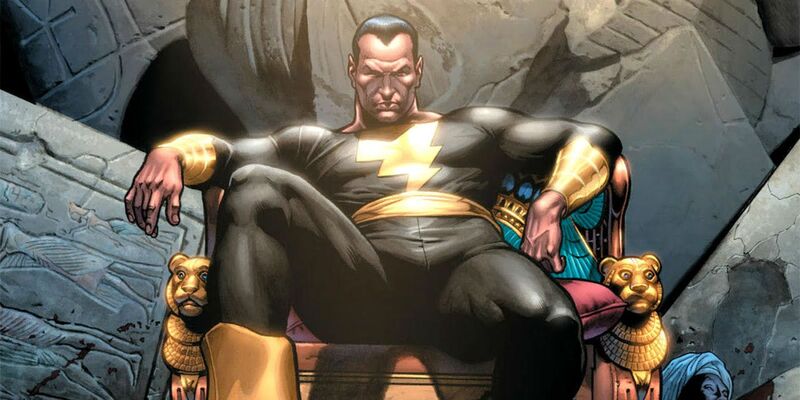 Created by Otto Binder and CC Beck in 1945 and first appearing in Marvel Family #1 (published by Fawcett Comics) Black Adam became a member of the DC family in the 1970s and one of Captain Marvel's chief adversaries.
His story has changed and developed through the years, as have his Captain Marvel-like powers, while thanks to the work of writers like Geoff Johns, David Goyer and Jerry Ordway, he's become something of an anti-hero, doing whatever it takes to protect the people of his home city Kahndaq.
In 2008 it was announced that Dwayne Johnson would play the role in a movie version of Shazam! (which is what DC's Captain Marvel is now called), but that project stalled. In January, it became clear that Black Adam would not appear in the movie, but rather debut in his own flick.
And in May, Johnson followed that up by telling Fandango: "We have a really cool surprise for Black Adam that I can't reveal, in terms of where we will see Black Adam being introduced." Which would seem to align with this current rumour.
What the Suicide Squad Could Do For Black Adam
Black Adam might be popular on the page — coming in at Number 16 on IGN's list of the 100 greatest comic book villains of all-time — but he's hardly a household name. Having him cameo in Suicide Squad 2 could change that, however, placing him alongside the likes of Joker, Harley Quinn, and possibly even Batman in the minds of moviegoers.
DC also has form on this front, choosing to debut Wonder Woman in Batman v Superman: Dawn of Justice. While that film was roundly panned, audiences and critics seemed to agree that Diana Prince was the best thing in it, nicely setting up her own, much better-received movie.
Marvel has also been at it in recent years, introducing both Black Panther and their version of Spider-Man in Captain America: Civil War before granting them their own movies. They've also been doing it on TV, with the likes of Luke Cage and The Punisher getting their own spin-off Netflix shows.
So think of it as a glorified trailer. Even if Suicide Squad 2 is bad, should Dwayne Johnson's Black Adam show up and steal the picture, audiences will be primed and ready for his standalone flick, which will doubtless be ready to hit screens soon after.
What Dwayne Johnson Could Bring to Suicide Squad
When Dwayne Johnson first signed up to play Black Adam, he was a popular actor coming off the back of movies like Doom, Gridiron Gang and The Game Plan. Today, he's one of the biggest and most bankable stars on the planet. So it makes sense that DC would use him to help rescue Suicide Squad.
Because while the original film earned nearly $750m worldwide, it cost a fortune to make and market, there was trouble behind the scenes that resulted in lengthy reshoots and a confused final cut, and that finished flick was so critically derided that it has a Rotten Tomatoes score of just 26%.
Adding Dwayne Johnson to the mix could do wonders for the franchise, because it's worked before. The Mummy Returns — in which he made his screen debut — made much more money than the first Mummy flick, while his global appeal helped turn G.I. Joe Retaliation and Journey 2 into bigger hits that their Dwayne-free predecessors.
But the Fast & Furious movies are where he has really made his mark. The non-Rock movies were modest hits, but once he joined the series on Fast Five, they immediately turned into billion-dollar juggernauts, with each film earning more than the last. So much so that he's now lined up his own F&F spin-off.
Such numbers have earned Dwayne Johnson the nickname "franchise viagra" and his involvement in Suicide Squad 2 could do just what that implies, both perking up a superhero series that started out limp, and enhancing its performance at the global box office.