2017 was a great year for fans of Japanese manga. A plethora of new and inspired series premiered, and several long-running series reached their conclusion. As the end of the year approaches now is a terrific time to reflect on the manga of this year and what made certain series so brilliant. With that said, here are the 10 best manga of 2017.
 Dr. Stone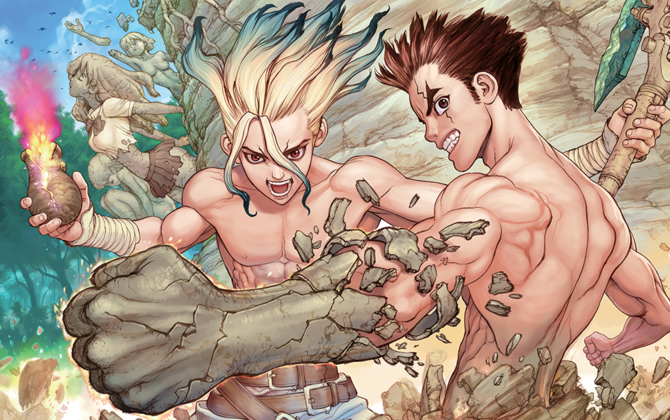 Dr. Stone is one of the many series that premiered at the beginning of the year that was Shōnen Jump's attempt to find a series that rivals popular manga series like Naruto and Bleach. While it has yet to reach those heights just yet, it is still a great new series that makes some unique storytelling decisions.
The story of Dr. Stone centers on a supernatural phenomenon that turns the vast majority of people on Earth to stone. After thousands of years, two high school students emerge from their stone prison and must use their knowledge of science and ingenuity to restore humanity and rebuild civilization.
This manga series commits to its ridiculous concept and executes it in a way that strikes home with anyone who can appreciate the wonders of the scientific world and it isn't afraid to shift the character focus for dozens of chapters at a time.
The Promised Neverland
The Promised Neverland premiered in 2016 and has quickly become one of the best series in Shōnen Jump. The Promised Neverland follows a group of children who realize that the orphanage they live in is actually a farm that raises children to be eaten by demons.
2017 saw the children of Grace Field finally escape, and then immediately encounter far greater perils than what they possibly could have imagined. The Promised Neverland is now well into its second story arc, and it's safe to say that it really is one of the greatest new manga around. Its characters remain endearing and multifaceted, the story continues to twist and turn in fantastic ways, and the art style easily transitions between playful and dire.
Fairy Tail
This year brought the final chapters of the insanely popular series Fairy Tail. While even the most diehard fans will admit that the quality of the series tapered off a bit as it drew to a close, it still remained one of the most read and appreciated manga in publication.
More than perhaps any other series in recent memory, the Fairy Tail fandom influences the manga to an astonishingly high degree. While this sometimes takes the form of more problematic instances of fanservice, it also includes certain characters forming romantic relationships and even starting families together. Fairy Tail engaged with its fans in a way that we rarely see and it changed direction based on what fans wanted to see.
Real Account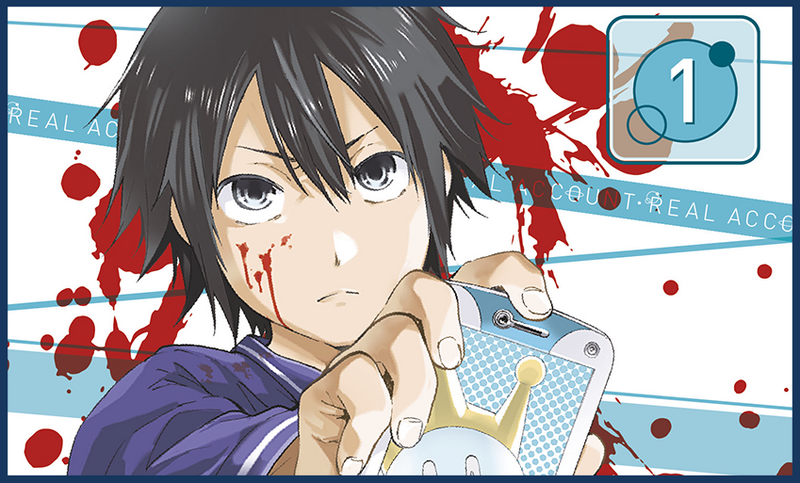 The best horror stories get inspiration from some element of society or twist something that is commonplace and mundane for those experiencing it. Real Account is a horror manga that offers major commentary and critique on modern online social networks and digital culture. It's pretty much a Saw movie, but with a lot more social commentary. By applying aspects of online social practices to a death game formula, Real Account becomes an entertaining and provocative manga.
While it has gone a bit off the rails as the series has drawn on, at its core, Real Account is still a delight to read and makes a reader reevaluate many of their online habits and practices. Every major story beat in this manga makes a reader ponder aspects of their daily life, while still being a brisk and phenomenal read.
One Piece
While it may seem a bit basic and pandering to say that one of the most popular and successful series in the world is one of the best manga of 2017, but One Piece is number one for a reason. While One Piece still has an incredibly kinetic art style and has some of the best panel compositions of any entry on this list, this year it did something that few long-running series are able or willing to do. In 2017, One Piece recontextualized a character by further exploring his past and made him much more compelling.
Longtime fans of One Piece have noticed for a while now that there's something just a bit mysterious about Sanji's backstory, and this year these aspects of his character are finally brought to light. While this is going on, readers also experience confrontations with the fearsome Big Mom Pirates and the exploration of an Alice in Wonderland-like country. One Piece killed it again this year, just like nearly every other year since it premiered decades ago.
Jagaaaaaan
Despite having a name that sounds like someone shouting a Dragon Ball Z attack, Jagaaaaaan is one of the best adult-focused manga to premiere in 2017. It takes several concepts and mechanics present in other superhero/supernatural centric series, and adds a level of realism to them that feels surprisingly refreshing. This is further complemented with every major character acting on their personal interests and in various levels of moral ambiguity.
When Jagaaaaaan is not providing insight into conflicted and relatable characters, it depicts some beautifully gory and tense battles between monsters and humans only one or two steps away from becoming monsters themselves. These fights also highlight the series' terrific artwork and striking character designs. While this series can get exceptionally dark and may not be for everyone, there's no denying the amount of skill and passion that went into Jagaaaaaan's art and story.
Attack on Titan
This year was a strange one for the Attack on Titan manga. It saw fewer titan battles than perhaps any other time in the series and began to resemble a political drama. This is a rather bold move for a series that started as a fresh take on the zombie apocalypse setting, and it surprisingly worked really well.
The chapters that appeared this year expanded the world of AoT and elaborated the motivations and background of some of its major antagonists. All of the build-up in the most recent story arc also comes to a truly magnificent climax in the series' 100th chapter. While it may be difficult for Attack on Titan to recapture the popularity that it saw a few years ago, these recent chapters are certainly a step in the right direction.
Inuyashiki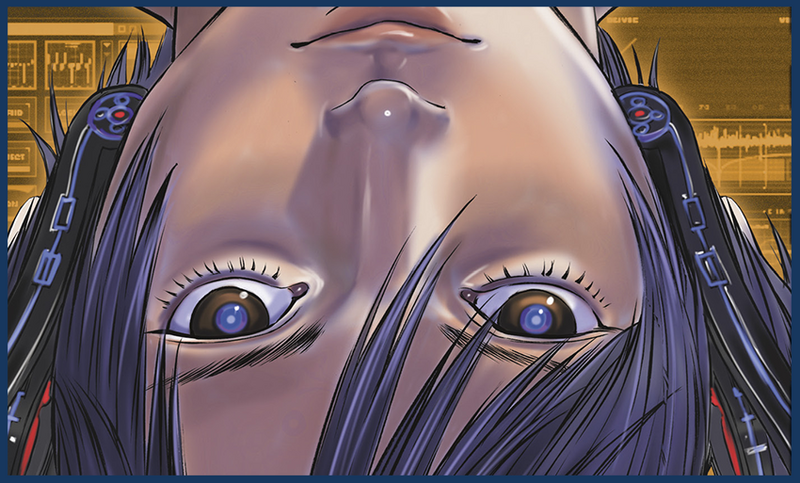 Inuyashiki – a series from the same mangaka who created the popular, yet divisive series GANTZ – published its final chapter earlier this year; and was immediately picked up for an anime adaptation. This is for a good reason, as Inuyashiki is a wonderful science fiction manga that tackles some gruesome subjects with its photorealistic art style and beautifully crafted story.
Inuyashiki follows an older man and a high school student who are both transformed into super powerful androids after a spaceship crash-lands on top of them. The older man uses these powers for good, while the young man becomes a sociopathic serial killer. While Inuyashiki does have its weaker aspects – such as some of its extremely over-the-top villainous characters – the series really is one of the best manga of 2017 and is a joy to read.
My Hero Academia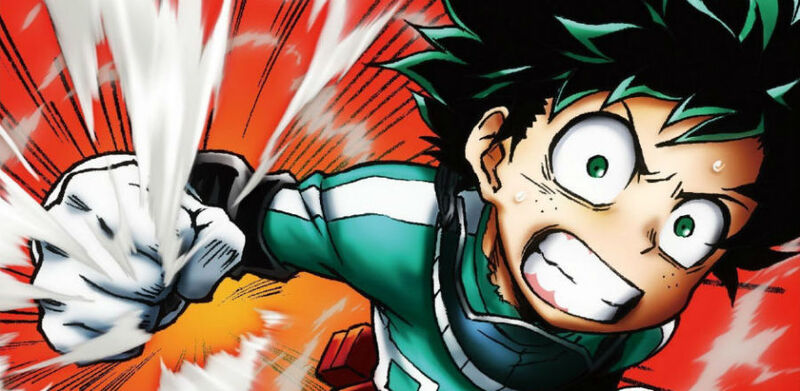 The chapters and story arcs that appeared in My Hero Academia in 2017 continues the excellent quality and terrific pacing of the series. This year saw many of MHA's fan-favorite characters grow emotionally and physically, many of the villains in the series received some much-needed character development, and new aspects of MHA's superhuman society finally appeared.
My Hero Academia is quickly becoming a tremendously popular series, and the amount of effort the series puts into redefining some of the more troublesome elements of the shōnen genre makes its popularity more than warranted. It's still refreshing to read a series with such brisk pacing and so many competent and compelling female characters.
Tokyo Ghoul:re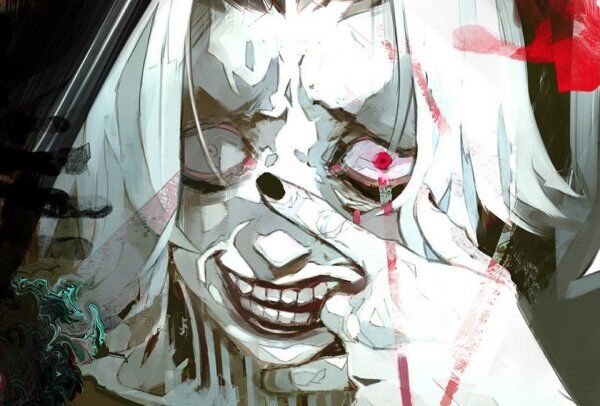 Tokyo Ghoul:re is, without a doubt, one of the best manga of 2017. This year saw the series explore powerful themes like love, loss, accepting personal failures and shortcomings, and managing one's own identity against the conceptions and expectations of one's peers. If the horror elements and violent action of this series do not capture you, the heart-wrenching struggles of the main characters will.
2017 also made it pretty apparent that the creator of Tokyo Ghoul:re – Sui Ishida – really may have the entirety of the work planned out on a chapter-to-chapter level. Events and chapter titles line up perfectly with that of the prior installment of the series, Tokyo Ghoul, and the series has an incredibly complex web of character relationships that is unlike many other manga series. Tokyo Ghoul:re is a truly exceptional piece of media that deserves to be studied and analyzed for years to come, and is easily one of the best manga series of 2017.