Halloween is upon us and what better way to celebrate this spooky holiday than some scary anime series. While there are a lot of scary anime out there, we've selected the 10 best shows that you should watch this Halloween.
Yamishibai: Japanese Ghost Stories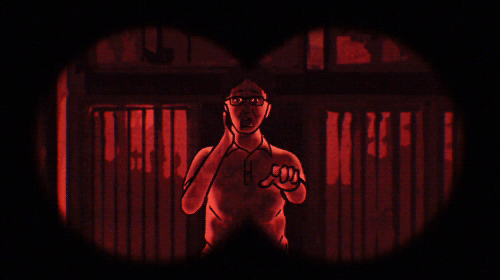 Many of Japan's history, heritage and culture revolve around death, superstitions and ghost stories. And when these instances are incorporated into anime, you get series like Yamishibai. The anthology series presents a different story based on Japanese myths and urban legends in each episode. The show also adopted a kamishibai style of animation to make the series authentic and true to Japanese folklore.
When They Cry — Higurashi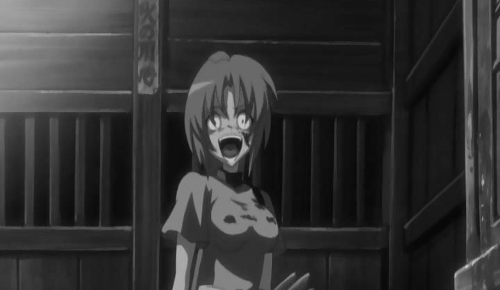 Although When They Cry — Higurashi spans several seasons, season one has all the blood and guts.
During the summer of 1983, a transfer student named Maebara Keiichi comes to a peaceful rural village in Hinamizawa. At his new school, he befriends a group of girls and shortly after Keiichi becomes the latest member of their "club." However, as Keiichi gets used to his new, simple life, he stumbles upon the dark history of Hinamizawa.
No Halloween anime list would be complete without Higurashi. The series is on every horror anime fan's list. The series explores many disturbing themes perfect for this spooky holiday, such as violence, mystery, and murder. While the first few episodes may turn you off, be patient and wait for the crazy to come out.
Umineko – When They Cry
The spiritual successor of Higurashi, Umineko takes place in 1986 and revolves around the family members of Kinzo Ushiromiya, a wealthy man on the brink of death. Eight of his family members arrive on the secluded island of Rokkenjima where Kinzo resides. There they plan how to divide Kinzo's assets once he is dead. Also on the island are a few of Kinzo's servants and his personal physician. After the family members arrive, a typhoon traps them on the island. But, being stuck on a secluded private island is not all it seems to be as each one of them is mysteriously murdered.
Umineko's setup is similar to that of Higurashi. They both start very slow and have some dark moments before the blood starts to splatter.
Ghost Hunt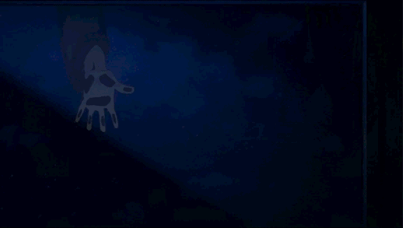 The story starts when student Mai Taniyama meets 17-year-old Kazuya Shibuya, a detective from Shibuya Psychic Research Center who is investigating paranormal activity at school. When Mai gets caught in a dangerous situation, Kazuya's assistant, Lin, rescues her. However, saving her lands Lin incapacitated, and Kazuya demands that Mai become his assistant instead. During the series, Mai and Kazuya along with other supernatural investigators solve paranormal mysteries around Japan.
Ghost Hunt has several arcs and tackles a new paranormal phenomenon in every one. Despite it having a few lighthearted scenes, it has a lot of jump-scares that will stay with you.
Another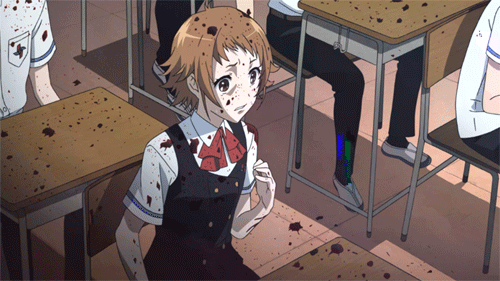 The story of Another starts in 1972 after the death of Yomiyama North Middle School's classroom 3-3 student, Misaki. Since his death, the town of Yomiyama has been covered with supernatural events. Decades later, there's a new group of students who all seem unaware of the presence of the eyepatch-wearing Mei Misaki. However, when Kouichi arrives, he befriends her, ignoring the other students' warnings. He also tries to solve the gruesome phenomenon plaguing his new classroom.
While the premise of Another revolves around the Yomiyama North Middle School, it does not take away from the blood and screams. From start to finish, Another will keep you on the edge of your seat wondering what is causing all these mysterious deaths.
Occultic;Nine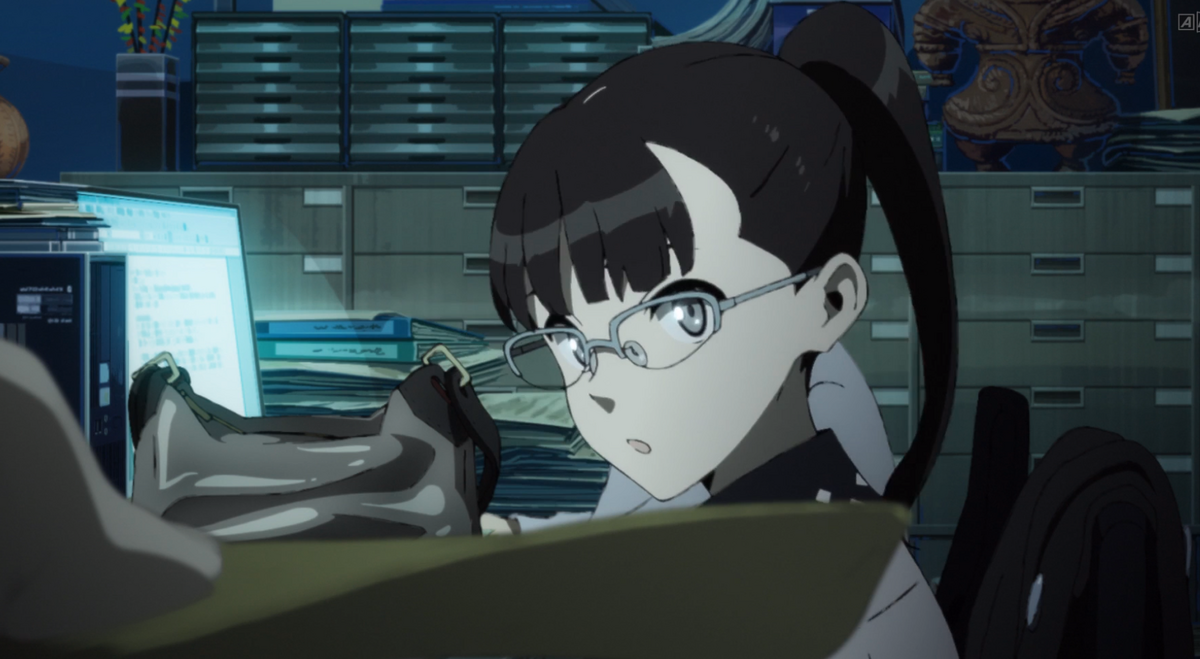 In this day and age, technology has become an essential part of our daily lives. For teenagers, Yuuta and his best friend Ryouka this is no different. Together, they run a blog disproving the supernatural. But, this seemingly harmless blog is the catalyst that would bring nine people together.
The discrepancies that occur around this unlikely group leads them to confront a series of horrible and unimaginable events that are shrouded by the supernatural. With their fates interlaced, they must band together and find a way to get their lives back to normal.
The show deals with a lot of the occult — hence the name — from psychics to demons, Occultic;Nine is the anime to watch if the supernatural is more of your go-to genre for Halloween. On top of that, the series takes a very creative and horrifying approach when it comes to murdering its characters.
Sunday Without God
What happens when God leaves us to our own devices? Women stop giving birth, and the dead walk among the living. Only those called 'Gravekeepers' can bury the deceased and put them to rest. Ai Astin, a young girl, takes this responsibility after her mother passes away. One day, a mysterious man appears at Ai's village and kills all of the residents except for her. Now all alone, Ai decides to leave the only place she has ever called home to travel with this man, seeking answers as to why God left the world.
Sunday Without God is a different kind of scary anime. While this Halloween anime list features series with blood and gore, SWG plays around with psychological fear, bringing into question what happens after we die and asks whether the undead and humans should be treated the same?
Tokko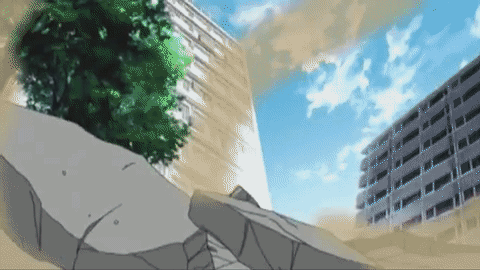 Recent police academy graduate Shindou Ranmaru joins a special task force called Tokki: Special Mobile Investigation Force. One day, he meets the half-naked girl he has been dreaming about, Rokujo Sakura. It turns out she works for a secret group within Tokki, known as Tokko. Shindou soon finds out that Tokko's primary mission is to investigate the mysterious mass murder of residents in his hometown, consequently encouraging him to join Tokko. On top of mass killings, bottomless pits start to appear around Japan with mysterious creatures emerging out of them. Is there a connection between these holes and the strange mass murders?
If you're looking for a horror anime series with just blood, gore, and violence, then Tokko is right for you. While the series' plot may be full of plot holes, the fighting scenes make Tokko a must-watch for Halloween.
High School of the Dead
High School of the Dead is a must-watch anime for anyone who is a fan of The Walking Dead TV series or zombies. The 12-episode series follows a group of high school students trying to survive a zombie apocalypse.
School-Live! (or Gakkou Gurashi!)
Similar to High School of the Dead, School-Live! also features a group of students, Yuki, Kurumi, Yuuri, and Miki, and their teacher who are living in a zombie apocalypse. However, that isn't the worst thing that could happen to them. As Yuki goes about her normal school life, pretending that there aren't any dead people trying to eat them, the rest of girls have to play along and protect Yuki from the undead.
Themes including deception and paranoia are what make School-Live! a must-see anime show for Halloween. With danger looming at every corner, you will be at the edge of your seat wondering if these girls have a chance of coming out of this apocalypse alive.
Shiki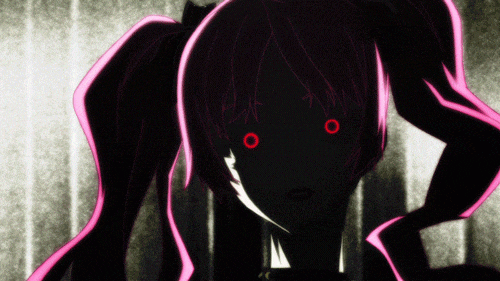 An anime Halloween list would not be complete without some vampires. Shiki takes place in a small village with around 1,300 residents. Suddenly, the villagers start getting sick and die one after the other. But, a few villagers believe that something else is behind these deaths, something like the undead.
Shiki is not like Twilight or other 2000-something vampire romance movies. It realistically illustrates people's emotions and behavior after a supernatural attack.
Dusk Maiden of Amnesia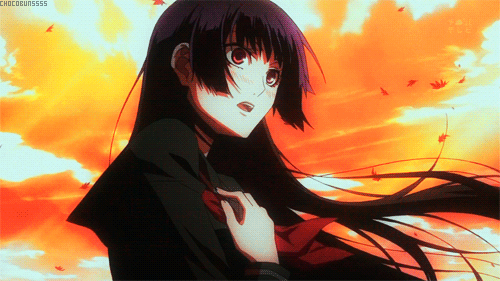 If you want a more lighthearted anime for Halloween, then give Dusk Maiden of Amnesia a shot. The series follows Teiichi Niiya, a middle school student who one day meets a beautiful, mysterious girl named Yūko Kanoe. But, to his surprise, Yūko is the spirit of a girl who died 60 years ago. However, she doesn't remember how she died or anything about her past life. Teiichi becomes determined to help her remember, and together, they seek to solve the mystery of Yūko's past life.
Supernatural: The Anime Series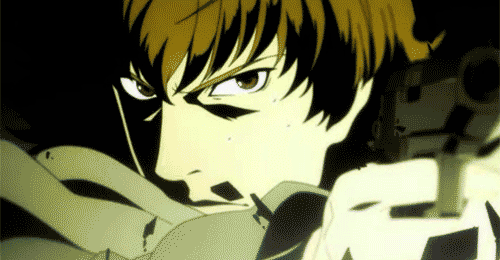 Considered one of the most successful American supernatural series, it's no surprise that Supernatural would eventually become an anime series. The anime version covers the first and second season of the TV show while also adding original content exploring the Winchester brothers and expanding on secondary characters.
While you may think that Supernatural: The Anime Series is less scary than the TV show, you may reconsider after watching a few episodes. The animators have perfectly converted all the jump-scares, demons, and ghosts into a perfect 22-episode series.
A version of this article was previously published on October 28, 2016.
Need some gory anime movies to improve your spooktacular Halloween? Check out our list of the scariest anime films.