The premiere of Game of Thrones Season 7 is but days away. Excitement for the new series is reaching fever pitch, and now a new trailer has dropped that's causing serious tremors in the very fabric of existence. Well, that's how it feels if you're a Game of Thrones fan.
Here is FANDOM's pick of the very best moments of a trailer jam-packed with enticing tidbits:
1. Jon's Speech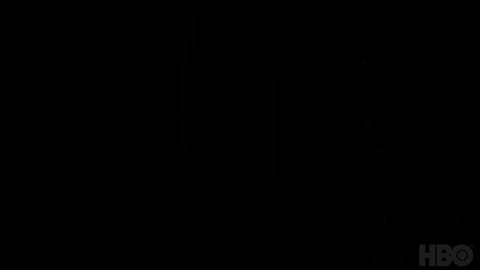 This takes up a good portion of the trailer and overlays shots of Daenerys pulling down Baratheon banners at Dragonstone, a shot of dragons in flight, Tyrion looking moodily out over a clifftop, Theon Greyjoy in the dark with sparks of fire falling around him, Grey Worm suited in armour, and Brienne and Podrick.
"For centuries, our families fought together against our common enemy," he says. "Despite their differences, together. We need to do the same if we're gonna survive because the enemy is real. It's always been real."
The implication here is that he's speaking to Daenerys – they're due to meet for the first time in the series this season – but he could equally be trying to unite the houses of the North, or addressing the Wildlings. Or could he even be suggesting that they all stop their nonsense and just ruddy well team up to come together against the common foe and the biggest threat to all of them – the White Walkers?
2. Arya All Grown Up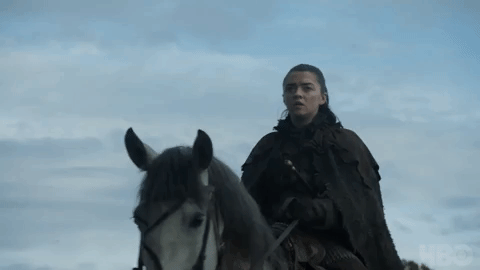 Arya's had quite a journey up to this point in the series, and much of it has been a personal and lonely one. Season 7 has raised hopes that we'll see her back together with her siblings Jon and Sansa – and what they'll see is this assured, independent, grown up woman, who's come a long way from the little, albeit spirited, girl they left behind.
3. Littlefinger Lurking
Personal favourite shot in entire trailer alert. It's fleeting. But, Jeebus, the pantomime villainy of this is glorious. Just when you thought Petyr Baelish couldn't get any more archvillain, he goes and ups his game.
4. Bran Warging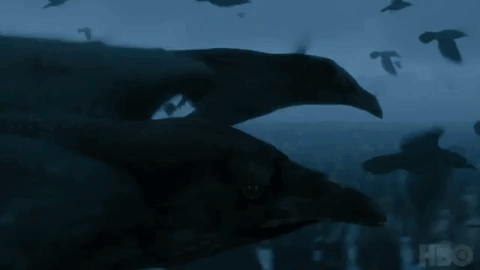 Oh yeah. Warging is sick, but what makes a newly wheelchair-bound Bran warging into a raven even more awesome here is the shot of the Night King apparently breaking Bran's connection with the bird as he looks up. That's a mean face.
5. Beric's Flaming Weapon
Occupying the number two spot in terms of favourite shots is Beric Dondarrion and his flaming sword. We saw Beric, leader of rogue outfit Brotherhood without Banners, briefly last season but he looks set to feature more prominently in Season 7. Like Jon Snow, Beric has been brought back to life by a Red Priest – only he's completed the ritual several times over compared to Jon's one. Pah. There's only so many times, though…
In the shot above, it appears Beric has headed north of the wall judging by the warm clothes he's wearing. Later, we see him swinging the same sword alongside Jon Snow on a rocky outcrop which brings a certain legend to the fore. Have you heard the one about the flaming sword that's key to banishing darkness from Westeros?
6. Swing it, Hound
There's a quick shot of what looks like The Hound, Sandor Clegane, drawing a sword and he's no longer in the snowy landscape we see him in earlier in the trailer. Could this be the moment Game of Thrones gives us Cleganebowl – an epic fight between The Hound and his murderous zombie brother, The Mountain? Yay!
7. It's Drogon!
This.