Photos by Trish Troesh
It's a pretty amazing feeling to walk onboard the Millennium Falcon for the first time.
Previously, very few could truthfully make that statement, given it would only really apply if you worked on a Star Wars film or were lucky enough to visit the set of one. But now, the opportunity is available to the millions of annual guests to Disneyland with today's opening of Star Wars: Galaxy's Edge to the public.
Disneyland has been home to a Star Wars-themed ride, Star Tours, since 1987, but that's nothing compared to what you'll find when you visit Galaxy's Edge. George Lucas himself called Galaxy's Edge "Star Tours on steroids" during the big opening dedication for the land at Disneyland this week, and it's notable that Lucas's statement actually undersells what you'll find inside the land.
Fandom paid a visit to Galaxy's Edge during a press preview and the world premiere event this week and found that the land more than lives up to its promise to allow fans to truly step inside Star Wars in a way that never felt imaginable before.
New to Batuu
Galaxy's Edge is set on the planet of Batuu, in an area called Black Spire Outpost. What's interesting about this is that Batuu is a new creation conceived for Disney Parks, rather than a familiar setting like Tatooine, the Death Star, or Coruscant that the films have focused on.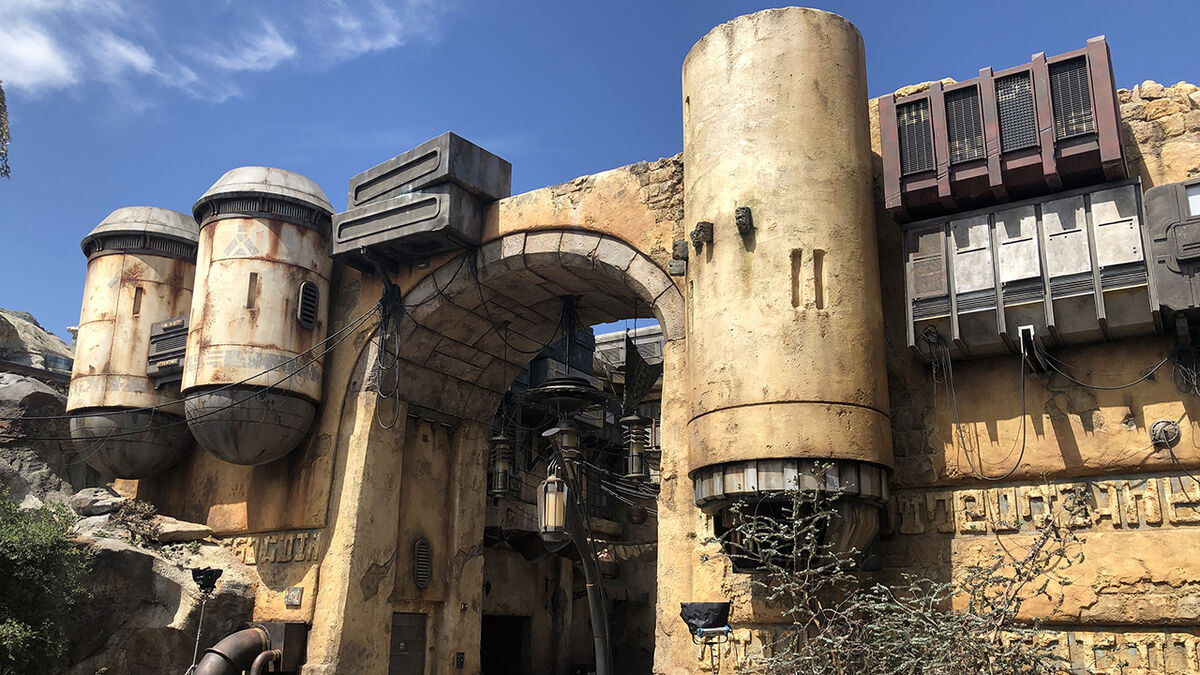 As Walt Disney Imagineering's Scott Trowbridge explained, they knew early on that they wanted to build a new location and that the intention was that Galaxy's Edge was "Not a memory of someone else's Star Wars story," but rather a brand new story each guest can directly feel they are a part of, making them "An active participant in the world of Star Wars."
Lucasfilm VP Carrie Beck noted that they had been seeding Batuu into Star Wars novels, comics and other outlets – the most recent update to Star Tours actually ends on the planet – which contributes to a sense of legacy and the knowledge that this is a place that did affect characters like Padme, Anakin, and Thrawn, but all in service of letting you know this is a planet with thousands of years of history that you are stepping into while creating a new narrative.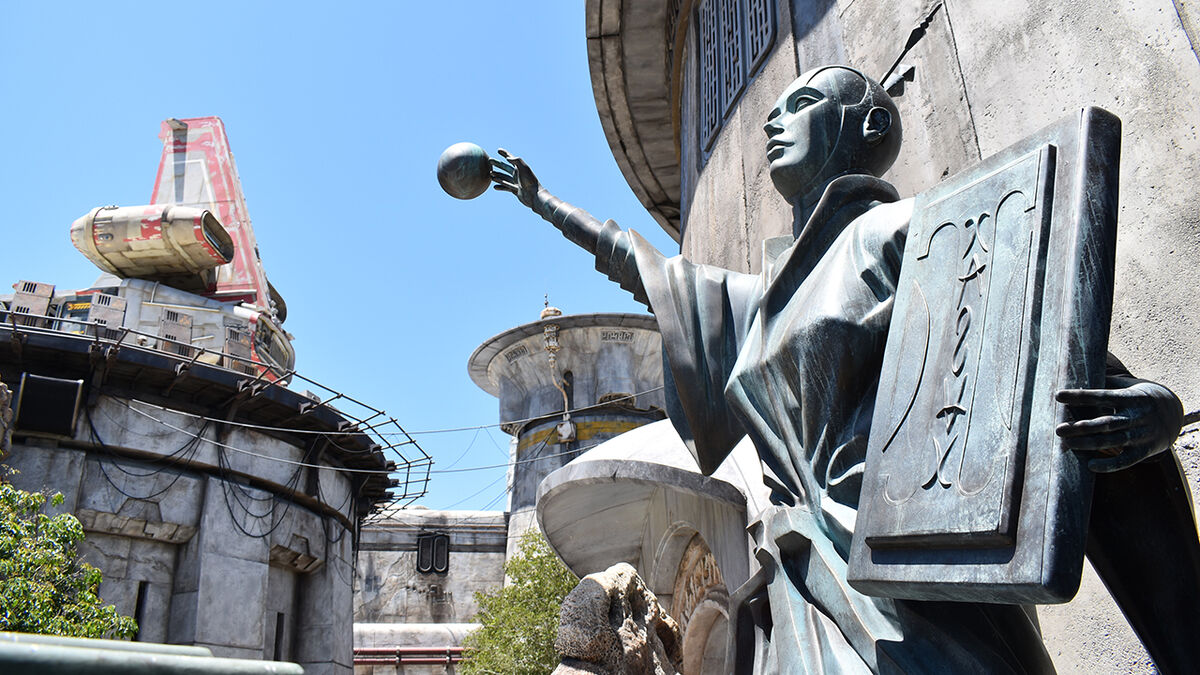 Lucasfilm VP/Creative Director Doug Chiang, whose designs have been an integral part of Star Wars since the prequels, said the challenge was to create "A new place, a new identity that fits seamlessly into Star Wars," while changing up the approach of servicing a director's point of view – since here, the point of view is every person who walks into the land.
Chiang gave praise to the late Ralph McQuarrie, whose concept art helped define Star Wars with the original trilogy, noting that thanks to McQuarrie,  Star Wars tends to use "a very distinct iconic shape – domes and spheres and spires." With Galaxy's Edge, "We wanted to lean into that but create our own identity."
The petrified forest in Arizona, with its giant spires, was a key visual touchstone for the geography, but tweaked to change the scale and make it even more dramatic. Meanwhile, visits to places like Istanbul and Marrakech helped find visual reference for the streets of Black Spire Outpost and give it the grounded feeling Star Wars is known for.
As Chiang put it to their approach, "80 or 90% is real, 10 or 15% is the freshness that makes it Star Wars."
The Devaronian is in the Details
In the past decade, franchise-focused theme park lands like Universal Studios' The Wizarding World of Harry Potter and Walt Disney World's Pandora – The World of Avatar have really upped the ante on immersion and creating an environment that is about completely bringing fans into the worlds of the stories they are inspired by.
Galaxy's Edge evolves this approach even further, as the idea is to utterly and completely bring you into Star Wars so that you don't feel like you are simply in a part of a theme park, but rather have stepped into another world. Visually, the land has been built so you can't see the rest of Disneyland while inside  – the one exception, the higher top of Big Thunder Mountain Railroad, doesn't disrupt the visual continuity, given that ride's theming. After all, perhaps it's just a Batuu mountaintop with a distinct color from the rest!
Every single cast member is fully in character, from the people selling you food and merchandise to various Resistance and First Order members you may encounter roaming the streets. And yes, familiar characters like Rey and Kylo Ren can sometimes be spotted in Black Spire as well.
I was surprised by how large Galaxy's Edge is. There are numerous side streets to divert down and you might assume you've seen the entirety of the land, only to be shown another corner, where impressive sights like an X-Wing and A-Wing fighter are sitting, waiting for a Resistance member to fly them into battle.
Star Wars fans will find a ton to analyze, with some wonderful minutia in every corner of the outpost. Hours could be spent in the marketplace alone. Yes, there is tons of actual merchandise to browse through and purchase (more on that below), but so many of the individual storefronts have their own wonderful, unique items displayed on the walls, high up on shelves, or hanging from the ceiling that aren't for sale but simply add atmosphere.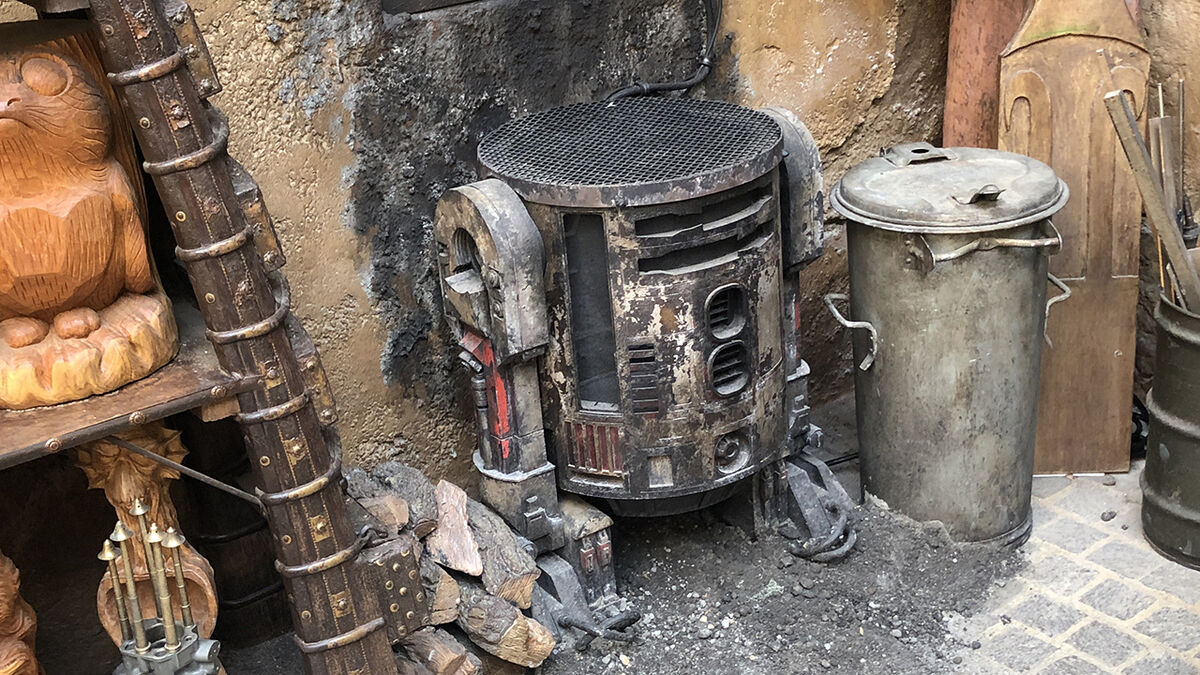 Droids are a beloved part of Star Wars, and many can be seen along the sides of the streets, but some folks in that universe clearly don't hold them in high regard, hence the poor R2 unit seen above, whose final fate isn't one worth boasting about.
Galaxy's Edge is set during the era of Episode VII, VIII, and IX, which lets them use all of the previous Star Wars stories to layer in elements. There are very old, deteriorated B1 Battle Droids in one corner of an alcove, while the store called Dok-Ondar's Den of Antiquities feels like an amazing, mini-Star Wars museum, with every kind of costume and weapon from the saga you can imagine on display, from an Imperial Guard helmet to a distinct two-pronged weapon resembling the Amban Phase-Pulse Blaster that Boba Fett was seen wielding in his first appearance in the animated segment of The Star Wars Holiday Special and that serves as the basis for the title character's weapon in the upcoming The Mandalorian series.
The references throughout Galaxy's Edge to all of Star Wars lore is impressive. There are artifacts, visual nods, and direct call outs to specific stories from animated series, novels, and comics, on top of all of the films. Call them Easter eggs or deep cuts, but those whose knowledge of Star Wars is rather extensive will find their time examining Galaxy's Edge rewarded. Of course, new Star Wars fans are born very day and as Disney's Brad Schoenberg pointed out, "Some guests will experience Star Wars for the very first time through Batuu," meaning it needed to be visually intriguing whether you understood the cool Jedi artifacts on display in Dok-Ondar's or simply saw them as brand new items and wanted to learn more.
Republic Credits Are No Good
Of course, where there's Star Wars, there's merchandise, and the fanbase is known for spending an incredible amount of money on all sorts of toys, clothing and collectibles over the past four decades. Suffice to say, your average Star Wars fan will be overwhelmed at what they find in Galaxy's Edge and simultaneously overjoyed at the brand new possibilities of what can be purchased and anxious over how to decide what is the priority, since there's just so much you can get.
As with everything else, the idea is to be completely immersive, which is to say these are products that you could imagine being sold within Star Wars. This is why one thing none of these items prominently say is… "Star Wars." While there will be products sold in other areas of Disneyland with Star Wars: Galaxy's Edge logos, within Galaxy's Edge itself, that term is not included on the various clothing or collectibles beyond tags that wouldn't be visible while wearing. Schoenberg laughed that "It seemed so crazy at the beginning to say we'll have hundreds of products and nowhere will we say Star Wars," but they realized it was the right move.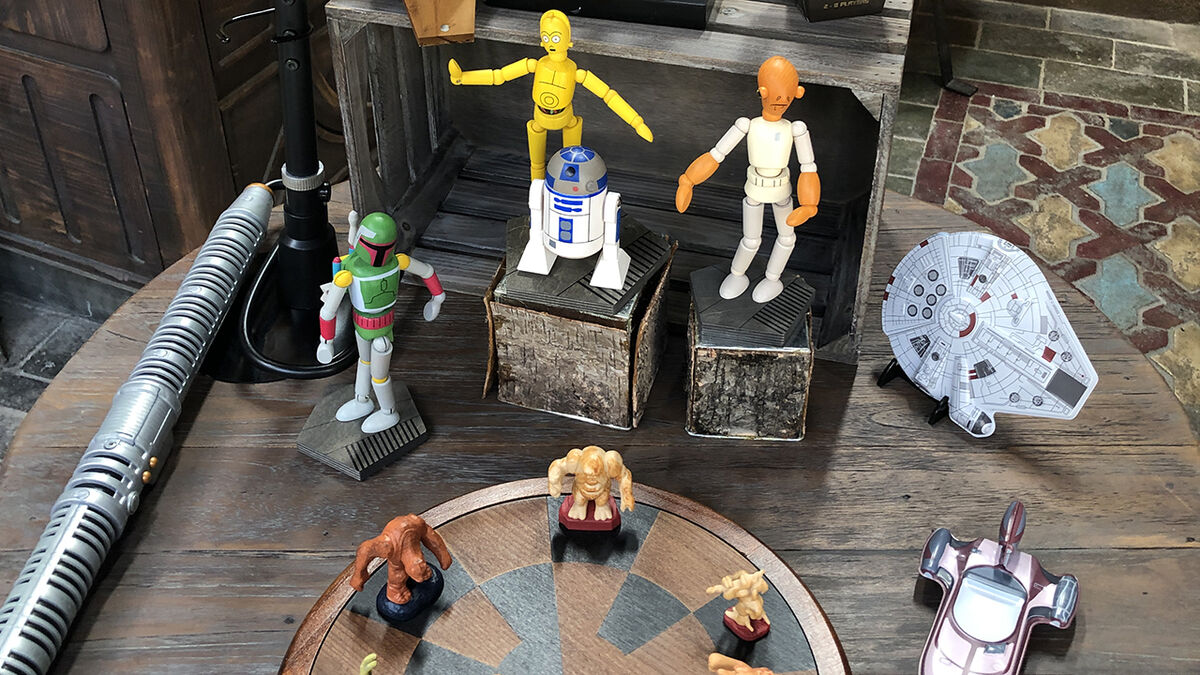 Okay, some of the products do push the limits of what you might expect to see in-universe – at the First Order Cargo store, there are cool-looking First Order hoodies that felt a bit odd for Star Wars, but we'll just assume Hux might wear one on his night off.
For the most part, the immersion is pretty spectacular. The marketplace in particular is a treasure trove of toys, games, and more that you can imagine being made based on these legendary characters. Remember Jyn Erso's childhood stormtrooper doll in Rogue One or the little figure recreating Luke that a child made in The Last Jedi? Imagine that but scaled up and out to include all sorts of familiar Star Wars characters and creatures.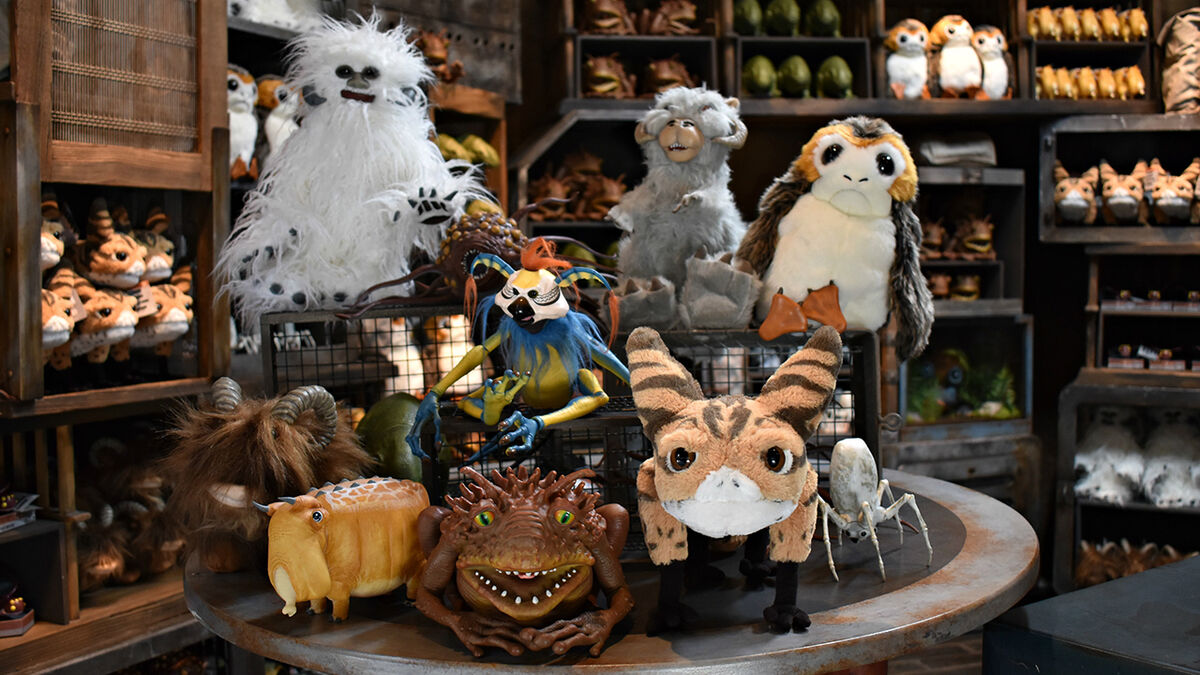 There are also some more interactive merchandise experiences that begin to get on the pricey side, including a $200 one that allows you to build a personalized lightsaber – while keeping the story going, as you go into a secret room to build your Jedi weapon, lest the First Order discover what you are up to.
At Droid Depot, for $100, you can build your own interactive, moving, light-up droid – a smaller scale version of an astromech droid, available in both R or BB-style options – that you can choose your specific colors and details for.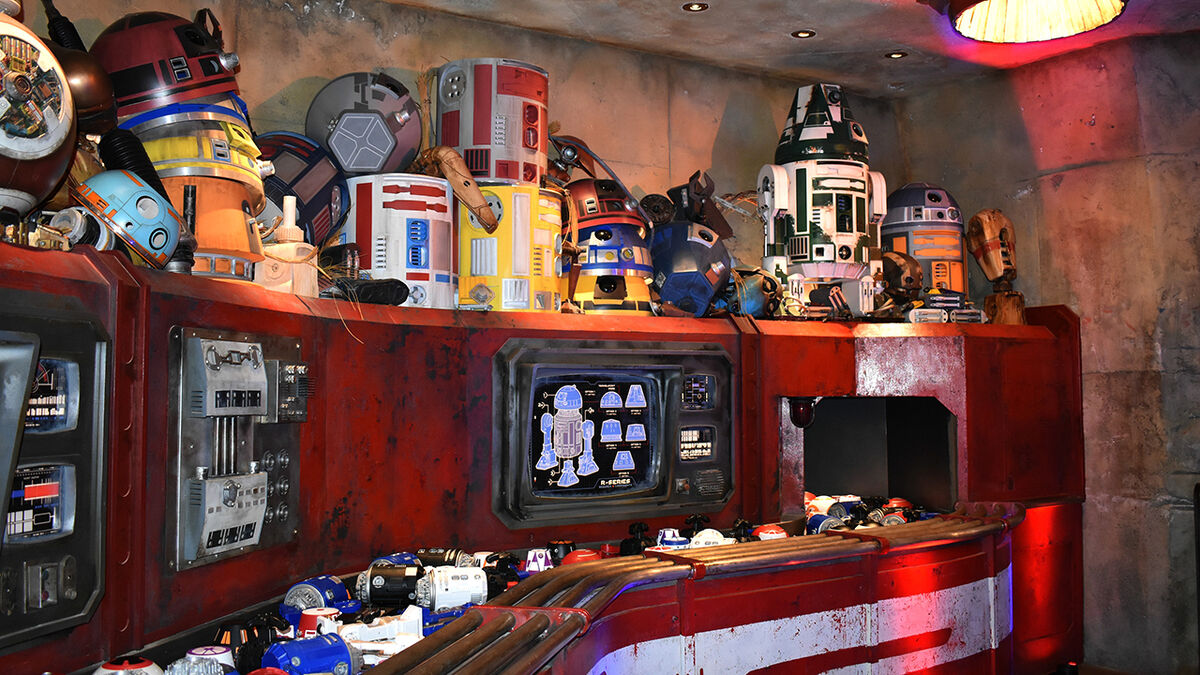 While showing off how the droid-building process works, Disney Merchandise Strategy Manager Summer Bloomfield told Fandom, "One of the things we really wanted to bring to Galaxy's Edge is the authenticity but also the opportunity for you to live your own adventure. So one of the best ways to live your own adventure is to have your own droid and to literally customize it to how you want it."
You can add personality chips to the droids as well, choosing if your droid sides with the Resistance, First Order, or smugglers. Bloomfield explained, "Say you want it to be First Order, when you go over to the First Order area [of Galaxy's Edge], the droid does happy beeping sounds. But when you go over near the Resistance, it gets a little scared."
Wretched Hive
One of the most iconic elements of the original Star Wars was the legendary cantina scene. And while Galaxy's Edge doesn't bring you to Mos Eisley, it does include its own watering hole in the form of Oga's Cantina.
Disneyland's Director of Food & Beverage , Michele Gendreau, said that when they were discussing what to put in Galaxy's Edge, "It seemed illogical not to have a cantina," describing Oga's as "an experience, an attraction. It's a place to keep your head down if you're in trouble."
The owner, Oga herself, has a backstory as a local underworld mob boss, but the notable character represented physically inside the cantina is DJ Rex, a new incarnation of Rex the pilot droid from the original incarnation of Star Tours– once more voiced by Paul Reubens. Between songs, Rex's banter includes several dialogue references to his previous job, including exclaiming, "Lightspeed to Endor!"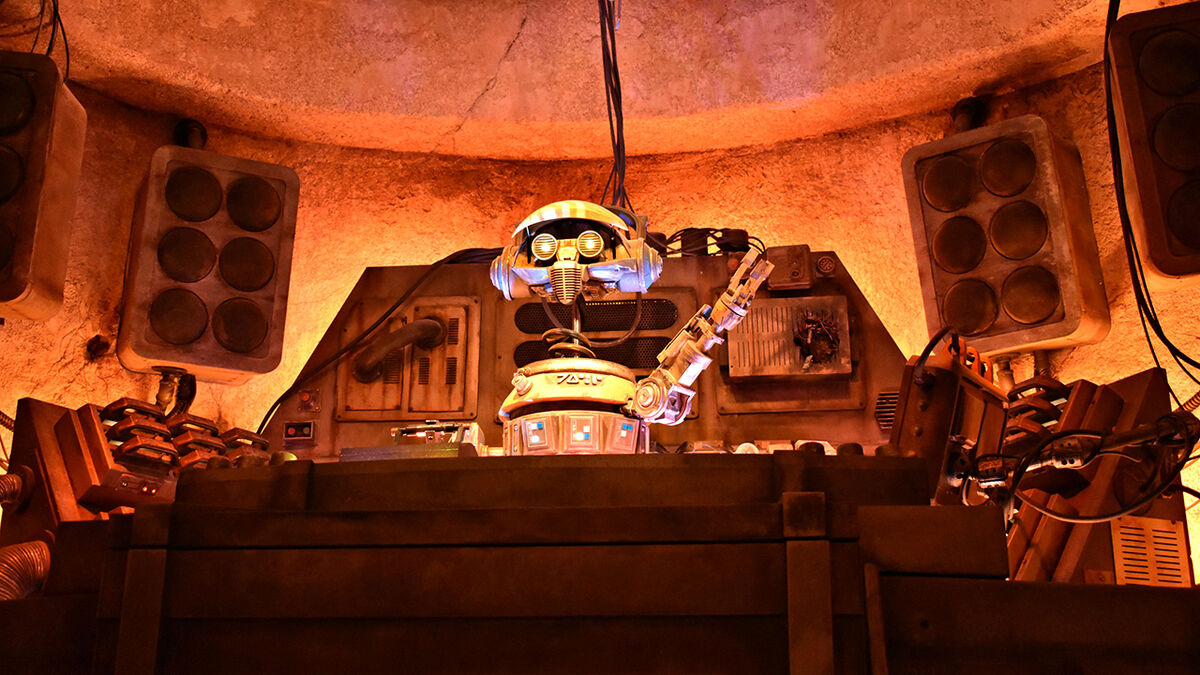 Oga's Cantina also has gained a claim to fame as the first public area in Disneyland where alcohol can be purchased, including a tasty drink called a Yub Nub that I sampled at the opening celebration. It's realistically-sized for a small bar, which also means it can get very crowded very quickly, so be warned, you might find the waits for Oga's to be among the longest in Galaxy's Edge.
Of course, there are plenty of other beverage and food options outside of Oga's, which you can read about in Fandom's story on Galaxy's Edge food and drink, including the opportunity to finally drink some Blue Milk for yourself.
She's Got it Where It Counts
Last but not least is one of the two big new rides at Star Wars: Galaxy's Edge – the second, Rise of the Resistance, will open later this year – Millennium Falcon: Smuggler's Run.
The entrance to the ride is anchored by a full-size recreation of the beloved Millennium Falcon, making it a focal point for any visiting the land to ooh, ahh, and take plenty of photos, which was certainly the case at the press preview for all who visited.
While the wait times will no doubt be long, the queue is highly detailed, letting you get a great look at the Falcon as you walk around behind it, with fun touches like seeing it is in the midst of being fueled up. Said Walt Disney Imagineering's Rob Huebner, "There's no square inch of the Falcon [skipped over], including the inside, the hallways — you literally have seen every inch of the Falcon by the time you get through this attraction."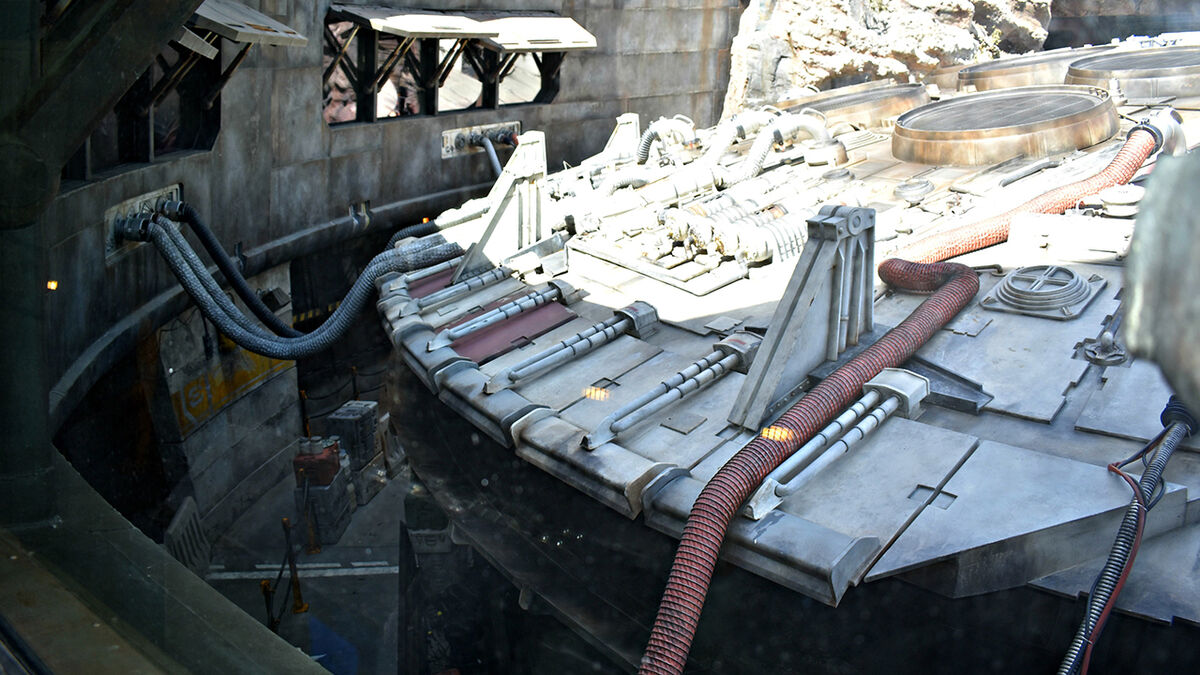 As you continue through the Docking Bay, you'll see all sorts of equipment and gear, including things like Stormtrooper armor inside a crate – with a nod to the fact that a smuggler never knows when they might need to disguise themselves.
The ride's storyline involves the character Hondo Ohnaka from Star Wars: The Clone Wars and Star Wars Rebels sending you on a mission – with Hondo brought to life outside of animation for the first time via a truly remarkable animatronic figure. The final portion of the queue is the best part, as you are assigned to a six-person team, and then get some time to simply walk around inside the Falcon's main hold, where you'll find sleeping quarters, a familiar helmet with its blast shield down, and many more instantly recognizable elements, including the iconic chess table, which you are welcome to take a seat at.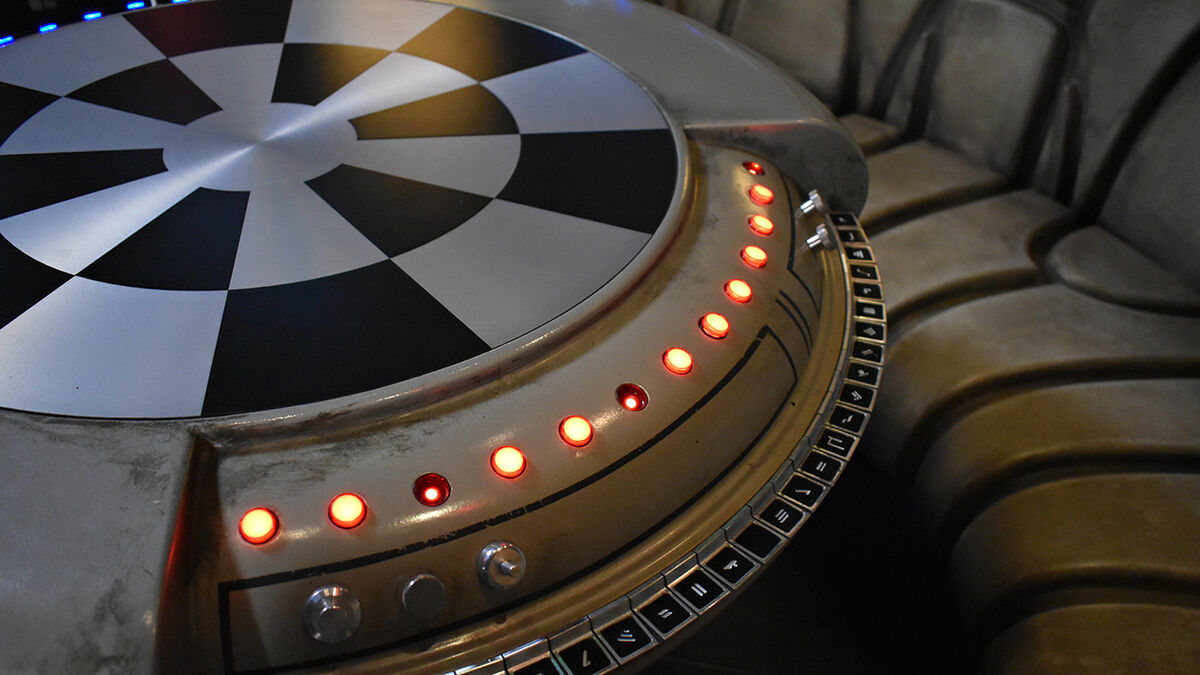 As for the ride itself, it's got elements of Star Tours– you're in a motion simulator with movie footage used to convey your flight – but with a major interactive element, as you and your five fellow team members serve as either pilots, gunners, or engineers.
Said Huebner, "From the very start it was an entirely new type of ride experience that we haven't done before and that I don't think anyone has done before. It's like you are directly controlling the experience. You're controlling how the motion plays out, what score you get, whether you succeed or fail in your mission objectives. Everything is up to you and your crew. So it's a different experience whether you're a pilot or a gunner or an engineer. You have different responsibilities different controls to use, so everything about it is a risk but also pays off because you really feel like you flew a mission on the Falcon."
Your score is kept track of on the Play Disney Parks app and can even have consequences once the ride is over. Said WDI's Jacqueline King, "When you exit, what you did will play out with what the exit is. Is it more torn up because it crashed into a few things? Or were you a better pilot because maybe this wasn't your first time around and you didn't knock it around so much? Also, if you're opting in to our Play Disney Parks app, the credits you earn will continue with you through the rest of your experience here at the outpost."
The Play Disney Parks app actually has a number of interactive elements for Galaxy's Edge, though unfortunately, we weren't able to try them yet at the preview. But now that the land is open, you could, for instance, order a drink over at Oga's and find the bartender warning you that Hondo isn't happy with the job you did for him when you rode the Falcon earlier…
While I didn't get to be a Gunner, having tried both Pilot and Engineer on Smuggler's Run, I'd recommend going for the Pilot position if it's possible, as that is by far the one where you have the most involvement and participation in what is occurring. Of course, that also means you might take more of the blame if things go wrong, so hopefully, your crew is kind!
Star Wars: Galaxy's Edge is now open at Disneyland in Anaheim, CA. Reservations are required in advance to attend the area from May 31st through June 23rd, with the land open to any Disneyland guest after that period. Galaxy's Edge opens at Walt Disney World's Hollywood Studios in Orlando, FL on August 29th.