Photos by Trish Troesh
Star Wars: Galaxy's Edge is now open at Disneyland and while there is a ton to see and do – which you can read about in our overview of the land – one big question the new area answers is what exactly food tastes like in Star Wars.
From Docking Bay 7 Food and Cargo, to Ronto Roasters, Kat Saka's Kettle, and Oga's Cantina, there are plenty of options on places to grab something to eat or drink as you travel through Black Spire Outpost on the planet of Batuu. But how did the team at Disneyland begin to actually come up with what will be served? Fandom spoke to John State, Culinary Director for Disneyland Resort, to find out, all while sampling some food from a galaxy far, far away… 
A New Menu
Luke's Blue Milk, the stew Yoda makes on Dagobah, the fruit Anakin floats over to Padme, Rey's Portion Bread… Yes, there are a handful of moments in the Star Wars series involving food, but they are fairly spread out and there's not a lot to work with in terms of food being a focal point in scenes in the films. So where do you begin when designing a ton of Star Wars-inspired food for Disneyland guests, in the hopes of making it a bit odd and suitably Star Wars, while still something people would actually want to eat?
Said State, "We had the direction to go with that it had to be somewhat unfamiliar in terms of the texture and the color and the look, but ultimately, it had to be familiar for guests in flavor and aroma so we had to keep a little restraint on this." At Disneyland in general, and certainly in Galaxy's Edge, story is key, so State explained they discussed the setting for Galaxy's Edge, Batuu, when coming up with the menu, noting, "Ultimately, we just looked at some of the geography of the land, the lay of the land. It wasn't always lush in all the areas. So we've been able to take on these typical chef characteristics in how we build the menu. But there are some familiar foods that are part of the story…"
As State explained, "Here on Batuu, which is really unique, this is a farm to table movement. We are sourcing some local food. We do have ingredients that are here, whether it's the Ronto that runs around, or of course the Bubo Wamba Family Farms' Blue Milk, which is from the Bantha. This planet is so remote that we were able to source and eat from the land, not necessarily [like you would] on a processed world."
Aunt Beru Would Be Proud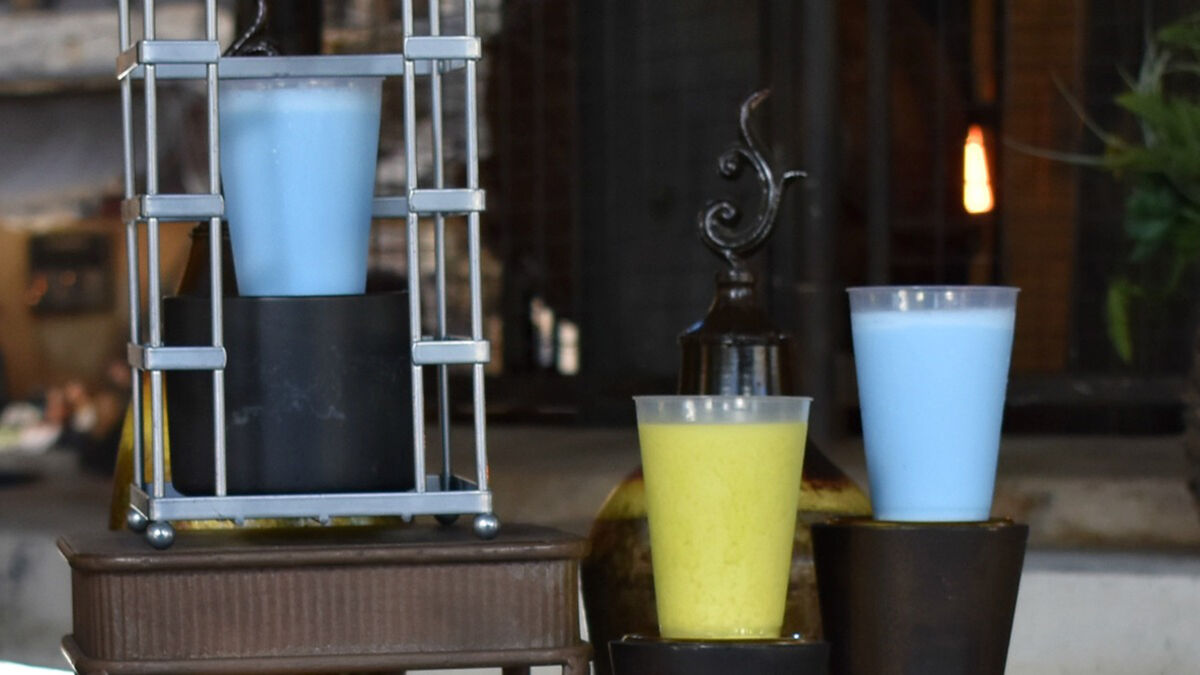 Blue Milk has been a notable part of Star Wars since the original movie in 1977, when Luke Skywalker and his aunt and uncle were seen drinking it on Tatooine. Discussing how they approached bringing to life something like that after all this time, State explained their approach was akin to, "If you go back to childhood, where you think 'Wouldn't it be cool if…?' or 'What if we did this?' And then you present it and the response is 'Wow, this is crazy! This is not what I thought it would be." Every time it had to be "Wow, you wouldn't believe what this is going to taste like.' And that was the key with the Blue Milk. Because we didn't know. We couldn't verify it. So we had to deliver. It's like making mud pies as a kid in the backyard. It's not a pie but it looks like a mud pie and if you can imagine what it would taste like, you'd think it would taste like chocolate. So you really have to remember to go back to 'it looks unfamiliar but it tastes familiar.'"
As far as the taste of Blue Milk, State remarked, "It can't just be [plain] milk. What flavors of milk do people like to drink? There's Strawberry Milk from Nesquik; there are other brands of banana. But you can't just do that. That would be too easy. So again, what if we did this? What's the big movement? Plant-based. So this is plant-based. It looks and acts like milk but it's actually coconut milk and rice milk."
Indeed, that coconut and the addition of other tropical flavors makes Blue Milk evoke a tasty smoothie when you try it, of the sort you would get at Jamba Juice. And Green Milk, as seen in The Last Jedi, is also available, with its own flavor variation that is a bit more citrus and floral in nature.
Disney Snacks, Star Wars-Style
While there are many plant-based food options in Galaxy's Edge, due to the increasing popularity of food of that type, don't worry, meat-eaters, there are some strong options for you too.
One such option is the Ronto Wrap, which offers roasted pork and grilled sausage with peppercorn sauce and tangy slaw wrapped in pita. State recalled the discussions they had, asking, "How do you roast a Ronto? What would a Ronto taste like? How would it look if we were to present it? The answer was, 'Well I think we could make a sausage.' That would be something people were familiar with, in a bun. And besides the Ronto Wrap, we're also doing the Nuna Turkey Jerky."
The Ronto Wrap was one of my personal favorites at Galaxy's Edge, a notably delicious example of Star Wars street meat, with the sausage and pita sandwich making for an excellent snack while moving about through the area. At the big kick-off reception for Galaxy's Edge, it proved to be a very popular item, with many snatching up more than one to eat.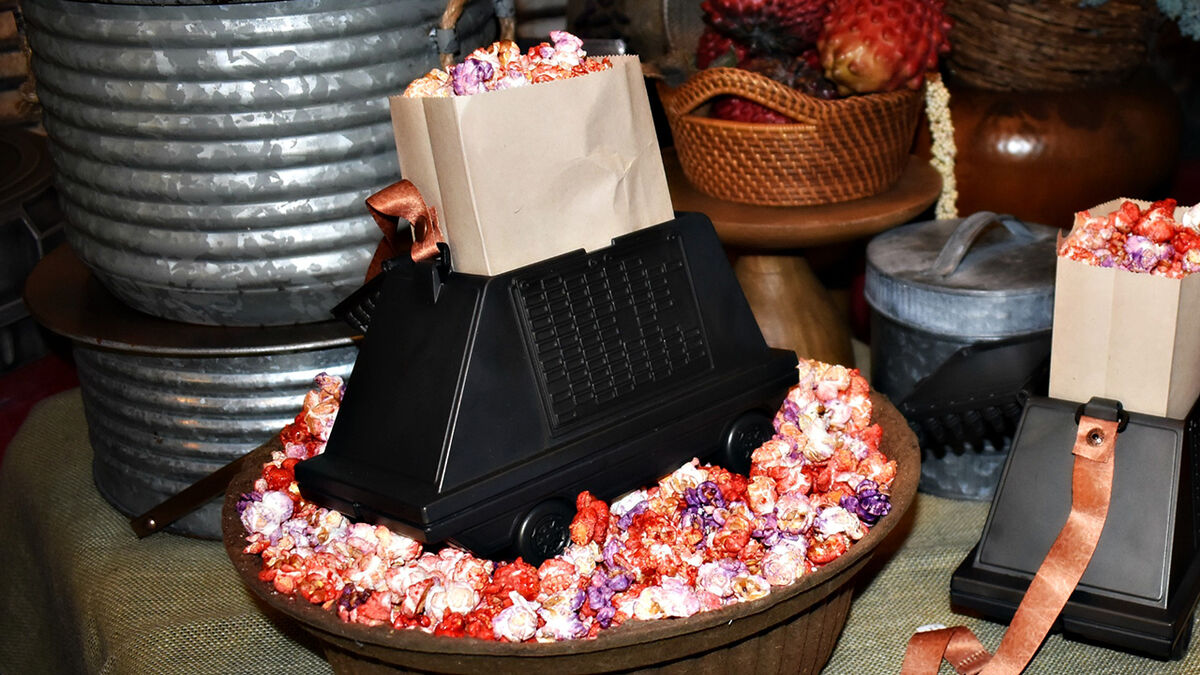 The Ronto Wrap isn't the only example of on-the-go food you'll find though, with State noting, "What's really fun is this is the Disneyland Resort, and the Walt Disney company is known for its popcorn – it's something familiar to the guests. We took this to a place where we were like, 'What if this was sourced somewhere in the galaxy?' It would have a different color, maybe even the look, the texture [would be different]."
The end result is what State describes as "a sweet and spicy Outpost mix. Again, familiar in terms of the flavor maybe, but unfamiliar looking. It's not the popcorn I make or you make. Then you tie in the story. You've got Kat Saka's Kettle – he's an eclectic farmer. Again the farmer [aspect] comes back in, he's out collecting these ingredients, pop kernels known as popcorn, and then these are the spices." 
Environment is Key
The food in Galaxy's Edge was being developed as the land around it was, and in the case of the Ronto Wrap, the theming is key, as it is served at Ronto Roasters – an impressive area that has a giant old Podracer engine at the center powering a BBQ pit, with an animatronic Smelter Droid, 8D-J8, hard at work cooking the meat.
Asked about what it's like working on the food while the physical area it will be served in is coming together simultaneously, State replied, "Well, the story comes to life first about what the land is going to look and feel like. Then we start to pepper in that if we're going to nourish our guests and hydrate them and provide some sort of fuel, we begin to intertwine our ideas through the team that does the design. Even though they're not chefs, they actually have an imagination when it comes to all things that are parts of the story. If you think about it, we wouldn't be as successful if we didn't have partners who are uber creative. Even though food is not what they create, they can relate because everyone knows whether they like it or not."
Referencing the Smelting Droid, State remarked, "We didn't have to put someone roasting here but we put a droid up here. It could have been automated but we added another element, going back to how do we tie it to a character?"
So Many Choices
With a universe as vast as Star Wars, it seems like, if anything, one problem would be simply having too many possibilities to draw from when it comes to food concepts.
State said that was indeed the case, noting, with a laugh, "Editing. Editing is so important! We had a collection of ideas. We had a collection that was way broader than this and to edit it down was very difficult."
Asked for what stood out as favorites so far among the food options, State said the Ronto Wrap, the Oi-oi Puff (a raspberry cream puff with passion fruit mousse) available at Docking Bay 7, and, of course, the Blue Milk, had all been popular with the earliest attendees.
Also an instant hit have been the special bottles of Coca-Cola, Diet Coke, Sprite, and Dasani available at Galaxy's Edge, which put the familiar Earth drinks into new, Star Wars-specific packaging, complete with labels in Aurebesh, the Star Wars language.
Michele Gendreau, Director of Food and Beverage, remarked, "We're great partners with the Coca-Cola company," stressing that when it came to having Coca-Cola on Batuu, they would be described as "An off-planet partner – We found a cargo hold of what they had to offer!" She added, "Coca-Cola worked with us very diligently on the development of bringing Coca-Cola to Batuu in the appropriate form. We're really excited to launch the new Coca-Cola orbs."
As to whether new food items might be added to Star Wars: Galaxy's Edge eventually, State indicated that could likely happen down the line, explaining, "Yes, but we'll want to protect the story for quite a while because plenty of guests who haven't been here won't get here for quite a while!"
Star Wars: Galaxy's Edge is now open at Disneyland in Anaheim, CA. Reservations are required in advance to attend the area through June 23rd, with the land open to any Disneyland guest after that period. Galaxy's Edge opens at Walt Disney World's Hollywood Studios in Orlando, FL on August 29th. You can read about Oga's Cantina and much more in our overview of Galaxy's Edge!