We've all been waiting for answers on Pokémon Switch, and now, we finally have them. While most publishers save their goodies for E3, it looks like this year, Nintendo just couldn't help themselves. The big N has revealed not one but three different critter-catching experiences for the hybrid machine.
Alongside the previously announced 'core' Pokémon Switch title, fans can also expect to play Pokémon Let's Go and Pokémon Quest. Confused? We don't blame you. While we go into our thoughts in the video above, here's a written breakdown of what you can expect from all the upcoming Pokémon Switch releases.
UPDATE: We've recieved a ton of juicy new information about Pokémon Let's Go! and even a small bit of news regarding the mysterious hardcore Pokémon Switch title, too. Read on below for everything we know so far.
What Is Pokémon Let's Go?
Pokémon Let's Go is an HD remake of the Gameboy Colour Classic, Pokémon Yellow. This time around, however, things are a little different. As well as sporting a shiny new HD sheen, Pokémon Let's Go! will come in two different editions — Eveee and Pikachu.
Cashing in on the massive success of Pokémon GO, this re-imagining now sees players catching Pokémon just like in the smash-hit mobile game.
In order to catch 'em all, players will need to use their Joycon controllers to throw their Pokéball at their chosen 'mon, aligning their throw with the rapidly closing circle around the creature.
Whether Pokémon will need to be weakened in battle before being caught still has yet to be confirmed.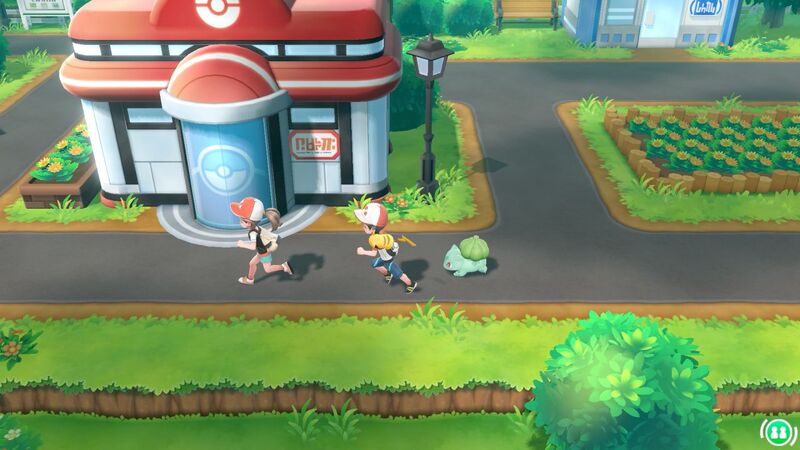 If that wasn't enough of a change, Pokémon Let's Go! also lets a second player join the adventure at any time. Currently its unclear whether this will be a generic avatar or also transfer player 2's party Pokemon.
Speaking of transfers, Pokémon Let's Go! also links up with Pokémon Go. Players will be able to easily transfer Pokémon they've caught in Go over to the new Switch games.
If that wasn't cool enough, Let's Go will also be compatible with the new Pokéball Plus, a motion-controlled Pokéball controller that doubles up as a Tamagotchi for stored Pokémon and a Pokémon Plus capturing device for Pokémon Go.
Traditional battling will be back, and both online and offline trading will be making a welcome return.
UPDATE: New Info: Gym Requirements, Trading, Pokéhaircuts, Team Rocket and more
While we came away from our time with Let's Go feeling a little concerned about the game's simplicity, it looks like GameFreak has heard (at least a few of ) our worries. Thanks to some recent announcements it looks like there might be more to this simplistic-looking remake than we first thought.
Gym Requirements
It looks like these remakes will continue to shape up the core Pokemon experience. Remember the gym guide? Well, this time around he has an even more crucial role. In order to face each gym leader, players will need to have party Pokémon that meet his requirements. These kind of sidequest-esque activities look to mix things up a bit. On the other hand though, this could lead to some fairly restrictive party loadouts if players are forced to have certain types of 'mon with them in order to do battle.
Say Hello to Some familiar faces
Team Rocket are back! With the terrible trio absent in the original Pokémon Red but making an appearance in the Gameboy Colour version of Yellow, it's not a surprise, but still good to see them nonetheless. Oak, your rival, Misty and of course, Brock will also be making a welcome return.
Full Partner and Pokémon customization, including Pokémon haircuts
As well as being able to bond with your partner Pokémon, you can even give your trainer and your mon matching outfits. in a series first, players will also be able to give their little 'mon a fresh trim. Fringeachu, anyone?
Large Pokémon are ridable – and they look awesome.
In a nice touch, players will be able to get on the back of a giant Onyx or cling onto an Arcanine's fur as they make their way around Kanto. How cool is that? In another nice touch, Pokemon running alongside you will also seek out hidden items and fetch them for you.
What is the 'core' Pokemon Switch Game Coming in 2019?
As well as this much-demanded gen 1 remake, The Pokémon Company was quick to reaffirm that a brand new Pokémon Switch adventure will be coming in 2019. Originally announced during Nintendo's 2017 E3 direct, the company has now confirmed that this brand new RPG will hit the Switch in the latter half of 2019.
While details are still light on the ground, Nintendo confirmed that this game will target a more 'core' audience. The company expanded on this by saying the yet to be titled Pokémon Switch will "follow in the tradition of Pokémon X and Y and Pokémon Sun and Moon."
UPDATE: Pokémon from Let's Go! Might be transferrable to the 2019 Switch game
While information on the new Pokémon Switch title is still thin on the ground, Gamefreak developer Junichi Masuda has given a new update on trading. Talking to NintendoEverything in a recent interview, Masuda explains that he would like Pokémon Let's Go to integrated Pokémon 2019.  Masuda talked of wanting to avoid any "bad memories" old Pokémon titles may have left thanks to their lack of forward thinking when it came to trading with future games.
"There have been times where you couldn't bring Pokémon over from previous titles – I imagine that created some bad memories. I want to try and change that if I can." It's not an outright conversation, but cross-connectivity with the Switch games is definitely sounding promising.
What Is Pokémon Quest?
Pokémon Quest is the only game on this list that you can play right now.  This bizarre-looking spin-off is a free-to-play game that's out now on Switch and that's coming to Android,  and iOS in June.
Set in a new location called Tumblecube Island, players are tasked with befriending these new blocky-looking Pokémon, discovering treasure and decorating the base camp where the Pokémon are stored.
—
That's all we know for now. We'll keep updating this as we get more information.