Caution: spoilers for Star Wars: The Last Jedi. 
Now that Star Wars: The Last Jedi is out, we can continue speculating the identity of Rey's parents and her connections to other characters in the films, specifically Kylo Ren. Kylo Ren and Rey didn't meet until part way through The Force Awakens. Their encounter left Kylo both scarred and impressed, as he recognized his own raw power in Rey. So who are they to each other? Strangers? Fellow pupils of Luke Skywalker? Or are they something more? Let's jump into the new revelations about these two characters from Star Wars: The Last Jedi.
"You Need a Teacher"
The relationship between Rey and Kylo Ren is complicated. Kylo had no idea who Rey was when he first landed on Jakku in The Force Awakens. When Rey escaped Jakku with Finn and BB-8, who was carrying the map to Luke Skywalker, Kylo went ballistic. When they met on Maz Kanata's planet, he decided her memory of the map was enough and left BB-8 behind. Both Snoke and General Hux questioned Kylo's motivations, perhaps because they were sensing something more to Ren's abduction of Rey. While torturing her, he caught a glimpse of her mind, feelings of loneliness, and visions of the ocean. She was able to resist, however, and could even see into his mind. It was then that they began engaging in some kind of Force tug-of-war.
Kylo told Snoke right away when he realized she was Force-sensitive. Snoke wanted Kylo to bring her to him, but Rey escaped. Rey then watched Kylo murder his father Han Solo, a man she had looked up to and idolized for years. Kylo and Rey met again in the snow of Starkiller Base. They fought against each other, hard, and were almost evenly matched. Sensing a strong presence of the Force in her, Kylo offered to teach Rey, to show her the ways of the Force. She bested him, injured him badly, and left him to die. They were each rescued by Chewbacca and Hux, respectively and would presumably never see each other again. Kylo would always remember her though, as the scavenger from Jakku who was worthy enough to wield Anakin and Luke Skywalker's blue lightsaber.
"The Force Is Strong in My Family"
The Last Jedi picked up with Rey on Ahch-To with Luke and Kylo on Snoke's cruiser recovering from his injuries. They were spread out far across the galaxy. Then something strange began to happen. Rey and Kylo could see each other. Not just see each other, but feel each other's surroundings. At one point, while Rey and Kylo were Force communicating (let's just call it that), Kylo wiped rain from Ahch-To off his hands. Their line of communication wasn't merely verbal, it was also tactile. They spoke daily while Rey was training with Luke on Ahch-To.
So what does this all mean? Have we seen this kind of Force communication before? The only two Force-sensitive people we have seen communicate like this on screen are Luke and Leia. In The Empire Strikes Back, Leia told Lando to fly the Millennium Falcon back to Cloud City because she could sense Luke's presence. When the Second Death Star is destroyed, Han asked Leia if Luke was on board. She said, "No." She could feel that he escaped. Luke and Leia shared this kind of bond because they are Force-sensitive and twins. Since Rey and Kylo can communicate in this way, are they also twins?
"Classified? Me Too. Big Secret."
The Last Jedi presents two answers to that question. As Rey and Kylo communicated across the galaxy, they built trust and intimacy. Rey felt like she was so close to Kylo — or Ben, as she called him — that she could turn him to the Light Side. This is the same way Luke felt about Darth Vader in Return of the Jedi. When Rey and Kylo confronted Supreme Leader Snoke, Rey and Kylo fought side by side. They were so in sync they almost fought like one person. But then something unexpected happened: Kylo told Rey that her parents were "no one." They were drunk smugglers, according to him, who sold Rey to Unkar-Plutt. This statement, if true, means that Rey and Kylo Ren are not related. But Siths have been known to lie. In fact, Siths ALWAYS lie to get what they want.
So, if we take Kylo Ren at his word, then Rey is not a Skywalker or a Kenobi or anyone. If we take the word of a Sith as nothing, then Rey's parents could still be significant. They HAVE to be. Why would Maz give a stranger Anakin Skywalker's lightsaber? That doesn't happen. Rey could have also blocked her parent's identity from Kylo to protect them, which would be an interesting twist, especially if her parents really were Han and Leia. How are Kylo and Ray able to Force communicate if they aren't related? Snoke said he connected them, but their connection lasted much longer than his lifespan.
The Sibling Theory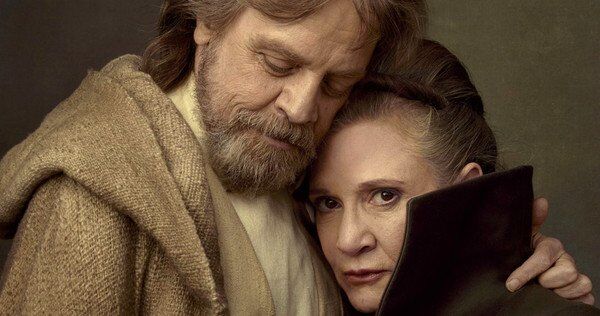 This was mirrored multiple times in the film. In multiple scenes, Rey could sense where Kylo was, and the frame would cut to Luke and Leia sensing each other. This happened many times. The film cuts back and forth between these four characters sensing each other, not romantically or even with an apprentice/master dynamic but familiarly. Almost every scene between Luke and Leia at the end of the Last Jedi cut between Rey and Kylo Ren. That has to be intentional. As the Snoke chamber scene revealed, Kylo's mouth says one thing while the Force is doing something else. He may have said Rey's parents were no one, but his bond with her is way too close to be anything but family-inspired.
Is there a point to all this mystery? Is there a reason JJ Abrams made a huge deal out of Rey's secret parents in The Force Awakens, and Rian Johnson tried to downplay it in The Last Jedi? Are they saving that big reveal for Episode IX? Regardless of the misdirects, Rey and Kylo's ability to connect through the Force is a strong signifier that something more is going on between them and — knowing Star Wars — they are probably brother and sister. Luke didn't learn that he had a sister until the third film in the original trilogy so its likely Rey and Kylo won't understand their true connection until Episode IX either.
Star Wars: The Last Jedi is currently in theaters.