Photos by Trish Troesh
Though Galaxy's Edge has been a truly impressive addition to Disneyland and Walt Disney World since it opened last summer, the Star Wars-themed land has also had housed an oddly quiet forest section off to one side, and that's because it's been distinctly missing one crucial component – Rise of the Resistance.
The centerpiece attraction for Galaxy's Edge was not ready in time for the land's opening, but finally made its debut in Orlando's Walt Disney World in December, and now is opening in Anaheim's Disneyland this weekend.
Suffice to say, Rise of the Resistance is well worth the wait. This is a theme park attraction unlike any other, combining elements you might find in many different types of rides into one engulfing experience that includes animatronics, movie footage, live actors, and more in order to bring Disney guests into the midst of a Star Wars battle in a way they likely never imagined was possible.
IMMERSION AND THEN SOME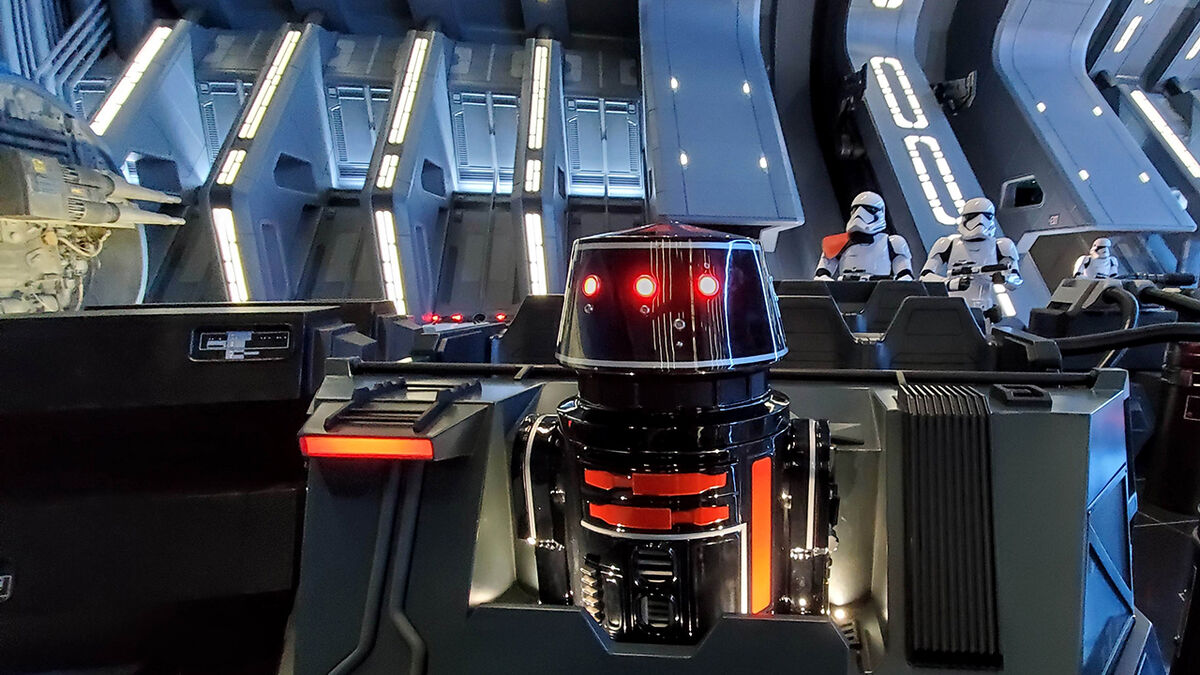 Galaxy's Edge itself prides itself on immersion, with highly detailed structures, roaming Star Wars characters like Rey, Chewbacca, and Kylo Ren, and food and drink themed to put you right in the middle of Star Wars. But while the Millennium Falcon: Smugglers Run ride puts you in the cockpit of the famous ship — and includes a crowd-pleasing walk through the Falcon itself — it feels quaint in comparison to what Rise of the Resistance does.
From the moment you enter the queue, Rise is meant to build a story, as you walk through a Resistance base, complete with a locker room (so that's how those X-Wing uniforms are stored!) and weapon depot.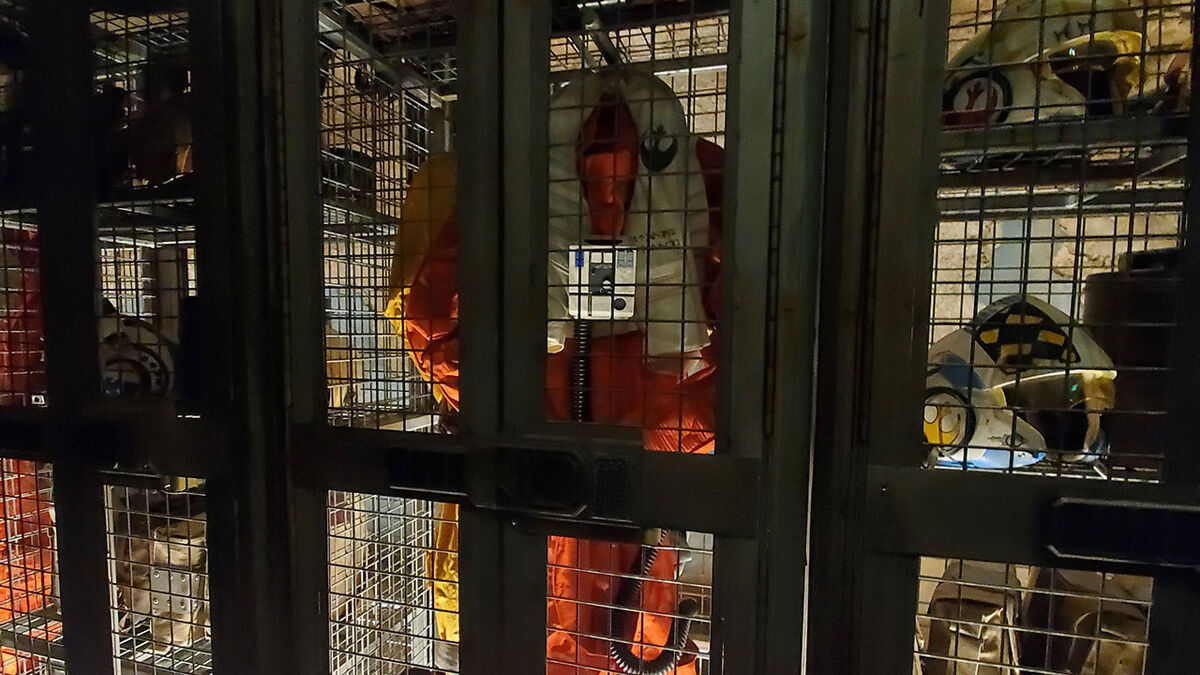 When the attraction-proper begins, it features many different components, beginning with numerous Disney cast members, some of whom portray Resistance members who escort you to a transport ship, which in turn brings in one of several highly detailed animatronic characters – some familiar, some new – while also using motion simulators and film footage to really sell the idea that you are on this ship, hurtling through space.
The sense that you are in the middle of the adventure is added to by the trackless vehicles you board at one point onboard the Star Destroyer Finalizer, and those in turn can take a couple different paths. Having gotten to experience both, I'll say the difference is most notable when you encounter the two towering, life-size AT-ATs. The attempts by the First Order to stop you can vary from a head-on encounter with an AT-AT to a different path along the side of the behemoths, where a Stormtrooper does his best to take you out. The "you are there" excitement is significant, with blasters and cannons causing damage all around you as the First Order tries to stop your escape.
The attraction is notably long, with the entire experience running over 15 minutes and includes several large full-size sets, as you walk through multiple Resistance and First Order bases and ships. Why go so big? Said John Larena, the Executive Creative Director, "I speak for all of us [at Walt Disney Imagineering] when I say we grew up with Star Wars. Growing up it meant so much to us. All I wanted to do was run around the corridors of a Star Destroyer. Why not do it for real?"
ADDING TO STAR WARS HISTORY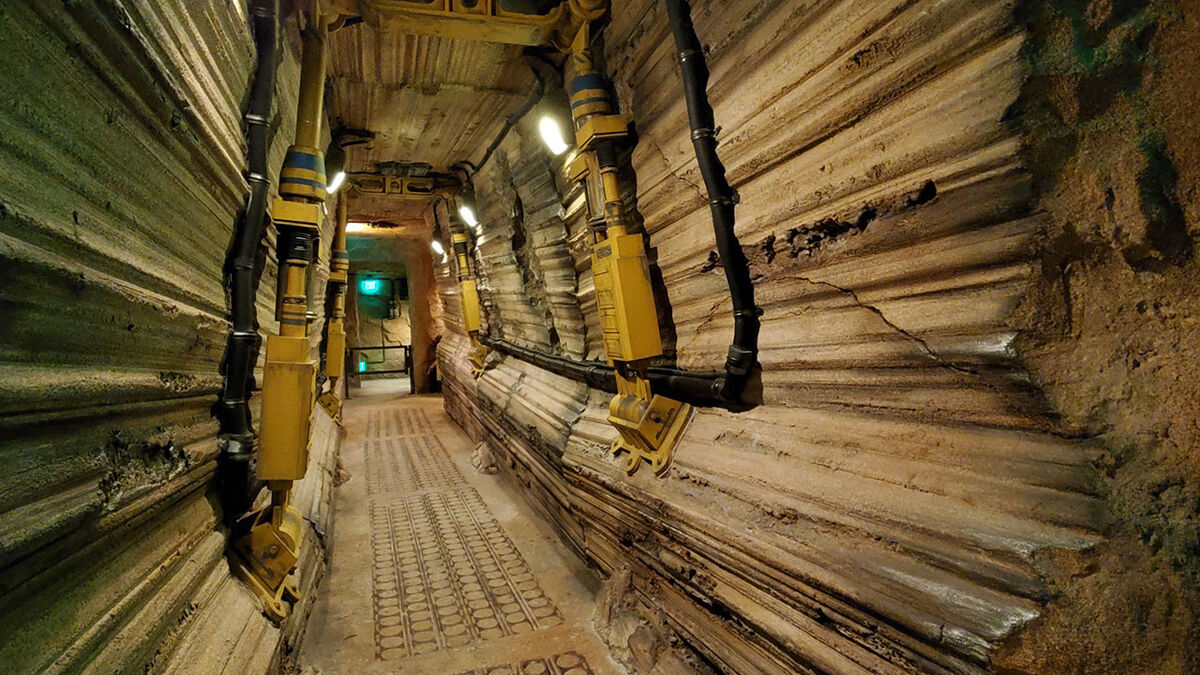 The queue for Rise of the Resistance is highly detailed, as you walk through that aforementioned Resistance base on Batuu, the planet which serves as the location for all of Galaxy's Edge. Art Director Kirsten Makela noted they thought a lot about exactly where this base was located, inside caves that had been inhabited by Batuu natives long ago.
"My job as an art director is to think about how those things and how the people who inhabited these spaces would actually build these spaces. In terms of the ancients, they probably had chisels and carved everything out of rock and that's what we did. We carved everything by hand. And then the Resistance, they don't have time. They're just trying to set up a clandestine camp so they're just trying to put all of their gear into these spaces. So you feel that, you feel that the Resistance is just trying to set up a makeshift camp in the space that they can. And if you move on to the First Order, we want to show you the juxtaposition, the contrast between the feel of being part of the Resistance and being part of the First Order."
Makela noted that compared to the Resistance, "The First Order has all the money in the world. They're building these huge war machines. Everything is very clinical and clean. You feel that difference when you're all of a sudden on the Star Destroyer. Everything is stark and has a militaristic feel to it. Even down to the floor. When you're watching the Star Wars films there's that iconic glossy floor. It's one of the things you might not think about when you're walking through the space, but we thought about it. We want you to feel that authenticity."
IT'S CANON
As noted, there's a lot of story elements to Rise of the Resistance and many familiar faces involved, with Rey, Finn, Poe Dameron and others popping up along the way (I was particularly delighted by a fairly prominent role for Nien Nunb), along with some new characters like Lieutenant Bek. This tale clearly takes place before The Rise of Skywalker, and yep, it's canon.
The recent release of Star Wars: The Rise of Skywalker Visual Dictionary makes more than one reference to the events of the attraction and the battle between First Order and Resistance forces that took place over Batuu – in fact, as it turns out, what happens in the ride has an effect on the career path of General Hux and arguably is a big factor in decisions we learn he's made in Episode IX.
While the Galaxy's Edge comic book has elaborated more on the circumstances leading up to and surrounding the battle (and the entire Galaxy's Edge land is set during this timeframe), it's the attraction itself that gives you the events that took place above Batuu. So when you're on the attraction, just remember – now you're canon too, from a certain point of view.
Interestingly, there is one notable continuity discrepancy in Rise of the Resistance, as Kylo Ren is seen wearing an undamaged version of his helmet throughout the attraction, even though we're in a period in the timeline after Ren destroyed it in The Last Jedi but before it was repaired in The Rise of Skywalker. My personal head canon is this was a temporary replica he wore of his first mask before he decided to fix the genuine article but I feel like we'll eventually get an official story that can give us a proper answer. And maybe that story takes place on Batuu as well…
---
Rise of the Resistance is now open at Disneyland and Walt Disney World's Star Wars: Galaxy's Edge.
For more on Star Wars lore, check out Wookieepedia at Fandom!