There's no doubt about it—Valentine's Day looks pretty different this year. Unless you're sharing lockdown with your special someone, the options are more than a little slim this side of the global pandemic. If you're looking for a chance to feel romantic while staying socially distant (and don't want to bother with an undoubtedly awkward Zoom Singles Mixer) then now might be the time to dip your toes into the weird and wonderful pool of romance games!
Whether you want a fairytale love story or an irreverent, sexy romp, there's a little something here for almost any lonely-hearted player. This handy guide will help you choose the game that gets you the best bang (or just some light hand-holding) for your buck.
So pour yourself a glass of something bubbly, break open a box of your favorite chocolates (even if you like those weird cherry cordial things, let your freak flag fly), and point-and-click your way to a Virtual Valentine.
1. Cinderella Phenomenon 
If you like: Once Upon a Time, Mirror Mirror, Ever After
Spice level: Mild
Platform: Windows, Mac, Linux
Developer: Dicesuki
If you're a fan of fairytale magic and sweet romance that's heavy on the sentiment and light on sexuality, Cinderella Phenomenon might be for you! Unlike the rest of the games on this list, Cinderella Phenomenon is free to download on Steam, making it a great entry-level choice if you're not quite sure what you're into yet. In spite of its low cost, this game holds its own alongside pricier romantic visual novels.
Cinderella Phenomenon takes place in the fictional kingdom of Angielle, a land filled with unrest, intrigue, and a mysterious magical epidemic, known as the "Fairytale Curse." The magic transforms people into twisted versions of fairytale characters, from a Rumpelstiltskin curse that causes amnesia to a Peter Pan curse that forces someone to look like a child no matter how old they get. You play as the crown princess of the land, Lucette, struggling to adjust to a new life four years after the loss of her mother. Everything is turned upside down when Lucette becomes a victim of her own Fairytale Curse and loses everything: her palace, her title, and all of her resources. On the run and desperate to put her life back together, Lucette befriends a cast of characters, each determined to break their respective Fairytale Curse, and finds adventure, redemption, and (depending on the choices you make) even love.
Cinderella Phenomenon has been praised for its charming art, rich fantastical world, and variety of storylines. There are five eligible bachelors to choose from, each with their own curse that needs to be broken. It should be noted that two of the most popular romanceable characters, Waltz and Fritz, are locked at the start of the game. Their storylines can only be pursued after two of the other available routes have been completed. So, if you find yourself drawn immediately to Fritz or Waltz on your first playthrough, you'll have to kiss a few frogs before you get to your chosen prince!
2. Arcade Spirits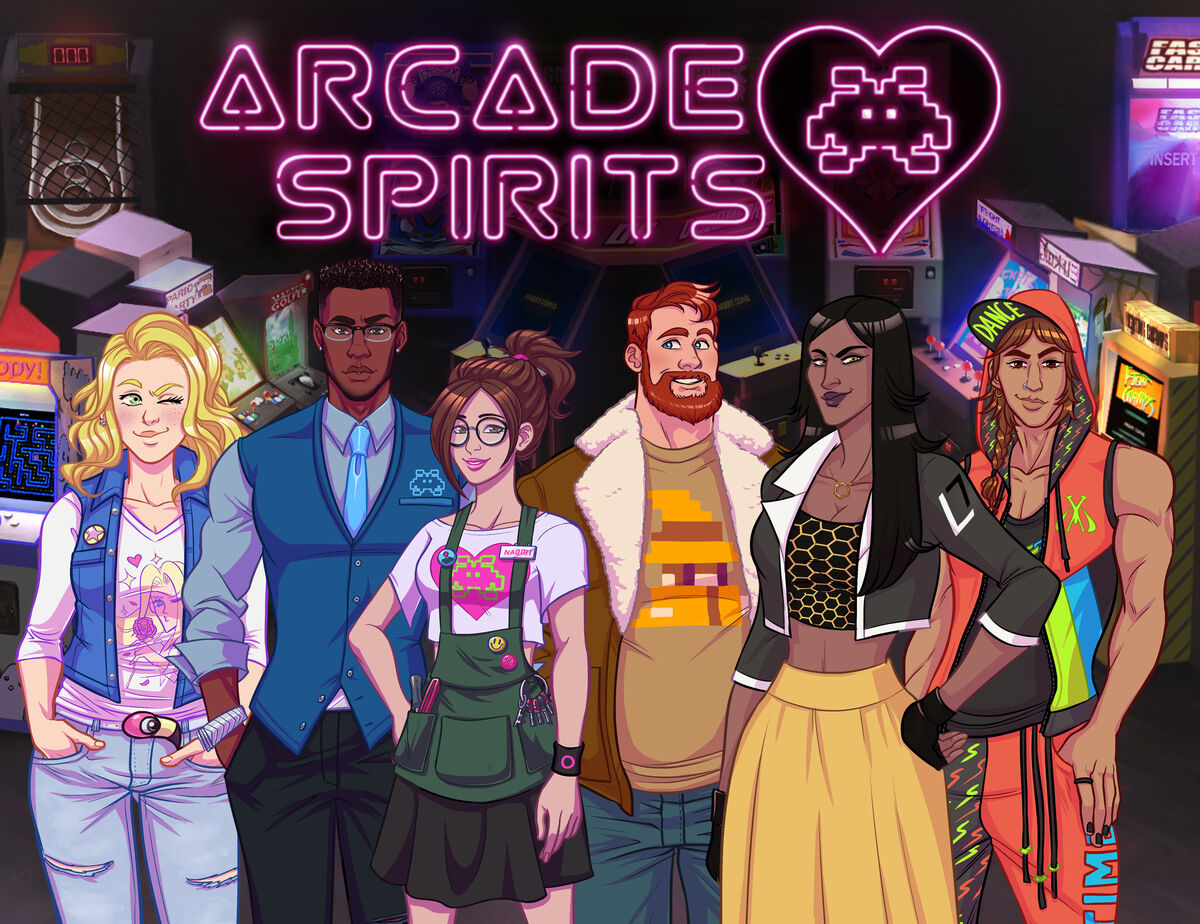 If you like: Steven Universe, Always Human, Immortal Nerd
Spice level: Mild
Platform: Nintendo Switch, PlayStation 4, Xbox One, Microsoft Windows, Linux
Developer: Fiction Factory Games
If you're drawn to retro arcade game aesthetics, stat-building, and sweet LGBTQ-inclusive storytelling, then Arcade Spirits is definitely up your alley. This visual novel is set in an alternate timeline where the 1983 video game crash never happened, leaving the arcade industry thriving. Playing as a customizable protagonist with your choice of skin tone, eye color, haircut, and pronouns, you take on a new job at the Funplex, a popular local arcade.
There, you can choose your own path and develop relationships (friendly or otherwise) with a cast of seven romanceable characters. Where many games in this genre fall short, Arcade Spirits shows a dedication to inclusivity with a variety of races and body types amongst its love interests, as well as male and female romance options no matter the gender of the player character. Feel free to follow your heart and pursue your childhood best friend Juniper, arcade game repairwoman Naomi, dance game aficionado Teo, accountant Gavin, esports legend QueenBee, cosplayer Ashley, or score chaser Percy. What good is a high score if you've got no one to share it with?
If you're new to Visual Novels, it may take you a little while to get used to the stat building mechanic in this one, but the writing, characters, and unique setting make it well worth the play.
3. Changeling
If you like: The Spiderwick Chronicles, The Vampire Diaries, Shadowhunters
Spice level: Mild
Platform: Windows, Mac
Developer: Steamberry Studio
If you like your fairytales with a bit more darkness and some urban fantasy edge, then you should check out Changeling. Drawing from the rich landscape of Irish faerie folklore, this game pairs romance with a compelling mystery and a hint of supernatural danger.
You play as a teenage girl returning to the town where she grew up—a town that is hiding more than its fair share of secrets. While trying to piece together the puzzle of her own past, she falls into a world of faeries, witches, vampires, and more, where there is just as much risk of destruction as there is promise of new love. There are six different (all male) love interests including a wizard, a vampire, a werewolf, and, in a first for the genre, a Dullahan (headless horseman of Irish folklore) with a motorcycle. Be careful—there are 40 different possible endings to this game and many of them are not so happy!
The art style may not be everyone's cup of tea, but if you can adjust to the distinct look of the game there is a lovingly crafted story and charming cast of characters waiting for you.
4. When the Night Comes 
If you like: Carnival Row, The Librarians, Penny Dreadful
Spice level: Scorching
Platform: Microsoft Windows, Linux, macOs
Developer: Lunaris Games
If you're looking for that urban fantasy flavor without the trappings of young adult fiction, When the Night Comes presents a more adult take on the genre. This first entry from indie developer Lunaris Games is another story that pairs romance with mystery and intrigue. You play as a monster Hunter, whose name and pronouns you can choose, that has been assigned to the town of Lunaris to aid in the investigation of several strange, supernatural murders.
This game has snappy dialogue, beautiful art, and the widest variety of romance options on this list. There are several male love interests (Finn the vampire, Ezra the witch, Omen the demon, and Alkar the werewolf), but the game also also features a female love interest (Piper the Hunter) and a nonbinary love interest (August the General).
If you like the characters so much you have trouble choosing just one to fall for, you're in luck! There are two polyamorous romance routes available, allowing the player to enter into a relationship with both Finn and Ezra, or Alkar and Omen. You can customize your experience even further with the option to pursue a romance that's on the chaste side, or unlock several sexual scenes for each character path. If you're still not satisfied once you finish the game, there are three mini stories in the world of When the Night Comes that are included with your purchase. This may be the only completed project from Lunaris Games so far, but it leaves a strong impression and makes this developer one to watch out for!
EDIT: When the Night Comes is not available for download as of February 11, 2021. It has been taken down in preparation for a revamped re-release, with added voice acting and other features. The developer plans to make it available again in the Spring.
5. The Confines of the Crown 
If you like: Snow White with the Red Hair, Game of Thrones, The Song of the Lioness books
Spice level: Medium
Platform: Microsoft Windows, Linux, macOS
Developer: Hanako Games
Do you love the political games and royal intrigue of Game of Thrones but wish it were less of a massive bummer? Are you interested in a story about a capable, self-possessed heroine looking out for a cute, tender-hearted prince? Welcome to the world of The Confines of the Crown.
The central character of this game is Madeleine Valois, companion to Prince Oscar. Her royal duty is to act as his guide and advisor, help him find a match for a successful marriage, and to keep him from getting into any trouble. However, when the princess that Oscar is supposed to marry disappears, he is suspected of being involved. While trying to get to the bottom of the mystery and fulfill her royal duty to Prince Oscar, Madeleine is forced to navigate a tangled world of ambition, lies, and power. She may find herself pulled deeper into peril, or she might find love and a happy ending of her own.
While many romance games have passive protagonists with thinly written personalities, Madeleine is a character that the player can root for as they guide her along her exciting journey. The world of the game also puts a thoughtful spin on its royal setting, a kingdom where the women inherit their family's titles, wealth, and societal rank.
Just like the setting and the heroine, this game's characters also defy expectations. Each of the five love interests (four men and one woman) may seem easy to read at first, but, as the layers are peeled back, they are revealed to be much more than meets the eye. This is a game with a wide variety of story elements at play, and it offers a great deal of replay value to players who want to spend more time in its world.
6. Dream Daddy: A Dad Dating Simulator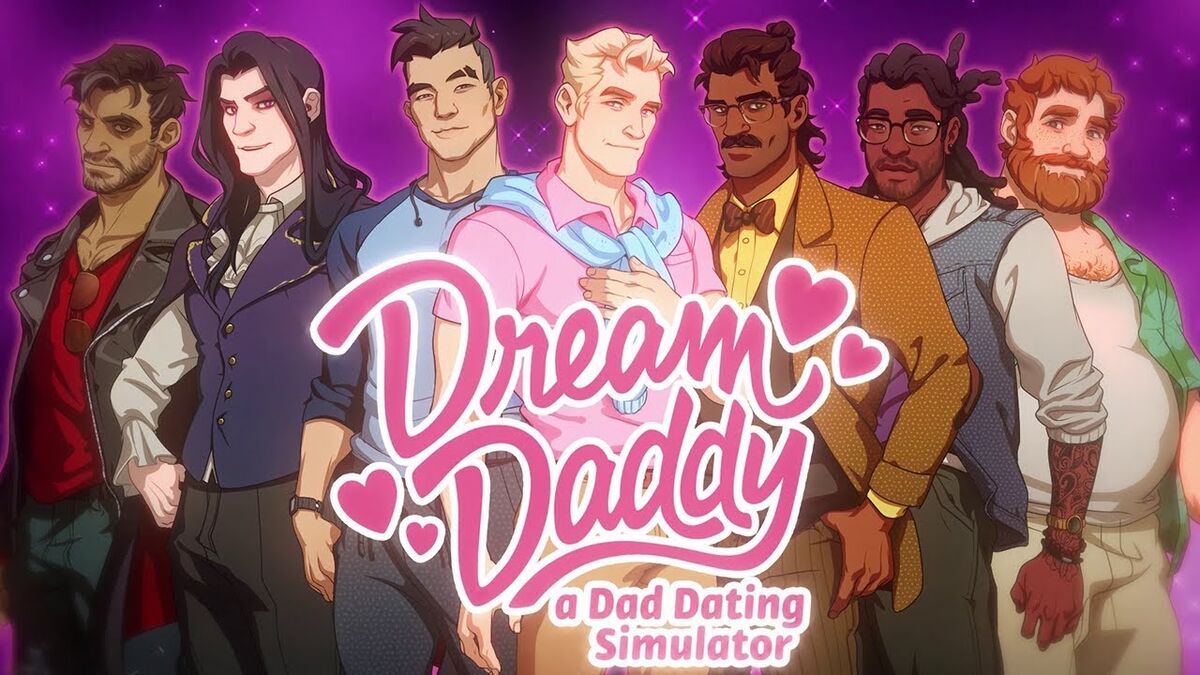 If you like: Schitt's Creek, Everything's Gonna Be Okay, dad jokes
Spice level: Medium
Platform: Nintendo Switch, PlayStation 4, Android, Microsoft Windows, Linux, macOS
Developer: Game Grumps
This game is exactly what it says it is: a dad dating simulator. In this surprise hit from the Game Grumps, you play as a single dad moving into a new neighborhood with your teenage daughter, Amanda. There, you can meet and romance a variety of handsome, eligible dads that all miraculously happen to live on your cul-de-sac.
When first described, the game may sound like a bit of a joke, and it certainly has a sense of humor (and a pretty high pun count). However, it also has an earnest heart, a surprisingly sweet emotional core, and a commitment to inclusivity and making its players feel seen and understood.
One of the most unique aspects of Dream Daddy is the character customization mechanic, which allows the player to create their Dadsona from a range of body types, skin tones, style choices, and gender presentations. The game even includes the option to play as an explicitly trans character if one so chooses, and has dialogue options that allow the player character to choose the gender of their past partner.
So what about the eponymous dads? Are they as dreamy as the title would suggest? For the most part, yes. Dream Daddy boasts a wide range of romanceable dads with a variety of body types and races, and each one has a distinct personality, a variety of interests, and a rich inner life. Several fan favorites include Mat, a sweet and clever coffee shop owner who loves music as much as he hates struggling with anxiety, Brian, a bearded bear with a competitive streak hiding a soft heart, and Damien, a goth dad whose intense exterior is only the tip of a deeply tender iceberg. Whatever kind of dad catches your fancy, you can chat with them around town, hit them up for dates on Dadbook, and catch up at the neighborhood barbecue!
Be warned though: not every storyline is as sweet as the candy-colored art may imply. Dating is hard (even harder with kids) and some of the storylines are a bit more bittersweet. However, if you're willing to take the risk, and wade through a few frustrating mini games, Dream Daddy more than makes up for it with clever dialogue, delightful characters, and a story about family, fatherhood, and letting yourself love again. To quote the home screen's unreasonably catchy theme song: who's gonna be your dream?
7. Love Spell: Written in the Stars 
If you like: Kamisama Kiss, Fruits Basket, School Rumble
Spice level: Medium
Platform: Microsoft Windows
Developer: Great Gretuski Studios LLC
Have you ever asked yourself, "What if Death Note was a romantic comedy with a wide array of handsome anime boys and a talking penguin?" If you've ever wondered that incredibly specific thing for some reason, you're in luck! Love Spell: Written in the Stars is pretty much that. This first game from all-female indie game studio Great Gretsuki Studios revolves around a young female protagonist who saves the life of a strange old woman and is given a magical notebook in return. If she writes a person's name in the notebook, they will fall in love with her until the next full moon. After a bad day, and a few too many drinks, our main character writes down the name of a chosen bachelor in the book, and hijinks ensue!
It's a simple (if silly) premise, but the art and writing capture all the charms of shoujo anime and will definitely appeal to fans of the genre. The gameplay is relatively passive, with fewer choices built into it than many of the other games on this list, but there are still a variety of paths to explore and endings to unlock. Guided by Philia, a magical talking penguin with a snarky sense of humor and a love of cheese, you can pursue one of four romanceable men: Marcello, a mysterious wealthy entrepreneur; Jamie, an agreeable barista; Florian, a sharp and witty professor; and Enix, the obligatory childhood best friend. Overall, it's a unique entry into the romantic comedy genre that plays with tropes, doesn't take itself too seriously, and knows exactly what it is.
8. So May it Be: A Witch Dating Simulator
If you like: Charmed, Practical Magic, Emily is Away
Spice level: Mild
Platform: Microsoft Windows, macOS
Developer: Planchette Games
If you, like many of us, have been charmed by the mainstream resurgence of witchy aesthetics, you may enjoy spending time in the nostalgic, weird, lovely world of So May it Be. In this indie visual novel you play as a teenage witch with a coven of three witchy friends (and potential love interests). Chat with your coven on instant messenger, get to know them through point-and-click scenes and mini games, and choose a date for the local Harvest Festival.
This game is a good deal shorter and less involved than the others on this list, but there is something undeniably delightful about it. The pleasant illustrations, distinct visual style, and cozy atmosphere are like sipping a cup of tea in a soft sweater with a black cat curled up in your lap. Where Dream Daddy is a game catering to men who love men, So May it Be is sweetly sapphic from start to finish. There are only three love interests in this game, but each character is distinct and wonderful in their own way. There's Morgan, the snarky badass with an affinity for death; Erin, the soft-spoken kitchen witch hiding her craft from her parents; and Brigid, the popular (but secretly sad) witch with a love of nature and all things pink. Each character path comes with several minigames, including tarot card readings and wicker pentacle crafting.
The short length and simple gameplay make So May it Be a low-key, relaxing love story that you can explore at your own pace. It may not be as flashy as other similar games, but it still has a magic all its own.
So why not try something new this Valentine's Day? It's been an extra difficult year, and we all deserve a little bit of fantasy right now. So, if you're feeling romantic, download one of these games and escape for a little while. No matter how it goes, at least a game can't leave you on read.