Spring TV is in the air. Fresh off the winter hiatus, here are the new and returning shows to watch in the upcoming months.
Shows marked with * are new premieres.
DRAMA
[ooyala video=o2MGs1MzE6M5fwP_9qGAx6D35Ndk01HX caption = "Penny Dreadful"][/ooyala]
Feed the Beast*
Tuesdays 10 p.m., AMC (Series Premiere May 31)
Based on a Danish series, two best friends (David Schwimmer and Jim Sturgess) open up their dream restaurant in the Bronx and find themselves caught up in the criminal underworld of the restaurant industry.
Powers
PSN, (Season 2 Premiere May 31)
Powers Division Detectives Christian Walker (Sharlto Copley) and Deena Pilgrim (Susan Heyward) investigate who killed Retro Girl. New characters played by Michael Madsen, Tricia Helfer, and Wil Wheaton join this season.
Scream
Mondays 10 p.m., MTV (Season 2 Premiere May 30)
Emma returns to Lakewood several months after the murderous events of last season, Audrey is trying to hide her connection to the killer, and Lakewood's residents are once again in danger.
Bloodline
Netflix (Season 2 Premiere May 27)
The Rayburns try to hide their crime and as they go deeper into a web of deception, their familial bonds are strained and tested. John Leguizamo joins the cast as a criminal from Danny's past.
Wayward Pines
Wednesdays 9 p.m., FOX (Season 2 Premiere May 25)
After Season 1 explosive finale, the residents of Wayward Pines find themselves in a revolution against the First Generation. New faces in the form of a doctor (Jason Patric) and historian (Djimon Hounsou) come to town, and we haven't seen the last of the abbies.
Preacher*
Sundays 10 p.m., AMC (Series Premiere May 22)
An adaptation of a comic book series, the show stars a small-town Texas preacher (Dominic Cooper) who can command the power of God. A gun-toting ex-girlfriend, Irish vampire, and shotgun suicide survivor round out the crew. The show is developed by Evan Goldberg, Seth Rogen, and Sam Catlin.
Marseille*
Netflix (Series Premiere May 6)
The long term mayor of Marseille (Gerard Depardieu) finds himself in a heated political when his former protege, now rival, decides to stop at nothing to win the upcoming election.
Houdini and Doyle*
Mondays 9 p.m., FOX (Series Premiere May 2)
Two of the most iconic characters of the 20th century, Harry Houdini (Michael Weston) and Arthur Conan Doyle (Stephen Mangan), team up to investigate unsolved and possibly supernatural mysteries.
Penny Dreadful
Sundays 10 p.m., Showtime (Season 3 Premiere May 1)
The horror drama starring famous literary characters continues with new and returning faces. Ethan, Dr. Frankenstein, Dorian Gray, and Lily must face and embrace their monstrous selves, though doing so could prove costly for Vanessa. This season, we meet Dr. Jekyll, a mysterious zoologist, and a supernatural expert.
The Night Manager*
Tuesdays 9 p.m., AMC (Miniseries Premiere Apr. 19)
Tom Hiddleston is a former soldier turned hotel manager who is recruited by a British Intelligence officer to help take down a dangerous international arms dealer (Hugh Laurie) in the six-part miniseries based on John le Carré's best-selling spy novel.
Containment*
Tuesday 9 p.m., CW (Series Premiere Apr. 19)
When a contagious and deadly epidemic breaks out in Atlanta, the city is quickly quarantined, causing consequences for those both inside and outside the infected area. Based on a Belgian TV series and brought to you by Executive Producers Julie Plec (The Vampire Diaries and The Originals) and David Nutter (Arrow and The Flash).
Bones
Thursday 8 p.m., FOX (Season 11 Return Apr. 14)
Post explosion, Hodgins is wheelchair bound and eight weeks into his rehabilitation, testing his and Angela's marriage. Booth and Brennan investigate the murder of a public defender who has multiple previous clients all with a motive to kill.
Fear The Walking Dead
Sundays 9 p.m., AMC (Season 2 Premieres Apr. 10)
Los Angeles is burning and the apocalypse has driven the remaining survivors to sea. They soon discover the dangers on the ocean are at least as deadly as the dangers on land, and there is no safe harbor anywhere.
The Girlfriend Experience*
Sundays 8 p.m., Starz (Series Premiere Apr. 10)
Riley Keough is a law student who ventures into the world of high-class escorts, providing "girlfriend experiences" for paying clients. Steven Soderbergh is an executive producer and also directed the 2009 film that inspired the series.
Outlander
Saturdays 9 p.m., Starz (Season 2 Premieres Apr. 9)
Claire and Jamie trade Scotland for France, where a new vie dangereuse awaits them. The couple attempt to prevent the Jacobite uprising and rewrite history by infiltrating the French aristocracy.
Game of Silence*
Thursdays 10 p.m., NBC (Series Premiere Apr. 7)
A successful young attorney (David Lyons) finds his world turned upside down when his childhood friends — and their shared dark secret — suddenly reemerge into his life.
Banshee
Fridays 10 p.m., Cinemax (Season 4 Premiere Apr. 1)
An ex-con (Antony Starr) on the run from a powerful crime lord assumes the identity of a murdered sheriff in the small town of Banshee in Pennsylvania Amish country. Fourth and final season.
Empire
Wednesdays 9 p.m., FOX (Season 2 Return March 30)
The king has fallen. Lucious, ousted from his throne, is at odds with Hakeem on the CEO front and Jamal on the music front, the fate of two Lyon cubs remains to be seen, and Cookie's claws are out as she fights for both the family and empire.
The Path*
Hulu (Series Premiere March 30)
Hugh Dancy, Aaron Paul, and Michelle Monaghan star in the new drama about a controversial faith-based movement (aka cult) and the struggles around faith, family, and power.
The Catch*
Thursdays 10 p.m., ABC (Series Premiere March 24)
Shonda Rhimes continues Thursday night TV domination with her newest TGIT addition. A fraud investigator (Mireille Enos) has built a career on catching con artists until one day she is conned by her own fiance. A twisty cat and mouse game ensues.
Heartbeat*
Wednesdays 8 p.m., NBC (Special Preview March 22, moves to Wednesdays March 23)
In this new medical drama, Melissa George is a renowned heart surgeon who operates at her own beat and balances intense situations in both her professional and personal life.
The Americans
Wednesdays 10 p.m., FX (Season 4 Premiere March 16)
Affairs on the homefront get more dangerous and complicated now that Paige knows about her parents' true identities, and iconic moments from the '80s show up throughout the season.
Of Kings & Prophets*
Tuesdays 10 p.m., ABC (Series Premiere March 8)
The new Biblical drama tells the tale of King Saul (Ray Winstone) of the Israelites, the prophet Samuel, and the shepherd David who would eventually become king.
Quantico
Sundays 10 p.m., ABC (Season 1 Return March 6)
The Grand Central bomber is still unknown and the back half of Season 1 picks up after a time jump. We'll discover who was killed in the second explosion as well as the culprit(s) and his/her/their motives. The heat is off of Alex (for now), and three new NATs are introduced.
House of Cards
Netflix (Season 4 Premiere March 4)
It's election year, and the darkest side of politics is front and center as Frank and Claire Underwood undermine each other in pursuit of power. New faces – Neve Campbell, Joel Kinnaman, Cicely Tyson, and Ellen Burstyn – join the ticket.
The Family*
Sundays 9 p.m., ABC (Series Premiere March 3, moves to Sundays starting March 6)
Claire Warren (Joan Allen) is a PTA mom turned Mayor, whose political aspirations and family life are turned upside down with the return of her son, who was kidnapped over a decade ago and presumed dead. His welcome is less than warm, as there are doubts he really is who he claims to be.
11/22/63*
Hulu (Series Premiere Feb. 15)
An English teacher travels back in time and attempts to prevent the assassination of John F. Kennedy and finds out the past doesn't want to be changed. This Hulu miniseries stars James Franco and is based on the Stephen King bestseller.
Better Call Saul
Mondays 10 p.m., AMC (Season 2 Premiere Feb. 15)
Doing the right thing has gotten Jimmy McGill nowhere fast, and he continues on his dark path to becoming the criminal/lawyer Saul Goodman. Plus there's more muscle man Mike, love interest Kim, big bad brother Chuck, as well as possible cameos from other Breaking Bad characters.
Vinyl*
Sundays 9 p.m., HBO (Series Premiere Feb. 14)
New York music scene, 1970s. Sex, drugs, rock and roll. Executive Producers Martin Scorsese, Terence Winter, and Mick Jagger. What else do you need to know?
The Walking Dead
Sundays 9 p.m., AMC (Season 6 Return Feb. 14)
The new big bad, Negan, and his group of Saviors turn up to wreak irrevocable havoc on the survivors. Robert Kirkman has called Negan a "kind of atomic bomb that's going to be dropped on the show." Brace for impact.
Grey's Anatomy
Thursdays 8 p.m., ABC (Season 12 Return Feb. 11)
Grey Sloan Memorial Hospital should open up a heartbreak treatment center. Meredith is the victim of a surprising and violent attack, and the future of Jo and Alex's and April and Jackson's relationships are revealed. The midseason premiere is also directed by Denzel Washington.
How to Get Away With Murder
Thursdays 10 p.m., ABC (Season 2 Return Feb. 11)
In the wake of Annalise's shooting, the complicated relationship between Annalise and Wes is explored further, and a new wealthy and possibly (probably) murderous family joins the client roster.
Scandal
Thursdays 9 p.m., ABC (Season 5 Return Feb. 11)
There's been a six-month time jump and Olivia is a changed woman from the time she left both Fitz and the White House. Looks like it's time to get the gang back together for some full-time gladiating.
American Crime Story*
Tuesdays 9 p.m., FX (Series Premiere Feb. 2)
The new docudrama's first season, The People v. O.J. Simpson, is based on 1994's "trial of the century." Directed by Ryan Murphy, the series has famous actors portraying famous people: Cuba Gooding, Jr. as the famed football player, Sarah Paulson as lead prosecutor Marcia Clark, and Courtney Vance, John Travolta, and David Schwimmer as defense attorneys Johnny Cochran, Robert Shapiro, and Robert Kardashian, respectively.
The X-Files*
Mondays 8 p.m., FOX (Two Part Series Premiere Jan. 24 and 25)
In the six-episode event, Agents Mulder and Scully reunite to investigate the paranormal and find the truth that's still out there. Over a decade later, monsters, mythology, and the Cigarette Smoking Man are still alive and kicking.
COMEDY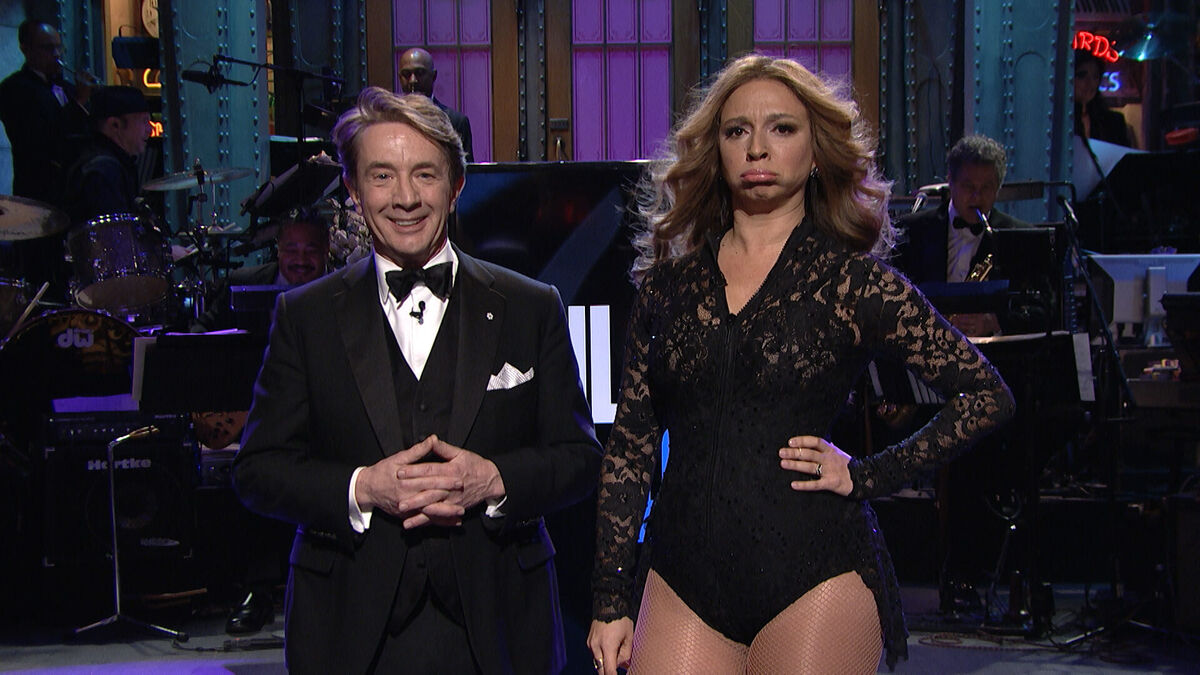 Maya and Marty in Manhattan*
Tuesdays 10 p.m., NBC (Series Premiere May 31)
Maya Rudolph and Martin Short and Keenan Thompson launch a new variety sketch show with comedy bits, musical numbers, and celebrity guests. The show will air live at 30 Rock and is produced by SNL mastermind, Lorne Michaels.
Chelsea*
Netflix (Series Premiere May 11)
Comedienne Chelsea Handler debuts her new (and Netflix's first) 30-minute talk show, streaming every Wednesday, Thursday, and Friday. Her show will cover real topics in her signature style of humor and feature celebrity guests.
Grace and Frankie
Netflix (Season 2 Premiere May 6)
Both Grace and Frankie deal with the end of their marriages after their now ex-husbands slept together. The two will find their new identities, deal with getting older, and explore new relationships and love interests.
Veep
Sundays 10:30 p.m., HBO (Season 5 Premiere Apr. 24)
After an unprecedented tied election at the end of last season, Selina attempts to act presidential, deal with security breach by Chinese hackers, and prevent an economic collapse.
Silicon Valley
Sundays 10 p.m, HBO (Season 3 Premiere Apr. 24)
The fate of Pied Piper remains uncertain as Richard tries to reclaim control after being ousted as CEO and Hooli still views them as a threat to take down. Stephen Tobolowsky joins the cast as Pied Piper's new CEO, "Action" Jack Barker.
Deadbeat
Hulu (Season 3 premiere Premiere Apr. 20)
A slacker and gifted medium (Tyler Labine) , along with his drug dealer best friend (Brandon T. Jackson), help New York's ghosts settle their unfinished business. Cat Deeley co-stars as a famous medium and rival.
Unbreakable Kimmy Schmidt
Netflix (Season 2 Premiere Apr. 15)
The titular world's happiest ex-doomsday cult member and her band of merry misfits are back for more New York adventures. The impressive list of guest stars includes Fred Armisen, Anna Camp, Amy Sedaris, Zosia Mamet, Jeff Goldblum, David Cross, and Tina Fey (again).
The Mindy Project
Hulu (Mid-season 4 Premiere Apr. 12)
After conflicting opinions on parenthood, it looks like Mindy is back in her old apartment and baby-proofing the place. The second half of the season continues its realistic tone, but expect typical Mindy quips and funny moments as well.
The Detour*
Mondays 9 p.m, TBS (Series Premiere Apr. 11)
Created and based on couple Jason Jones and Samantha Bee's real life experiences, the series stars Jones as the patriarch of a family stuck in close quarters on a disaster-filled road trip.
Dice*
Sundays 9:30 p.m., Showtime (Series Premiere Apr. 10)
Andrew Dice Clay stars in the semi-autobiographical series — the comedian moves his family to Las Vegas, deals with gambling debts, and tries to revive his stand-up career.
House of Lies
Sundays 9 p.m., Showtime (Season 5 Premiere Apr. 10)
The Pod is back together as Jeannie goes back to Kaan & Associates, the gang go after bigger deals and billion dollar clients, and Marty gets a tempting offer to sell his firm. The season finale was shot in Cuba, making House of Lies the first American scripted series shot in the country since diplomatic relations were restored last summer.
Catastrophe
Amazon (Season 2 Premieres Apr. 8)
The British raunchy rom-com stars Rob Delaney as an American ad exec and Sharon Horgan as an Irish schoolteacher who have a week long fling, get unexpectedly pregnant, and then get quickly hitched. Season 2 picks up after a time jump with the same messes but a new baby.
The Ranch*
Netflix (Series Premiere Apr. 1)
A failed semi-pro football player (Ashton Kutcher) returns home to help his family run their Colorado ranch and reconnect with his jilted high school girlfriend (Elisha Cuthbert). Sam Elliott and Debra Winger play his estranged parents and Danny Masterson plays his older brother, Rooster.
Archer
Thursdays 10 p.m., FX (Season 7 Premiere March 31)
The gang is relocating to Los Angeles, where under Cyril's authority, they are running a detective agency targeted to the Hollywood elite. Keegan-Michael Key, J.K. Simmons, Patton Oswalt, and Christian Slater will all lend their voice talents.
Rush Hour*
Thursdays 10 p.m., CBS (Series Premiere March 31)
In this reimagining of the popular movie franchise, two polar opposite detectives – a wisecracking LAPD cop and a by-the-book Hong Kong martial artist – team up to form an unlikely and hilarious partnership. Brett Ratner, the original film's director, is executive producing.
Crowded*
Sundays 9:30 p.m., NBC (Series Premiere March 20)
Newly empty nesters (Patrick Warburton and Carrie Preston) find their peace and freedom short-lived when both their adult daughters as well as their retired parents move back in.
Party Over Here*
Saturdays 11 p.m., FOX (Series Premiere March 12)
The Lonely Island comedy trio (Andy Samberg, Akiva Schaffer, and Jorma Taccone) and Paul Scheer are bringing another live-audience sketchy comedy show to Saturday night. The series stars Nicole Byer, Alison Rich and Jessica McKenna and covers everything from pop culture to politics.
The Characters*
Netflix (Series Premiere March 11)
Eight up-and-coming comedians write, star, and pretty much do whatever they want in their own episode of this new sketch comedy series. No limits, just laughs.
Flaked*
Netflix (Series Premiere March 11)
Will Arnett stars in the new dramedy as Chip, a self-help guru in Venice, California. When he starts to fall for the woman his best friend desires, the lies that serve as the foundation of his public image start to unravel.
The Last Man on Earth
Sundays 9:30 p.m. FOX (Season 2 Return March 6)
The second half of the post-apocalyptic comedy picks up with astronaut Mike crash landing on Earth and will have a look back at a young Phil #1, played by Hollywood's current pint-sized darling, Jacob Tremblay.
The Real O'Neals*
Tuesdays 8:30 p.m., ABC (Series Premiere March 2, moves to Tuesdays on March 8)
The O'Neals look like a model Catholic family on the outside, but here's the real deal: parents Eileen and Pat (Martha Plimpton and Jay R. Ferguson) are contemplating divorce, and from oldest to youngest, their three kids are anorexic, immoral, and gay.
Fuller House*
Netflix (Series Premiere Feb. 26)
Oh, Mylanta! The next generation of the Tanner family is moving back into that familiar San Francisco Victorian: recently widowed D.J. Tanner-Fuller and her three sons, along with her sister, Stephanie, and best friend Kimmy. Danny, Uncles Jesse and Joey, and Aunt Becky are also just around the bend.
Broad City
Wednesdays 10:30 p.m., Comedy Central (Season 3 Premiere Feb. 17)
Abbi and Ilana are back with a whole set of struggles in New York City, including a DMV visit, a rat in their apartment (please let it be pizza rat), and new "job responsibilities." Hillary Clinton is also scheduled for a guest appearance. Yaas, queen.
Animals*
Fridays 11:30 p.m., HBO (Series Premiere Feb. 5)
Animals, they're just like us. The Duplass brothers' new animated series delves into the minds and lives of New York creatures — rodents, pigeons, bedbugs, dogs, cats, etc. — and features voices by the likes of Jessica Chastain, Nick Kroll, Adam Scott, and Wanda Sykes.
You, Me & the Apocalypse*
Thursdays 8 p.m., NBC (Series Premiere Jan. 28)
It's 34 days before a devastating comet is about to destroy Earth. Don't worry though, because an edgy priest, a wrongfully imprisoned convict, a rightfully imprisoned convict, and a down-on-his-luck bank manager will likely be part of the future of mankind. Phew.
FANTASY/SCI-FI
Game of Thrones
Sundays 9 p.m., HBO (Season 6 Premiere Apr. 24)
We're ahead of book territory so it's the wild, wild Westeros.
Bran
, fresh from training with the
Three-Eyed raven
, is back; another Greyjoy is introduced; Daenerys' dragons will double in size; and
Jon Snow
, well, we still know nothing.
12 Monkeys
Mondays 9 p.m., Syfy (Season 2 Premiere Apr. 18)
Cole (Aaron Stanford) is a time traveler is sent back in time to prevent a dark, bleak future caused by an enigmatic organization, the Army of the 12 Monkeys. After the future was altered, Season 2 finds Cole in a different place and time, but with the same mission.
Orphan Black
Thursdays 10 p.m., BBC America (Season 4 Premiere Apr. 14)
The show goes back to the beginning and reexamines the mystery that Beth's death launched. Sarah and Felix's relationship is tested, Donnie and Alison adjust to their new and pregnant roommate Helena, Delphine's fate comes into play, and we meet yet another clone.
Hunters*
Mondays 10 p.m., Syfy (Series Premiere Apr. 11)
An FBI agent's (Nathan Phillips) investigation of the disappearance of his wife uncovers a secret government organization created to take down a group of ruthless alien terrorists called Hunters.
Stitchers
Tuesdays 9 p.m., Freeform (Season 2 Premiere March 22)
After his near death experience, Cameron has a reinvigorated take on life, and Kirsten's emotions have been rebooted. More mysteries around the overall Stitchers program arise, and show settles into a darker look and feel.
Bates Motel
Mondays 9 p.m., A&E (Season 4 premieres March 7)
The Psycho prequel continues to chronicle Norman's downward descent into madness and murder, while his mother Norma desperately tries to get him professional help, driving a wedge into their already complicated relationship.
Damien*
Mondays 10 p.m., A&E (Series Premiere March 7)
A sequel to the 1976 film, The Omen, the series follows the now-adult Damien who has forgotten his Antichrist past and has become a 30-year-old war photographer. Neither clearly good or evil, Damien will face his humanity as he struggles down the path towards his destiny.
Once Upon a Time
Sundays 8 p.m., ABC (Season 5 Return March 6)
The mid-season premiere is also the show's 100th episode. Emma and the gang head to the Underworld to rescue Hook and come face to face with characters from their pasts.
The Vampire Diaries
Thursdays 8 p.m., CW (Season 7 Return Jan. 29)
The Phoenix Stone scars Damon, Caroline and Alaric prepare for the birth of their twins, and Mystic Falls gets a new vampire hunter. Stefan heads to New Orleans to find refuge and runs into Klaus in a crossover with The Originals.
The Originals
Thursdays 9 p.m., CW (Season 3 Return Jan. 29)
Klaus avenges Cami, new regent Vincent is forced to use magic against his will, and a new weapon that could take down the Mikaelsons ends up in the wrong hands.
Lucifer*
Mondays 8 p.m., FOX (Series Premiere Jan. 25)
The devil has retired in the City of Angels, where he uses his underworldly talents to run a nightclub and — very against-type — help the LAPD catch and punish criminals.
The Magicians*
Mondays 9 p.m., SyFy (Series Premiere Jan. 25)
If Hogwarts continued on into a cutthroat university, that would be Brakebills College for Magical Pedagogy. Quentin Coldwater is chosen to attend the college, and a whole world of magic — and its dangers — is revealed.
The 100
Wednesdays 9 p.m., CW (Season 3 Premiere Jan. 21)
Clarke, tormented by her gut-wrenching decision at Mount Weather, is on a solo walkabout with a bounty on her head. Things get political once again between the Sky People and Grounders, and we learn more about the world's deadliest hologram, A.L.I.E.
ACTION/ADVENTURE
[ooyala video=w3M3E0MjE6sLuhxS5G8EjO8-V6dlPX-J caption="Daredevil"][/ooyala]
Daredevil
Netflix (Season 2 Premiere March 18)
Matt Murdock has grown into his role as protector of Hell's Kitchen but new allies and foes arise. Former-flame Elektra, who reappears with news that the Yakuza never left; The Punisher, a deadly vigilante driven by vengeance; and The Hand, a dark ninja order.
Marvel's Agents of S.H.I.E.L.D.
Tuesdays 9 p.m., ABC (Season 3 Return March 8)
Agent Coulson deals with the consequences of his actions on Maveth, the origins of Hydra are explored, and the Secret Warriors continue to grow with the additional of inhuman Slingshot.
Blindspot
Mondays 10 p.m., NBC (Season 1 Return Feb. 29)
One of the biggest hits of last fall returns following a midseason cliffhanger that saw the death of David and a big reveal about who orchestrated Jane's memory loss. Now, Jane's relationship with the FBI is even more complicated, and the mystery behind Orion is explored.
Gotham
Mondays 8 p.m., FOX (Season 2 Return Feb. 29)
Now that the villains have risen, Gotham City will face their wrath. Victor Fries, notorious Batman villain Mr. Freeze, will make his chilly mark on Gotham; Penguin's father (Paul Reubens) shows up for the first time; we'll witness the darkness of Indian Hill; and Bruce gets closer to uncovering the mystery behind the murder of his parents.
Vikings
Thursdays 10 p.m., History Channel (Season 4 Premiere Feb. 18)
Fresh off the victorious siege of Paris, Ragnar returns to Kattegat and Rollo rejects his Viking heritage by staying behind for personal gain. In Hedeby, Lagertha has her own power struggle with Kalf, her former second-in-command who usurped her title.
DC's Legends of Tomorrow*
Thursdays 8 p.m., CW (Series Premiere Jan. 21)
Time traveler Rip Hunter has witnessed humanity on the brink of destruction at the hands of the brutal Vandal Savage. He travels back in time, to our present, where he assembles a motley crew of heroes and rogues to save the future.
Arrow
Wednesdays 8 p.m., CW (Season 4 Return Jan. 20)
Felicity copes with paralysis after Damien Darhk's attack, Oliver seeks revenge, Roy returns to Star City, and The Calculator is introduced. We also find out who's in that mysterious grave.
Agent Carter
Tuesdays 9 p.m., ABC (Season 2 Premiere Jan. 19)
America's top agent heads to the West Coast for a new assignment, along with some sunshine and Hollywood style. L.A. welcomes Peggy with new friends, foes, romance, and plenty of opportunities to kick some more ass.
The Flash
Tuesdays 8 p.m., CW (Season 2 Return Jan. 19)
Reverse-Flash is back, Team Flash travels to Earth-2 and meets Deathstorm and Killer Frost, and there is a major death. Kevin Smith is scheduled to direct an upcoming episode.