It's the highest-grossing anime film of all time, and production is currently underway on Hollywood's live-action remake. Yep, Your Name is the latest anime hit succumbing to the Hollywood treatment. While live-action remakes of anime favourites haven't always been well-received – Ghost in the Shell, most prominently perhaps – JJ Abrams is producing the Your Name remake and appears to be approaching things differently. With the blessing of the team behind the original.
Toho, the original film's distributors, has expressed that they want JJ Abrams' version to be westernized — and that's what's happening, with the Tokyo setting being switched for Chicago, and rural Japan swapping out for the American countryside, with a Native American woman standing in for the role of smalltown Japanese girl, Mitsuha Miyamizu.
Marc Webb (The Amazing Spider-Man; The Amazing Spider-Man 2) is directing, and it's an adaptation that Your Name's original writer and director, Makoto Shinkai, looks forward to seeing. But none of this means that Shinkai has been hands-off. Quite the contrary.
A Better Job
"I've basically tried to leave it all to JJ Abrams and to [his production company] Bad Robot but he does send me the script and ask for my opinion on that, so I have that kind of input," Shinkai tells Fandom.
Though Shinkai reveals that, so far, he hasn't changed much.
"I really want to see what they come up with; what happens when my film comes into contact with new talent," he says. "I'm just looking forward to seeing it as a member of the audience."
He adds, "I'm looking forward to seeing what they do with it. I know there will always be some people who say that the original is better. But I find it fascinating and I'm half hoping that they'll do a better job than I did."
Whatever some fans may think, Shinkai is all for Hollywood remakes. It's a viewpoint that is diametrically opposed to that of Mirai and The Girl Who Leapt Through Time director, Mamoru Hosoda, who wasn't mincing his words when he told us that "live-action versions… are s–."
"Personally, I just enjoy watching them," says Shinkai. "I went to the cinema to watch Ghost in the Shell … I just enjoy. I think it's a great opportunity to show Japanese content to the world."
A Climate Change Love Story
Shinkai's latest film, his follow-up to Your Name, is Weathering With You, an equally charming film that also has a connection between a young man and young woman at its centre. The plot sees Hodaka, the young man in question, running away from his old life in search of a new one in Tokyo. His world becomes intertwined with that of Hina, a young woman with the power to control the weather with her mind.
Weathering With You was first released in Japan in July last year, earning more at the box office than Your Name across the first three days of release. It's set to hit screens in the US and UK on January 17 and looks set to make a splash. Not only because of the sheer amount of rain featured in the film, and not least because it's extremely topical.
"The film was inspired by climate change," says Shinkai. "We've really been feeling the impact of climate change in the last few years. In Japan, in particular, every summer we've started getting really heavy rain, and there's more and more destruction being caused by this rain, which is something I've seen firsthand. And so I thought the timing was right for a film based around the weather."
Live-Action 'Weathering With You'?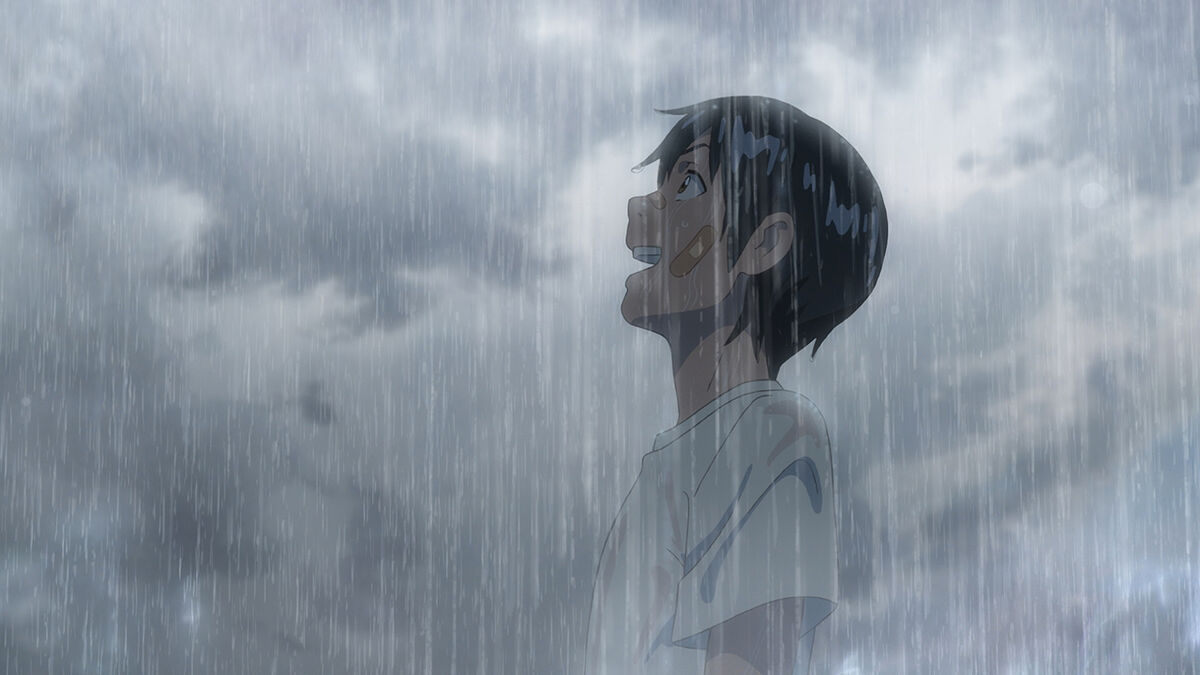 It's an interesting, and relevant – and political – place to start. And not surprising when you consider his approach to finding inspiration. "I'm blank at the moment," he admits, when I ask him about his next project. "I'm reading lots of books, watching films and listening to people, and just searching around for what to do next." With the world's attention focused on climate change over the past few years, it makes perfect sense that this would be Shinkai's kickoff point for Weathering With You.
He continues, "I was careful to make it a piece of entertainment. I didn't want to be pushing a political message down the audience's throats or trying to prompt them to take action on the environment or anything like that. I wanted them to enjoy it as a piece of entertainment which is what the audience wants. And not trying to, I wasn't trying to teach them. As such. I wanted to be in the same boat as the audience. And enjoy a boy-meets-girl love story. I think there is a message about the climate crisis deep, deep down within the film that audiences can take away from it if they want. But on the surface I want them to enjoy it as a piece of entertainment."
But will there be a Hollywood live-action remake of Weathering With You? Perhaps, says Shinkai, but that doesn't mean he thinks it will make a good one.
"I think if Your Name goes well then maybe Weathering With You may well end up being made into live action as well, but I think the weather is something that animation is better at than live-action," says Shinkai. "Because if you're watching the weather in a live-action film, of course you can do it — you can make lights come from the heavens — but the audience is going to know that it has been done through computer graphics. Whereas, with animation, because everything in that world has been hand-drawn, everything looks real within the animated world. And I just think that animation and weather are very well suited to each other. So this might be harder to make live-action than Your Name."
Murakami Influence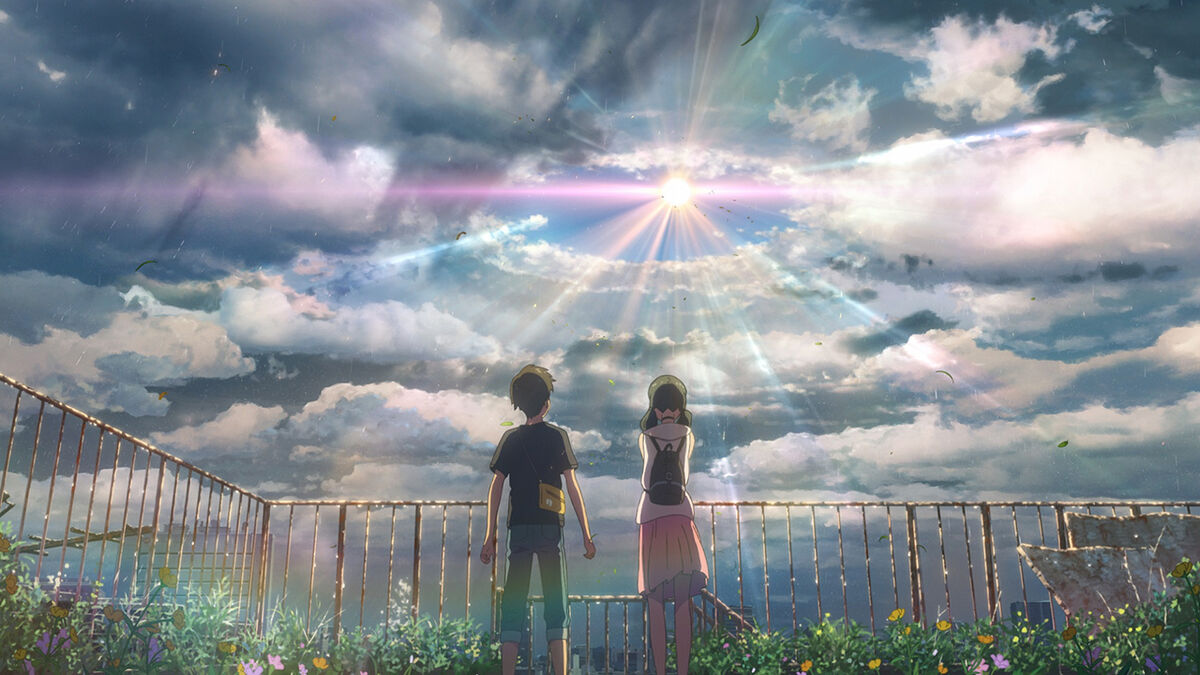 There's also the small matter of it feeling a little like a Haruki Murakami story – the bestselling Japanese author whose surreal, sometimes dream-like, Kafkaesque novels feel better suited to their original medium than any kind of film adaptation.
The evocation of Murakami isn't deliberate – but it's no surprise to find it there.
"Murakami was my favourite writer as a student and so I think he's probably influenced me in various ways," says Shinkai. "Actually, when I was making Weathering With You, I re-read Kafka on the Shore just for fun. And I was surprised to find there are a number of overlaps. Like the fact that in Kafka on the Shore, it's a 15-year-old runaway, and I'd forgotten that. And I was just surprised at that — the influence that it had had without [me] even noticing."
Shinkai's Top 5 Anime Films
So what else has influenced Shinkai's work? It's not surprising to hear that he's got a ready list of five anime films that he holds especially dear. First, there's Laputa: Castle In the Sky, which he cites as his favourite.
"Laputa was the first film that I went [to see]," says Shinkai. "I lived in the sticks, and as a junior high school student I was desperate to see it. I got on the train and went to [the movie theatre]. It was the first film that I went to see at the cinema so it's an integral part of my adolescence."
And then there's Nausicaa of the Valley of the Wind, and The Castle of Cagliostro.
"I saw them on VHS when I was a bit older, maybe High School, and they were so good," he says. "I just remember watching them again and again and again, scene by scene, and I think that may have taught me a bit about how to make animation."
The final two anime films to make Shinkai's top five are Hideaki Anno's Revival of Evangelion and Ghost in the Shell director Mamoru Oshii's Patlabor 2.
"As for Evangelion, the film in the late '90s, I was working by then," says Shinkai. "And although I'd watched loads of anime in my teens, I didn't really have time anymore. But this was the one that kind of brought me back, because it had such an impact on me in terms of the content and the visuals. It was just really fresh and new and kind of brought me back to animation.
"And then Patlabor 2 is based in Tokyo. It showed me that there was a different way of showing Tokyo in animation so that had had an impact on me as well. I think Weathering With You has been influenced a lot by Patlabor 2."
We've talked about Hollywood live-action remakes of popular anime films, but if Makoto Shinkai could remake any Hollywood movie as an anime, which would he choose?
"Maybe Interstellar," he says. "Although, I think it has the kind of weight it does because it's live-action, but I really liked it. And mostly, I don't really want to make it into an anime but I think it would be an interesting challenge."
It might well never get made, but we like to think we've planted a seed. Without a doubt, Makoto Shinkai's anime remake of Christopher Nolan's brainy sci-fi spectacular is something many cinema fans would be eager to see.
Weathering With You hits screens in the US and UK on January 17. Select cinemas in the UK are showing Your Name and Weathering With You as part of a special double bill screening on January 15. Head to weatheringwithyoufilm.co.uk to find out more.